(1) PAY THE WRITER. Adam Whitehead in "Disney and Alan Dean Foster approaching settlement on royalties" at The Wertzone brings promising news:
Foster does not go into details, but notes on his webpage.

"The irritating imbroglio with Disney, which you may have read about, is moving towards a mutually agreeable conclusion. A formal statement will be forthcoming."

Hopefully the matter will now be resolved and Disney will agree to uphold their contractual obligations moving forwards with both Foster and all other impacted authors.
For background, see Cora Buhlert's post "The #DisneyMustPay Alan Dean Foster and SFWA Joint Press Conference".
(2) NO, THE REAL WRITER. The Guardian says the proceeds of a literary prize were ripped off by scammers: "Rathbones Folio prize paid £30,000 to scammers posing as the winner". (Incidentally, they did make it good to the genuine winner.)
… Publishing industry magazine the Bookseller revealed on Wednesday that the Folio, which is awarded to the year's best work of literature regardless of form, was scammed by "sophisticated cyber-criminals". The scammers posed as the Mexican author [Valeria] Luiselli, who had won with her novel Lost Children Archive, and requested that the £30,000 payment be made through PayPal.

Minna Fry, the prize's executive director, confirmed that the funds were lost and that "the police were informed at the time, as were key industry colleagues".

"Our winner Valeria Luiselli was awarded her prize money in full, and the lost funds were absorbed by cost savings elsewhere," she added.

The prize is run by a charity and is independent from its sponsor, Rathbone Investment Management. Fry said the investment firm "have supported us through this incident and helped us to put in place additional safeguarding measures".

This is not the first time a book prize has been targeted by fraudsters. A spokesperson for the Baillie Gifford prize for non-fiction, worth £50,000, confirmed that it was also targeted in November, but no funds were paid.

"Someone emailed pretending to be the 2020 winner Craig Brown and asked us to pay the prize money via PayPal," a spokesperson for the prize told the Bookseller…
(3) EXIT THE WAYFARER UNIVERSE. On the Imaginary Worlds podcast "Becky Chambers Goes Wayfaring".
Becky Chambers' latest novel, "The Galaxy and The Ground Within," is the final book in her Wayfarer series, which is about aliens, humans and AI trying to make their way through the galaxy and find common ground. Some of the characters in her books may seem fantastical and strange, but the conversations between them often revolve around familiar issues like identity, gender, family structure, and politics. We talk about why she's closing this chapter in her writing career, even though the Wayfarer series could've gone on indefinitely, and what she has planned next.
(4) WEB OF LIES. [Item by Olav Rokne.] Spider-Man co-creator Stan Lee casts an oversized shadow across comic book fandom. But arguments abound about how much credit he deserves for the various works he is purportedly behind. In a new deeply-researched biography True Believer, journalist Abraham Riesman looks at this iconic figure. It's a terrific book that perhaps people should be considering for Best Related Work on *next year's* Hugo ballot, and that the Hugo Book Club Blog reviewed this week: "The Lies That Bind".
There is a long tradition of fandom idolizing a certain variety of PT Barnum-style self-promoter. This tradition has come under much-needed scrutiny in the past decade thanks to works such as Astounding by Alec Nevala-Lee and The Pleasant Profession of Robert A. Heinlein by Farrah Mendelsohn. Abraham Riesman's True Believer is a welcome addition to this critical reckoning.
(5) SPOTTED IN GOTHAM. Did you know François Truffaut took the robot dog out of his film of Fahrenheit 451 because there was no technology for the dog? Well, that future has just about arrived: "NYPD Deploys 'Creepy' New Robot Dog In Manhattan Public Housing Complex" in Gothamist.
… The remote-controlled bot was made by Boston Dynamics, a robotics company famous for its viral videos of machines dancing and running with human-like dexterity. (Versions of "Spot," as the mechanical dog is known, can open doors, and are strong enough to help tow an 18-wheeler.)

Since October, the NYPD has dispatched the robot to a handful of crime scenes and hostage situations, raising fears of unwanted surveillance and questions about the department's use of public dollars. The mobile dog, which comes equipped with automated sensors, lights, and cameras capable of collecting "limitless data," is sold at a starting price of $74,000.

A spokesperson for the NYPD said the robot dog was on standby, but not used, during a domestic dispute at East 28th Street on Monday afternoon. After a man allegedly barricaded himself inside a room with a mother and her baby, officers showed up and convinced him to let them exit. The man was arrested for weapons possession, police said….
(6) MEDIA BIRTHDAY.
April 15, 1944 –On this day in 1944, The Monster Maker which was originally titled The Devil's Apprentice premiered. It was directed by Sam Newfield and produced from a script written by by Sigmund Neufeld which was by Lawrence Williams, Pierre Gendron and Martin Mooney. It starred J. Carrol Naish, Talla Birell, Wanda McKay and Ralph Morgan. It was almost completely ignored by critics at the time and it currently holds an extremely low five percent rating on Rotten Tomatoes among audience reviewers. You can see it here.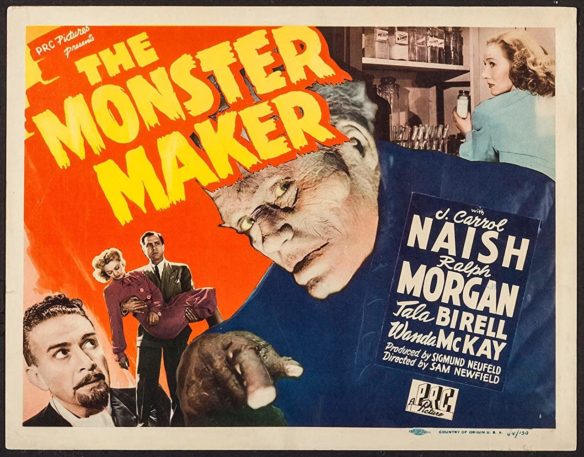 (7) TODAY'S BIRTHDAYS.
[Compiled by Cat Eldridge and John Hertz.]
Born April 15, 1452 – Leonardo da Vinci. One of our greatest neighbors. Among his many drawings were things that could almost be made then; dreaming them up, and depicting them, took imagination very much like SF authors' and illustrators'. Here is a 500th-anniversary exhibit I made for Dublin 2019 the 77th Worldcon with high-tech graphics wizard Elizabeth Klein-Lebbink (shown as it appeared at Loscon XLVI later; scroll down past Rotsler Award photos). (Died 1519) [JH]
Born April 15, 1908 – Howard Browne. Edited Amazing and Fantastic; five novels, a dozen shorter stories for us, some under other names; also detective fiction; films, television. More here. (Died 1999) [JH]
Born April 15, 1933 — Elizabeth Montgomery. She's best remembered as Samantha Stephens on Bewitched. Other genre roles included being Lili in One Step Beyond's "The Death Waltz" which you can watch here. She also had on every-offs in The Twilight Zone, Alfred Hitchcock Presents, and voicing a Barmaid in the "Showdown" episode of Batman: The Animated Series. (Died 1995.) (CE)
Born April 15, 1937 — Thomas F. Sutton. Comic book artist who's best known for his contributions to Marvel Comics and Warren Publishing's line of black-and-white horror magazines. He's particularly known as the first artist of the Vampirella series. He illustrated "Vampirella of Draculona", the first story which was written by Forrest J Ackerman. (Died 2002.) (CE)
Born April 15, 1938 – Unipán Helga, age 83. (Personal name last, Hungarian style.) Designed more than a hundred twenty books, many ours. Here is The Antics of Robi Robot (in Romanian). Here is an interior from the Jun 73 Korunk ("Our Age"). Here is Orthopedic Hat. Here is The Vicissitudes of a Brave Mouse. Here is Calendar of Nature. [JH]
Born April 15, 1941 – Mal Dean. Six covers, twoscore interiors for us. Particularly associated with Michael Moorcock and the graphic-art Jerry Cornelius. Here is the Jun 69 New Worlds. Here is "The Duke of Queens duels Lord Shark the Unknown" illustrating MM's "White Stars". Here is the Nov 75 – Jan 76 Other Times. Outside our field, jazz trumpeter & bandleader, illustrator; cartoonist. Here is a posthumous artbook. (Died 1974) [JH]
Born April 15, 1949 – Tim Bolgeo. Uncle Timmy chaired LibertyCons 1-25, Chattacons 7-11. Fan Guest of Honor at Con*Stellation III (not this one), DeepSouthCon 43, StellarCon 33, LibertyCon 32. Four decades a fixture in fandom. (Died 2019) [JH]
Born April 15, 1949 — Sharan Newman, 72. Author of the most excellent Guinevere trilogy (Guinevere, Chessboard Queen and Guinevere Evermore), a superb reinterpretation of the Arthurian saga . They're available at the usual digital suspects as is her superb Catherine LeVendeur medieval mystery series. Alas her SF short stories are not. (CE)
Born April 15, 1966 – Cressida Crowell, age 56. A dozen novels, particularly about How to Train Your Dragon (eleven million copies sold) and The Wizards of Once. Illustrates many of her own books. Blue Peter Book Award. "Children are surrounded by adults who are VERY BOSSY. They might not always mean to be bossy, and they have the best of intentions, but still." [JH]
Born April 15, 1974 — Jim C. Hines, 47. Winner at Chicon 7 of the Best Fan Writer Hugo. Author of the Goblin Quest series which I've read at least two of and enjoyed. Same for his Magic ex Libris series. Yeah more popcorn reading. (CE)
Born April 15, 1990 — Emma Watson, 31. Hermione Granger in the Harry Potter film franchise which lasted an entire decade. She was Belle in Disney's Beauty and the Beast, and the voice of Prince Pea in The Tale of Despereaux. (CE)
Born April 15, 1997 — Maisie Williams, 24. She made her professional acting debut as Arya Stark of Winterfell in Game of Thrones. She was Ashildr, a Viking woman of unique skills, the principal character of "The Girl Who Died", during the time of Twelfth Doctor who would be back several times more. She was Wolfsbane in the Marvel film New Mutants. (CE)
(8) COMICS SECTION.
(9) CLARION CALLS. The Clarion Science Fiction and Fantasy Writers' Workshop, organized by the Arthur C. Clarke Center for Human Imagination at UC San Diego, is hosting the Winter Writers Series, a monthly series of conversations between Clarion alumni and instructors about the art of speculative fiction and their writing careers. These conversations, co-hosted by Mysterious Galaxy Bookstore, are presented via Zoom Webinars and are free and open to the public. Each conversation will include time for Q&A with the audience. The next is —
Speculative Horror

April 21, 2021, 5pm PT / 8pm ET (register here)

Join us for a conversation about ins and outs of writing modern horror with three astounding writers and Clarion alumni/instructors who terrify and unsettle us.

Jeffrey Ford is the author of the novels The Physiognomy, The Girl in the Glass, The Portrait of Mrs. Charbuque, The Shadow Year, The Twilight Pariah, and Ahab's Return. His story collections are The Fantasy Writer's Assistant, The Empire of Ice Cream, The Drowned Life, Crackpot Palace, and A Natural History of Hell.

Victor LaValle is the author of the short story collection Slapboxing with Jesus, four novels, The Ecstatic, Big Machine, The Devil in Silver, and The Changeling and two novellas, Lucretia and the Kroons and The Ballad of Black Tom. He is also the creator and writer of a comic book Victor LaValle's DESTROYER. He has been the recipient of numerous awards including the World Fantasy Award, British World Fantasy Award, Bram Stoker Award, Whiting Writers' Award, a Guggenheim Fellowship, Shirley Jackson Award, American Book Award, and the key to Southeast Queens. He was raised in Queens, New York. He now lives in Washington Heights with his wife and kids. He teaches at Columbia University.

Sam J. Miller is the Nebula-Award-winning author of The Art of Starving (an NPR best of the year) and Blackfish City (a best book of the year for Vulture, The Washington Post, Barnes & Noble, and more – and a "Must Read" in Entertainment Weekly and O: The Oprah Winfrey Magazine). A recipient of the Shirley Jackson Award and a graduate of the Clarion Writers' Workshop, Sam's work has been nominated for the World Fantasy, Theodore Sturgeon, John W. Campbell and Locus Awards, and reprinted in dozens of anthologies. A community organizer by day, he lives in New York City. His latest novel is The Blade Between.
(10) LEEDS LIBRARY ARTICLE ON E.R. EDDISON. The Secret Library / Leeds Libraries Heritage Blog profiles the author in "Novels That Shaped Our World: Life, Death and Other Worlds".
…In 1922 he published his first and most notable fantasy work, The Worm Ouroboros. The Worm, a serpent or snake, derived from the old Norse, ormr. This he followed with three volumes set in the imaginary world first observed by the Lords Juss and Brandoch Daha as they gaze from the top of great mountain, Koshstra Pevrarcha in The Worm, Zimiamvia, known as The Zimiamvian trilogy: Mistress of Mistresses (1935), A Fish Dinner in Memison (1941), and The Mezentian Gate (published posthumously in 1958). His Icelandic sagas were: Styrbiorn the Strong (1926) and his much admired translation of Egil's Saga (1930).

In 1963 almost twenty years after Eddison's death his late wife, Winifred Grace, and his close friend and literary executor, Sir George Rostrevor Hamilton deposited into the care of the special collections of the Leeds Central Library the vast majority of Eddison's manuscript works….
(11) LIVE OCTOTHORPE. Big doings by John Coxon, Alison Scott and Liz Batty on the Octothorpe podcast. Listen to Episode 29 here — "Ode to Badger".
John is not Chris Garcia, Alison is full of beans, and Liz is T. S. Eliot. We handle letters of comment and then spend an hour talking about ConFusion in a BUMPER EPISODE.
You also are invited to join them for Octothorpe Live on 25 April – either join the Facebook group here or email them at [email protected] for the Zoom link!
(12) VIDEO OF THE DAY. "Zack Snyder's Justice League/Trilogy" on YouTube is HBO Max's repackaging of Man Of Steel, Batman v. Superman, and Zack Snyder's Justice League into a trilogy.
[Thanks to Edd Vick, Bruce D. Arthurs, John King Tarpinian, Martin Morse Wooster, JJ, StephenfromOttawa, Cat Eldridge, James Davis Nicoll, Steven French, Michael Toman, John Hertz, Olav Rokne, Andrew Porter, and Mike Kennedy for some of these stories. Title credit belongs to File 770 contributing editor of the day Andrew (not Werdna).]