(1) LEAVE OF ABSENCE FOR FANX'S BRANDENBURG. Salt Lake City's Fox13 news has been told "FanX co-founder Bryan Brandenburg stepping aside amid criticism of handling of harassment complaint".
Salt Lake City FanX co-founder Bryan Brandenburg is stepping aside in response to criticism of his handling of a report of harassment.

Brandenburg told Fox 13 News Thursday he is taking an "immediate and indefinite" leave of absence.

He said he wants his decision to step down from the convention to show the women who have complained that he has heard their complaints. He said it was a hard decision to leave the company he founded with Dan Farr in 2013, but he would rather step aside so that the fan base can thrive.
Brandenburg told a Good4Utah reporter (ABC-TV):
"If it takes me walking away, to see something survive, it's my baby. And I would rather see it thrive than to have it go through the trauma that it's going through now," said Brandenburg.

Brandenburg said he was saddened by all of the divisiveness this caused within his organization.

He said he didn't want to distract from FanX which is why he's taking that extended leave of absence.
Today's TV interviews indicate a definite break, in contrast to superficial changes shared by con organizers in yesterday's Salt Lake Tribune story "After sexual-harassment controversy, FanX says its founders are stepping back and it will donate to Time's Up" which had only said Dan Farr and Bryan Brandenburg were stepping back from social media. (Indeed, Brandenburg's Facebook page is now offline.) The Tribune  reported further defections among FanX guests and vendors:
With authors, celebrities and a major publishing house saying they will pull out of FanX Salt Lake Comic Convention over its insensitive response to sexual-harassment accusations, organizers say they will donate an unspecified amount to the Time's Up campaign and reduce the public role of co-founders Bryan Brandenburg and Dan Farr.

Brandenburg set off a firestorm on social media this week by posting about best-selling Utah author Shannon Hale, who was questioning FanX's handling of a sexual-harassment accusation against Utah author Richard Paul Evans.

Without contacting Hale, FanX social media manager Manda Bull posted Tuesday that the convention was inviting her to join a new committee to improve its recently revised anti-harassment policy. The author said Wednesday she's not interested.

…Since Monday's dust-up, two celebrities booked for FanX — Lindsay Jones and Arryn Zech, voice actors on the popular anime-style web series "RWBY" — have canceled their appearances. Several authors, showing solidarity with Hale, also have said they will skip the convention.

On Tuesday, one of Utah's biggest publishing houses — Shadow Mountain Publishing, an imprint run by LDS Church-owned Deseret Book — ended its association with FanX.

…It was the Shadow Mountain booth where, according to a complaint filed with event organizers, Evans harassed a woman at last September's convention. The woman told FanX in a written account that Evans "touched me several times and went so far as to kiss my cheek. I had never met him before … but he made me very uncomfortable and even said, 'You're so pretty' after he touched me, as though he couldn't help himself."

…In an interview that aired Tuesday on KUTV-Channel 2, Evans told reporter Chris Jones that "there is a war on men, and that men — white men in particular — are under attack, oppressed by a changing culture, victims of an extremist feminist agenda." Evans compared the plight of white men in America to "Jews in Nazi Germany."
(2) EYE PROBLEM. Larry Niven will miss Balticon 52, where he was scheduled to be Author Special Guest. The convention announced the news on its website —
Larry Niven will be unable to attend Balticon this year:

We are sorry to report that at the last minute Larry Niven developed a problem that will prevent him from traveling to Baltimore and attending Balticon 52. He suffered a minor complication from a recent eye procedure and lthough is readily reparable it needs to be fixed soon and will require a week or so of bed rest. Riding in a pressurized aircraft is not a good plan at the moment as it could cause his retinas to go all retrograde. He sends his regrets, and we send our best wishes for a speedy recovery.
(3) PACKET IS COMING. Worldcon 76 knows you're waiting: "Hugo Voter Packet News".
The Worldcon 76 Hugo Team are working on testing the Hugo Voter Packet and expect to have it online shortly, within the next few days.

The Hugo Voter Packet is a collection of finalist works for the 2018 Hugo Awards and 1943 Retrospective Hugo Awards, made available to members of Worldcon 76 to better allow voters to make their decisions when voting on the Hugo Awards. Finalists' works that appear in the Hugo Award Packet appear through the courtesy of the finalists, publishers, and rights-holders. Not all finalists will be in the Packet.
(4) COPYEDITOR'S CORNER. Is it just me? I find the wording of this headline troubling. It probably wasn't written by the author of the article itself who knows how to make her points.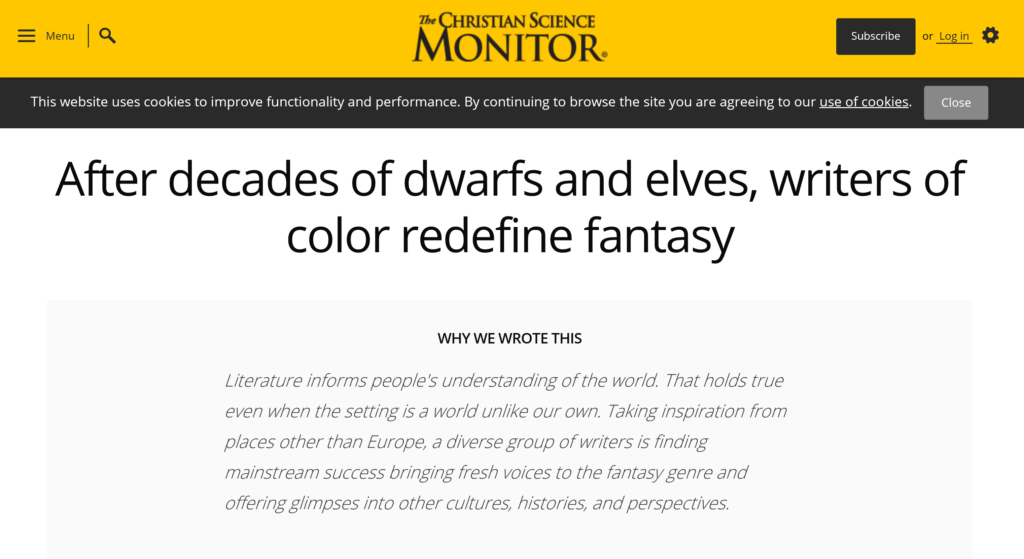 For decades, the field of fantasy books was dominated by white men penning tales about dwarfs, elves, and other Norse-based mythology. Today, that's changing as diverse writers are bringing fresh voices to the field, incorporating the myths and legends of cultures around the world. "People have been trying to do this for decades," says author Tomi Adeyemi. "It's just that enough people have broken down the doors over the decades that we're where we are now." Certainly, speculative fiction writers since at least Octavia Butler, the first science fiction writer to win a MacArthur Grant, have looked beyond Europe for inspiration. But no longer can they be dismissed as niche. From the $1 billion-plus box-office take of "Black Panther," directed by Ryan Coogler, to the success of Ms. Adeyemi's breakout debut, "Children of Blood and Bone," audiences and readers are flocking to well-drawn worlds inspired by African and Asian countries. As one science fiction professor says, "We are not the field that thinks that what white men say is the only way to say things."
(5) SALVAGE. When Luke Skywalker destroyed the Death Star, did you think the whole thing vanished into its component atoms? Not so! Cnet brings word: "Chunk of original Star Wars Death Star goes for sale on eBay"
…Get started on your very own Death Star by picking up a prop piece of the original ship from Star Wars: Episode IV – A New Hope on eBay.

…Most of the pieces ended up in a landfill, but an anonymous former ILM employee grabbed this particular panel and kept it safe for decades.

… The panel measures nearly 24 inches (61 centimeters) long and "every inch of the piece has complex modeling used to create the raised elevations and valleys of the Death Star."

The eBay auction from Hollywood Memorabilia on Thursday, timed to coincide with the weekend release of the Han Solo origin movie Solo: A Star Wars Story. The Death Star chunk is expected to bring six figures in US dollars.
(6) TODAY IN HISTORY
May 24, 2008 — The sci-fi musical Christmas On Mars premiered.
(7) COMICS SECTION.
John King Tarpinian discovered evolution in action at Non Sequitur.
(8) CONVENTION TOOL. A feature at this year's Confab —
shoutout to @ConfabEvents for understanding how humans work #Confab2018 pic.twitter.com/42jIs8eIUX

— Ada misses Confab (@mspowahs) May 23, 2018
(9) DOWN TO THE WIRE. One of Minnesota's best-known conventions announced they are being squeezed in hotel negotiations and haven't secured the DoubleTree Hotel for this July's con, although they hope to. Lawyers are at work: "CONvergence 2018 Timing Update—Please Bear With Us".
Dear CONvergence Members,

We wanted to make you aware of some ongoing negotiations regarding this year's convention. Over the past year, the Board has been in conversation with the DoubleTree Hotel regarding the arrangements and logistics for CONvergence 2018. The hotel has put forth several demands regarding the practices and procedures of the convention. The Board has been negotiating with the DoubleTree regarding which demands we feel are reasonable and which are not. The Board's main objective is to preserve and provide the best experience for our members.

Unfortunately, these negotiations have gone on longer than we had hoped and have not yet reached resolution. We do currently anticipate being able to hold this year's convention on time, but must resolve these outstanding issues first. Because of these negotiations, we've had to delay some of our normal processes, including room reservations. We are working hard to bring everything to resolution as soon as possible and will keep you updated as quickly as we can, but due to the nature of the negotiations and on advice of counsel we can't discuss in full detail. We appreciate your understanding.

For now, let's continue to build those costumes, launch those campaigns, and get ready for the 20th year of CONvergence!
(10) GRRM MOVIE PROJECT ANNOUNCED. "George R.R. Martin's 'The Ice Dragon' to Get the Animated Movie Treatment" – The Hollywood Reporter has the story.
Martin's children's fantasy novel, The Ice Dragon, has been picked up by Warner Animation Group to be adapted for the big screen, The Hollywood Reporter has confirmed.

The writer will be actively involved with the project, acting as a producer. There is even a possibility he will take a crack at penning the script, although that is still to be determined (and will undoubtedly scare GoT fans who are awaiting him to finish the latest, long-in-the-works and who knows when it will come out novel).
(11) THE EXISTENCE OF YOUR BANE. Gizmodo's take on this invention begins: "Hello, You've Reached Gotham's Reckoning. How May I Direct Your Call?"
How many times has this happened to you? You're trying to organize the destruction of a major metropolitan area and the overthrow of a system you view as irredeemably corrupt, but you keep having to step out of the office to take a call. That problem is no more thanks to Bloxvox, the voice muffling muzzle that lets you plot to fulfill Ra's al Ghul's destiny from the comfort of your desk.
The actual item is a "voice privacy tool" that's supposed to let you make private phone calls in public place.
A new Kickstarter seeks money to develop Bloxvox — a Bane-like mask that's supposed to let you make private phone calls in public places (think open-plan offices, airports, etc.). At this writing, the Kickstarter is approaching $2000 out of a $25,000 goal; that amount raised from a mere 15 backers. The device allows you to insert the microphone part of your earbuds into the mask, providing some level of voice muffling for your office mates (or the other people in the coffee shop or what have you) but none for the microphone. A head strap holds the mask in place while a hole in the front "allows you to breathe, while letting minimal sound escape." A soft seal around your mouth is said to "[create] a comfortable fit and voice-blocking seal against your face."
(12) WATCHMEN CASTING. Here are the players – but who they're going to play is still a secret: "'Watchmen': Regina King, Don Johnson, Tim Blake Nelson to Star in Damon Lindelof's HBO Pilot".
Watchmen, Damon Lindelof and HBO have announced the star-studded cast of the drama pilot take on Alan Moore's beloved comic series.

The Leftovers grad Regina King will reunite with Lindelof on the HBO pilot and lead a cast that includes Don Johnson (Miami Vice), Tim Blake Nelson (O Brother, Where Art Thou?), Louis Gossett Jr. (An Officer and a Gentleman), Adelaide Clemens (Rectify) and Andrew Howard (Hatfields & McCoys).

Details about their respective characters are being kept under wraps.
(13) HE'S WHO? You can watch Dr. Michael Keaton's complete Kent State University commencement address, or skip ahead to the genre-related peroration at about the 18:00 mark.
(14) NOT JUST HANGING AROUND. A teenager dressed as Spider-man, dropped out of a window upside down, and asked his girlfriend out to the prom. Insider says "It's the most extra thing we've seen today".
going to prom with the most MARVELous boy ?? pic.twitter.com/5xXYtvvDCr

— jenna mcintosh (@Jenna_mcintosh9) May 17, 2018
[Thanks to John King Tarpinian, Daniel Dern, JJ, Steven H Silver, Martin Morse Wooster, Andrew, David Doering, Chip Hitchcock, David Doering, Cat Eldridge, Mike Kennedy, Carl Slaughter, and Andrew Porter for some of these stories. Title credit goes to File 770 contributing editor of the day Kip W.]