(1) COCKYGATE. A transcript of today's "Cockygate" court hearing  [PDF file] courtesy of Courtney Milan. She paid for it.
Transcript of the #cockygate hearing:https://t.co/9FxOz6DmBN

— Courtney!!! Milan ? (@courtneymilan) June 1, 2018
My two favorite parts of the transcript are (almost) on the same page!

(1) Where the judge tries to figure out why someone would change their book name from "Bite Me" to "Bite Me, Cocky"

(2) Where the judge says #cockygate is irrelevant. YAY! pic.twitter.com/UZyCw0V9xT

— Courtney!!! Milan ? (@courtneymilan) June 2, 2018
If you want to do something that would be meaningful to me, drop a tip in RWA's perseverance fund. It's for romance authors who need help paying membership dues—whether they're current members or not.
(2) SF AT THE SMITHSONIAN. Arthur C. Clarke papers in the Smithsonian Air and Space Museum: "Letters from a Science Fiction Giant".
"One of the strengths of the collection is Clarke's manuscripts," says curator Martin Collins. "Clarke had working notes as he prepared things for publication. It really highlights his deep belief and attention to making his fictional stuff as close to scientific fact as he could."

The majority of the correspondence dates from the 1960s on. Tucked inside one folder, a letter from Wernher von Braun cordially invites Clarke to the October 11, 1968 launch of Apollo 7. "The rocket will carry [Wally Schirra, Donn Eisele, and Walter Cunningham] on a ten day earth orbital flight," writes von Braun. "This mission will demonstrate the performance of the Saturn IB launch vehicle, the spacecraft's command and service modules, and the crew and support facilities." (Von Braun helpfully attached a list of motels in the Cape Kennedy area, which ranged in price from $5 to $18 a night.) A year later, Clarke, at Walter Cronkite's side, covered the Apollo 11 mission for CBS.
(3) YE ROUND PEG IN YE ROUND HOLE. The BBC covers a study that shows "Every story in the world has one of these six basic plots", applying Vonnegut's graphing theory to some of the recent "100 stories that shaped the world", including a few genre.
"Thanks to new text-mining techniques, this has now been done. Professor Matthew Jockers at the University of Nebraska, and later researchers at the University of Vermont's Computational Story Lab, analysed data from thousands of novels to reveal six basic story types – you could call them archetypes – that form the building blocks for more complex stories. The Vermont researchers describe the six story shapes behind more than 1700 English novels as:

Rags to riches – a steady rise from bad to good fortune
Riches to rags – a fall from good to bad, a tragedy
Icarus – a rise then a fall in fortune
Oedipus – a fall, a rise then a fall again
Cinderella – rise, fall, rise
Man in a hole – fall, rise
(4) AUTHOR'S PICKS. Catherynne M. Valente names "10 Essential Offbeat Science Fiction Novels" at Publishers Weekly. First on the list –
This is one of my all-time favorite books and I can never not recommend it. It takes time travel and all the tropes inherent to it to a whole new level of emotional resonance, humor, and philosophy. It's light on plot (and linearity) and heavy on meaning, but the whole thing is so deeply human, and at the same time, takes its science fiction so seriously that it's no surprise author Charles Yu went on to write for Westworld.
(5) FAMOUS LAMB. Scott Edelman says "Nebula Award-winning writer Kelly Robson had a little lamb (and you can eavesdrop)" in Episode 68 of the Eating the Fantastic podcast.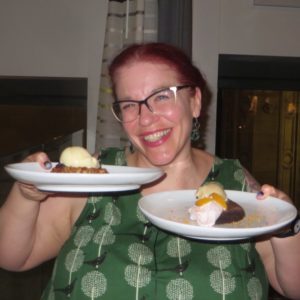 Have you digested last episode's Nebula Awards Donut Jamboree yet? I hope so, because following up on that lightning-round event, it's time for the first of five one-on-one interviews over meals with writers recorded during this year's Nebula Awards weekend in Pittsburgh—starting with nominee Kelly Robson, who 48 hours after we dined at Union Standard, became a winner!

Before winning this year's Best Novelette Nebula for "A Human Stain," she was also a finalist for the 2017 John W. Campbell Award for Best New Writer. Her novella "Waters of Versailles" won the 2016 Aurora Award and was also a finalist for the Nebula and World Fantasy Awards. Her short story "The Three Resurrections of Jessica Churchill" was a finalist for the Theodore Sturgeon Award, and her short story "Two-Year Man" was a finalist for the Sunburst Award. Her most recent publication is the time travel adventure Gods, Monsters and the Lucky Peach.

I'd hoped to visit Union Standard shortly after they opened for one of last year's batch of Nebula Awards weekend episodes, but sadly, it wasn't to be, so I'm thrilled I was able to host Kelly there. As for the reason why I was so anxious to eat at that restaurant—Chef Derek Stevens has been called one of the foundational figures of Pittsburgh's culinary boom. In fact, Pittsburgh magazine has written of him—"If you like dining out in Pittsburgh, you should thank Derek Stevens." If nothing else, I've got to thank him for the Jamison Farm Lamb Sirloin with Anson Mills polenta and grilled asparagus—of which Kelly kindly allowed me a nibble.

We discussed how the first Connie Willis story she read changed her brain, the way a provocative photo got her a gig as a wine reviewer at a top national magazine, what she learned from the initial Taos Toolbox writers workshop, why completing Gods, Monsters and the Lucky Peach was like giving birth to a watermelon, how reading a Battlestar Galactica tie-in novel helped teach her how to write, where she would head if time travel were real, why she's contemplating writing a "frivolous" trilogy (and what that really means), the reason the story of hers she most likes to reread is professionally published James Bond fanfic, and much, much more.
(6) MISSION RESUMED. Joe Stech announced Compelling Science Fiction Issue 11 is out.
It's been a while, but we're back with an incredible 7-story issue! I really appreciate your continued support after the switch to the new semiannual schedule. This issue starts with James Rowland's "Top of Show", a metastory about the art of creating stories (5948 words). Our second story is "Targeted Behavior" by J.D. Moyer. In it, someone wants the homeless to leave San Francisco. A young girl has other ideas. (4600 words). The third story this issue, Adam R. Shannon's "Redaction," is a story about medics who use technology to deal (or not deal) with their own traumatic experiences (4953 words). Next we have "Cold Draft" by John Derderian. This is a short one about how a radical politically motivated law surprises a teenage boy (2900 words). Our fifth story is "Dreams of the Rocket Man" by C. Stuart Hardwick. This is a beautiful reprinted story about a child learning rocketry from an enthusiastic mentor (7600 words). Story number six, "Driving Force" by Tom Jolly, is the shortest of the lot. In the future, AIs may not only be tasked with driving (1300 words). Our final story is "Don't Play the Blues", by Bruce Golden. A musician wrestles with experiences from his military days (6040 words).
(7) TODAY'S BIRTHDAYS
Born June 1 – Actor Jonathan Pryce, 71, The Bureaucrat in The Adventures Of Baron Münchhausen and currently in The Game Of Thrones.
(8) COMICS SECTION.
Zombie jambalaya? Chip Hitchcock lets Bizarro explain.
(9) LISTENING IN. Remember that Star Trek scene where Kirk says something odd, to which Spock replies, "I can't believe my ears, Captain"? Mad Genius Club's Jonathan LaForce has some things to say in "Verified!" [Internet Archive link] that I haven't heard from that blog before.
This conflict over culture has consequences. It demands that we not give in to the base instinct of lying, dehumanizing, and othering those with whom we quarrel. Such is dishonorable. Such will not be tolerated. I don't want you to my left or right, I don't want you laying down suppressive fire from behind me as I charge forward, if I can't trust you to do the right thing.

This means not lying about people like Irene Gallo, Moshe Feder, Scalzi, Glyer, or anybody else in this conflict. Such actions destroy our credibility and integrity.
This means that when a panelist says something rude about Tolkien, and SFWA is merely live-streaming the event, don't claim SFWA said those things about Tolkien.
When Tor writer Elise Ringo says "This is what I crave from female villains: women who are extended the same complexity and depth- and, potentially, sympathy- as their male counterparts, and also women who are really truly bad… Dark Lords are all very well, but the world needs more Dark Ladies…" your reply should not include the words "Tor.com calls on writers not to write female villains."

When a fellow author says they don't want to be included in your drama on Twitter, then blocks you on rather preemptively, don't go "declare war" on them. That's not just rude, that's unprofessional.

When Brandon Sanderson announces that he's going to be making some very carefully thought-out decisions about his involvement with a con just because he's trying to be careful about his professional relationships, and you scream "MUHVIRTUESIGNALING!" you're not impressing anybody but your own echo chamber and stroking your ego.
Today's LaForce column appeared the same day as Jon Del Arroz' posted "Fear And Loathing In SLC: How A Social Justice Mob Got To Brandon Sanderson" [Internet Archive link]. That may not be a coincidence.
(10) BOND. ROBOT BOND. The BBC explains "How humans bond with robot colleagues".
Fast-forward a few years and this story isn't as unusual as you might think. In January 2017, workers at CBC, the Canadian Broadcasting Corporation, threw a retirement party for five mail robots. Rasputin, Basher, Move It or Lose It, Maze Mobile and Mom had been pacing the company's hallways for 25 years – delivering employee mail, making cute noises and regularly bumping into people.

There was cake. There were balloons. There was a nostalgic farewell video. There was even a leaving card with comments like "Thanks for making every day memorable" and "Beep! Beep! Beep!" The robots will likely spend their final years relaxing at one of the many museums that have requested them.

Though they're often portrayed as calculating job-stealers, it seems that there's another side to the rise of the robots. From adorably clumsy office androids to precocious factory robots, we can't help bonding with the machinery we work with.
(11) DUNE. That's cold: "Methane ice dunes found on Pluto by Nasa spacecraft".
After an epic trek through the Solar System that took nearly a decade, New Horizons sped by at a speed of 58,536 km/h (36,373 mph), gathering data as it passed.

In their study, the researchers explain how they studied pictures of a plain known as Sputnik Planitia, parts of which are covered with what look like fields of dunes.

They are lying close to a range of mountains of water ice 5km high.

The scientists conclude that the dunes are 0.4-1km apart and that they are made up of particles of methane ice between 200-300 micrometers in diameter – roughly the size of grains of sand.
(12) AT THE BODLEIAN. "JRR Tolkien artwork on display for first time". This probably won't travel, but the article has a few samples, including one from 1915.
Personal effects – such as Tolkien's briefcase, the colour pencils he used to create the artwork for Lord of the Rings and boxes of poster paints that he used for water colours in The Hobbit – have been lent to the Bodleian by his family.

Tolkien's tobacco pipes are also included.

… There are previously unseen letters sent to Tolkien from famous fans such as poet WH Auden, novelists Iris Murdoch and Terry Pratchett and singer-songwriter Joni Mitchell.

"This is a very exciting part of the exhibition," Ms McIlwaine said.

"These are letters that people haven't seen before and haven't been published and I think it's going to be very surprising to visitors to see the range of people who loved Tolkien's work, and loved it so much that they wrote to him."
It's mildly ironic that a Bodleian archivist would speak admiringly about someone's smoking materials. Readers have to sign this well-known pledge before being allowed to use the Library:
"I hereby undertake not to remove from the Library, or to mark, deface, or injure in any way, any volume, document, or other object belonging to it or in its custody; not to bring into the Library or kindle therein any fire or flame, and not to smoke in the Library; and I promise to obey all rules of the Library."
(13) VIDEO OF THE DAY. "Tergo" is a good short film, directed by Charles Willcocks, about a street cleaning robot who dreams of better things that he can't have.
[Thanks to Martin Morse Wooster, JJ, John King Tarpinian, Scott Edelman, Mike Kennedy, Cat Eldridge, Carl Slaughter, ULTRAGOTHA, and Andrew Porter for some of these stories. Title credit belongs to File 770 contributing editor of the day Stoic Cynic.]