(1) OFF SCRIPT, ON POINT. Cat Rambo was profiled by The Seattle Times today: "Fresh off a Nebula Award and kicking off a book deal, West Seattle writer Cat Rambo speaks about craft, George Floyd protests and more"
… Though her presidency ended last year, the legacy of her work was on full display during a vibrant awards ceremony and conference, a gathering forced online due to the COVID-19 pandemic.

"She's the reason that SFWA was able to do this pivot because she put the organization on such firm financial footing," said Mary Robinette Kowal, SWFA president, during the awards, adding: "She was such an amazing president for five years. Let me say that again. She was president of SFWA for five years. Five."

Asked to give a speech that Saturday night, the webcast from her delightfully book-cluttered office turned into a toss-the-script moment.

"I had a pretty speech all prepared, but the news this morning convinced me to throw that all away," she said of the developing clashes around the country between protesters and law enforcement after George Floyd was killed by arresting police in Minneapolis last week.

She noted that the SFWA was started by a small group of writers who wanted to look out for their fellow writers. The need for that mission has only been reinforced in a time of pandemic and pandemonium.
(2) THE NOT RIGHT SPEAKS OUT. Alt-right blog Bounding Into Comics did a roundup of the opinions of writers Jon Del Arroz, Jennifer Marie Brissett, Kit Sun Cheah, Yakov Merkin, and Louie Lozano. who condemned plans SFWA announced yesterday in "A Statement from SFWA on Black Lives Matter and Protests".
(3) LEGO SOFT-PEDALS COP SETS. Ethan Alter, in the Yahoo! Entertaiment story "Lego pauses marketing its police-themed playsets 'in response to events in the U.S.'", says Lego announced it will still sell, but not market, such kits as "Sky Police Air Base" and "Police Highway Arrest" as well as kits of the White House in response to the protests over George Floyd's death
…Earlier this week, the Toybook published the copy of an email sent to affiliates by the marketing network Rakuten LinkShare. "In light of recent events, Lego has requested the below products to be removed from sites and any marketing ASAP," the letter begins. The list of more than 30 products includes such playsets as Sky Police Air Base, Police Highway Arrest, Police Handcuffs & Badge and Police Pursuit, as well as a Lego version of the White House, which has been the site of several clashes between police and protesters.

In a statement provided to Yahoo Entertainment, Lego stresses that these playsets are not being pulled from sale in stores or online, but confirms that they are part of an ongoing marketing pause. No end date was specified as to when the brand would resume marketing. (Read the full statement below.)…

…There is no place for racism in our society. We stand with the black community against racism and inequality. Our mission is to inspire and develop the builders of tomorrow, and that includes inspiring them to be tolerant, inclusive and kind. There is more to do and as one small step, we are donating US$4 million to organizations in the U.S. dedicated to organizations that support black children and others that educate all children about tolerance and racial equality. …
(4) TRASH OF THE TITANS. "Elon Musk calls for 'break up' of Amazon"
Elon Musk has called for the "break up" of tech giant Amazon, following a dispute about a coronavirus e-book.

The entrepreneur came to the defence of an author after Amazon's Kindle publishing division rejected his book about the coronavirus pandemic.

Mr Musk tagged Amazon chief executive Jeff Bezos in a tweet, saying the decision was "insane", adding: "Time to break up Amazon."

Amazon said the book had been removed in error and would be reinstated.

The author of the book, Alex Berenson, caught Mr Musk's attention by tweeting a screenshot from Amazon, which told him that his book about the pandemic did not meet its guidelines.
(5) DC DEALS DIAMOND OUT. ComicsBeat brings news of a seismic upheaval in comics distribution: "DC pulls out of Diamond, will use Lunar and UCS for periodical distribution".
…DC's comics will be available through Lunar Distribution and UCS Comics Distributors, the companies that were set up during Diamond's downtime, as well as Penguin Random House, which has been DC's book distributor for many years.

…Asked for confirmation, a DC spokesperson sent this statement:

"After 25 years, DC and Diamond Comic Distributors are ending their long-standing relationship. Moving forward, comic book retailers can obtain their DC books from Penguin Random House, or their books and periodicals through Lunar or UCS comic book distributors. DC continues to be committed to providing the Direct Market with best in class service and the fans with the world's greatest comic books."

The mailer included this answer to "Why is DC Doing This?"

DC has been analyzing its Direct Market distribution for some time, long before COVID, specifically in light of sustained stagnant market growth. The timing of the decision to move on from Diamond was ultimately dictated by the fact that DC's contract with Diamond has expired, but incidentally, the disruption by COVID to the market has required DC to forge ahead with its larger growth strategies that will benefit both the Direct Market and DC.
… Diamond has just released a response from owner Steve Geppi….

Today, DC sent out a retailer communication indicating they are ending their long-standing relationship with Diamond. In April, we were informed that DC was going to begin distributing products through additional partners. At that time, they asked us to submit a proposal for a revised agreement with the understanding that Diamond would continue to be one of their distributors. Which we promptly did. They then requested an extension to June 30 which we also accommodated. Last week, DC requested an additional extension through July. We responded with questions and DC indicated they would reply today, June 5. Instead of receiving a response, today we received a termination notice. While we had anticipated this as a possible outcome, we, like so many others in the industry, are disappointed by their decision to end our partnership so abruptly at this time.
(6) INSIDE THE SERIAL BOX. Nerds of a Feather's Andrea Johnson scored an interview with two of the creators behind a new Jessica Jones project: "Interview: Lauren Beukes and Fryda Wolff".
Marvel's Jessica Jones: Playing With Fire launched on Serial Box on May 28th, with new episodes available every Thursday. Jessica Jones' dry sense of humor, her brand of "self care", and a simple missing person case, what could possibly go wrong? (well, everything of course, and that's what makes this so addictively entertaining!).

The 16 episode season was written by Lauren Beukes, Vita Ayala, Sam Beckbessinger, Zoe Quinn, and Elsa Sjunneson, and narrated by Fryda Wolff. …

NOAF: How did the team decide who was going to write which episodes? Any funny stories about how particular scenes were plotted out or designed?

LB: We settled it with an old-fashioned rage-in-the-cage, home-made weapons, anything goes, no backsies. No, that's not right. We used our words and talked it out. What was interesting was how particular episodes really resonated with different writers. It was very organic and democratic. Elsa was excited to write the Matt Murdock chapters because it's the first time the blind Daredevil has been written by an actual blind writer. Vita called dibs on the big fight scene, and Zoe wanted to delve into the psychological trauma and head games. I wanted to kick it off, set the tone and then we brought in another wonderful South African writer, Sam Beckbessinger, post-writers room, to write some of the later chapters.
(7) TODAY IN HISTORY.
June 5, 1956 — X Minus One's "Project Mastodon" first aired. Based  off multiple Hugo Award wining author Clifford D. Simak's novella from the March 1955 issue of Galaxy Science Fiction, Three adventurers return to prehistoric times, found a country called Mastodonia, and try to establish diplomatic relations with the United States with somewhat mixed results. The script is by Ernest Kinoy. The cast members were Floyd Mack, Dick Hamilton, Charles Penman,  Raymond Edward Johnson, Frank Maxwell, Bob Hastings, John Larkin and Joe Julian.  You can listen to it here.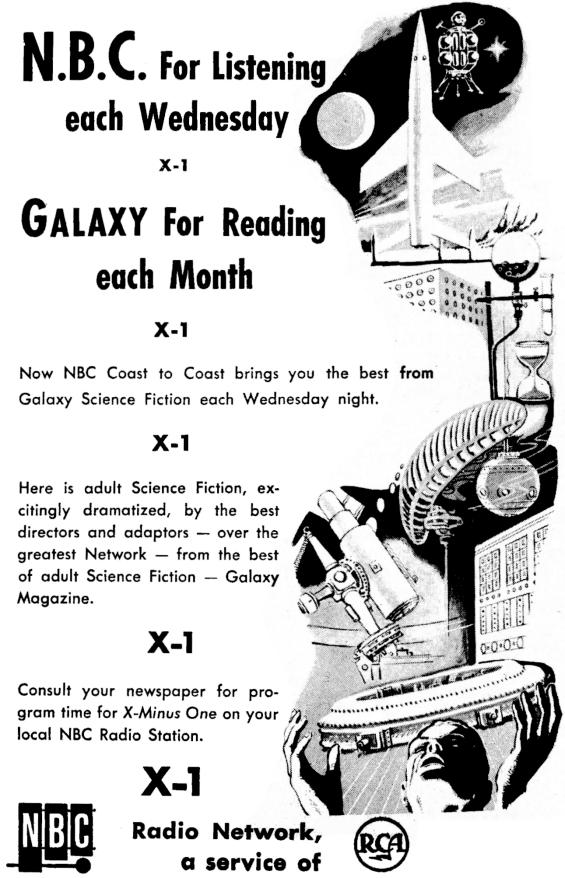 (8) TODAY'S BIRTHDAYS.
[Compiled by Cat Eldridge and John Hertz.]
Born June 5, 1844 — L. T. Meade. Author of series aimed generally at girls but who wrote several genre series as well, to wit Stories of the Sanctuary Club, The Brotherhood of the Seven Kings and The Sorceress of the Strand. All of these were co-written by Robert Eustace. Meade and Eustace also created the occult detective and palmist Diana Marburg in "The Oracle of Maddox Street" found initially in Pearson's Magazine in 1902. (Died 1924.) (CE)
Born June 5, 1899 – Boris Artzybasheff. Prolific graphic artist in and out of our field; 200 covers for Time (one was Craig Rice – pen name of Georgiana Craig – first mystery-fiction writer shown there, 28 Jan 46). Here is his cover for The Circus of Dr. Lao – he did its interiors too; here is The Incomplete Enchanter. Here is a commercial illustration, "Steel"; here is Buckminster Fuller. Don't miss him in Vincent Di Fate's Infinite Worlds. Book of his artwork, As I See (rev. 2008). (Died 1965) [JH]
Born June 5, 1908 – John Fearn. British author of SF, crime fiction, Westerns; fairground assistant, cinema projectionist; wrote under two dozen names. Two hundred books in our field, two hundred eighty shorter stories. Guest of honor at Supermancon (the second Eastercon – British national SF con – to be held at Manchester). (Died 1960) [JH]
Born June 5, 1928 — Robert Lansing. He was secret agent Gary Seven in the "Assignment: Earth" episode of Trek. The episode was a backdoor pilot for a Roddenberry series that would have starred him and Teri Garr, but the series never happened. He of course appeared on other genre series such as The Twilight Zone, Journey to the Unknown, Thriller and Alfred Hitchcock Presents. (Died 1994.) (CE)
Born June 5, 1931 – Barbara Paul, 89. She says, "I did not grow up reading science fiction…. I was one of those smug mundanes who thought 'sci-fi' was all death-rays and aluminum-foil spacesuits and Robby the Robot. (Well, maybe sci-fi is, but not SF.) It wasn't until my son, eleven at the time, handed me a book f short stories by Robert Sheckley that I began to realize what I'd been missing." For us, six novels (I'm counting Liars and Tyrants and People who Turn Blue, which depends upon a psychic character), a dozen and a half shorter stories; more of other kinds e.g. detectives. [JH]
Born June 5, 1946 — John Bach, 74. Einstein on Farscape (though he was uncredited for most of the series), the Gondorian Ranger Madril in the second and third movies of The Lord of the Rings film trilogy, also a British bodyguard on The Chronicles of Narnia: Prince Caspian. And he was the body double for shooting Saruman in place of Christopher Lee, who was unable to fly to New Zealand for principal photography on The Hobbit film series. (CE)
Born June 5, 1949 – Ken Follett, 71. Five novels, as many shorter stories, in our field, under this and other names; translated into Dutch, Finnish, German, Hungarian, Italian, Spanish; dozens more, some international best-sellers; The Pillars of the Earth, about building a 12th Century cathedral, sold 27 million copies as of 2019; film and television adaptations. Non-fiction On Wings of Eagles about rescuing men from Iranian prison. Four honorary doctorates. Bass balalaika with folk group Clog Iron. [JH]
Born June 5, 1953 — Kathleen Kennedy, 67. Film producer responsible for E.T. the Extra-Terrestrial, her first film, and later produced the Jurassic Park franchise. She's been involved in over sixty films, I'd say at least half genre, starting with Raiders of the Lost Ark as an associate to Steven Spielberg. Amblin Films with her husband and Spielberg has produced many of the genre's best loved films. (CE)
Born June 5, 1960 – Margo Lanagan 60. A dozen novels, six dozen shorter stories, in our field; among the two dozen contributors to "Celebrating 50 Years of Locus" in Locu s687. Two Ditmars, three World Fantasy awards. Recent collection, Singing My Sister Down. [JH]
Born June 5, 1964 – P.J. Haarsma 56. Author, photographer. Co-founder of Kids Need to Read. Four Rings of Orbis books, two Spectrum comics (with Alan Tudyk, Sarah Stone) in that world, and an electronic role-playing game. Crowd-funded $3.2 million to start Con Man (television). Redbear Films commercial production. [JH]
Born June 5, 1971 — Susan Lynch, 49. Northern Irish actress whose career in film started off by being a selkie in The Secret of Roan Inish with her next role being an unnamed Paris Vampire in Interview with a Vampire. Film wise, her last role to date is Aunt Alice in Ready Player One. She's got one series credit to date playing Angstrom In the Thirteenth Doctor story, "The Ghost Monument". (CE)
Born June 5, 1976 — Lauren Beukes, 44. South African writer and scriptwriter. Moxyland, her first novel, is a cyberpunk novel set in a future Cape Town. Zoo City, a hardboiled thriller with fantasy elements is set in a re-imagined Johannesburg. It won both the Arthur C. Clarke Award and a Kitschies Red Tentacle for best novel. And The Shining Girls would win her a August Derleth Award for Best Horror Novel. (CE)
(9) UNDER THE HOOD. SYFY Wire reports: "Mark Hamill Surprises Star Wars-Loving Nurse In Heartwarming 'Kimmel' Segment".
Do you need a dose of optimism and joy in such uncertain and turbulent times? We've got just the thing with a wonderful Jimmy Kimmel Live segment in which Mark Hamill (Luke Skywalker himself!) surprises a California healthcare worker who also happens to be a massive Star Wars fan. That's Chloé Ducos, a registered nurse who works in a coronavirus testing tent in San Diego.

"I'm a pretend hero, you're the real hero. Thank you for your service," Hamill told Ducos, who burst into genuine tears of shock and happiness when the actor appeared on the virtual call and removed his Jedi-like hood. Her heartwarming reaction alone makes the video below worth watching.
Kimmel's YouTube intro adds:
…We are also giving her $10,000 from our friends at PayPal, who will also be sending PayPal vouchers to all of her coworkers as well.
(10) PRO TIP. Matt Wallace cannot be denied.
(11) MORE THAN CATAPULT FODDER. Paul Weimer is high on the novel and the author: "Microreview [Book] Savage Legion by Matt Wallace" at Nerds of a Feather.
…Savage Legion is most definitely the best work from the pen of an author whose skills, to my eye, are growing by leaps and bounds.
(12) TODAY'S THING TO WORRY ABOUT. NPR asks "Are There Zombie Viruses — Like The 1918 Flu — Thawing In The Permafrost?"
Zac Peterson was on the adventure of a lifetime.

The 25-year-old teacher was helping archaeologists excavate an 800-year-old log cabin, high above the Arctic Circle on the northern coast of Alaska.

They had pitched tents right on the beach. Over the course of a month, Peterson watched a gigantic pod of beluga whales swim along the beach, came face-to-face with a hungry polar bear invading their campsite and helped dig out the skull of a rare type of polar bear.

But the most memorable thing happened right at the end of that summer trip.

"I noticed a red spot on the front of my leg," Peterson says. "It was about the size of a dime. It felt hot and hurt to touch."

The spot grew quickly. "After a few days, it was the size of a softball," he says.

Peterson realized he had a rapidly spreading skin infection. And he thought he knew where he might have picked it up: a creature preserved in the permafrost….
(13) JETBOY'S LAST ADVENTURE. "Combat drone to compete against piloted plane"
The US Air Force will pit an advanced autonomous aircraft against a piloted plane in a challenge set for July 2021.

The project could eventually lead to unpiloted fighter aircraft that use artificial intelligence (AI).

Lt Gen Jack Shanahan, head of the Pentagon's Joint Artificial Intelligence Center, called the test a "bold, bold idea".

Air Force Magazine also described the development of autonomous fighter jets as a "big Moonshot" for the military.
(14) ALFRED'S GHOST. "Crows 'terrorise' staff at Essex Police headquarters". BBC learns a policeman's lot is not a happy one.
Police officers and staff are being "terrorised" by a family of crows that is nesting at its headquarters.

Essex Police Deputy Chief Constable Pippa Mills warned visitors to the site to "beware" and "keep calm and keep walking" in a tweet about the issue.

She shared a photo of a warning sign which has been put up at Essex Police HQ.

It advises people to "take an alternative route" or "wear a hat or use an umbrella".

The sign urges people to "not act aggressive as they will feel threatened".
(15) IT REALLY BUGS THEM. The Harvard Gazette finds the worst problem with a lack of sleep might not center where you'd think: "Sleep, death, and… the gut?"
The first signs of insufficient sleep are universally familiar. There's tiredness and fatigue, difficulty concentrating, perhaps irritability or even tired giggles. Far fewer people have experienced the effects of prolonged sleep deprivation, including disorientation, paranoia, and hallucinations.

Total, prolonged sleep deprivation, however, can be fatal. While it has been reported in humans only anecdotally, a widely cited study in rats conducted by Chicago-based researchers in 1989 showed that a total lack of sleep inevitably leads to death. Yet, despite decades of study, a central question has remained unsolved: Why do animals die when they don't sleep?

Now, Harvard Medical School (HMS) neuroscientists have identified an unexpected, causal link between sleep deprivation and premature death.

In a study on sleep-deprived fruit flies, published in Cell on June 4, researchers found that death is always preceded by the accumulation of molecules known as reactive oxidative species (ROS) in the gut.

When fruit flies were given antioxidant compounds that neutralize and clear ROS from the gut, sleep-deprived flies remained active and had normal lifespans. Additional experiments in mice confirmed that ROS accumulate in the gut when sleep is insufficient.

The findings suggest the possibility that animals can indeed survive without sleep under certain circumstances. The results open new avenues of study to understand the full consequences of insufficient sleep and may someday inform the design of approaches to counteract its detrimental effects in humans, the authors said.
(16) VIDEO OF THE DAY. "Looking for Mr Bond, 007 at the BBC–James Bond Documentary" on YouTube is a 2015 BBC documentary,, directed by Matthew Thomas, that includes 50 years of behind-the-scenes footage from the BBC of Bond movies, including interviews with Ian Fleming, John le Carre, and Roald Dahl, who wrote the screenplay for From Russia With Love.
[Thanks to John Hertz, John King Tarpinian, JJ, Mike Kennedy, Michael Toman, Martin Morse Wooster, Chip Hitchcock, Cat Eldridge, and Andrew Porter for some of these stories. Title credit goes o File 770 contributing editor of the day Tom Becker.]