(1) SHEILA GILBERT RETIRES. DAW editor Sheila Gilbert retired on June 30. Author Julie Czerneda paid tribute on Facebook.
After 53 years in publishing, my long-time fiction editor, Sheila Gilbert, retires today. We are family and always will be. As an author, what I've been able to put forth in story owes everything to Sheila. For her support, her "sure, write that" enthusiam no matter what I came up with, and above all, her many many insightful, invaluable comments and catches to make everything better.

As a friend, I look forward visits and adventures–and to hearing what she has to say about the next book. As a fan. Who could ask for more? Please join me in congratulating someone who has filled our shelves and hearts–and can finally ignore deadlines!!!
(2) SO MAYBE KEEPING EPH WAS A GOOD IDEA. Ersatz Culture has been studying the withdrawn list of 2023 Hugo finalists and comparing it with the recommendations Science Fiction World posted in Chinese social media in April.
(3) SAVOYARDLY. [Item by Daniel Dern.] I saw Indiana Jones And The Dial Of Destiny last night (first time in a movie theater since the beginning of Covid) with a friend, and, when Sallah began singing from G&S/Pinafore's "He Is An Englishman" I quietly noted to him "Gilbert and Sullivan, Pinafore" (just in case he wasn't familiar enough to spot it). He said "There's a G&S song bit in every Indiana Jones movie."
Ten or twenty minutes of web search later, I'm not yet convinced.
I'm finding cites for three G&S songs in only two Indiana Jones flicks — Raiders, and Dial — all from HMS Pinafore, all, I think, sung by Sallah. (No, I'm not prepared to rewatch the other three, just for this.)
Here's what I found (including the usual lagniappe).
Songs that search hits confirm:
"He Is An Englishman"
"I Am The Monarch of The Sea"
"A British Tar"
(One search hit mistakenly ID's the lyric from "Englishman" as part of "British Tar")
Here's some links (not finding one for Dial/Destiny):
Includes Sallah singing from "I Am The Monarch of The Sea", and from "A British Tar": "When Captain Picard and Indiana Jones met Gilbert and Sullivan" at Flickchart.
Here's lyrics to "For He Is an Englishman" which may help show why it's (subtly?) funny.
And here's performances/fragments, including "Englishman" from not just Star Trek but also (in the same link) The Simpsons, and West Wing along with Batman (Adam West – from the 1960's TV series) singing "I'm Called Little Buttercup"; Animaniacs; Family Guy; Car 54; some Alan Sherman parodies: "H.M.S. Pinafore – The Gilbert & Sullivan Very Light Opera Company".
(It feels like the above compilation link's been in an item before… if nothing else, I recommend the Simpsons, West Wing, and Car 54 ones there.)
(4) MEDICAL UPDATE. Ursula Vernon tells her news like nobody else.
(5) FLYNN UPDATE. Meantime, Michael Flynn's daughter told Facebook readers that Flynn "is on a step-down unit, meaning on a regular medical floor and out of ICU."
(6) TAFF NEWS. The latest Trans-Atlantic Fan Fund newsletter has 2023 delegate Sandra Bond's travel plans and other information: TAFFest 3. Says Bond:
…Since being announced as the delegate-elect in April, I have been privileged to receive invitations and offers of hospitality from all over North America. It very soon became clear that I wasn't going to be able to accept anything like all of them; well, perhaps if I spent a year over there, but I'm not sure who would object more violently to that, the TAFF administrators or the immigration officials.

I know, I know – we should all have this problem.

In considering my route, I've worked on the basis that TAFF is in part a reward and in part an ambassadorship; in other words, that I may feel at liberty to do a certain amount of sightseeing, but that I also have a duty to make myself available at the conventions I'll be attending, and at any other fannish events at which I may find myself. Don't feel bad for me – this will be a pleasure as much as a duty….
(7) THIRD EYE. "Felicia Day Launches Sci-Fi Audible Series Starring Neil Gaiman, Sean Astin and More" – CBR.com has the story.
Felicia Day is launching a new science-fiction comedy audio series titled Third Eye, featuring renowned author Neil Gaiman as The Narrator.

Created in partnership with Audible Inc., Third Eye promises an abundance of iconic geek and gaming culture, with Easter eggs cleverly woven throughout the series. Written by Day, the story follows Laurel, a wizard who once failed in her battle against Tybus The Terrible (Christopher Judge) and is still grappling with the repercussions a decade later, despite being a "Chosen One." Along the way, Laurel uncovers shocking secrets while encountering old adversaries.

Day stars as Laurel, a heroine forced to overcome her tattered reputation and self-loathing to save her friends.

Despite its dark premise, Third Eye will take listeners on an entertaining comedic journey with a host of unique characters like Kate Chen (Lily Pichu), a quirky teenager determined to learn about the supernatural world. Frank Fletcher (Sean Astin) is a cranky, stubborn vampire. Robigus (Wil Wheaton) is the local San Francisco enforcer for Tybus and a constant thorn in the side for Laurel. Sybil (London Hughes) is an exiled Faerie princess in her 20s who is best described as a hot mess. Neil Gaiman headlines the all-star cast as The Narrator….
(8) THE STARS WILL COME OUT FOR BRADBURY. The Library of America is hosting a free online panel, "The Enduring Genius of Ray Bradbury", on Wednesday, July 19 at 6:00 p.m. Eastern. Register at the link.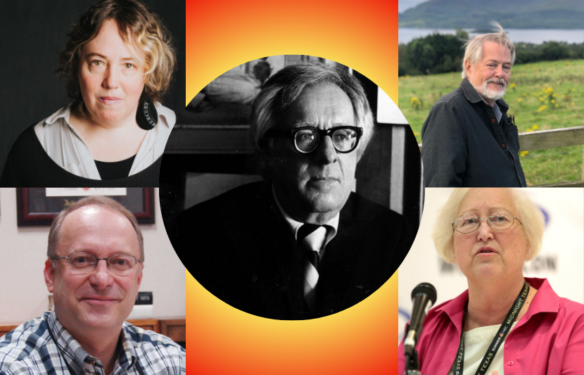 In The Martian Chronicles, The Illustrated Man, Fahrenheit 451, and other visionary works melding science fiction, horror, fantasy, and high literature, Ray Bradbury electrified readers and inspired generations of genre-bending younger writers. Acclaimed authors Connie Willis and Kelly Link join LOA Bradbury editor Jonathan R. Eller and SF expert Gary K. Wolfe for a conversation about this American original's towering legacy.

There will be a brief Q&A at the end of the program; you will be able to type a question and submit it to the event moderator.
(9) MEMORY LANE.
2010 – [Written by Cat Eldridge from a choice by Mike Glyer.]
Cherie Priest is one of those writers that everyone really should read at lest once. When she was living in Chattanooga, she created her Eden Moore series which is set there and strongly recommend. The final of the three novels, Not Flesh Nor Feathers, was nominated for an Endeavour Award.
The other series that I really like of her is Clockwork Century Universe. Steampunk at its very, very best. Mike decided the third book of the seven that were done, Dreadnought, would be our Beginning.
It was published by Tor thirteen years ago, and it would win the Endeavour Award which given to a genre book written by a Pacific Northwest author or authors. The cover art is by Jon Foster.
And now for the Beginning…
Down in the laundry room with the bloody-wet floors and the ceiling-high stacks of sheets, wraps, and blankets, Vinita Lynch was elbows-deep in a vat full of dirty pillowcases because she'd promised—she'd sworn on her mother's life—that she'd find a certain windup pocket watch belonging to Private Hugh Morton before the device was plunged into a tub of simmering soapy water and surely destroyed for good. 
Why the private had stashed it in a pillowcase wasn't much of a mystery: even in an upstanding place like the Robertson Hospital, small and shiny valuables went missing from personal stashes with unsettling regularity. And him forgetting about it was no great leap either: the shot he took in the forehead had been a lucky one because he'd survived it, but it left him addled at times—and this morning at breakfast had been one of those times. At the first bell announcing morning food, against the strict orders of Captain Sally he'd sat up and bolted into the mess hall, which existed only in that bullet-buffeted brain of his. In the time it took for him to be captured and redirected to his cot, where the meal would come to him, thank you very kindly, if only he'd be patient enough to receive it, the junior nursing staff had come through and stripped the bedding of all and sundry.
None of them had noticed the watch, but it would've been easy to miss.
(10) TODAY'S BIRTHDAYS.
[Compiled by Cat Eldridge.]
Born July 5, 1941 — Garry Kilworth, 82. The Ragthorn, a novella co-authored with Robert Holdstock, won the World Fantasy Award. It's an excellent read and it makes me wish I'd read other fiction by him. Anyone familiar with his work?
Born July 5, 1946 — Joyce Ballou Gregorian Hampshire. A fascinating woman who was way too short-lived due to a long illness with cancer. She was an SF writer, an expert on Oriental rugs, and a horse breeder. She wrote the Tredana trilogy, an alternative world fantasy. She collaborated with her father, Arthur T. Gregorian, and her nephew, Douglas Christian, on a book on Armenian oriental rugs. (Died 1991.)
Born July 5, 1948 — Nancy Springer, 75. May I recommend her Tales of Rowan Hood series of which her Rowan Hood: Outlaw Girl of Sherwood Forest is a most splendid revisionist telling of that legend? And her Enola Holmes Mysteries are a nice riffing off of the Holmsiean mythos. She won an Otherwise Award for her Larque on the Wing novel, and her latest, The Oddling Prince, came out several years ago on Tachyon.
Born July 5, 1957 — Jody Lynn Nye, 66. She's best known for collaborating with Robert Asprin on the ever so excellent MythAdventures series. Since his death, she has continued that series and she is now also writing sequels to his Griffen McCandle series as well. She's got a space opera series, The Imperium, out which sounds intriguing. Her latest two novels are both written with Travis Taylor, Moon Beam and Moon Tracks
Born July 5, 1962 — Marc Gascoigne, 61. Winner of the World Fantasy Special Award—Professional for his Angry Robot press, and later he won the British Fantasy Award in the category Best Independent Press, again for Angry Robot. If you're a gamer, you'll be impressed by knowing that he co-wrote Games Workshop's original Judge Dredd RPG, and wrote the original Shadowrun source book.
Born July 5, 1963 — Alma Alexander, 60. Author of three SF series including the Changer of Days which is rather good. I'm including her here for her AbductiCon novel which is is set in a Con and involves both what goes on at that Con and the aliens that are involved.
Born July 5, 1964 — Ronald D. Moore, 59. Screenwriter and producer who's best remembered for his work on Star Trek: The Next Generation where he fleshed out the Klingon race and culture, on the rebooted Battlestar Galactica, and Outlander. He's the creator and writer of For All Mankind. He was one of the folks who won a Hugo at Intersection for the Next Generation's "All Good Things…" and among the group nominated for one at LoneStarCon 2 for First Contact. His latest Hugo was won at Interaction for Battlestar Galactica's "33".
(11) COMICS SECTION.
Bizarro has some fun with a twisted book title.
(12) ANIMATION WILL SCREEN AT COMIC-CON. "Venture Bros, Babylon 5 & More Set to Screen at SDCC 2023" reports Bleeding Cool.
Even though Hall H might be found a bit lacking, this year's San Diego Comic-Con (SDCC) still has a lot to offer inside and outside the San Diego Convention Center. And when we're talking about animation, we're learning that Warner Bros. Discovery's Warner Bros. Entertainment is looking to make an impact in some very big ways. So what can folks look forward to? How do screenings, Q&A sessions, and more sound? We thought you'd approve. As for what you should be keeping an eye out for, there are going to be four panels focusing on the following animated films: Adult Swim's The Venture Bros.: Radiant is the Blood of the Baboon Heart, Metalocalypse: Army of the Doomstar, DC's Justice League: Warworld, and Babylon 5: The Road Home….
(13) EYES ON STREAMING. Here are JustWatch's top 10 movie and TV streaming lists for June 2023.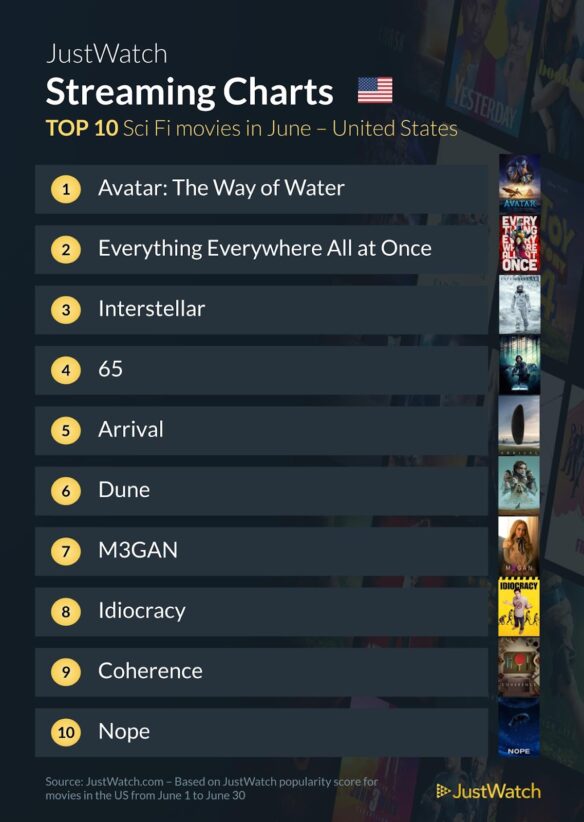 (14) U CAN HAZ FLYING CAR. [Item by Mike Kennedy.]USA Today reports "The first flying car, 'Model A,' approved by the FAA and it's 100% electric".
All electric
VTOL
FAA preliminary approval, but not yet road approved by NHTSA
When it is road approved, it'll be a "Low Speed Vehicle" limited to 25 mph
$300,000
See linked article for video (all of which may be digitally rendered)
Linked article also has a bunch of pics (again, likely digitally rendered)
Under experimental status, the first flying car has officially been cleared for take off.

This week, Alef Aeronautics revealed its flying car "Model A" was granted legal permission from the Federal Aviation Administration to test run the vehicle on the road and in the sky − a move needed before it can be released to the public.

Alef is the first company to receive a Special Airworthiness Certification from the FAA, the company said in a news release. The certification limits the locations and purpose for which the vehicle is allowed to fly.

The vehicle will also need to meet National Highway and Traffic Safety Administration safety standards before taking flight….

… The company, founded in 2015 by Dukhovny, Konstantin Kisly, Pavel Markin, Oleg Petrov in Palo Alto, California, has been test driving and flying the car's prototype since 2019.

The version customers could receive has a driving range of 200 miles and a flight range of 110 miles.
(15) A WUNNERFUL, A WUNNERFUL. "South Korea asks 'Can robots replace conductors?', as a mechanical maestro makes its podium debut…" at Classic fM
A robot has become the first of its kind to conduct an orchestra in South Korea, in a high-profile concert hall debut last week.

Standing at 1.8 metres tall, the EveR 6 robot led the National Orchestra of Korea in a sold-out performance at the National Theatre of Korea in Seoul on Friday 30 June.

The legless automaton was developed by the Korean Institute of Industrial Technology over a year ago, to test whether 'robots could replace conductors'. Equipped with two arms housing 'wrist' and 'elbow' joints, the machine is able to delicately replicate the baton movements of the human maestro.

In a video advertisement for last Friday's performance, a senior researcher at the Korean Institute of Industrial Technology, Dong-wook Lee, explained: "We got involved in this project to see how far robots can go in more creative fields like the arts, and what the challenges are."…
[Thanks to Mike Kennedy, Andrew Porter, John King Tarpinian, Kathy Sullivan, David Langford, Chris Barkley, Michael Toman, Cat Eldridge, and SF Concatenation's Jonathan Cowie for some of these stories. Title credit belongs to File 770 contributing editor of the day Daniel Dern.]