(1) PROSECRAFT NUKED FROM SPACE. A site called Prosecraft stirred tremendous controversy yesterday once authors realized thousands of their books were used by the site without their permission. Also, people believe their texts are being used to train AI.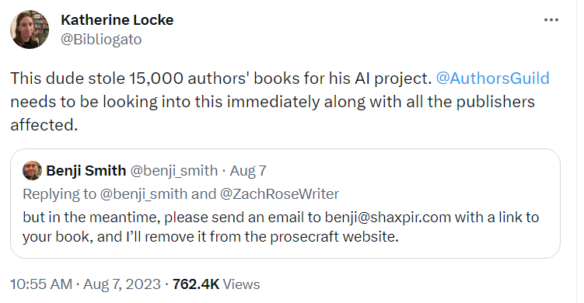 Benji Smith's initial attempt to skate around the controversy was to tell writers he would remove their book if they emailed him a link.
Smith took the site down today and left a sort of apology in its place, but they still have the texts — and the software. "Taking Down Prosecraft.io" on The Shaxpir Blog.
…Today the community of authors has spoken out, and I'm listening. I care about you, and I hear your objections.

Your feelings are legitimate, and I hope you'll accept my sincerest apologies. I care about stories. I care about publishing. I care about authors. I never meant to hurt anyone. I only hoped to make something that would be fun and useful and beautiful, for people like me out there struggling to tell their own stories.

For what it's worth, the prosecraft website has never generated any income. The Shaxpir desktop app is a labor of love, and during most of its lifetime, I've worked other jobs to pay the bills while trying to get the company off the ground and solve the technical challenges of scaling a startup with limited resources. We've never taken any VC money, and the whole company is a two-person operation just working our hardest to serve our small community of authors….
Lincoln Michel said the effort to decry a profit motive is deceptive.
Gizmodo's report "Fiction Analytics Site Prosecraft Shut Down After Backlash" includes an extensive roundup of yesterday's social media comments about the site.
Prosecraft.io, a site that used novels to help power a data-driven project to display word count, passive voice, and other much more subjective, writing-style markers such as vividness, shut down today after authors protested the project. Prosecraft used the full text of over 25,000 books—which is entirely copyrighted material—in order to develop a library of data. Authors, once they caught wind of what was happening, immediately hated this….
Ellen Datlow's response to today's shutdown was:
Susan Bridges pointed out why this is still dodgy:
And what's more, Ursula Vernon found Prosecraft itself not very useful, as she illustrated in a long thread that starts here.
(2) ZOOM. Writers also discovered a much more important tool – Zoom – is grabbing their intellectual property with both robotic arms in its updated TOS.
Alex Ivanovs' analysis at Stackdiary finds "Zoom's Updated Terms of Service Permit Training AI on User Content Without Opt-Out".
…What raises alarm is the explicit mention of the company's right to use this data for machine learning and artificial intelligence, including training and tuning of algorithms and models. This effectively allows Zoom to train its AI on customer content without providing an opt-out option, a decision that is likely to spark significant debate about user privacy and consent.

Additionally, under section 10.4 of the updated terms, Zoom has secured a "perpetual, worldwide, non-exclusive, royalty-free, sublicensable, and transferable license" to redistribute, publish, access, use, store, transmit, review, disclose, preserve, extract, modify, reproduce, share, use, display, copy, distribute, translate, transcribe, create derivative works, and process Customer Content….
Under Section 10 of the new Zoom TOS:
"10.4 Customer License Grant. You agree to grant and hereby grant Zoom a perpetual, worldwide, non-exclusive, royalty-free, sublicensable, and transferable license and all other rights required or necessary to redistribute, publish, import, access, use, store, transmit, review, disclose, preserve, extract, modify, reproduce, share, use, display, copy, distribute, translate, transcribe, create derivative works, and process Customer Content and to perform all acts with respect to the Customer Content: (i) as may be necessary for Zoom to provide the Services to you, including to support the Services; (ii) for the purpose of product and service development, marketing, analytics, quality assurance, machine learning, artificial intelligence, training, testing, improvement of the Services, Software, or Zoom's other products, services, and software, or any combination thereof; and (iii) for any other purpose relating to any use or other act permitted in accordance with Section 10.3. If you have any Proprietary Rights in or to Service Generated Data or Aggregated Anonymous Data, you hereby grant Zoom a perpetual, irrevocable, worldwide, non-exclusive, royalty-free, sublicensable, and transferable license and all other rights required or necessary to enable Zoom to exercise its rights pertaining to Service Generated Data and Aggregated Anonymous Data, as the case may be, in accordance with this Agreement."
Eddie Louise, like many professionals, is out of there.
Michael Damian Thomas concluded:
(3) LET'S MAKE A DEAL. Simon & Shuster has been sold to private equity firm KKR for $1.62 billion reports Publishers Weekly.
In a move that some in the industry will welcome as putting at least a temporary stop to industry consolidation, the private investment firm KKR has reached an agreement with Paramount Global to acquire Simon & Schuster for $1.62 billion in an all cash transaction.

Though below the $2.175 billion that Penguin Random House had previously agreed to pay for the country's third largest trade publisher, $1.62 billion is a healthy price since most trade publishers sell for not much better than 1.5 times sales, and S&S's 2022 revenue was $1.18 billion….

… Overall, Bakish said the $1.62 billion sale price plus the $200 million termination fee paid by Penguin Random House after last year's deal was blocked by regulators, plus the cash flow gained from strong sales from S&S over the last year, means the company will "realize approximately $2.2 billion of gross proceeds" from the S&S sale….
…Last year, the Department of Justice blocked Penguin Random House from acquiring Simon & Schuster for $2.2 billion.

"The proposed merger would have reduced competition, decreased author compensation, diminished the breadth, depth, and diversity of our stories and ideas, and ultimately impoverished our democracy," Assistant Attorney General Jonathan Kanter of the Justice Department's Antitrust Division said in a statement at the time….
(4) MEET THE HANTU. BookBrunch titles its interview with Zen Cho without good reason "No tongue sandwiches in these adventure stories". Don't let that keep you from enjoying her comments about writing the stories now collected in Spirits Abroad.
…But it felt important to me to write about a mundanity reflecting my day-to-day life, featuring people who looked and spoke like my friends and family.

The stories that resulted were about Asian girls and women navigating multiple worlds, challenging and being challenged by the strange beings they found there – whether those were white people, or magical creatures. The characters are witches, shapeshifters, vampires and hantu – a Malay term for a diverse and terrifying group of local spirits.

They encounter lovesick dragons, argue with their bossy undead grandmas, and battle fairy armies. They eat sambal (a pungent condiment characteristic of Malaysian and Indonesian cuisine, made from a mixture of chillies and shrimp paste) and curry chicken bread. They address each other using Hokkien kinship terms and speak a variety of languages, not least Malaysian English – what we call 'Manglish', a creolised form of English that borrows grammar and vocabulary from Malay, Chinese dialects and Indian languages.

I called the collection of these stories Spirits Abroad. Despite its flights of whimsy, it's a book rooted in my reality, in a way none of the books I read growing up were. It features magic and the supernatural, but it's also about characters who are far away from home and trying to figure out who they are in the new places where they find themselves. It's the book I wish I could have given my younger self….
(5) HOPE FOR EARLY DOCTOR WHO COMPLETISTS. A better explanation of an item here the other day: "Doctor Who: Head of TV Archive Gives Promising Update on Missing Episodes" at CBR.com.
…However, Perry has given Doctor Who fans a peculiar update on the issue. RadioTimes reported that the CEO of Kaleidoscope assured audiences that the lost episodes are "very likely" to be recovered somewhere along the line. At the moment, 97 episodes (out of 253), all from the show's first six years, are still missing, meaning that quite a few stories featuring the First Doctor and the Second Doctor and their companions are either partially or completely lost.

Perry claimed that he and his team were aware of the location of the missing episodes, yet they had no means of getting their hands on them due to lacking the owners' permission. "We know where there is missing Doctor Who out there but the owners won't return it at the moment," he explained.

…. The recovery work for Doctor Who's missing episodes has been going on for years. In fact, all of the Third Doctor's adventures — as well as six complete serials and quite a few episodes from the lost stories with the First and the Second Doctors — have been tracked down since the 1970s. Most recently, for instance, four episodes of Troughton's Season 5 Serial 5, called "The Web of Fear," were miraculously found in Nigeria back in 2013…
(6) GLASGOW 2024 TO OPEN ONE YEAR FROM TODAY. [From a press release.] The 82nd World Science Fiction Convention will open its doors to the public exactly one year from today. Glasgow 2024, a Worldcon for Our Futures will host over 5,000 fans of science fiction books, films, TV shows, games and other media and is expected to inject over £5m into the local economy. The one year milestone was marked by a live-streamed announcement from convention chair Esther MacCallum-Stewart.

This is the third time that Worldcon has been held in Glasgow, following successful conventions in 1995 and 2005, and in a notable coincidence Glasgow 2024 will open 19 years to the day after the gavel was brought down on the 2005 event. Next year's celebration of science fiction is already proving very popular with SF fans and professionals around the world, with over 3,000 members from 30 countries registered to date.

Glasgow 2024 will be held at the Scottish Events Campus (SEC), widely recognised as a leading international convention and events venue. The SEC has been significantly upgraded since 2005, with additional conference spaces and a greatly expanded range of on-site hotels. The Glasgow 2024 team has had fantastic support from Glasgow Life throughout the bidding process and in preparing for the convention.

Glasgow 2024's Guests of Honour include writers, editors, artists and fans – Chris Baker (Fangorn), Claire Brialey and Mark Plummer, Ken MacLeod, Nnedi Okorafor, and Terri Windling. These Guests will be joined by a range of Special Guests, professionals and fans from across the field and the world, with over 600 hours of programming and over 500 speakers planned for the five days of the convention.

Worldcon is, however, not just an extraordinarily engaging and diverse conference, but a celebration of all aspects of the SF genre, and the team will be making regular announcements over the coming months as plans are finalised. This will start this week with a look at the major events, ranging from the traditional Hugo Award Ceremony and costume Masquerade to an orchestral concert, the world premiere of an original opera, theatrical performances, dances, and live action video games. Subsequent announcements will cover Special Guests, spectacular themed exhibits, a substantial Art Show and Dealers' Room, and arrangements for virtual participation and attendance for those who cannot come to Glasgow in person.

Glasgow 2024 Chair, Esther MacCallum-Stewart said, "I'm hugely proud of the whole team for the dedication and hard work that have brought us to this point, and excited to start sharing our plans with both members and the wider community. It's a rare privilege to host the Worldcon and we are committed to our vision of being imaginative, caring and inclusive."
(7) TODAY'S BIRTHDAYS.
[Compiled by Cat Eldridge.]
Born August 8, 1920 — Jack Speer. He is without doubt one of the founders of fandom, and perhaps the first true fan historian, having written Up to Now: A History of Science Fiction Fandom covering up to 1939 as well as the first Fancyclopedia in 1944. Filking and costume parties are also widely credited to him as well. Mike has a proper remembrance here. (Died 2008.)
Born August 8, 1930 — Terry Nation. Best known as scriptwriter for Doctor Who and creator of the Daleks. He later created Blake's 7. He would also write scripts for Department S, The Avengers, The Champions and MacGyver. He both Davros and the Daleks on Who. He died from emphysema in Los Angeles aged 66, as he working with actor Paul Darrow who played Kerr Avon on Blake's 7 in an attempt to revive that series. (Died 1997.)
Born August 8, 1935 — Donald P. Bellisario, 88. Genre shows include Tales of the Gold Monkey, Airwolf and of course that truly amazing show Quantum Leap. OK, is Tales of the Gold Monkey genre? Well if not SF or fantasy, it's certainly pulp in the best sense of that term.
Born August 8, 1937 — Dustin Hoffman, 86. Ahhh Captian Hook, the man who got figuratively swallowed by the vast crocodile in Hook. Yeah I like that film a lot. But then I like the novel very much, too. By no means his only genre appearance as he was Mumbles, Caprice's fast-talking henchman in Dick Tracy (a film I actually find rather odd), Mr. Edward Magorium in Mr. Magorium's Wonder Emporium and the voice of Master Shifu in Kung Fu Panda.
Born August 8, 1950 — John D. Berry, 73. Editor of myriad fanzines, notable as one featured a column in the Eighties written by his longtime friend, William Gibson. "The Clubhouse" which he wrote from July 1969 to September 1972 for Amazing Stories reviewed fanzines. His last published piece was "Susan Wood: About and By", an appreciation of the late author. Partner of Eileen Gunn.
Born August 8, 1961 — Timothy P. Szczesuil, 62. Boston-based con-running fan who chaired Boskone 33 and Boskone 53. He's also edited or co-edited several books for NESFA, Strange Days: Fabulous Journeys with Gardner Dozois and His Share of Glory: The Complete Short Science Fiction of C. M. Kornbluth.
Born August 8, 1974 — Dominic Harman, 49. Wandering through the Birthday sources, I found this UK illustrator active for some twenty years. He's won three BSFA Awards, two for Interzone covers and one for the cover for 2011 Solaris edition of Ian Whates' The Noise Revealed. My favorite cover by him? Naomi Novik's His Majesty's Dragon cover, the 2006 Del Rey / Ballantine edition, is an outstanding look at his work.
Born August 8, 1993 — Kawennáhere Devery Jacobs, 30. She's a Kahnawake Mohawk. Why I mention that will be apparent in a moment. Her most recent role was recurring one as Sam Black Crow on now-cancelled American Gods but she has a very long genre history starting with being Monique on the Stephen King's Dead Zone series. From there, she was Claudia Auditore in Assassin's Creed: Lineage, a series of three short films based on the Assassin's Creed II video game before showing up as Ali's in Rhymes for Young Ghouls which is notable for its handling of First Nations issues. She's Daisy in Another WolfCop (oh guess which monster), an unnamed bar waitress in Being Human, Nourhan in Exploding Sun and Sam in the The Walking Dead: Michonne video game. Her latest genre role is Blood Quantum about a zombie uprising on a First Nations homeland.
(8) COMICS SECTION.
(9) FIGHTING COPYRIGHT ABUSE. Fifteen-time Hugo winning artist Michael Whelan tweeted about a new battle to stop a site that computer-generates art in imitation of his style. Thread starts here.
(10) YOUR NAME HERE – EH, NO THANKS! Meanwhile, author Jane Friedman spent yesterday battling with book sites over junk books they are attributing to her name: "I Would Rather See My Books Get Pirated Than This (Or: Why Goodreads and Amazon Are Becoming Dumpster Fires)"
There's not much that makes me angry these days about writing and publishing. I've seen it all. I know what to expect from Amazon and Goodreads. Meaning: I don't expect much, and I assume I will be continually disappointed. Nor do I have the power to change how they operate. My energy-saving strategy: move on and focus on what you can control.

That's going to become much harder to do if Amazon and Goodreads don't start defending against the absolute garbage now being spread across their sites.

I know my work gets pirated and frankly I don't care. (I'm not saying other authors shouldn't care, but that's not a battle worth my time today.)

But here's what does rankle me: garbage books getting uploaded to Amazon where my name is credited as the author. (Here's but one example.) Whoever's doing this is obviously preying on writers who trust my name and think I've actually written these books. I have not. Most likely they've been generated by AI.

It might be possible to ignore this nonsense on some level since these books aren't receiving customer reviews (so far), and mostly they sink to the bottom of search results (although not always). At the very least, if you look at my author profile on Amazon, these junk books don't appear. A reader who applies some critical thinking might think twice before accepting these books as mine.

Still, it's not great. And it falls on me, the author—the one with a reputation at stake—to get these misleading books removed from Amazon. I'm not even sure it's possible. I don't own the copyright to these junk books. I don't exactly "own" my name either—lots of other people who are also legit authors share my name, after all. So on what grounds can I successfully demand this stop, at least in Amazon's eyes? I'm not sure.

To add insult to injury, these sham books are getting added to my official Goodreads profile. A reasonable person might think I control what books are shown on my Goodreads profile, or that I approve them, or at the very least I could have them easily removed. Not so.

If you need to have your Goodreads profile corrected—as far as the books credited to you—you have to reach out to volunteer "librarians" on Goodreads, which requires joining a group, then posting in a comment thread that you want illegitimate books removed from your profile….

Update (afternoon of Aug. 7): Hours after this post was published, my official Goodreads profile was cleaned of the offending titles. I did file a report with Amazon, complaining that these books were using my name and reputation without my consent. Amazon's response: "Please provide us with any trademark registration numbers that relate to your claim." When I replied that I did not have a trademark for my name, they closed the case and said the books would not be removed from sale.

Update (morning of Aug. 8): The fraudulent titles appear to be entirely removed from Amazon and Goodreads alike. I'm sure that's in no small part due to my visibility and reputation in the writing and publishing community. What will authors with smaller profiles do when this happens to them? If you ever find yourself in a similar situation, I'd start by reaching out to an advocacy organization like The Authors Guild (I'm a member).
(11) UNION GROWTH. "Marvel VFX artists take first step toward unionisation amid Hollywood strikes" notes the Guardian.
Visual effects artists working for Marvel have taken the first step towards unionisation in a notoriously poorly represented area of the film industry. According to a statement from the International Alliance of Theatrical Stage Employees (IATSE) a group of on-set VFX artists employed by the studio have filed a petition with the US's National Labor Relations Board.

Hailing the move as "a major shift in an industry that has largely remained non-union since VFX was pioneered during production of the first Star Wars films in the 1970s", the IATSE said a supermajority of Marvel's 50-plus VFX crew had signed authorisation cards indicating they wished to be represented by the union, which already represents around 168,000 technicians and craftspeople in live theatre, film and TV and associated areas in the US and Canada….
(12) PITTSBURGH DOES SPACE. [Item by Daniel Dern.] "One small step for man, one giant leap for Pittsburgh" says Route Fifty.
Think of the space industry in the U.S., and places like Houston, Cape Canaveral, Florida, or Huntsville, Alabama, likely spring to mind. But how about Pittsburgh?

No? Well, a collection of state and local officials and business leaders from the Keystone State are looking to change that.

…The Keystone Space Collaborative, a regional organization that works to promote space industry businesses and talent in Ohio, Pennsylvania and West Virginia, announced in June that it would form a space and innovation district in Pittsburgh….
And yet they mention neither James Blish's Cities In Flight tetrology (Pittsburgh, like many other cities, spindizzies through space) nor Wen Spencer's (highly entertaining) Elfhome series (Pittsburgh gets dimension-swapped to a magic/elf/etc world).
(13) A FACE IN AN ANCIENT CROWD. Live Science offers readers the opportunity to "See stunning likeness of Zlatý kůň, the oldest modern human to be genetically sequenced".
In 1950, archaeologists discovered a severed skull buried deep inside a cave system in Czechia (the Czech Republic). Because the skull was split in half, researchers concluded that the skeletal remains were of two separate individuals. However, through genome sequencing done decades later, scientists concluded that the skull actually belonged to a single person: a woman who lived 45,000 years ago.

Researchers named her the Zlatý kůň woman, or "golden horse" in Czech, in a nod to a hill above the cave system. Further analysis of her DNA revealed that her genome carried roughly 3% Neanderthal ancestry, that she was part of a population of early modern humans who likely mated with Neanderthals and that her genome was the oldest modern human genome ever to be sequenced.

Although much has been learned about the woman's genetics, little is known about what she may have looked like. But now, a new online paper published July 18 offers new insight into her possible appearance in the form of a facial approximation….
(14) THE SUSPENSE IS NOT KILLING ME. [Item by SF Concatenation's Jonathan Cowie.] The record for suspended animation has been smashed by a worm revived after some 46,000 years! Suspended animation is a common trope in science fiction that is usually applied to astronauts in SF stories so that they can travel interstellar distances. However in reality finding organisms that can do this over potentially geological timescales has been elusive.
Now, past work has shown that bacterial spores can survive tens of millions of years, but bacteria are very simple life forms being single celled prokaryotes. What would be really neat would be something multi-cellular surviving very many years. Well, we have managed to revive 30,000 year old fruit tissue that had been frozen in permafrost from which whole plants were grown. But what we really want to see is a multicellular animal survive thousands of years in suspended animation or, to be technical, cryptobiosis. Here too there has been some success with the resurrection of a rotifer from 24,000 year old permafrost. But rotifers are still simple animals that do not even have a through-gut and only have two, not three, layers of cells.
The latest development also involves reviving from suspended animation a species that had been buried in permafrost. Here, the species involved was a nematode worm, and a new species at that which the researchers call Panagrolaimus kolymaensis. (Panagrolaimus species have been known before, but P. kolymaensis is new.)
The dormant P. kolymaensis was found in permafrost near a riverbank at a depth of 40 metres and some 11 metres above the river level, the river being the Kolyma River, a few miles from Cherskyn north-eastern Siberia, Russia.
The worms were actually found in the remains of what was once a burrow of Arctic gophers (Citellus). The burrow also contained other organic material which the researchers used to radiocarbon date the burrow. They found it to be 44,315 years old (give or take nearly half a century of experimental error). The previous record for reviving a nematode worm in the wild was after about 25 years of being frozen in Antarctic moss. The record in the lab was 39 years of a dried worm in a herbarium. So this 46,000 year old discovery smashes both those records!
The researchers did some further work that suggests that the mechanisms Panagrolaimus kolymaensis uses to survive suspended animation are similar to that by another nematode worm, Caenorhabditis elegans. C. elegans is a workhorse species for biologists working with nematodes. (It has even been used to elucidate why we mammals get the cannabis munchies.)
This work is also remarkable in another way. During Russia's illegal invasion of Ukraine, this research was conducted by Russians together with western Europeans from Germany, Britain, Switzerland and Ireland. Two Russians and a German conceived the work. (See Shatilovich, A. et al (2023) A novel nematode species from the Siberian permafrost shares adaptive mechanisms for cryptobiotic survival with C. elegans dauer larva. PLOS Genetics, vol. 19 (7), e1010798.)
[Thanks to Michael Toman, Cat Eldridge, SF Concatenation's Jonathan Cowie, Anne Marble, Kathy Sullivan, Steven French, Daniel Dern, Mike Kennedy, Andrew Porter, John King Tarpinian, and Chris Barkley for some of these stories. Title credit belongs to File 770 contributing editor of the day Tom Becker.]