(1) CROWDFUNDING FOR UKRAINIAN ANTHOLOGY. A Kickstarter for Embroidered Worlds: Ukrainian Fantastic Fiction, edited by Valya Dudycz Lupescu, Olha Brylova, and Iryna Pasko, met its initial funding goal on the first day. This English language anthology (mainly translations) of Ukrainian SFF has several stretch goals that are very worthwhile, including a story from Elizabeth Bear. Neil Gaiman and John Scalzi have expressed support.
With our base funding of $5000, we will be able to produce and print the book, with, at a minimum, the stories funded by the grant, as well as translations into English for a story written in Ukrainian by Tatiana Adamenko and stories written in Hungarian by Károj D. Balla and Éva Berniczky.
At $7000 we can commit to adding a selection of diaspora stories including ones by R.B. Lemberg, Valya Dudycz Lupescu, and Natalka Roshak, and also pay all three editors for their work.
At $10,000 we will produce a completed collection, including stories by Elizabeth Bear, Anatoly Belilovsky, David Demchuk, Halyna Lipatova, Askold Melnyczuk, and Mikhailo Nazarenko, Stefan O. Rak, and A.D. Sui.
And there are stretch goals beyond that.
Embroidered Worlds presents a living snapshot of imaginative fiction in Ukrainian culture today, including stories that span and cross the speculative genres of science fiction, fantasy, horror, weird fiction, magic realism, and alternate history. The majority of stories included in the anthology will be from writers in Ukraine, and for most of them it will be the first time their work will be translated into English.
(2) TEXAS BOOK BAN LAW. "Judge To Enjoin Texas Book Ban Law" – Publishers Lunch has the story.
In a public status conference for the trial brought by bookstores and the AAP against Texas's book ban law, Judge Alan Albright told lawyers for each party that he will be ruling for the plaintiffs and preventing any further action from the state. The judge said that he was not able to get a written order completed by the day the law was to take effect, Sept 1, and that it should be available in the next two weeks.

The order will grant a preliminary injunction to the statute in its entirety, and deny the state's motion to dismiss the suit based on sovereign immunity. "Under my order, [the plaintiffs] have no obligation to comply with the state law," he said.

A lawyer for the defense said that the state will appeal the decision and requested a stay of the injunction, which Judge Albright denied.

In a press release, representatives from Blue Willow Bookshop, Book People, AAP, ABA, the Authors Guild, and the Comic Book Legal Defense Fund jointly stated, "We are grateful for the Court's swift action in deciding to enjoin this law, in the process preserving the long-established rights of local communities to set their own standards; protecting the constitutionally protected speech of authors, booksellers, publishers and readers; preventing the state government from unlawfully compelling speech on the part of private citizens; and shielding Texas businesses from the imposition of impossibly onerous conditions. We look forward to reading the court's full opinion once it is issued."…
(3) ANOTHER FRONT IN THE CULTURE WARS. The Daily Dot's Gavia Baker-Whitelaw reports "No, Rachel Zegler hasn't been fired from 'Snow White'".
Over the past few weeks, Rachel Zegler has attracted aggressive backlash against her role as Disney's live-action Snow White. The latest wave involves fake rumors that she was either fired from the movie, or Disney has canceled its release.

Initially spread by conservative culture war accounts, this backlash focuses on the idea that Zegler is disrespecting the 1937 animated Snow White. This stems from a handful of interviews where she mildly criticized dated elements of the film. In one, she jokingly refers to the prince as Snow White's "stalker." In another, she says the remake will de-emphasize Snow White's love life.

As I've pointed out before, these comments appear to be part of Disney's promo strategy, giving Snow White a modern rebrand. However, this was poorly received among conservative Disney fans, who labeled the remake "woke" and said Zegler seemed ungrateful. Others criticized her comments as "girlboss feminism" and "anti-romance."…
(4) WHEN NEGATIVE REVIEWS ARE PRESENTED AS PRAISE. The Guardian spotlights UK authors organization complaint in "Society of Authors calls use of bad reviews for book blurbs 'morally questionable'". This is the real-life practice of something MAD Magazine anticipated decades ago.
The Society of Authors (SoA) has spoken out against publishers misrepresenting negative reviews on book covers and the UK publisher Bonnier Books is producing a "best practice" document for blurbs, after controversy over the use of reviews on the cover of the Canadian psychologist Jordan Peterson's book Beyond Order.

On 15 August, prominent writers criticised the way their reviews had been quoted on the back cover of the paperback edition of Peterson's book, published by Penguin Random House. The Times columnist James Marriott tweeted an image of the cover featuring a quote from his review that appears to endorse the work. In the now deleted tweet, he wrote: "Incredible work from Jordan Peterson's publisher. My review of this mad book was probably the most negative thing I have ever written."

The quote attributed to Marriott read: "A philosophy of the meaning of life … the most lucid and touching prose Peterson has ever written." The actual phrase from Marriott's review is: "one of the most sensitive and lucid passages of prose he has written", a description specifically about one chapter in an otherwise almost entirely negative review.

In a similar vein, Johanna Thomas-Corr, literary editor of the Sunday Times, tweeted that her quote featured on the book ("Genuinely enlightening and often poignant … Here is a father figure who takes his audience seriously. And here is a grander narrative about truth, being, order and chaos that stretches back to the dawn of human consciousness") was a "gross misrepresentation" of her review, calling for it to be removed. In a Sunday Times comment piece on 20 August, she wrote: "Beyond Order is an awful, mad book – you shouldn't buy it."

Nicola Solomon, chief executive of the SoA, said that "quoting lines out of context isn't clever marketing", calling the practice "morally questionable". Readers and authors "deserve honest, fair marketing from publishers. We can't get that by undermining and misrepresenting one writer to boost the sales of another. It puts off reviewers from reviewing and readers from buying," she told the Bookseller.

A spokesperson for Bonnier said that the publishing house "will be putting together a best-practice document for blurbs to share across teams"….
(5) OFFICER KRUPKE, THEY'RE JUST MISUNDERSTOOD. SYFY Wire tells why "Jaws Poster Model Preaches Shark Protection".
… the woman who posed for the iconic artwork doesn't want the public to come away with the wrong idea about sharks, those fearsome predators of the deep, whose attacks on humans are extremely rare.

"You should always be cautious when you're in the water. If there's some apex predator there, you have to be careful, but basically, they're not there for you," professional model turned devoted conservationist Allison Maher Stern explained on a recent episode of the WCS Wild Audio podcast. "They're there for a seal or whatever their food source is."

Her advice? "Don't dress like a seal."

How the famous Jaws poster was created

Stern also related the story of how she got the modeling gig for the Jaws artwork, which was initially commissioned for the paperback edition of Peter Benchley's bestselling novel of the same name. The opportunity, she said, came to her "out of the blue" not long after she'd moved from Ohio to New York City in the summer of 1974 for a job with the Wilhelmina modeling agency.

"They requested me for some reason," Stern remembered. "I already had it, I didn't have to compete with anybody, so that was great. Since it was one of my first first jobs, [I said] 'Yay, I'll take that.'" The photo shoot took place at a studio on Fourth Avenue, where she was asked to lay "on a couple of stools" and pretend to swim. Artist Roger Kastel, who would be rendering the snapshots into the eventual cover art, provided directions like "'Swim faster!" or "Look out, shark!'"…
(6) TODAY'S BIRTHDAYS.
[Compiled by Cat Eldridge.]
Born September 1, 1875 — Edgar Rice Burroughs. Bradbury declared him "the most influential writer in the entire history of the world." He created Tarzan and John Carter of which there are far more novels for the former than the latter. He did the Pellucidar series which I think is one of the earliest hollow Earth series done. I'm tempted to say the first but I'm not sure, but the collective wisdom here will know I'm certain. (Died 1950.)
Born September 1, 1927 — Gene Colan. He co-created with Stan Lee the Falcon, the first African-American superhero in mainstream comics. He created Carol Danvers, who would become Ms. Marvel and Captain Marvel, and was featured in Captain Marvel. With Marv Wolfman, he created Blade. (Died 2011.)
Born September 1, 1942 — C. J. Cherryh, 81. SFWA Grandmaster. I certainly think the Hugo Award winning Downbelow Station at Chicon IV and Cyteen at Noreascon 3 are amazing works but I think my favorite works by her are the Merchanter novels such as Rimrunners. Defiance, the twenty-second book in the Foreigner series continuing the story of diplomat Bren Cameron, is out in October.
Born September 1, 1943 — Erwin Strauss, 80. A noted member of the MITSFS, and filk musician who born in Washington, D.C. He frequently is known by the nickname Filthy Pierre. He's is the creator of the Voodoo message board system once used at cons such as Worldcon, WisCon and Arisia. He is the author of the monthly "SF Convention Calendar" in Isaac Asimov's Science Fiction Magazine, and he's the author of the MIT Science Fiction Society's Index to the S-F Magazines, 1951–1965.
Born September 1, 1951 — Donald G. Keller, 72. He co-edited the oh so excellent The Horns of Elfland with Ellen Kushner and Delia Sherman which I highly recommend. He is a contributor to The Encyclopedia of Fantasy and he was a member of the editorial board of the defunct Slayage, the online Encyclopedia of Buffy Studies.
Born September 1, 1964 — Martha Wells, 59. She's has won a Nebula Award, a Locus Award, and two Hugo Awards. Impressive. And she was toastmaster of the World Fantasy Convention in 2017 where she delivered a speech called "Unbury the Future". Need I note the Muderbot Dairies are amazing reading?
(7) TO UPDATE OR NOT? Deadline hears from "Wes Anderson On Strikes & Controversial Roald Dahl Book Edits" at a film festival in Venice.
…"I'm probably the worst person to ask about this because if you ask me if Renoir should be allowed to touch up one of his pictures, I would say no. It's done," Anderson said.

"I don't even want the artist to modify their work. I understand the motivation for it, but I'm in the school where when the piece of work is done we participate in it. We know it. So I think when it's done, it's done."

Anderson added: "And certainly no one who is not an author should be modifying somebody's book. He's dead."

In February, Publisher Puffin Books, an imprint of Penguin Books, announced that it had edited Roald Dahl's books in an effort to reflect more inclusive language. Titles like James and the Giant Peach, Matilda, and Charlie and the Chocolate Factory have been altered by modifying words that are now deemed offensive.

In a statement at the time, Puffin said the changes were made so that the books "can continue to be enjoyed by all today."
(8) FRIGHTENING SFF FILMS. [Item by Steven French.] Collider says "Let's not go back to these futures" in "10 Scariest Sci-Fi Movies of All Time, Ranked". An interesting list with a provocative choice for number one.
9. 'Signs' (2002)

Even if it's not quite one of 2002's very best movies, Signs is still largely successful as a slow-burn combination of horror, mystery, and science-fiction. It's one of M. Night Shyamalan's strongest filmmaking efforts, and follows a family living on a farm, and the way they react to the news that alien invaders may be coming to Earth.

It's more about the paranoia of such a visitation, and building up to it eventually happening, rather than being an action-packed alien invasion movie. Still, this is turned into one of the movie's strengths, as between some goofy characters and exchanges of dialogue, there are some effectively creepy sequences, and a sense of grounded realism that makes this one of the more frightening alien-related sci-fi movies of the 21st century so far.
(9) TOP STREAMERS. JustWatch has sent along its rankings of the most-watched streaming films and television programs for August 2023.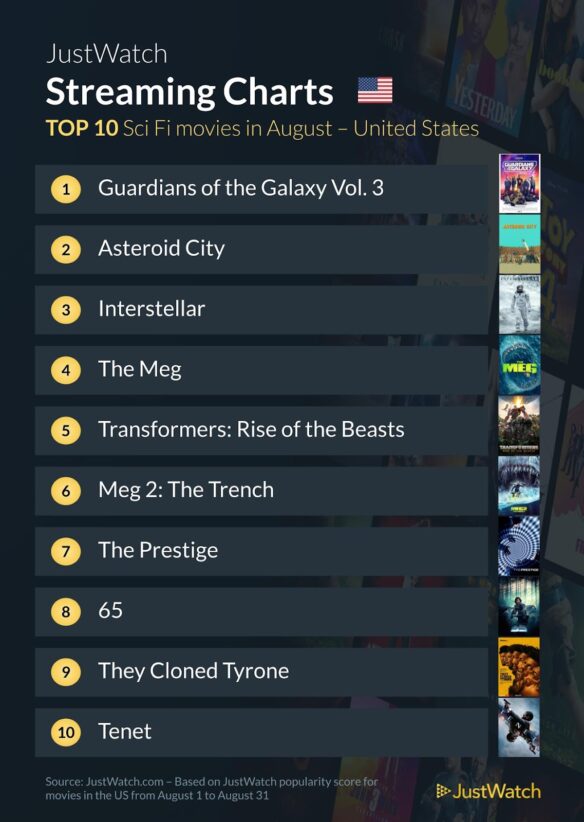 (10) OFF TO SEE (BUT NOT HEAR) THE WIZARD. Mental Floss shares "13 Facts About L. Frank Baum's 'Wonderful Wizard of Oz'", including the link below to the early silent film.
The Wonderful Wizard of Oz by L. Frank Baum was a hit from the start. Published in 1900, the story of Dorothy and her friends the Scarecrow, Tin Woodman, and Cowardly Lion captured the public's imagination. It wasn't long before there was merchandising, a Broadway musical, a silent film, and a whopping 13 sequels. Here's what you should know about the book….
(11) VIDEO OF THE DAY. Here are 13 minutes from the original Wizard of Oz silent movie of 1910.
[Thanks to Mike Kennedy, Andrew Porter, John King Tarpinian, Dann, Steven French, Michael Burianyk, Chris Barkley, Michael Toman, Cat Eldridge, and SF Concatenation's Jonathan Cowie for some of these stories. Title credit belongs to File 770 contributing editor of the day Thomas the Red.]