(1) FUR STUDIES. The Dogpatch Press published a 2-part interview with a professor at Boston College specializing in classical history who teaches a course called "Beast Literature" which covers talking animal stories and gets into animation and furry fandom.
I gather that classicism is about Greek/Roman tradition and how it carries on in modern culture. How does that merge with research about Disney and similar pop culture, and how did that develop as a focus for you?

That's right — Classics is a complicated term, but it's shorthand for the study of the ancient Mediterranean world and its continuing significance.

As for Classics, Disney, and pop culture, I can't say exactly how it all began merging. I've loved animation for as long as I can remember. VHS tapes of Disney's Robin Hood, Bluth's American Tail, and Vitello's Gallavants ran non-stop in my house when I was a kid, and that interest has gotten stronger as time goes by. And I've been studying Classics for more than 20 years now. If you spend that long learning and thinking intensively about one area, you just can't shut off that part of your brain. You develop a sensitivity and notice wherever it pops up, whether that's at work or vegging out in front of the TV.

The fact that Greece and Rome exert this pervasive presence means it happens all the time, and the more you notice, the more complex and interesting those patterns become, and the deeper you want to dive. So it's an organic mixing of two things I love and have spent a ton of time trying to learn and understand better.
(Dogpatch Press:) It was interesting that you mentioned teaching a course in talking animals. Tell me all about it! Since when, and how unique is that, and how is it being received? What sort of students are in it and what are they studying in general?

(Christopher Polt:) I love that course — the material is so fun and weird and meaningful. The basic question we ask is, "What are we doing when we speak by using animal voices, and what does that say about our attitudes towards humans, animals, and the lines we draw between them?" It's also my chance to teach some cool, off-the-wall art and literature. We read Apuleius' Golden Ass, which is a novel about a guy who accidentally turns himself into a donkey and goes on a journey through the Roman provinces (think The Emperor's New Groove, but much sexier and more violent), and Nivardus' Ysengrimus, which is the earliest major collection of stories about Reynard the fox, an archetypal animal trickster.

Sometimes I also take students on field trips to tie historical material we're learning to lived experience. One of my favorites has been to a local pet cemetery. We spend a few days talking about how Greeks and Romans use animals to think about divinity, mortality, and the afterlife, and we look at epitaphs and funeral poems for dead pets, which are often written from the animal's point of view. There's a great example in the British Museum, which commemorates the life of a dog named Margarita ("Pearl" in Latin), who died while giving birth to puppies:
Another professor at U of South Florida does an animals in antiquity course that has a section on furries.
Christopher Polt also discusses masks in ancient drama in an interesting thread that starts here.
(2) GAME OF ZONING. Ben Ashford, in the Daily Mail story "'All it's missing is Jon Snow and a couple of dragons!' GoT author George R.R. Martin submits plans to build fantasy castle in his New Mexico backyard – but his neighbors aren't bending the knee!", says that Martin submitted plans to build a seven-story library in his backyard that looks like the tower of a castle, but the Santa Fe Historic Review Board turned him down because the keep was six feet higher than what zoning regulations permitted.
The 71-year-old creator of Dragonstone, Winterfell and the Red Keep describes his proposed Gothic-style structure as a free-standing 'seven-sided library' in a planning application lodged with the City of Santa Fe.

But locals say the fortress-like building, featuring imposing stone walls, battlements and a 27ft tower, is akin to something from HBO's hit show Game of Thrones and totally out of place in a suburban neighborhood where it will spoil their views.

Martin's architects toned down the medieval aspects in revised drawings but still need special permission from the city's Historic Design Review Board to start work on the 'Water Garden Keep' because the turret is several feet higher than zoning codes allow.
(3) SUSANNA CLARKE REVIVAL. The New Yorker visits "Susanna Clarke's Fantasy World of Interiors". Tagline: "Fifteen years after an illness rendered her largely housebound, the best-selling writer is releasing a novel that feels like a surreal meditation on life in quarantine."
… Often while I spoke to Clarke I could hear Greenland in the background, clinking dishes in the kitchen sink. Later, he told me that Clarke gets up much earlier than he does, and tries to write for the few hours when her energy is at its peak. By the afternoon, she needs to rest, and even in the morning her ability to participate in, say, a demanding conversation is limited to about an hour. She is very private about whatever she's working on; in fact, she can be a little cagey about whether she's working on anything at all. "She's on her sofa with her laptop," Greenland said. "And I don't know if she's playing a game, if she's watching TV, if she's writing e-mails, or if she's working. It's not apparent to me. She's in her bubble. But what I do know is that, for a long while, she was too ill to write. And then, after that, she was writing fragments."

Many of these "bits," as Clarke calls them, have been squirrelled away for possible inclusion in some future work. "Jonathan Strange & Mr. Norrell" is partly written in a style reminiscent of John Aubrey, the British scholar best known for his "Brief Lives" series of short biographies. In the novel, these passages come complete with footnoted anecdotes that document the history of English magic with a distinctive combination of whimsy and nineteenth-century punctiliousness. One such story mentions a chick, hatched from an enchanted egg, that "grew up and later started a fire that destroyed most of Grantham." Clarke writes, "During the conflagration it was observed bathing itself in the flames. From this circumstance, it was presumed to be a phoenix."

Although the origins of "Piranesi" predate Clarke's illness, she did not commence intensive work on it until her symptoms abated, a few years ago….
Dan Kois' review of Piranesi for Slate, "Susanna Clarke's First Novel in 16 Years Is a Wonder", begins:
How big is the House? It is limitless. Its towering rooms are the size of two soccer fields or more. Connected by passageways and staircases, the rooms extend in every direction as far as Piranesi can explore. He writes in his journals that he has traveled nearly a thousand rooms from what he believes to be the center of things and has never reached the end. Even the staircases are huge, their steps much taller than a man can comfortably climb, as if, Piranesi writes, "God had originally built the House intending to people it with Giants before inexplicably changing His Mind."
(4) OLD PEOPLE READ OLD SFF. James Davis Nicoll reread "The Amazing Adventures of Space Cat!" for the first time since 1969. (James may not really be that old, but he is the curator of the Young People Read Old SFF series, so what else could I call it?)
…Convinced the cat is lucky (as opposed to, say, needing more supervision than it is getting), Fred insists that the cat accompany him on humanity's very first trip to the Moon. Fred's superiors acquiesce because they would not dream of taking away a man's good-luck charm. When Fred leaves for the Moon on rocket ship ZQX-1, Flyball accompanies him.
(5) I, FOR ONE. In "Two Books Wonder: How Long Until You Fall in Love With a Robot?", the New York Times' Amanda Hess discusses Work Mate Marry Love: How Machines Shape Our Human Destiny by Debora L. Spar and Sex Robots And Vegan Meat: Adventures at the Frontier of Birth, Food, Sex, and Death by Jenny Kleeman.
"Science fiction is not about the future," the sci-fi novelist Samuel R. Delany wrote in 1984. The future "is only a writerly convention," he continued, one that "sets up a rich and complex dialogue with the reader's here and now." That is a useful way of understanding all the many pop nonfiction books that speculate about the technologies of the future, and attempt to divine their effects on human beings. Their predictions depend on how well they interpret the present.

One such interpreter is Debora L. Spar, the dean of Harvard Business School Online, who writes at the intersection of tech and gender. In her new book, "Work Mate Marry Love," she considers an emerging wave of innovations that she believes could upend how we experience relationships, reproduction, gender expression and death. "We will fall in love with nonhuman beings," Spar predicts in the book's opening pages, "and find ways to extend our human lives into something that begins to approximate forever." Spar argues that new technologies spark shifts in the most intimate of human affairs, often in unexpected ways. She casts this as a causal relationship, one imbued with a sense of inevitability. The book's subtitle, "How Machines Shape Our Human Destiny," gives the machines the agency.
(6) TRIVIAL TRIVIA.
Paul Winchell, the voice of Jerry Mahoney and Disney's Tigger has the honor of having filed the first patent for an artificial heart: "Paul Winchell: An Amazing Inventor".
…But what was probably most fascinating about Winchell was the fact that he was a very successful inventor. Over the course of his life, he held patents on over 30 devices, including a disposable razor, a flameless cigarette lighter, an illuminated ballpoint pen, a retractable fountain pen, an inverted novelty mask, battery-operated heated gloves, an indicator to show when frozen food had gone bad after a power outage, and the first artificial human heart. That's right, the artificial heart.

This invention was developed through collaboration with Dr. Henry Heimlich, inventor of the Heimlich Maneuver, and held the first patent for such a device.
(7) FERRIS-YERXA OBIT. It has been leaned that author Frances Ferris-Yerxa died March 3, 2019 at the age of 101. The family notice said:

She married Le Roy Yerxa. When Le Roy passed away at an early age, she was left with four young children to raise and care for. She later married William Hamling and they had two more children. She was always oriented to the welfare of her family. She loved all her children, all her grandchildren, all her great grandchildren and great great grandchildren and nieces and nephews.
The Yerxa website notes that both Leroy (as his name was spelled on magazine covers) and Frances wrote stories for the "pulp" science fiction magazines Amazing Stories and Fantastic Adventures.
These magazines were published by Ziff-Davis out of Chicago, IL. By the early 1940s, Palmer, the managing editor of these publications, had developed a stable of local (Chicago-based) writers who could write to order, often producing stories around cover paintings by Harold McCauley, Robert Gibson Jones, or Malcolm Smith. The mainstays were Don Wilcox, Robert Moore Williams, David Wright O'Brien, William P. McGivern, Leroy Yerxa, and David Vern, plus (later in the decade) Chester S. Geier, Berkeley Livingston, and William L. Hamling.

Leroy Yerxa was among the most prolific contributors to the Ziff-Davis magazines. He was twenty-seven years old when his first story, "Death Rides at Night," appeared under his own name in the August 1942 Amazing. In the next four years, till his untimely death in 1946, he sold more than seventy stories to Palmer for Amazing Stories and Fantastic Adventures, with many of those published pseudonymously. He is rumored to have written an entire issue of Fantastic Adventures (possibly the one for December 1943). While other writers wrote more, their output was not concentrated in such a short, intense period. Possibly Yerxa's only rival in this regard was David Wright O'Brien, who in the five years from 1940 through 1944 sold more than a hundred stories to Palmer, not counting his collaborations with McGivern.

Palmer's core of writers were so prolific that they could fill every issue. To avoid the frequent recurrence of names, the authors used various personal pseudonyms, some of which were later adopted by other authors. For instance, "Lee Francis" began as a pen name of Leroy Yerxa's (which he often used when his wife Frances published a piece under her own name in the same edition), but after his death in 1946 it was used by others, including Hamling. In addition, a practice began of creating a number of "house names." The house names were used by several writers, so that we had the authors using several names and several authors using the same name.

Leroy Yerxa died and, after a reasonable length of time, William Hamling, who had been a good friend as well as colleague, proposed to Frances Yerxa. Frances, who had already made a name for herself as a writer with her material appearing all over the place, accepted Hamling's proposal and Hamling assumed responsibility for Yerxa's sons Edward and Richard, and began raising them as his own. Then, Bill and Frances had two children, a daughter Debbie and Billy Jr. They lived in Evanston, the north contiguous suburb of Chicago, on Fowler Avenue in a nice, comfortable house.
(8) MEDIA ANNIVERSARY.
September 2010 — At Aussiecon 4 a decade ago this month, China Miéville's The City & The City would win the Best Novel Hugo in a tie with The Windup Girl by Paolo Bacigalupi. It would be his first, and to date only, Hugo Award. It would later win the BSFA Award for Best Novel, the Locus Award for Best Fantasy Novel, the World Fantasy Award for Best Novel and the Arthur C. Clarke Award. Impressive indeed. It was written as a gift for Miéville's terminally ill mother, who was a fan of police procedurals. It would be made into an audiobook narrated by John Lee who also narrates Alastair Reynolds' Prefect Tom Dreyfus novels. A four-part television adaptation by the BBC was broadcast in 2018.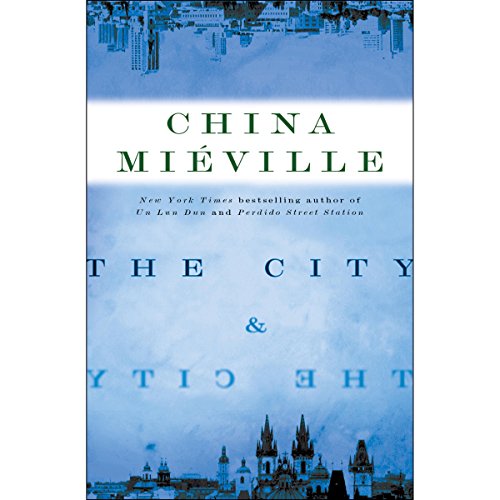 (9) TODAY'S BIRTHDAYS.
[Compiled by Cat Eldridge and John Hertz.]
(10) COMICS SECTION.
(11) WINGING IT. In the Washington Post, David Betancourt says that former Marvel Comics editor Christian Cooper, famed as the Black birder accosted by a white woman in Central Park, has come out with a comic called "It's a Bird!" that is "The first issue of 'Represent!' a digital series from DC Comics that will showcase writers and artists from groups underrepresented in the industry." "Christian Cooper has written a comic book partly inspired by his viral Central Park moment".
… "It's a Bird" features Jules, a teenager given a pair of binoculars by his father and told to explore his surroundings. Jules, who has an encyclopedic knowledge of birds, is quickly harassed by those threatened by his presence as an unannounced Black man in an open space.

That and other moments of hostility evoke racial profiling that Cooper and other Black birders have experienced, but the story turns slightly mystical when Jules begins using his binoculars and sees images of Black people who have fallen to police violence, including Amadou Diallo, Breonna Taylor and George Floyd.

Cooper works as a senior editorial director at Health Science Communications and didn't think he would wind up back at one of the superhero publishers so quickly, but here he is.

"I really appreciated it when [DC Comics] came to me and said do you want to do this comic, because I did have something to say," he said in an interview. "It's interesting how it slips into maybe this space in the DC Universe that isn't normally occupied. It is a very magical-realist tale. There is something fantastical that happens in the course of the story. But it's not capes. It's not superheroes."
(12) LEGO MY THINGO. The Drum invites readers to "Meet Bygglek: how Ikea and Lego built a creative solution to messy play". I thought only Dr. Seuss tought up names like that.
Lego is well aware that its product encourages mess. Not that it's necessarily a bad thing, as any decent Lego session ends with bricks and figures all over the floor. To make it easier for parents to cope without stifling creativity, Lego looked to the giants of storage, Ikea. Together they created a simple solution, aptly named 'Bygglek.'

…Løgstrup recalls how, while struggling to make the right contact at Ikea, a chance encounter at a school board meeting kickstarted the soon-to-be long-term collaboration between the two beloved Scandinavian brands. "By some coincidence, the leader from our licensing department happened to sit next to someone at Ikea and they started discussing the potential project," he explains.

Spurred on by this coincidence, the early courtship saw the Lego team invite Ikea to 'come play' by sending them a stop motion movie to spell out the challenge Lego faced. An attractive offer that few could refuse, Ikea designer Andreas Fredriksson notes. "Of course we wanted to play. It was a yes from the beginning. It's the perfect match because we work with small space living at home and Lego is all about play."
(13) MULAN OPENS QUIETLY IN CHINA. Pei Li, in the Reuters story "Disney's 'Mulan' battles mixed reviews and media muzzle at Chinese launch", says that Mulan was launched in China with "no major media buildup and no star-studded premier or red-carpet launch" with the film getting mixed reviews in China due in part to its historical anachronisms (buildings exist in the film that were built several hundred years later).
…"Mulan" has provoked a backlash on overseas social media over its star's support of Hong Kong police and for being partly filmed in the Xinjiang region, where China's clamp-down on ethnic Uighurs and other Muslims has been criticised by some governments and rights groups.

Chinese authorities told major media outlets not to cover the film's release in the wake of the uproar, four people familiar with matter told Reuters, further weighing on its chances of success.
(14) MISGUIDED MISSIVE. Early Bird Books, a division of Open Road Media, sends subscribers emails with a list of e-books which are on special for the moment. Yesterday, a now-former subscriber reports they sent her an email with the subject "Message From Our Partner: Relieve Dryness & Make Intimacy Comfortable" with extensive information and endorsements about a product marketed by FemmePharma. The recipient was outraged and copied it to me.
One almost wonders if it was an act of revenge by an employee on their way out the door.
(15) VIDEO OF THE DAY. German Netflix series Dark ended this year; here's a breakdown on its themes on nihilism and fate from the YouTube channel Wisecrack.
[Thanks to John King Tarpinian, N., Mike Kennedy, John Hertz, JJ, Cat Eldridge, Martin Morse Wooster, Michael Toman, Patch O'Furr, Frank Olynyk, and Andrew Porter for some of these stories. Title credit belongs to File 770 contributing editor of the day Daniel Dern.]