(1) MEDICAL UPDATE. Oghenechovwe Donald Ekpeki told Facebook readers he had a health emergency this week:
Was very sick day before yesterday. Had a health emergency, was fighting for my life all the previous night and that morning after being checked into the accident and emergency wards. Near died several times. Been discharged from the hospital now and I am on the mend. Had to incur several expenses in the process though. So I am in need of and welcome any assistance, towards sorting out my medical bills and other expenses I needed to survive the ordeal, towards the tune of about $500 dollars. If you want to chip, you can send something to this Paypal address and it'll get to me. [email protected]
(2) RECORDS BREAK UNDER THE HAMMER. "Two Books Break Book Sales Records At Christie's Auction — Here Are The Most Expensive Books Ever Sold" reports Forbes.
A pair of books by Agatha Christie and Arthur Conan Doyle once owned by English musician Charlie Watts broke individual records for the beloved authors at Christie's auction house in London Thursday, months after an 800-year-old copy of the Bible earned the title of the most expensive book ever sold.

The Thirteen Problems by Agatha Christie sold for $63,968, breaking her personal record of a $50,641 copy of The ABC Murders, which sold two years ago.

The $226,555 sale of The Hound of the Baskervilles by Arthur Conan Doyle on Thursday set a new world auction record for a printed book by the renowned Sherlock Holmes creator, previously set at $201,600 when a copy of The Sign of Four sold in 2022. …
(3) MUSEUM PIECE. "The Oldest Living Torrent Is 20 Years Old" — Hackaday blows out the candles.
Twenty years ago, in a world dominated by dial-up connections and a fledgling World Wide Web, a group of New Zealand friends embarked on a journey. Their mission? To bring to life a Matrix fan film shot on a shoestring budget. The result was The Fanimatrix, a 16-minute amateur film just popular enough to have its own Wikipedia page.

As reported by TorrentFreak, the humble film would unknowingly become a crucial part of torrent history. It now stands as the world's oldest active torrent, with an uptime now spanning a full 20 years. It has become a symbol of how peer-to-peer technology democratized distribution in a fast-changing world.

In the early 2000s, sharing large files across the internet was a mindbogglingly difficult problem to solve. In the Southern Hemisphere in particular, home internet connections were often 56 kbit dialup modems at best. Most email services limited attachments to 2 MB at most. Services like MegaUpload weren't on the scene yet, and platforms like YouTube and Facebook were yet to materialize.
(4) "HE DISTINCTLTY SAID 'TO BLAVE'…" "LIAR!" "Patrick Stewart Shares the 'Original' Ending to Picard, Hopes for a Follow-up Film" at IGN. Beware spoilers.
…Stewart revealed that as the years passed since his appearance in Star Trek: Nemesis in 2002, the lines between the actor and Picard had become blurred.

"If I have found true love, shouldn't he?" he asked.

Stewart married his wife, Sunny Ozell, back in 2013, and had since decided it was time for Picard to find love, too. The final scene they came up with would have confirmed this… but it still left a little to the imagination.

"The writers came up with a lovely scene," he revealed. "It is dusk at Jean-Luc's vineyard. His back is to us as he takes in the view, his dog at his side. Then, off-screen, a woman's loving voice is heard: 'Jean-Luc? Supper's ready!'"

Who was that voice? That never would have been confirmed. However, Stewart's real wife Sunny would have made her Star Trek debut.
(5) OBAMA'S FEEDBACK TO FILMMAKER. Variety tells movie fans that "Barack Obama Sent Script Notes to Sam Esmail for 'Leave the World Behind'".
Netflix's upcoming disaster movie "Leave the World Behind," based on the 2020 novel of the same name by Rumaan Alam, marks the first fictional movie from Barack and Michelle Obama's Higher Ground Productions company. Barack included the novel on his 2021 summer reading list and was personally invested in perfecting the film adaptation, so much so that he sent script notes to writer-director Sam Esmail (best known as the creator of "Mr. Robot" and "Homecoming").

"Leave the World Behind" stars Julia Roberts and Ethan Hawke as a couple vacationing in Long Island when a world-threatening disaster takes place. Mahershala Ali plays the owner of the home the couple is renting. The owner shows up seeking refugee from the disaster with his daughter (Myha'la Herrold), forcing the two families to trust each other as the world potentially comes to an end.

"In the original drafts of the script, I definitely pushed things a lot farther than they were in the film, and President Obama, having the experience he does have, was able to ground me a little bit on how things might unfold in reality," Esmail recently told Vanity Fair about the script notes he received from the former President. "I am writing what I think is fiction, for the most part, I'm trying to keep it as true to life as possible, but I'm exaggerating and dramatizing. And to hear an ex-president say you're off by a few details…I thought I was off by a lot! The fact that he said that scared the fuck out of me."

Per Vanity Fair: "The filmmaker was more reassured when the Obamas suggested some of his potential plot points were too bleak or unlikely. Most of the former commander in chief's notes, however, stemmed from what he'd observed about human nature, particularly the way fissures form between people who might otherwise find common cause."…
(6) BOOK-INSPIRED KIDS SPACE. "Publisher L'École des Loisirs Opens New 'House of Stories' for Kids" at Publishing Perspectives.
The independent L'École des Loisirs, one of the largest children's publishers in the country, is starting off the school year with a new space called La Maison des Histoires (House of Stories) in which children seven and younger can discover and consolidate their knowledge of L'École des Loisirs' books.

The 58-year-old publishing house owns Chantelivre, a children's bookshop nestled among luxury boutiques in Paris' 6th arrondissement. Last winter, the 400-square-meter shop (4,305 square feet) underwent a renovation which included installing the 150-square-meter (1,614 square feet) Maison des Histoires just behind the bookshop in a former storage area. Its soft launch was held in May, before it closed for the summer holidays.

La Maison des Histoires has nine themed spaces, all based on books published by L'École des Loisirs. Co-founder and associate director Camille Kiejman came up with the idea, inspired by museums she'd see dedicated to children's books in Nordic markets, such as Junibacken in Stockholm.
(7) ADDED TO THE OFFICIAL ROBERT BLOCH WEBSITE. "A Conversation with Robert Bloch" is the latest addition to the Bloch tribute website.
Happy to present excerpts (with kind permission) from David J. Schow's 1991 interview with Bloch at the first World Horror Convention in 1991.This interview first appeared in Cemetery Dance magazine, #31.

DJS: How long have you been going to these things, Bob?

BOB: 1946 was the first year; and I arrived after Ackerman left. That was the PacifiCon, held in Los Angeles—kicking and screaming—and it had a small attendance, as I recall, but that attendance included A.E. Van Vogt, Leigh Brackett, Ray Bradbury, and others too humorous to mention.

FORREST J ACKERMAN (from audience): Remember the story you told, Bob, about the "three great sales" that made it possible for you to come to the convention?

BOB: Oh, yes—my typewriter, my hat, and my overcoat. That was also the first convention I traveled to, and from then on, I was hooked. I discovered it was a very practical thing to go from convention to convention, because it's difficult to hit a moving target….
(8) MICHAEL F. FLYNN (1947-2023). Author Michael F. Flynn's daughter Sara announced on Facebook that he died on September 30.
I'm sorry to tell you that my father passed away this morning. He was sleeping peacefully in the childhood home that he loved, the home his father built. We will share more details when we have them. Thank you.
He was honored with the Robert A. Heinlein Award for his career work in 2003. His short story "House of Dreams" won the 1998 Theodore Sturgeon Award, while his book In the Country of the Blind won the 1991 Compton Crook Award for best first novel and a 1991 Prometheus Award.
Flynn's alternate history story "Quaestiones Super Caelo et Mundo " picked up the 2008 Sidewise Award – Short Form. Although he never won a Hugo, one of his seven nominees was the novel Eifelheim which in Japanese translation received a 2011 Seiun Award.
His fame rests on all these works, however, for personal reasons I am partial to the book he co-authored with Niven and Pournelle, Fallen Angels, another of his Seiun Award winners (1998), which Tuckerized or otherwise based its characters on about 130 fans. You can guess who one of those fans was…
(9) TODAY'S BIRTHDAYS.
[Compiled by Cat Eldridge.]
Born September 30, 1924 — Elinor Busby, 99. In 1960, she became the first woman to win a Hugo Award for Best Fanzine editing at Pittcon for Cry of the Nameless along with F. M. Busby, Burnett Toskey and Wally Weber. She was awarded a Fan Activity Achievement Award for fan achievements, presented at Corflu in 2013. She was on the committee of Seacon. Busby is noted in Heinlein's Friday, and her husband is likewise in The Cat Who Walks Through Walls.
Born September 30, 1933 — Jonathan Gash, 90. Look I loved the Lovejoy series, both the novels themselves and the series starring Ian McShane but I'll be damned if I can figure out how ISFDB lists them as being genre. Him being an antiques divvy didn't make it fantasy, does it? He did write The Year of the Woman which is a fantasy with a ghost as a central figure in it.
Born September 30, 1946 — Dan O'Bannon. Screenwriter, director, visual effects supervisor, and actor. He wrote the Alien script, directed The Return of the Living Dead, provided special computer effects on Star Wars, writer of two segments of Heavy Metal, Soft Landing and B-17, co-writer with Ronald Shusett and Gary Goldman of the first Total Recall. That's not complete listing by any stretch! (Died 2009.)
Born September 30, 1947 — Michael B. Wagner. Though best remembered for his work on Hill Street Blues and deservedly so, he's co-created with Isaac Asimov, produced and wrote several episodes for the one-season ABC series Probe. He provided the story for two episodes of Next Generation, "Bobby Trap" and "Evolution" and wrote another, "Survivor". (Died 1992.)
Born September 30, 1950 — Laura Esquivel, 73. Mexican author of Como agua para chocolate, Like Water for Chocolate in English. Magic realism and cooking with more than a small soupçon of eroticism. Seriously the film is amazing as is the book. ISFDB says she's also written La ley del amor (The Law of Love) which I've not read.
Born September 30, 1951 — Simon Hawke, 72. His first major SF series was Timewars which I need not tell you what it's about. He's since written a lot of fiction off media properties including off Battlestar Galactica. Friday the 13th, Star Trek, Predator 2 and Dungeons & Dragons. He does have a mystery series, Shakespeare & Smythe, involving, well, it's obvious, isn't it?
Born September 30, 1953 — S. M. Stirling, 70. My favorite work by him is The Peshawar Lancers. The audiobook version is quite stellar. Other than that, I'll admit that I've not read deep on him beyond In the Courts of the Crimson Kings and The Sky Prople.
Born September 30, 1960 — Nicola Griffith, 63. Writer, Essayist and Teacher. Her first novel was Ammonite which won the Tiptree and Lambda Awards and was a finalist for the Clarke and BSFA Awards, followed by The Blue Place, Stay, and Always, which are linked novels in the Ammonite universe featuring the character Aud Torvingen. In total, SFE has won the Washington State Book Award, Nebula Award, James Tiptree, Jr. Award, World Fantasy Award and six Lambda Literary Awards. Her novel Slow River won Nebula and Lambda Awards. With Stephen Pagel, she has edited three Bending the Landscape anthologies in each of the three genres Fantasy, Science Fiction, and Horror, the first of which won a World Fantasy Award. She latest novel is Spear which just came out. She was diagnosed with multiple sclerosis in March 1993. She lives with her wife, author Kelley Eskridge, in Seattle.
Born September 30, 1972 — Sheree Renée Thomas, 51. Writer, Shotgun Lullabies: Stories & Poems and Sleeping Under the Tree of Life; Editor, Dark Matter: A Century of Speculative Fiction from the African Diaspora which won a World Fantasy Award, and Dark Matter: Reading the Bones which also won a World Fantasy Award. She's also written a variety of poems and essays including "Dear Octavia, Octavia E. Butler, Ms. Butler, Mother of Changes". In 2020, Thomas was named editor of The Magazine of Fantasy & Science Fiction.
(10) COMICS SECTION.
(11) OFFBEAT HEROES AND VILLAINS. "DC Announces New Visual Encyclopedia With Foreword By James Gunn" – Comicbook.com has details.
From his work on The Suicide Squad and Peacemaker to his current job co-running DC Studios, James Gunn has helped highlight some of the weirdest and best characters of DC's comic canon. As Gunn announced in a tweet on Tuesday, he will play a new role in spotlighting the DCU's heroes and villains with the help of a new official book. The book, titled Strange and Unsung All-Stars of the DC Multiverse: A Visual Encyclopedia, will be a visual encyclopedia written by Nubia and the Amazons and Wakanda comic writer Stephanie Williams. The book will also feature a foreword by Gunn himself, and is now available to preorder ahead of a November 7th release date.

"Many know I have a special fondness for the wilder corners of DC comics – the forgotten or outlandish characters who I grew up laughing with or at but who in every case fired up my imagination & my love of outcasts & oddballs," Gunn's tweet reads. "Now there's finally a book for folks like me (yes, including a forward BY me), 240 pages of guilty goodness, with Arm-Fall Off Boy, Colonel Computron, the Mod Gorilla Boss, and so, so many more."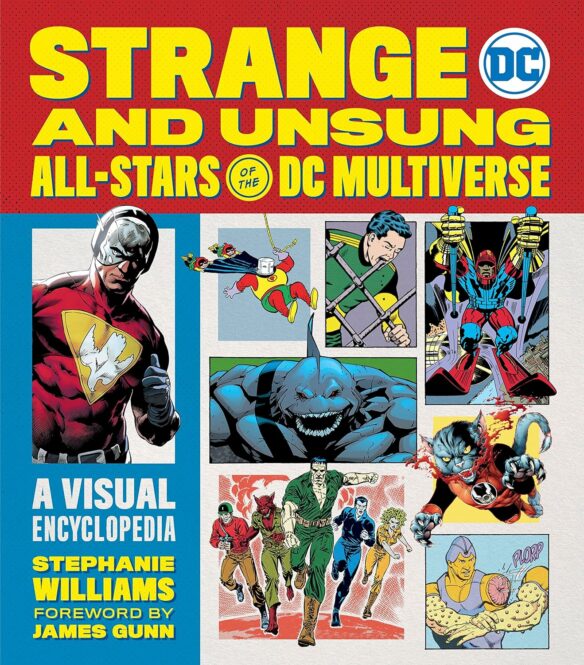 (12) FREE ONLINE GARY PHILLIPS Q&A. Space Cowboy Books of Joshua Tree, CA will host an "Online Reading & Interview with Gary Phillips" on Tuesday October 10 at 6:00 p.m. Pacific.
Award-winning author, screenwriter, and editor Gary Phillips gathers his most thrilling, outlandish, and madcap pulp fiction in an 17-story collection that straddles the line between bizarro, science fiction, noir, and superhero classics. Aztec vampires, astral projecting killers, oxygen stealing bombs, undercover space rangers, aliens occupying Los Angeles, right wing specters haunting the 'hood, masked vigilantes and mad scientists in their underground lairs plotting world domination populate the stories in this rip-snorting collection. In these pages grindhouse melds with blaxploitation along with strong doses of B movie hardcore drive-in fare. Phillips, editor of the Anthony Award-winning The Obama Inheritance: Fifteen Stories of Conspiracy Noir, and author of One-Shot Harry, and Matthew Henson and the Ice Temple of Harlem, said this about pulp. "The most common definition of pulp is it's fast-paced, a story containing out there characters and a wild plot. There is that. But certainly, as we've now arrived at the era of retro-pulp, these stories have elements of characterization…not just action but a glimpse behind the steely eyes of these doers of incredible deeds." As an added bonus, Phillips resurrects Phantasmo, a Golden Age comics character created by Black artist-writer E.C. Stoner in an all-new outing of ethereal doings.
Get your copy of The Unvarnished here.

Register for free here.
(13) HIGH FIDELITY. "Police Showed Up During 'Saw X' Editing After Neighbors Reported 'Someone's Being Tortured to Death in Here': 'I'm Just Working on a Movie!'" at Variety.
Just how grisly is one "Saw X" scene? Apparently enough to get the cops called on the film's editor, Steve Forn. In an interview with NME, director Kevin Greutert revealed that police showed up to Forn's editing suite in North Hollywood after neighbors reported noises of someone being tortured to death. Forn was in the middle of editing a scene depicting the "eye vacuum trap," in which a character must escape Jigsaw's game or lose his eyesight. A lot of screaming ensues.

"There was a knock at the door," Greutert said. "We have the doorbell [camera] video of the police walking up, [Forn answering the door] and the police saying, 'The neighbors [have been] calling and saying someone's being tortured to death in here.' And he was like, 'Actually, I'm just working on a movie…You can come in and see it if you want?'"

"The cops started laughing!" the director continued. "They said, 'We want to but, you know, you're all right.' It must have been a pretty realistic performance! It's a pretty funny story…Plus Steve is such a mild mannered guy. I can only imagine the look on his face when he realized what was happening!"
Mike Kennedy couldn't decide which headline he liked best. Here are the other candidates:
Sound Scares
Audible Aggravation
Noise Complaint
Noisy Neighbor
Saw Sound
Sawing Legs
Torture Tones
Eyes on the Prise
(14) BABYLON THREE TWENTY-TWO. "3,700-year-old Babylonian tablet is world's first trigonometry table" – Upworthy explains.
…Most historians have credited the Greeks with creating the study of triangles' sides and angles, but this tablet presents indisputable evidence that the Babylonians were using the technique 1,500 years before the Greeks ever were.

Mansfield and his team are, understandably, incredibly proud. What they discovered is that the tablet is actually an ancient trigonometry table.

Mansfield said:

"The huge mystery, until now, was its purpose – why the ancient scribes carried out the complex task of generating and sorting the numbers on the tablet. Our research reveals that Plimpton 322 describes the shapes of right-angle triangles using a novel kind of trigonometry based on ratios, not angles and circles. It is a fascinating mathematical work that demonstrates undoubted genius."…
(15) VIDEO OF THE DAY. [Item by SF Concatenation's Jonathan Cowie.] Isaac Arthur's latest has a titular Heinlein riff… "Have Space Suit – Will Travel".
Space is often called the final frontier, a place of billions and billions of worlds awaiting explorers and pioneers. But what will those journeys be like, and what gear will people need for them, and perhaps most importantly of all, what sort of people will make those travels?
[Thanks to Cat Eldridge, SF Concatenation's Jonathan Cowie, Mike Kennedy, Lise Andreasen, Rich Lynch, Andrew Porter, Ersatz Culture, John King Tarpinian, and Chris Barkley for some of these stories. Title credit belongs to File 770 contributing editor of the day Jon Meltzer.]