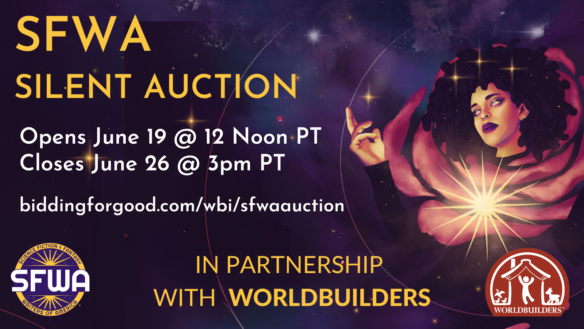 Six new items have been added to the SFWA Silent Auction. That makes this the perfect time to get in early on the bidding action for them:
Full trade paperback set of the lush Rook & Rose epic fantasy trilogy by M.A. Carrick (joint pen name of Marie Brennan and Alyc Helms), consisting of The Mask of Mirrors, The Liar's Knot, and Labyrinth's Heart.
Book bundle containing signed trade paperback copies of three Eileen Gunn collections of stories and essays: Questionable Practices, Night Shift Plus…, and Stable Strategies and Others. Gunn is also offering a virtual kaffeklatsch!
Signed copies of the Gemworld trilogy by Fran Wilde, including The Jewel and Her Lapidary, The Fire Opal Mechanism, and the upcoming The Book of Gems.
Signed first edition of The City in the Middle of the Night by Charlie Jane Anders.
A bundle from Space Cowboy Books featuring an autographed first edition of Michael Butterworth's Complete Poems 1965–2020, a CD musical audiobook of Butterworth's Selected Poems 1965–2020, an autographed first edition of Betelgeuse Dimming by Jean-Paul L. Garnier with a CD musical audiobook of the same, and the Simultaneous Times Vol.2 science fiction anthology.
Signed book bundle containing an autographed collection and a book by Meg Elison: Big Girl and Number One Fan.
The auction closes June 26 at 3:00pm PT and bidding gets really competitive and exciting in the last two days, based on past experience. Many of the highest bids are a steal right now, so this may be your chance…The auction website is here.
Also offered are a couple of tuckerizations from Brenda W. Clough and Kelly McClymer, a number of rare books (including whole collections by Grand Master James E. Gunn and many of David Mack's Star Trek works), jewelry by Erin Cairns and Marisca Picehtte, and even an offer to have Marie Vibbert knit you a shawl or sweater!
Don't forget to also check out the virtual kaffeeklatsches! You can usually find great deals on these opportunities to spend time online with many great SFWA members, shooting the breeze or learning more about their career paths. Peruse all the kaffeklatsch options here.
If you are unable to bid this year, SFWA welcomes your contribution through sharing the auction website with others who may wish to take advantage of all the great items and opportunities on offer.
[Based on a press release.]