Is there a science fiction movie character you want to smell like? Forget Swamp Thing, c'mon, he's not in Fragrance X's catalog. Otherwise, there's no end of superhero and genre branded colognes you can buy.
First, here's a whiff of justice —
BATMAN COLOGNE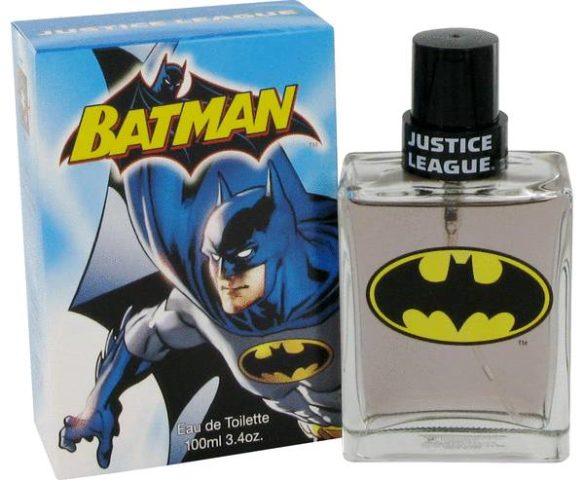 Batman Cologne by Marmol & Son, Based on the classic Justice League character, Batman, this heroic scent for boys and men incorporates fresh spicy notes for an aromatic blend. Lavender, bergamot and black pepper open this fragrance. The middle notes contain cardamom, geranium and patchouli, and closing notes include musk and vanilla.
SUPERMAN COLOGNE
Superman Cologne by Cep, Embrace your inner strength with Superman, the aromatic green fragrance for men of all ages. Ideal for wearing throughout the year, this energetic scent has the power to carry you through the day and well into the night. The similarities with its namesake don't end there, though, because this aroma's sillage has a commanding presence in any room. The top notes of this powerhouse of a fragrance are sorbet, lemon, ginger and ozonic notes. Within its super heart beat's the notes of blood grapefruit, nutmeg and green notes. The dynamic powers of aromatic Egyptian musk and amber support the upper layers of the perfume pyramid. This scent made its debut in 2012 for the boy looking for his first cologne or the man who's seeking to recapture the energy of youth.
In space no one can hear you scream, but you can smell real good while you're doing so.
STAR TREK TIBERIUS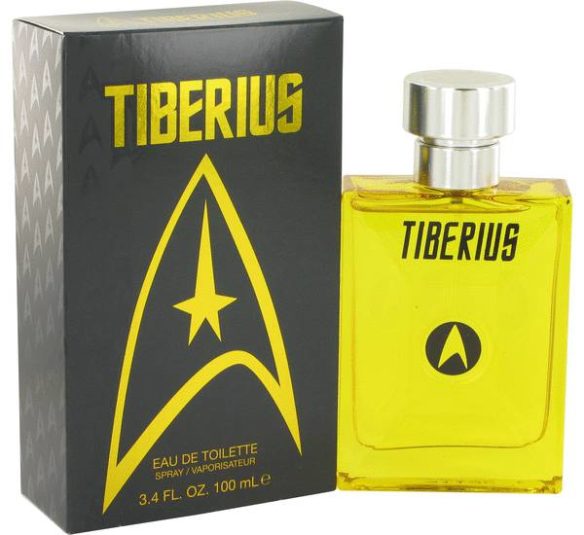 Star Trek Tiberius Cologne by Star Trek, James Tiberius Kirk was a fearless leader and a real ladies' man. His essence has truly been captured in a bottle with Star Trek Tiberius cologne. With this fragrance around your pulse points, you will feel like venturing where no man has gone before. This cologne, which was introduced in 2009, opens with notes of pineapple, pear and citruses. The heart consists of lavender, black currant and melon. Woody notes make up a large part of the fragrance's base along with moss, musk and patchouli.

Star Trek is one of the most iconic science fiction franchises of all time. The original series lasted for three seasons after premiering in 1966. The show followed the adventures of the starship enterprise, which was led by Captain James T. Kirk, played by William Shatner. In the rebooted universe, James Kirk was played by Chris Pine. The show has influences numerous other properties over the decades.
STAR TREK SULU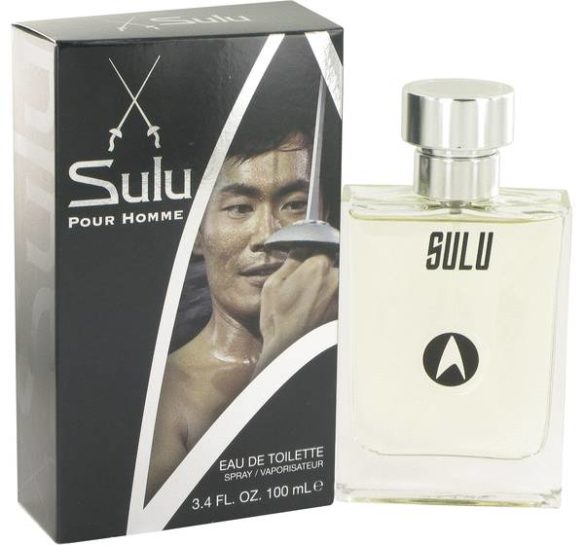 Star Trek Sulu Cologne by Star Trek, Add an otherworldly flair to your outfit by wearing Star Trek Sulu cologne. This fragrance came out in 2010, and it features top notes of lemon, petit grain and lavender. The core of the composition consists of juniper berries, coriander and water lily. This warm heart will captivate your senses. The base brings out white musk, amber and sandalwood.

Star Trek has become one of the most iconic properties in all of pop culture. It is a science fiction series that began back in 1966. Gene Roddenberry developed the series to present morality tales, and the original series had cultural significance. The show was noted at the time from its progressive views on civil rights.

This particular cologne derives its name from the original character Hikaru Sulu. He was portrayed by George Takei in numerous films as well as the original series. In the rebooted slate of films, Sulu was played by John Cho.
For the next one I don't have to make the obvious joke – it's in the ad copy!
STAR TREK RED SHIRT
Star Trek Red Shirt Cologne by Star Trek, Men wanting a fun fragrance should wear Star Trek Red Shirt. This fragrance derives its name from the "red shirts" in the hit television series, which have become synonymous in pop culture for anyone in a movie or T.V. show who is going to die very soon. The top notes of this cologne include rosemary, lemon, apple and lime. The heart contains a mixture of fruity and water notes along with star anise, lavender and ginger. After all these aromas dry down, you get the base of musk, leather, amber, tonka bean and cedar.
Here are a couple of offbeat selections. I was wrong to assume Minions smell like bananas.
MINIONS
Minions Yellow Cologne by Minions, Offer your child a gift that keeps on giving by offering them Minions Yellow, a light, airy scent made from the popular Minions movie and television franchise. The top notes are designed to add a splash of freshness to any situation, and include tarragon, lemon, lime, lila and iris. The scent's middle note consists of apple, and base notes are made from a simple combination of vanilla, tonka bean and amber.

Minions became popular through the rise of funny children's movies such as "Despicable Me," "Despicable Me 2," and "Minions." The fragrance itself was created by the parent company, Illumination Entertainment, which also happened to be the brain behind the movie production. The film "Minions" focused on the series' most popular little characters, and grossed over a billion dollars in sales, prompting the creation of tons of merchandise like this fragrance.
Deadpool smells like a lot of different stuff – that part I agree with, anyway.
DEADPOOL
Deadpool Cologne by Marvel, Deadpool for men was launched in 2016 and is a musky, woody fragrance perfect for men who need a scent to help them get through the day; whether that means making it through a slew of stressful meetings, or a superhero day of stopping crime. The fragrance starts with the top notes of lavender, orange blossom, rosemary, sweet peppermint, and spicy coriander. The scent then moves into the heart notes of jasmine, oakmoss, and geranium. The base notes are an intriguing combination of warm amber, musk, soothing sandalwood, and woody cedar. These notes all work together to create a scent that is just as powerful as its namesake.

The cologne is moderately long-lasting to make it through the day but won't become too much, and it has a soft sillage so it will entice without being overwhelming or unwelcome. The fragrance was released by Marvel, who created their first superhero themed scent in 2004.
VENOM
Marvel Venom Cologne by Marvel, Fans who cite Venom as their favorite character will love this unisex Marvel Venom cologne. Inspired by the formidable villain, this scent includes bright, fruity top notes of apple and bergamot orange. Beneath, the heart of the fragrance adds sweet floral notes of jasmine and lily of the valley along with sensual, earthy precious wood. Rich, grounding notes of cedar, musk and amber comprise the base of this franchise-based scent.
Personally, I associate the Hulk with the smell of smashed concrete and twisted rebar – what Marvel thinks is very different:
HULK
Hulk Cologne by Marvel, Unleash your inner Hulk with this cologne based on the famous Avenger. This fragrance first came out in 2004, a year after his big-screen debut in the Ang Lee-directed film. No one may like you when you are angry, but they will love being around the intense blend of notes found in this cologne, which include bergamot, orange blossom, musk, vanilla, woody notes and petit grain.
I'm fascinated that both X-Men Storm and Wolverine are "designed for young fans who might not hesitate to spritz liberally" – the kind of fans who might be the children of those guys in my high school locker room who doused themselves with Jade East.
STORM
X-Men Storm Perfume by Marvel, Feminine and powerful, X-Men Storm is a fresh spicy and floral fragrance released in 2004 inspired by the popular superhero character. The top notes of this fragrance include mandarin and violet, which slowly give way to the creamy heart of hyacinth, lily of the valley, iris, neroli, and freesia. The base is almost an almost undetectable hint of musk. The perfume was designed for young fans who might not hesitate to spritz liberally, so the fragrance isn't overly potent or long-lasting, but is still suitable for a touch of floral scent on a day out.
WOLVERINE
X-Men Wolverine Cologne by Marvel, Inspired by the classic hero of comics and films, X-Men Wolverine is a straightforward scent with hints of thoughtfulness and ferocity. The simple formula includes a top note of orange blossom, a middle note of vanilla, and a base of musk. Designed for young fans who might not be able to withstand the temptation to spritz liberally, the fragrance is not overly potent. With its keepsake box, this fragrance is ideal for fans and collectors alike. . This fragrance was released in 2004.
This last one, really, you buy it for the helmet, right? Why even open the bottle?
STAR WARS STORMTROOPER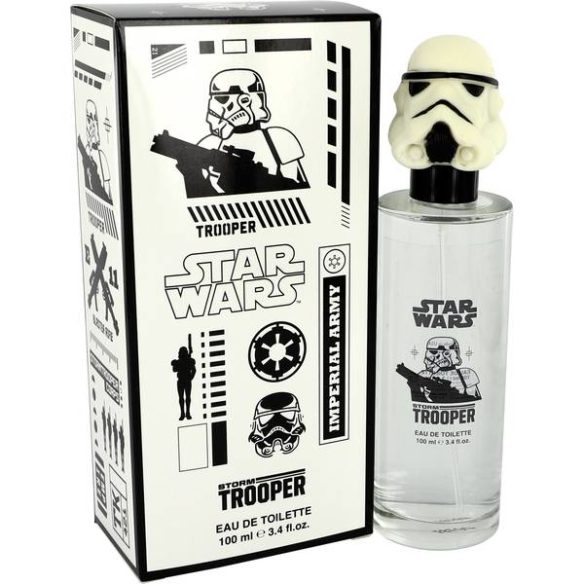 Star Wars Stormtrooper 3D Cologne by Disney, Showcase your inner Star Wars fanatic with Star Wars Stormtrooper 3D Eau de Toilette spray. The scent for boys opens with herbal notes combined lemon and bergamot. Orange blossom, midnight Jasmine and white flower bring a floral essence to the heart. Vanilla, amber and musk deepen the base for a decidedly masculine fragrance that isn't overpowering. Complete your fan's collection with matching shower gel. Show off the collectible bottle complete with stormtrooper head gracing the top.