(1) LAW ENFORCEMENT ACTIVITY NEARBY AS WINDYCON BEGINS. [Item by Steven H Silver.] This year's Windycon [in the Chicago area] started out in an interesting way.  A police presence in the inside of the ring access road due to a high-speed chase and a search for bullet casings.  Never good to see helicopter views of the building your con is in.  Some inconvenience to members getting in and out of the parking lot, but otherwise no real impact.
File 770 located a brief video report here: "Lombard police investigating report of shots fired at Yorktown Shopping Center".
(2) VONNEGUT CENTENARY. "100 years after his birth, Kurt Vonnegut is more relevant than ever to science" asserts Science.
…As a philosopher, Vonnegut was no stranger to science. Under pressure from his brother, a renowned atmospheric chemist, he studied biochemistry at Cornell University in the 1940s before dropping out and enlisting in the Army during World War II. He later worked as an institutional writer for General Electric and, until his death in 2007, said he spent more time in the company of scientists than of writers.

Perhaps that's why, beneath his persistent skepticism about science, there was always a deep appreciation for its potential. In the novel Cat's Cradle, for instance, a dictator on the brink of death urges his people to embrace science over religion because "science is magic that works." Even within ultimately dystopian tales, "you can see a sort of romanticization of the scientific endeavor," says David Koepsell, a philosopher of science and technology at Texas A&M University, College Station….
(3) E.T. FOR SALE. The "Icons & Idols: Hollywood" auction presented by Julien's Auctions and Turner Classic Movies will feature this high ticket headliner: the E.T. filming model.
Headlining this epic event is the E.T. the Extra Terrestrial Hero "#1" Mechatronic filming model "actor" that brought the eponymous character to life in Steven Spielberg's 1982 classic E.T. the Extra-Terrestrial (estimate: $2,000,000 – $3,000,000). Pre-dating modern CGI technology and effects, this one-of-a-kind cinematographic relic (constructed in 1981) features 85 points of movement and is regarded as an engineering masterpiece.

"Carlo Rambaldi was E.T.'s Geppetto." – Steven Spielberg

Created by "The Father of E.T.," Carlo Rambaldi was an Italian special effects master, designer and mechatronics expert best known for his work on King Kong (Paramount Pictures, 1976), Alien (20th Century Fox, 1979), Close Encounters of the Third Kind (Columbia Pictures, 1977), Dune (Universal Pictures/DDL Corp. 1984), and E.T. the Extra-Terrestrial
(4) GOLDSMITHS PRIZE. The 2022 winner of the Goldsmiths Prize is the non-genre novel Diego Garcia by Natasha Soobramanien and Luke Williams.
It won out over five other works on the shortlist, which included two of genre interest, Maps of Our Spectacular Bodies by Maddie Mortimer (Picador) and Peaces by Helen Oyeyemi (Faber).
(5) THE BIG SQUEEZE. Dave Doering was left scratching his head after reading the plug for "BookyCon 2022: A Mega Meta Book Festival".
You up for the world's largest virtual book festival?
Reserve your ticket here! (Space is limited)
(6) KEVIN CONROY (1955-2022). Kevin Conroy, longtime voice of the animated Batman, died November 10 at the age of 66. Deadline says he reportedly had been battling cancer:
… An actor with credits on stage, television and film, Conroy became a premier voice actor as the title character of Batman: The Animated Series (1992-96). He'd eventually give voice to the Dark Knight in nearly 60 different productions, including 15 films and more than 15 animated series spanning nearly 400 episodes and more than 100 hours of television.

Conroy also voiced Batman in dozens of video games and was featured as a live-action Bruce Wayne in the Arrowverse's 2019-20 "Crisis on Infinite Earths" crossover event.

"Kevin was perfection," said Mark Hamill, who voiced the Joker opposite Conroy's Batman. "He was one of my favorite people on the planet, and I loved him like a brother. He truly cared for the people around him – his decency shone through everything he did. Every time I saw him or spoke with him, my spirits were elevated."…
(7) MEMORY LANE.
1946 — [By Cat Eldridge.] Molle' Mystery Theatre's "Come Back to Me" (1946)
This May 17, 1946 radio show is an adaption of Ray Bradbury's story, "Killer, Come Back to Me" which was published two years earlier in the July 1944 issue of Detective Tales. It was adapted for radio by Joseph Ruskall.
It was a fairly meaty story at twenty pages when published in Detective Tales. It was in three parts, the first of which describes Julie, a stereotypical Forties femme fatale who it turn out is anything but not, and Broghman, a young man who conducts a robbery alone and then finds himself now allied with her. Or so he thinks.
The second part of this story is about the dealings of a Los Angeles crime syndicate Angeles and Broghman's realization that he is not afraid of them; while the third part is at a meeting between him and the head of the syndicate, who naturally thinks of his thugs as "respectable businessmen" which they are most decidedly not.
The primary actors here were Richard Widmark and Alice Reinhart in the lead roles. Widmark as one site put it has "the leading role of a cheap hoodlum with delusions of grandeur who assumes the role of a dead gangster while taking up with the crook's delusional girlfriend." Alice Reinhart Is Julie, that femme fatale and really delusional girlfriend.
Mollé Mystery Theatre was a thirty-minute radio program that ran from 1943 to 1948 on the NBC network before moving to the CBS network where the show became only the stories of Inspector Hearthstone. It would end its run on the ABC network. The show was sponsored first by Sterling Drugs, manufacturers of Mollé Brushless Shaving Cream, hence the name. When it was not sponsored by Mollé, the program was called Mystery Theater.
Of its estimated 237 episodes, only 73 are known to be still in circulation.
You can hear it thisaway.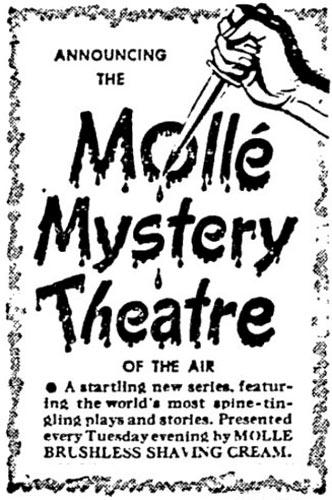 The original story is collected in, not at all surprisingly, Killer, Come Back to Me: The Crime Stories of Ray Bradbury which is published by Titan Books. It's available from the usual suspects.
(8) TODAY'S BIRTHDAYS.
[Compiled by Cat Eldridge.]
Born November 11, 1922 — Kurt Vonnegut Jr. The Sirens of Titan was his first SF novel followed by Cat's Cradle which after turning down his original thesis in 1947, the University of Chicago awarded him his master's degree in anthropology in 1971 for this novel. Next was Slaughterhouse-Five, or The Children's Crusade: A Duty-Dance with Death which is one weird book and an even stranger film. It was nominated for best novel Nebula and Hugo Awards but lost both to Ursula K. Le Guin's The Left Hand of Darkness. I'm fairly sure Breakfast of Champions, or Goodbye Blue Monday is his last genre novel there's a lot of short fiction where something of a genre nature might have occurred. (Died 2007.)
Born November 11, 1916 — Donald Franson. Longtime fan who lived most of his life in LA. Was active in the N3F and LASFS including serving as the secretary for years and was a member of the Neffer Amateur Press Alliance. Author of A Key to the Terminology of Science-Fiction Fandom. Also wrote A History of the Hugo, Nebula, and International Fantasy Awards, Listing Nominees & Winners, 1951-1970 and An Author Index to Astounding/Analog: Part II—Vol. 36, #1, September, 1945 to Vol. 73 #3, May, 1964, the first with Howard DeVore. (Died 2003.)
Born November 11, 1917 — Mack Reynolds. He'd make Birthday Honors just for his first novel, The Case of the Little Green Men, published in 1951, which as you likely know is a murder mystery set at a Con. He gets Serious Geek Credits for writing the first original authorized classic Trek novel Mission to Horatius. And I've seriously enjoyed his short fiction. Wildside Press has seriously big volumes of his fiction up at the usual suspects for very cheap prices. (Died 1983.)
Born November 11, 1925 — Jonathan Winters. Yes, he did do quite a few genre performances including an early one as James Howard "Fats" Brown in "A Game of Pool", a 1961 episode of The Twilight Zone. He next shows up as the very, very silly role of Albert Paradine II in More Wild, Wild West. He had a recurring role in Mork & Mindy as a character named Mearth. You'll find him in The Shadow film, The Adventures of Rocky and Bullwinkle, The Flintstones, both of The Smurfs films and quite a bit more. He of course was a guest on The Muppets Show. Who wasn't? (Died 2013.)
Born November 11, 1945 — Delphyne Joan Hanke-Woods. Artist and Illustrator whose grandfather taught her to read using science fiction pulp magazines. After discovering genre fandom at Windycon in 1978, she became one of the leading fan artists in fanzines of the time, including providing numerous covers for File 770. In addition to convention art shows, her art also appeared professionally, illustrating books by R.A. Lafferty, Joan D. Vinge, and Theodore Sturgeon, and in magazines including Galaxy, Fantastic Films, and The Comics Journal. She won two FAAn Awards for Best Serious Artist and was nominated six times for the Best Fan Artist Hugo, winning in 1986. She was Fan Guest of Honor at several conventions, including back at a Windycon, where her fandom started. (Died 2013.) (JJ)
Born November 11, 1947 — Victoria Schochet, 65. Wife of Eric Van Lustbader. She co-edited with John Silbersack and Mellisa Singer the most excellent The Berkley Showcase: New Writings in Science Fiction and Fantasy that came out in the Eighties. She has worked editorially at Analog as Managing Editor.
Born November 11, 1948 — Kat Bushman, 74. Costumer and Fan from the Los Angeles area who has chaired/co-chaired Costume-Cons, and has worked on or organized masquerades at a number of Westercons, Loscons, and a Worldcon. She received Costume-Con's Life Achievement Award in 2015. She is a member of LASFS and of SCIFI, and ran for DUFF in 1987. Her essay "A Masquerade by Any Other Name" appeared in the L.A.con III Worldcon Program Book. (JJ)
(9) GOING ROGUE. For a spoiler-filled look at Andor, read Variety's profile: "'Star Wars' Series 'Andor' Showrunner Talks Sex, Revolution, Geekdom".
… As anyone who has watched the show and/or been on Twitter since it debuted Sept. 21 knows, "Andor" has been one of the most enthusiastically well received "Star Wars" projects of the Disney era. Between its sprawling cast and labyrinthine plotting, the 12-episode series has raced headlong into territory many "Star Wars" fans did not know was possible: mature, dramatic storytelling about everyday people. With each new episode, the social media adulation for "Andor" has only grown louder, as millennials and Gen Xers who grew up with "Star Wars" have become further enthralled by the realization that the family-friendly franchise has proven capable of growing up with them….
(10) SOFT LANDING. "NASA Launched an Inflatable Flying Saucer, Then Landed It in the Ocean" – the New York Times takes a look at the future of Martian valet parking.
On Thursday morning, NASA sent a giant inflatable device to space and then brought it back down from orbit, splashing in the ocean near Hawaii.

You might think of it as a bouncy castle from space, although the people in charge of the mission would prefer you did not.

"I would say that would be inaccurate," Neil Cheatwood, principal investigator for the Low-Earth Orbit Flight Test of an Inflatable Decelerator, or LOFTID for short, said of the comparison during an interview.

LOFTID may sound like just an amusing trick, but the $93 million project demonstrates an intriguing technology that could help NASA in its goal of getting people safely to the surface of Mars someday. The agency has landed a series of robotic spacecraft on Mars, but the current approaches only work for payloads weighing up to about 1.5 tons — about the bulk of a small car….
(11) VERBAL HINT. The BBC's Fred Harris talks to game developers at Infocom about interactive fiction in this clip from 1985.
Fred Harris goes behind the scenes at Boston software company Infocom. The developer has enjoyed great success with its line of text adventure games – the likes of Zork, Planetfall, Enchanter, and The Hitchhiker's Guide to the Galaxy – which eschew graphics in favour of a simple text display, and arcade gameplay in favour of what the company calls 'interactive fiction'. Game designer Dave Liebling – one of Infocom's founder members – is currently putting the finishing touches to a new game called Spellbreaker. He explains the processes that go in to making a good text-adventure game. This clip is from Micro Live, originally broadcast 29 November, 1985.
(12) PAINT YOUR DRAGON. From Kevin Smith's YouTube channel: "Curious George: An Evening with GEORGE R.R. MARTIN and KEVIN SMITH!"
A Bayonne boy goes down the shore to geek out with a Highlands nerd about comic books, movies, TV, the dawn of fandom, writing, success, failure, and DRAGONS! It's a once-in-a-lifetime audience with a living legend: the celebrated, world renowned author of the A Song of Fire & Ice novels, the source for HBO's Game of Thrones! Watch as he's interviewed by a guy who was traumatized by The Red Wedding!
[Thanks to Michael Toman, Cat Eldridge, Mike Kennedy, Jennifer Hawthorne, Steven H Silver, Dave Doering, Martin Morse Wooster, JJ, John King Tarpinian, Chris Barkley, and Andrew Porter for some of these stories. Title credit belongs to File 770 contributing editor of the day Jayn.]