(1) TOP 30. Yesterday Ellen Datlow did a cover reveal for Edited By:
(2) OWL AIR BNB. Real Simple is excited — "You Can Stay in Harry Potter's Childhood Home on Airbnb—and We're Heading for the Floo Network Right Now".
Other than the Hogwarts acceptance letter we've been stubbornly awaiting for the past 20-something years, this is the best possible news a grown-up Harry Potter fan could hope for. The cottage where Harry Potter was born is now available to rent on Airbnb.

De Vere House appeared in the film adaptation of Harry Potter and the Deathly Hallows as the home where Lily and James Potter raised baby Harry, until (obvious spoiler alert) Lord Voldemort killed Harry's parents and left him with the badass scar (which Prince William also has). After the attack, he was forced to live in a closet under the stairs at the Dursleys' house.

The village of Lavenham in Suffolk, in which De Vere House is located, also appeared in the movie as the fictional town of Godric's Hollow.
(3) FORTRESS UNHIDDEN. The Guardian reports that the inevitable adaptation will be performed November 28: "Japanese theatre to stage kabuki version of Star Wars".
The classical Japanese theatre, which combines highly stylised movement and unusual vocalisation, will swap samurai swords for lightsabers and replace feudal warriors with the forces of light and darkness.

Star Wars Kabuki-Rennosuke and the Three Light Sabers, which are being staged in Tokyo, will combine plots from each of the franchise's latest trilogy, substituting plots drawn from the days of feudal clan rivalry with drama from a galaxy far, far away.

Ichikawa Ebizo XI, Japan's pre-eminent kabuki actor, will take to the stage as Kylo Ren, the conflicted son of Han Solo and Princess Leia, in front of 50 winners of an online lottery.
A livestream will be accessible on YouTube:
(4) LIVE, FROM 1964! Galactic Journey's Gideon Marcus will be all over the Southern California map in December.
Loscon, Los Angeles, Dec. 1, 1:00 PM
"Crest of a New Wave", discussing 1964 in science fact and fiction
Talking about "What Science Fiction got wrong…and right!"
"The First Moon Race", talking about the troubles and ultimate triumph of Project Ranger.
Once more, talking about the Women Pioneers of Space Science at another great dark sky site.
(5) DRAFT OF EMPIRE. "See an original Star Wars script and more at 'Fahrenheit 451' author's IUPUI center" — the IndyStar tells the unexpected reason why Ray Bradbury had a copy.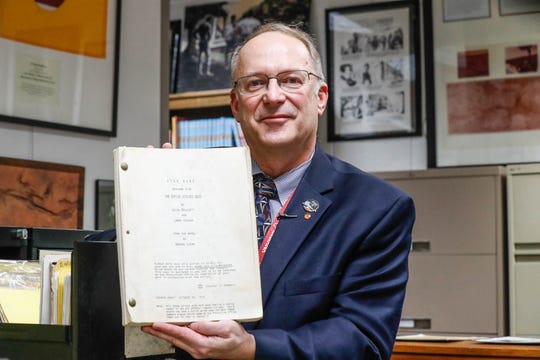 The second movie in the original trilogy is the one Bradbury almost co-wrote.

In the early 1940s, the writer studied with Leigh Brackett, a pioneer for women and the melodramatic space opera in science fiction. That gave way to a collaboration with "Lorelei of the Red Mist," a novella about a powerful, siren-like woman who controls the strong, barbarian body that a convict has recently been transplanted in.

Brackett went on to become a screenwriter and was a co-writer with Larry Kasdan on the "Empire" script. But she was in failing health, so the producer asked Bradbury whether he was familiar enough with her work to finish it if she couldn't.

"Ray Bradbury said, 'Yes, I do. But I want her to have credit,' " center director Jon Eller said.

As it turned out, Brackett completed her draft before she died in 1978, so Bradbury never had to work on it.

But the script — a fourth revision that doesn't even contain Darth Vader's big reveal to Luke because that detail was so secretive — remains part of Bradbury's collection
(6) IN THE MOMENT. Barbara Ashford tells five ways to "Make Your Big Moments Sing!" on the Odyssey Writing Workshop blog.
3) Use your own experiences to help you create emotional resonance on the page.

This is another acting technique that can help you get closer to a character. If you're writing a scene of grief, go back to a moment where you lost someone or when you first learned of this person's passing. Write down as many specific details as you can recall.

* Your physiological responses (e.g., shaking, goose bumps, pulse racing, face/skin flushing);

* Your physical responses (e.g., recoiling, fleeing, turning your face away);

* Your emotional reactions (which could be conveyed via action, dialogue or inner monologue);

* The small details that intruded on the moment, like the laughter of children playing a game or the scent of your mother's gardenia bush outside her bedroom window. Choose details that will show readers what the POV character is feeling. Does the laughter make the character angry because it reminds her of her loss? Or comfort her because she realizes life goes on?
(7) DEVELOPMENT HEAVEN AND HELL. Tor.com's own Stubby the Rocket has compiled a vast list of "(Almost) Every Sci-Fi/Fantasy TV or Movie Adaptation in the Works Right Now". For example —
Adapted from: The Eternals by Jack Kirby / Eternals by Neil Gaiman (writer) and John Romita (artist)
Originally published: 1976, Marvel Comics / 2006, Marvel Comics
Optioned for: Film (Marvel Studios)
What it's about: The Eternals are a race of humans created through experimentation by the alien Celestials, intended to be defenders of Earth against the unstable Deviants (also experiments). Plot details for the film are unclear, but there is some suggestion it may follow the Gaiman miniseries.
Status: Chloe Zhao (The Rider) will direct a cast including Angelina Jolie, Kumail Nanjiani, Richard Madden, Salma Hayek, Lia McHugh, Lauren Ridloff, Brian Tyree Henry, Don Lee, Barry Keoghan, Gemma Chan and Kit Harington.
(8) TODAY IN HISTORY.
November 28, 1987 — Next Generation's "Haven" aired in which Deanna Troi's mother Lwaxana Troi was performed by Majel Barrett. She would go on to have a role in every Trek series produced up to her death. 
(9) TODAY'S BIRTHDAYS.
[Compiled by Cat Eldridge.]
Born November 28, 1911 — Carmen D'Antonio. In the Flash Gordon Conquers the Universe Thirties reel, she was Ming's Dancing Girl, she'll show up in the soon to be released Arabian Nights as a harem girl. And her last genre performance was in The Twilight Zone. (Died 1986.)
Born November 28, 1946 — Joe Dante, 73. Warning, this is a personal list of Dante's works that I've really, really enjoyed starting off with The Howling then adding in Innnerspace, both of the Gremlins films though I think only the first is a masterpiece, Small Soldiers and The Hole. For television work, the only one I can say I recall and was impressed by was his Legends of Tomorrow "Night of the Hawk" episode. That's his work as Director. As Producer, I see he's responsible for The Phantom proving everyone has a horrible day.
Born November 28, 1952 — S. Epatha Merkerson, 67. Both of her major SF roles involve Robos. The first was in Terminator 2: Judgment Day as Tarissa Dyson; a year later, she had a recurring role as Capt. Margaret Claghorn in Mann & Machine. And she had a recurring role as Reba on Pee-wee's Playhouse which I can't remember if the consensus here was that it was genre or genre adjacent.
Born November 28, 1962 — Mark Hodder, 57. Best known for his Burton & Swinburne Alternate Victorian steampunk novels starting off with The Strange Affair of Spring-Heeled Jack that deservedly garnered a Philip K. Dick Award. He also wrote A Red Sun Also Rises which recreates sort of Victorian London on a far distant alien world. Emphasis on sort of. And then there's Consulting Detective Macalister Fogg which appears to be his riff off of Sherlock Holmes only decidedly weirder.
Born November 28, 1981 — Louise Bourgoin, 38. Her main SFF film is as the title character in The Extraordinary Adventures of Adèle Blanc-Sec, directed by Luc Besson. Anybody know if it got released in a subtitled English version? She also played Audrey in Black Heaven (L'Autre monde), and she's the voice heard in the Angélique's Day for Night animation short.
Born November 28, 1984 — Mary Elizabeth Winstead, 35. She was in the 2011 version of The Thing. She was in Sky High which is a lot of fun followed by a series of horror films such as the cheerful holiday charmer Black Christmas that earned her a rep as a Scream Queen. And she's Huntress (Helena Bertinelli) in the forthcoming Birds of Prey film.
Born November 28, 1987 — Karen Gillan, 32. Amy Pond, companion to the Eleventh Doctor. Nebula in the Guardians of The Galaxy and in later MCU films, Ruby Roundhouse in Jumanji: Welcome to the Jungle. Two episodes of Who she was in did win Hugos, "The Pandorica Opens/The Big Bang" and "The Doctor's Wife".
Born November 28, 1988 — Scarlett Pomers, 31. The young Naomi Wildman on Voyager, a role she played an amazing seventeen times. Retired from acting, one of her last roles was in A Ring of Endless Light which at least genre adjacent as it's written by Madeleine L'Engle.
(10) COMICS SECTION.
Grant Snider (Incidental Comics) did this for a magazine with stories and comics for kids.
(11) THAT'S COZY, NOT CRAZY. Sarah A. Hoyt continues her Mad Genius Club series about writing cozy mysteries with "Meet Interesting Strangers". Tons of advice here about the need for colorful supporting characters.
REMEMBER — this is important — eccentricities in fiction must be larger than in real life to be perceived as such. In real life Stephanie Plum and half the cozy heroines, including my own Dyce Dare would be locked up in the madhouse. (So would half the characters in sitcoms) BUT on paper there is a tendency to see things as less extreme than in real life. So exaggerate all the interesting bits, or your character will come across as very very boring.
(12) VAST MACHINERY. "How a cake company pioneered the first office computer" – a BBC video takes you back.
In the early 1950s the British catering firm J Lyons & Co, pioneered the world's first automated office system.

It was called LEO – Lyons Electronic Office – and was used in stock-taking, food ordering and payrolls for the company.

Soon it was being hired out to UK government ministries and other British businesses.

Mary Coombs worked on the first LEO computer and was the first woman to become a commercial computer programmer.
(13) IS YOUR FAVORITE THERE? Entertainment Weekly brings you "The droids of the Star Wars universe, ranked". The one I went looking for isn't ranked – could be those Roomba-style things that dodge underfoot don't have enough IQ to qualify as droids.
In honor of the upcoming Star Wars: The Rise of Skywalker, which will introduce a tiny wheeled green droid named D-O, EW has put together an extremely serious and extremely scientific ranking of the best droids in the galaxy. From tiny cameos to starring roles, these are the finest and most memorable droids depicted on the big screen. (A note: We're limiting this list to the Star Wars films, so our apologies to Chopper from Star Wars Rebels and IG-11 from The Mandalorian.)
(14) WATCH YOUR WALLET. Over the summer, SYFY Wire ranked "The 12 biggest genre box office bombs of all time".
The movies are ranked by their estimated loss (per BoxOfficeMojo). Where that is given as a range, SYFY Wire has generously used the lower end of the range as the ranking criterion.
Aaaaaand the winner among losers is Mortal Engines, with an estimated loss of $175 million.
(15) SECURITY BREACH. Whose side is Poe on, really? "Star Wars: How did John Boyega's script end up on eBay?"
It's one of the most hotly anticipated films of the year, shrouded in secrecy. Yet that didn't stop the script for the new Star Wars sequel ending up on eBay.

And it was all because Britain's John Boyega left it under his bed.

Speaking on US TV, Boyega said his Rise of Skywalker script had been found by a cleaner and that it was subsequently offered for sale online "for £65".

"So the person didn't know the true value," he continued, admitting the situation had been "scary".

"Even Mickey Mouse called me up [saying] 'what did you do?'" the actor joked – a reference to the Walt Disney Company which now owns the Star Wars franchise.
(16) TIKTOK ACCOUNT RESTORED. BBC reports "TikTok apologises and reinstates banned US teen".
Chinese-owned social network TikTok has apologised to a US teenager who was blocked from the service after she posted a viral clip criticising China's treatment of the Uighur Muslims.

The firm said it had now lifted the ban, maintaining it was due to 17-year-old Feroza Aziz's prior conduct on the app – and unrelated to Chinese politics.

Additionally, the firm said "human moderation error" was to blame for the video being taken down on Thursday for almost an hour.

TIkTok, owned by Beijing-based ByteDance, has insisted it does not apply Chinese moderation principles to its product outside of mainland China.

Ms Aziz posted on Twitter that she did not accept the firm's explanation.

"Do I believe they took it away because of a unrelated satirical video that was deleted on a previous deleted account of mine? Right after I finished posting a three-part video about the Uighurs? No."
(17) DOG YEARS. "Siberia: 18,000-year-old frozen 'dog' stumps scientists" – BBC has the story.
Researchers are trying to determine whether an 18,000-year-old puppy found in Siberia is a dog or a wolf.

The canine – which was two months old when it died – has been remarkably preserved in the permafrost of the Russian region, with its fur, nose and teeth all intact.

DNA sequencing has been unable to determine the species.

Scientists say that could mean the specimen represents an evolutionary link between wolves and modern dogs.
(18) VIDEO OF THE DAY. Let's revisit this 2015 video of a Sasquan GoH showing his musical range.
NASA astronaut Kjell Lindgren plays Amazing Grace on the bagpipes from the International Space Station.
[Thanks to John King Tarpinian, JJ, Chip Hitchcock, Cat Eldridge, Martin Morse Wooster, Mlex, Contrarius, Mike Kennedy, and Andrew Porter for some of these stories. Title credit goes to File 770 contributing editor of Turkey Day, Daniel Dern.]