(1) MAJOR STATHOPOULOS SHOW. "The Semblance of Things: Portraits by Nick Stathopoulos" will be a comprehensive 30-year survey show coming next February to the Blue Mountains Cultural Centre in Australia. Nick announced it on Facebook. There's already an article about the upcoming exhibition in the Centre's magazine, downloadable at the link.
(2) FIGURING. Cora Buhlert posted a new "Masters of the Universe-piece Theatre" photo story. This one is called "New Look".
… I have had some new arrivals recently, including the Teela and Zoar two-pack. I mainly bought the two-pack, because I wanted Zoar the Falcon, but I also got a Teela figure with a nice new headsculpt, which is loosely based on the way she looked in the 2002 cartoon, where Teela had a long ponytail instead of her customary upswept hairstyle. And since Teela is my favourite Masters of the Universe character, I'm always happy to have another version of her. Plus, this Teela has a sword, which is the weapon she actually uses most of the time in the various cartoons. The toys mostly only have the snake staff, even though the snake staff only prominently features in the 2002 cartoon – in every other version she uses a sword.

The fact that Teela got a makeover for the two-pack also inspired the following story. Furthermore, I also get to explore the friendship between Teela and Adora that the cartoons never really gave us (so far) some more….
(3) AMAZING. The Kickstarter for the "Amazing Stories Annual Special: SOL SYSTEM by Steve Davidson" now includes a rather clever animated Zoom meeting between famous science fiction figures from H.G. Wells to Octavia Butler. Here's a teaser – the complete video runs almost five minutes.
(4) HEARING MORE FROM CORA. Issue one of The Lotus Tree Literary Review is out and contains an interview with Cora Buhlert conducted by Jean-Paul L. Garnier: "The Lotus Tree Literary Review, Autumn 2022, Issue #1".
… Garnier: What challenges have you faced as a German author working in English speaking markets?

Buhlert: It's harder for someone from beyond the Anglosphere (i.e. the US, UK, Canada, Australia, Ireland and New Zealand) to get noticed. First of all, if you come from a non-English-speaking country (and for some countries in Africa and Asia, where English is an official language, even if you come from an English-speaking country), some people will simply assume that you cannot possibly speak English well enough to write in what is not your first language. I have actually had someone leave a long rambling comment on my blog to tell me that I'm obviously too stupid to understand English.

Physical distance is also an issue, because a lot of the big cons happen in the US or UK and attending takes time, money and also the privilege of being able to get a visa at all, something which is a huge issue for SFF writers from Africa, but also from the Middle East and some countries in Asia and Latin America. It's probably no accident that I was only nominated for the Hugo after I had attended two Worldcons and one Eurocon in person, took part in programming and met a lot of people…
(5) HAILEY PIPER READS. Space Cowboy Books will host an online reading and interview with Hailey Piper author of No Gods for Drowning on Tuesday November 15 at 6:00 p.m. Pacific. Register for free here.
IN THE BEGINNING, MAN WAS PREY WITHOUT THE GODS, THEY'LL BE PREY AGAIN The old gods have fled, and the monsters they had kept at bay for centuries now threaten to drown the city of Valentine, hunting mankind as in ancient times. In the midst of the chaos, a serial killer has begun ritually sacrificing victims, their bodies strewn throughout the city.

Set in an alternate reality which updates mythology to near-modern day, No Gods For Drowning is part dark fantasy, part noir detective story, and unlike anything you've read before, from an author whose imagination knows no boundaries.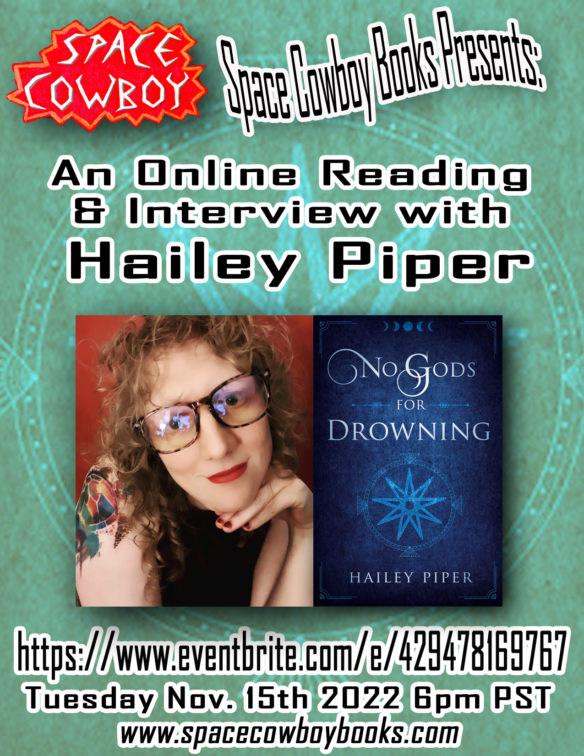 (6) A ROBOT WITH A ROSE BY ANY OTHER NAME. Lavie Tidhar discusses his favorite robot stories: "The Best Robots In Science Fiction" at CrimeReads.
My new novel, Neom, started off with the simple image of a robot and a rose. The robot goes to the market in the city of Neom and buys a flower. It then takes the rose into the desert and leaves it in the sand…

Why?

I wrote the rest of the book just to find out….

Second Variety by Philip K. Dick (1953)

As we go through Neom we find out that my robot (who is never named) had a group of companions during the long-ago war. One of them is, of course, a Tasso, from PKD's classic story about a war in which humanoid robots infiltrate the human population only to blow themselves up. They come in several models, including the David (a young boy) and a Wounded Soldier, but there are rumours of a new, improved model…
(7) LESLIE PHILLIPS (1924-2022). SYFY Wire reports: Leslie Phillips, "Voice of the Sorting Hat in 'Harry Potter' dies at 98".
Leslie Phillips, the British screen legend who voiced the Sorting Hat in the first two Harry Potter films, has passed away at the age of 98 following a lengthy illness. The anthropomorphic head piece that sorts incoming Hogwarts students into the school's four famous houses appeared prominently in Sorcerer's Stone (2001) and Chamber of Secrets (2022) — both of which were helmed by director Chris Columbus.

… The actor's career dated all the way back to the late 1930s and included over 200 roles in dozens upon dozens of projects spanning film, television, and the stage (Lara Croft: Tomb Raider and Doctor Who: Medicinal Purposes are just two small examples). Wizarding World fans, however, will forever associate the man with the sagely voice of the tattered magical hat that took Harry's own desires into consideration and placed the boy wizard into Gryffindor — where dwell the brave at heart….
(8) MEMORY LANE.
2018 — [By Cat Eldridge.] Sometimes it's the offbeat stories that I really like from authors, the short works that aren't expanded into full length stories. Such is the case with Elizabeth Bear's Sub-Inspector Ferron series. Of course, everything she writes is a delight to read.
Bear's Sub-Inspector Ferron series at the present consists alas of but two novellas, "In the House of Aryaman, a Lonely Signal Burns" and "A Blessing of Unicorns". Will there be more? Oh, I hope so.
TASTY, SPICY ASIAN SPOILERS FOLLOW. THEY REALLY DO!
These two novellas start with "In the House of Aryaman, a Lonely Signal Burns" which is set a half a century from now. In the city of Bangalore, where scientist working on cutting-edge biotechnology has been discovered inside his own locked flat, his body converted into a neat block of organic material.
It's up to Police Sub-Inspector Ferron to figure out the victim's past and solve the crime, outwitting the best efforts of whoever is behind the death, her overbearing mother, and the complexities of dealing with the only witness – an ever so cute parrot-cat Chairman Miaow. (The latter, she says are, as I guessed, a cat with parrot colors and "a parrot-like level of intelligence and ability to mimic speech". That cat will later adopted by her. She already has a fox.
I'll note that the stories aren't freestanding, so the novella, "A Blessing of Unicorns" builds off the first novella, therefore must be experienced after the first is read or listened to.
Together they make up a fascinating look at the life and work of Ferron as a Police Sub-Inspector in a balkanised world where there are no national or regional police forces. No, it's not some small libertarian wet dream here, but a real world with actual consequences to everything that happens.
WE HAVE CONSUMED THOSE TASTY MORSELS, SO YIU CAN COME BACK.
There is certainly more than enough story here for her to someday write a novel set in the universe. And I look forward to it.
When I asked her if there would be a novel in the series, she replied "there might be a novel someday but I really need to visit Bangalore myself to write that! I've been relying on friends who hail from there, or who have family there and have visited extensively, but it's not the same as boots in the dirt experience!"
Fantastic stories told well by a master storyteller, what more do you want?
The Audible narrations are done most excellently by narrated Zehra Jane Naqvi. She's an Australian expatriate in the United Kingdom of Anglo-Indian descent. She obvious handles the Indian accents quite wonderfully here. Another genre connection — She started her voice acting career in a several Big Finish Productions' Doctor Who audio dramas with Sylvester McCoy and Peter Davison reprising the Seventh and Fifth and Doctors.
The first one is available at the usual suspects, but the second remains at this time an Audible exclusive though Bear assures me that it will be available soon as as an ebook soon.
(9) TODAY'S BIRTHDAYS.
[Compiled by Cat Eldridge.]
Born November 8, 1847 — Abraham "Bram" Stoker. You know that he's author of Dracula but did you know that he wrote other fiction such as The Lady of the Shroud and The Lair of the White Worm? Of course you do, being you. The short story collection Dracula's Guest and Other Weird Stories was published in 1914 by Stoker's widow, Florence. (Died 1912.)
Born November 8, 1906 — Matt Fox. I'm here to praise an illustrator of one of those magazines that published the stories of such writers as Robert Bloch, Manly Wade Wellman and Ray Bradbury. The covers by Fox were of course intended to lure you to magazine rack, pick up the magazine and purchase it. Such was what he did for Weird Tales from November 1943 to July 1951. After that, during the Fifties and Sixties he worked for Atlas Comics, inking and penciling Journey into Mystery, World of Fantasy, Tales of Suspense and Journey into Unknown Worlds. It is thought that his last known published work is an advertisement, printed in 1967, for original mail-order glow-in-the-dark posters. (Died 1988.)
Born November 8, 1914 — Norman Lloyd. Yes, those dates are right. His longest genre role was as Dr. Isaac Mentnor on the most excellent Seven Days series. He's been on Next Gen, Get Smart! in the form of the Nude Bomb film and visited The Twilight Zone, and in a fair number of horror films from The Dark Secret of Harvest Home to The Scarecrow. (Died 2021.)
Born November 8, 1932 — Ben Bova. He wrote more than one hundred twenty books. He won six Hugo Awards as editor of Analog, and also once was editorial director at Omni. Hell, he even had the thankless job of SFWA President. (Just kidding. I think.) I couldn't hope to summarize his literary history so I'll single out his Grand Tour series that though uneven is overall splendid hard sf as well as his Best of Bova short story collections put out in three volumes. What's your favorite book by him? (Died 2020.)
Born November 8, 1955 — Jeffrey Ford, 67. Winner of a very impressive seven World Fantasy Awards as well every other award given to writers of fantastic literature except Hugos. Really there's too many to list here. He's got two Hugo nominations, one at Torcon 3 for his "Creation" short story, another at Noreascon 4 for "The Empire of Ice Cream" novelette ". And yes, his Well-built City trilogy is amazing.
Born November 8, 1956 — Richard Curtis, 67. One of Britain's most successful comedy screenwriters, he's making the Birthday List for writing "Vincent and the Doctor", a most excellent Eleventh Doctor story. He was also the writer of Roald Dahl's Esio Trot which isn't really genre but it's Roald Dahl who's certainly is one of us some of the time, isn't he? (Please don't deconstruct that sentence.) And he directed Blackadder which is most decidedly genre.
Born November 8, 1968 — Parker Posey, 54. Doctor Smith on the rebooted Lost in Space series. I've not seen it, so how is it? She was in a film based on based Dean Koontz's version of Frankenstein. And she shows in Blade: Trinity as well which I'll admit I liked.
Born November 8, 1952 — Alfre Woodard, 70. I remember her best from Star Trek: First Contact where she was Lily Sloane, Cochrane's assistant. She was also Grace Cooley in Scrooged, and polishing her SJW creds, she once voiced Maisie the Cat in The Brave Little Toaster Goes to School. And yes, I know she's portrayed a character in Marvel Universe. I just like the obscure roles.
(10) ROWE Q&A. Marc Tassin interviews Christopher Rowe for the GenCon podcast: "Today's Guest: Christopher Rowe" at Out of Character with Marc Tassin.
(11) VALLESE ESSAY COLLECTION. Grace Byron's book review considers "Nightmares Worth Indulging: On Feminist Press's 'It Came from the Closet'" at LA Review of Books.
… In his introduction, editor Joe Vallese asks, "[H]ow are we to think about the complicated relationship between the queer community and the horror genre?" Vallese notes that all the contributors "convey a rich reciprocity, complicating and questioning as much as they clarify." In other words, some of the essays will see horror films as nightmares worth indulging, while still interrogating what the genre gives and takes from queer people.

Ever since (and surely before) Eve Kosofsky Sedgwick offered queer readings of homosociality in Dickens, a certain kind of essay was born. These kinds of queer essays excavate the subtext of dominant culture. The mainstream 2009 film Jennifer's Body, after all, inspired lesbian titillation and launched a thousand lavender wet dreams. Earlier this year, the father of body horror, David Cronenberg, declared that "surgery is sex" in Crimes of the Future, a few years late to the trans tipping point…
(12) FORGET ABOUT IT. "J.D. Dillard's Star Wars Project Canceled, Exits Rocketeer Sequel" reports CBR.com.
Filmmaker J.D. Dillard experienced a Disney double whammy, having lost not one, but two prominent projects, Star Wars and The Rocketeer, to which he was attached.

In an interview with The Wrap, the director, who was promoting his latest film, the Jonathan Majors-starring Korean War aviator drama Devotion, dropped news about his formerly promising backlog. Indeed, the Mouse House not only lined him up to direct the long-belated sequel to the 1991 adventure classic, titled The Return of the Rocketeer, but tapped him to direct a mysterious Star Wars feature. However, when asked for an update on those projects, Dillard delivered bad news, stating that his Star Wars movie is "unfortunately no longer a thing. It was not for lack of trying." He further lamented his nixed endeavor for the iconic space franchise, describing it as "an original idea." Compounding that, Dillard also revealed his exit from the Rocketeer sequel….
(13) PRODUCT WARNING. Ryan Reynolds tells the people that his new movie Spirited is a Christmas movie with Will Ferrell in it and is NOT ELF. "Legally Required Spirited Disclaimers".
(14) VIDEO OF THE DAY. [Item by Martin Morse Wooster.] In "Honest Game Trailers: World of Warcraft: Wrath of the Lich King" Fandom Games says in order to play this game you either have to dress like a "Norse hobo" or "an off-brand Dora" the Explorer. The characters either spend time in cold regions where they run past "icy castles, icy beaches, and icy plains" or go underground in "the most positive depiction of sewers since Teenage Mutant Ninja Turtles."
[Thanks to John King Tarpinian, Chris Barkley, Andrew Porter, Cora Buhlert, Michael Toman, Cat Eldridge, Mike Kennedy, Martin Morse Wooster, and JJ for some of these stories. Title credit belongs to File 770 contributing editor of the day Jim Janney.]