(1) Jon Zeigler has posted his "100 Year Starship Symposium 2015" report at Sharrukin's Palace.
Executive summary: I was quite impressed by the whole endeavor. It's a fairly small technical conference, but it's attracting serious academics and scientists, and it has a distinctive focus on cultural and social issues as well as science and technology. I can recommend it for science fiction writers, especially those of us who are interested in doing work in the "hard" end of the field.

As with all technical conferences, I found myself wanting to be in several places at once. There are always more technical tracks going on that any one person can possibly take in.

A set of three one-hour "classes" was held first thing on Friday morning. I sat in on a presentation by Bobby Farlice-Rubio, from the Fairfield Museum and Planetarium in Connecticut. The title was Neighborhood Watch: An Advanced Look at our Space Neighborhood, and it served as a summary of recent discoveries in planetary science. I follow interplanetary exploration closely, so I didn't hear much that was completely new, but there were a few details I hadn't heard before.

One item in particular stuck with me. Apparently the New Horizons spacecraft that just made a flyby of Pluto contained a small canister of human remains – a pinch of the ashes of Clyde Tombaugh, the man who discovered Pluto in 1930. That makes Mr. Tombaugh the one human being thus far whose remains are destined for interstellar space. Don't know if there's a whole story in that, but it's a very evocative image.
(2) Although he hasn't gotten as close to Pluto as Clyde Tombaugh, the Guardian proclaims David A. Hardy "The space artist who saw Pluto before Nasa".
In 1950, a 14-year-old boy found an astronomy book at his local library. As he pored over it, a light bulb lit up over his head. "It inspired me, really, to do it myself," says that boy, David A Hardy, 65 years on. Not to become an astronaut, but to draw outer space with incredible military accuracy. Today, he is the world's oldest living space artist. He's 79 and he lives in the suburbs of Birmingham, churning out visions of the universe while his wife makes him cups of tea.

Chances are, if you've read books by Isaac Asimov and Arthur C Clarke, the covers were painted by Hardy. He worked with Sir Patrick Moore for over half a century. He has created spaceships descending upon Big Ben for Doctor Who and the Daleks. His art has been the backdrop for Pink Floyd gigs, and he counts the Rolling Stones and Queen among his collectors.
Hardy's work is part of a new exhibition called Visions of Space at the Wells & Mendip Museum, Somerset, from November 7-21. David A Hardy speaks on November 6 at 7:30pm.
(3) A website now documents the "Aliens, Androids & Unicorns" exhibition at the University of Otago (New Zealand) held March to May 2015, that highlighted sf&f collection of the late Harold Terrence Salive (1939-2012). The exhibition contained (amongst others) his almost complete run of Astounding Stories, numerous works by Van Vogt, Delany, C.J Cherryh, Jack L. Chalker, Poul Anderson, and Piers Anthony. Salive's Collection was donated to Special Collections in March 2013 by his wife Rachel.
(4) To avoid spoilers, the release of the Star Wars: The Force Awaken tie-in novel has been delayed.
Walt Disney Co. is so determined to maintain the secrecy surrounding its hotly anticipated "Star Wars" movie that it asked its publishing partner to delay the release of a hardcover book tied to the film and forgo a potential holiday sales bonanza.

"Star Wars: The Force Awakens," the franchise's first new installment in a decade, will hit theaters Dec. 17. But the print edition of the novel, which will be published by Penguin Random House'sDel Rey imprint, won't be released until Jan. 5, after the lucrative holiday gift-giving season has ended.

The unusual delay reflects Disney's fears that printed copies of the book, which would have to start rolling off presses long before they hit store shelves, could be purloined by people who want to spill plot details online. The e- book will be released Dec. 18, since it is easier to control digital files before they go on sale.
(5) "Amazon opens its first real bookstore – at U-Village" in Seattle.
Bookstore owners often think of Amazon.com as the enemy.

Now it's becoming one of them.

At 9:30 Tuesday morning, the online retail giant will open its first-ever brick-and-mortar retail store in its 20-year life, in University Village.

The store, called Amazon Books, looks a lot like bookstores that populate malls across the country. Its wood shelves are stocked with 5,000 to 6,000 titles, best-sellers as well as Amazon.com customer favorites.
(6) "Holy Crap, They Are Officially Making a New Star Trek TV Series" reports io9.
Multiple outlets are reporting that Alex Kurtzman, co-writer of 2009's Star Trek and its sequel Star Trek Into Darkness, will executive produce a new Star Trek show through CBS Television Studios.

The show will premiere in January 2017 with a preview episode on CBS and then, in the U.S., move exclusively to the CBS video on-demand and streaming service, CBS All Access. It'll be the first developed specifically for the CBS streaming service.
Quoting the CBS press release —
The brand-new "Star Trek" will introduce new characters seeking imaginative new worlds and new civilizations, while exploring the dramatic contemporary themes that have been a signature of the franchise since its inception in 1966.
(7) Far more surprising – incredible, really — is Fox's decision to reboot Greatest American Hero. Deadline reports —
In a preemptive buy, Fox has given a pilot production commitment to Greatest American Hero, a single-camera comedy inspired by Steven J. Cannell's 1981 cult classic. It hails from Dope writer-director Rick Famuyiwa, Phil Lord & Chris Miller–  the directing duo behind the successful feature franchise based on another '80s TV series by Cannell, 21 Jump Street — and Cannell's daughter, television director Tawnia McKiernan. 20th Century Fox TV, where Lord and Miller are under an overall deal, is the studio.

Written and to be directed by Famuyiwa, Greatest American Hero is the story of what happens when great power is not met with great responsibility. An ordinary man, completely content with being average, wakes up with a superpower suit he never asked for and has to deal with the complications it brings his life.
Via SF Site News.
(8) Today's Birthday Manned Space Mission
November 2, 2000 — The first crew docked at the International Space Station. Commander William Shepherd and Flight Engineers Sergei Krikalev and Yuri Gidzenko spent 141 days in space. Since Expedition 1, there has been a continuous human presence aboard the space station for 5,478 days and counting.
(9) Nate Hoffhelder responds to John Scalzi's post about kids not reading the classics in "Culture and Relatability Are Why people Don't Read Classic SF, Not Age" at The Digital Reader.
While all the points he made are correct, I don't think he gets at the root cause of the shift in reading tastes.

I have trouble accepting the point that commercial availability driving demand because when I was growing up (in the 1990s) I frequented used book stores just to get those older books. I also combed through the library stacks for those three-, four-, and five-decade-old books because I liked the authors and wanted to read them. (In fact, there were a few early Heinleins that I didn't find for the first time until the early aughts, and I still read them when I found them.)

Instead, I have to agree with the several commenters who argue that culture in the older books and the relatability of the characters have a greater impact.
(10) Harper Voyager's open call for submissions runs November 2-6.
In this time of flux and accelerated evolution in the field of genre publishing, the editorial leaders of Harper Voyager Books are delighted to announce an exciting venture that will offer talented aspiring writers the chance to join the same science fiction and fantasy imprint that publishes such visionary authors as Richard Kadrey, Chuck Wendig, Raymond E. Feist, and many, many more.

For the first time since 2012, Harper Voyager is offering writers the chance to submit full, un-agented manuscripts for a limited five-day period. The publisher is seeking new authors with fresh voices, strong storytelling abilities, original ideas and compelling storylines. In this Open Call, Harper Voyager will be seeking out novels written in the Urban Fantasy and Military Sci-Fi genres. Submission guidelines and key information can be found at www.harpervoyagersubmissions.com.

The submission portal, www.harpervoyagersubmissions.com, will be open from noon ET on the 2nd to noon ET of the 6th of November 2015. The manuscripts will then be read, and all submissions will receive a letter notifying them of whether or not their submission is being offered publication on the Voyager list. As with every Harper Voyager project, the author will be paired with an editor, publicist, and marketing team in order to develop the manuscript and promotional efforts before and during publication.

The submissions and digital publications are spearheaded by Executive Editor David Pomerico.  He notes that: "The last time we had an open call, we had over 4,500 submissions, and were able to add 10 new voices to our growing list. We know, though, that writers are always eager to connect with editors here, and we're excited to offer them an opportunity to do exactly that. These are two sub-genres we are finding a lot of readers for—especially in the digital space—and I'm looking forward to finding some great new projects."
(11) Thomas Rossiter declares that "My Hugo Must Be Acknowledged" at Pelican Magazine, though it never is made evident why the headline refers to "my Hugo."
This controversy led to the largest number of votes ever received by the awards committee (just over five thousand). Not one of the Puppies' nominees received an award. Many of the categories were resolved with "No Award" where there was no alternative to a Puppy-approved candidate.

The Puppies have on numerous occasions stated that their goal is to make the Hugos as democratic as possible, so their anger now that their nominees have lost seems hypocritical to say the least.
(12) A review in the October Audiofile praises the audiobook edition of Francis Hamit's novel The Queen of Washington.
Narrator Melanie Mason finds a wonderful Southern accent for Rose Greenhow that adds a great deal to the atmosphere of this novel. David Wilson Brown uses a variety of tones and accents–Southern and Northern, as well as French and Spanish–for the various male characters. Together, the two narrators provide tension and a theatrical atmosphere to the story. Rose, a rich nineteenth-century player in Washington, D.C., society is a spy, first for the Confederacy and later for British and French intelligence in the 1850s and '60s. The many plot twists of this historical novel make for an engaging performance by two smooth narrators.
Says Hamit: "I could not be more pleased for my narration team, who worked very hard on this and are the real stars. I do call this 'alternative history' so it fits (barely) within the genre."
(13) A Princess of the Chameln by Cherry Wilder ($5.99, ISBN 978-1-5040-2697-0) is going to be published as an e-book for the first time, on November 17, by Mashup Press, distributed by Open Road Integrated Media on all major retailers' web sites. It will be available as a print on demand trade paperback a month later. The sequels Yorath the Wolf and The Summer's King, which together with A Princess of the Chameln comprise the Rulers of Hylor trilogy, will be published at three month intervals.
It has been a while since this book has been available—two decades, in fact, since the Baen Books paperback edition, which reprinted the original hardcover edition ofA Princess of the Chameln.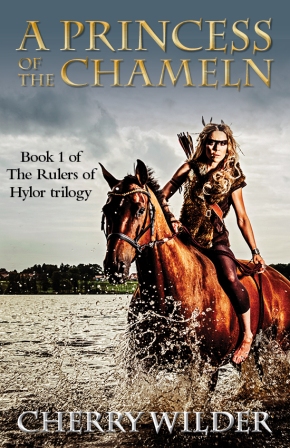 A Princess . . . is the story of Aidris, the heir to the double-throne of Hylor. When her crown is usurped by pretenders and she must flee for her life, she must fend for herself, exiled in a world of enemies, forced to fight to survive as she seeks allies friendly to her cause. In the richly developed fantasy world of Hylor and the realms within it that vie for ascendance, Cherry Wilder deftly balances politics and warfare with the subtly nuanced, memorable characters whose lives play out in this uniquely powerful novel.
Jim Frenkel of Mashup Press predicts, "If you are familiar with A Princess of the Chameln or the trilogy—you already know that they are Cherry Wilder's great epic high-fantasy adventure. If you don't know these books, I think you'll have a great surprise in store. Cherry Wilder died in 2003, but her great works live on, and we're all thrilled to be able to bring these books to a new generation of fantasy readers."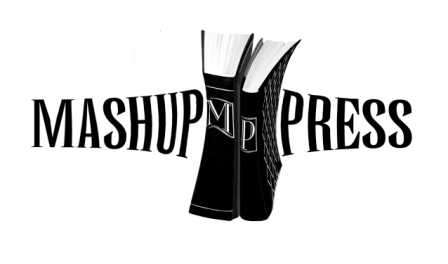 (14) Free Special Speaker Event presented by the Greater Los Angeles Writers Society on Saturday November 21, 2:30 p.m. at the Palms-Rancho Park Library in Los Angeles, CA.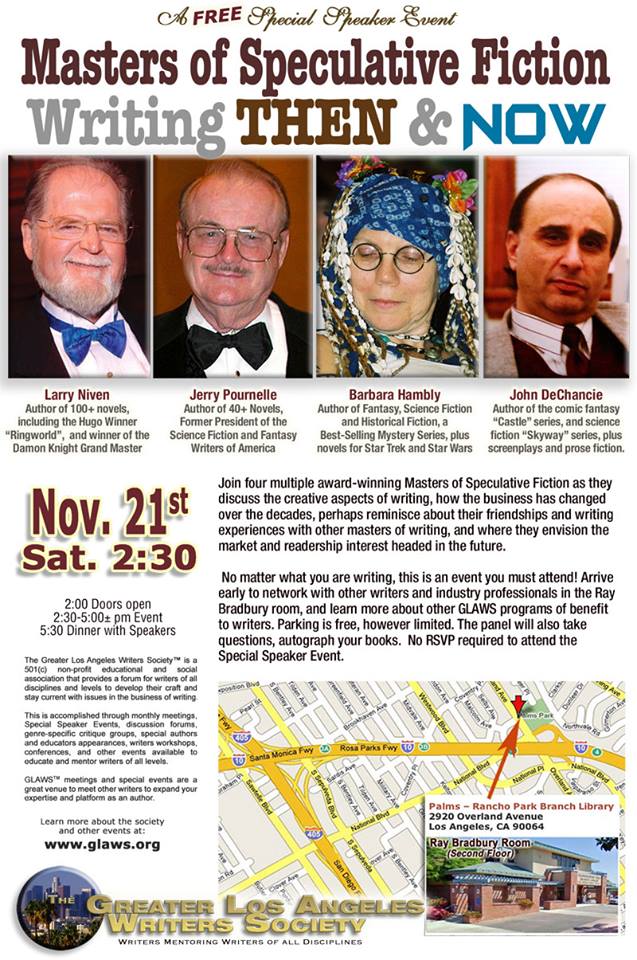 (15) Steven Moffat told Variety to expect Doctor Who to be around for years to come:
You are credited with taking "Doctor Who" to a new level. What do you think allowed this format to be rebooted so brilliantly?

"Doctor Who" is the all-time perfectly evolved television show. It's a television predator designed to survive any environment because you can replace absolutely everybody. Most shows you can't do that with. For example, once Benedict Cumberbatch gives up "Sherlock," what are we going to do? We are going to stop, that's what we are going to do. Most shows have a built-in mortality. But here is a show that sheds us all like scales; a show that can make you feel everything except indispensable. It will carry on forever, because you can replace every part of it…

In terms of longevity of the show, I think you've said it could go five more years?

It is definitely going to last five more years, I've seen the business plan. It's not going anywhere. And I think we can go past that. It's television's own legend. It will just keep going.
(16) Last Friday, Chuck Yeager stopped by the Smithsonian's National Air and Space Museum to say hello to his Bell X-1, the airplane in which he broke the sound barrier 68 years ago on October 14, 1947.
[Thanks to Wendy Gale, Roger Tener's Chronicles of the Dawn Patrol, Gregory Benford, Will R., Michael J. Walsh, and John King Tarpinian for some of these stories. Title credit goes to File 770 contributing editor of the day Daniel Dern.]