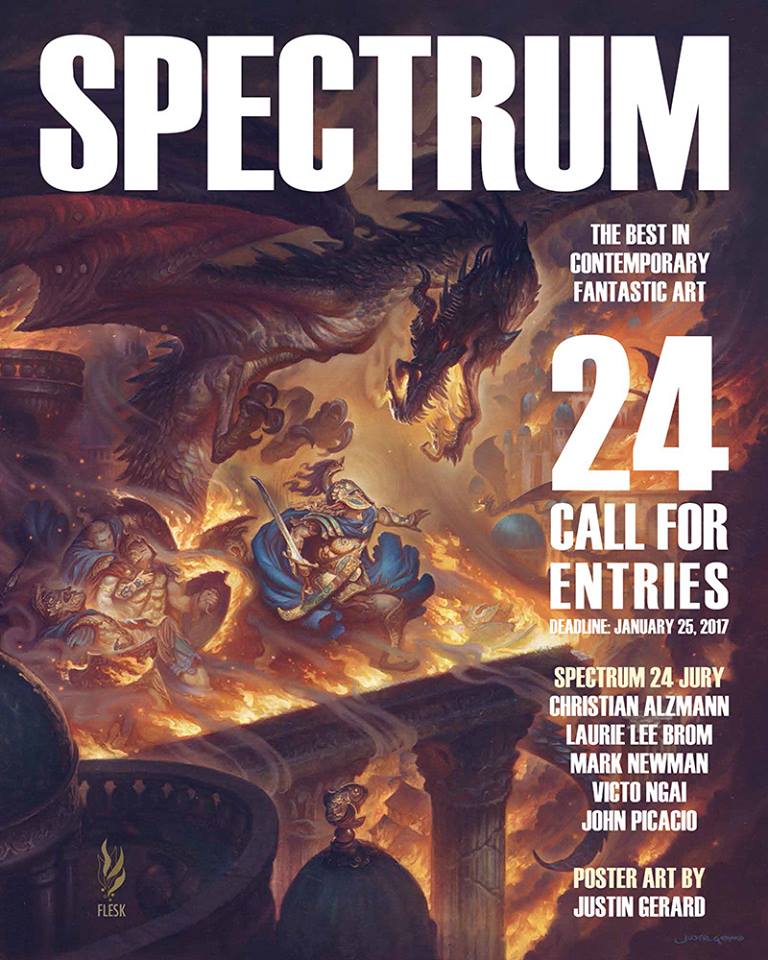 (1) SPECTRUM 24 CALL FOR ENTRIES. John Fleskes, Spectrum Director, has issued an invitation for professional and student artists, art directors, publishers and artists' representatives to submit entries to the 24th Annual Spectrum International Competition for Fantastic Art.
All artworks in all media embracing the themes of science fiction, fantasy, horror and the surreal are eligible for this show. Fantastic art can be subtle or obvious, traditional or off-the-wall, painted, sculpted, done digitally or photographed: There is no unacceptable way to create art, and there are no set rules that say one piece qualifies while another does not. Imagination and skill are what matters. Work chosen by the jury will be printed in full color in the Spectrum annual, the peer-selected "best of the year" collection for the fantastic arts.
Entries will be accepted until January 25. Click here to submit.
The Spectrum 24 jury is a five member panel of exceptional artists working in the industry today, Christian Alzmann, Laurie Lee Brom, Mark Newman, John Picacio and Victo Ngai.
"Spectrum represents such a rich visual history and standard of excellence for what we collectively dream in the fantastic art field," states John Picacio. "I've always been grateful any time my work was selected for inclusion in the annual, and it's a profound honor and responsibility to give back to the book this year as a juror."
(2) GOLDEN GLOBES. Although there were a lot of Golden Globe nominees of genre interest in the December announcement, all lost except one:
Best Motion Picture – Animated
(3) ERIC FLINT HEALTH. Flint did not get the best possible news from his medical tests:
I'll have more to report by the end of the month, when all the tests and biopsy results finally come in. But here's what definite:

I do have a form of Non-Hodgkin's Lymphoma, although they still don't know exactly what type. (That's what's taking so long for the biopsy to be finished.) Once they know what kind it is, they'll start me on a chemotherapy program.

Sadly, my hopes in the hospital that since the surgery had gone so well maybe the cancer was completely gone turned out to be childish delusions. (Which I suspected myself, but…) Lymphoma is what they call a systemic cancer, which means that surgery by itself can't do anything but arrest the malignancy for a while and provide the material needed for a thorough biopsy. But to really fight lymphoma, you need chemotherapy.

The good news is that lymphoma generally responds well to chemo, and it's not uncommon for people to be cured of the disease altogether. We'll see what happens in my case, but even in the worst case scenario it looks as if I'll have quite a few years to fend the cancer off.
However, he says frankly that after chemo he may live for years to come —
if you look at it the right way. I'll be 70 in a month. I don't have to fight off lymphona indefinitely. I just have to fight it off long enough for something else to bump me off.
(4) EYES WIDE WHAT? Myke Cole's next tweet will explain how his stories are like radio except with no sound.
Fans who found me via @HuntedCBS, I also write books! Like TV, but you look at paper & your brain makes pictures. https://t.co/Mjy97D94qI

— Myke Cole (@MykeCole) January 9, 2017
(5) HOMAGE. The late Gordon Archer did a lot of commercial art for Weetabix cereal involving Doctor Who, Star Trek, Asterix and other pop culture subjects which his son now has on display on a website. [Corrected, because Archer is still with us, as his son states in a comment below.]
(6) HITLER UNBEARABLE. "A A Milne letter features in Imperial War Museum's anti-war show", from The Guardian.
Winnie the Pooh creator's letter reflects moral dilemma of pacifists faced with rise of Hitler in interwar period

…The Milne letter has been retrieved from its vast collection of documents and reflects the conflict felt by many pacifists who had experienced the horrors of the first world war and earnestly hoped "never again".

"It encapsulates the moral dilemma that a lot of pacifists had in the interwar period," said curator Matt Brosnan. "Milne opposed war but increasingly saw Hitler and the Nazis as an evil that had to be met by force."

In his letter, Milne declared himself a "practical pacifist", writing: "I believe that war is a lesser evil than Hitlerism, I believe that Hitlerism must be killed before war can be killed."
(7) KOWAL INTERVIEW IN LOCUS. An excerpt of Locus' interview with Mary Robinette Kowal has been posted at Locus Online.
The moment I knew I was setting something during the First World War, I knew that darkness was going to be part of it, and that I would have to work really hard to keep the darkness from completely overwhelming Ghost Talkers. When you do any reading at all about the First World War, it becomes very clear why it made such a huge, permanent mark on Europe – and the US less so, because we were not directly touched by it. It wasn't even the death tolls, because in England a lot of men actually came home, but everyone came home wounded in some way, either physically or emotionally. I read interview after interview of survivors saying, 'I went over the top of the trench, and everyone in my platoon died. I don't know why I lived.' I knew going in that dealing with someone who deals with ghosts as her job, during WWI, would mean a darker book than people are used to from me. On the other hand, the last book in the Glamourist series, I jokingly refer to as 'Regency Grimdark.'
(8) DIVERSITY DOESN'T JUST HAPPEN. Nalo Hopkinson's advice "To Anthology Editors".
But here's where those voices have a point: if you wait till after you've put out your call for submissions to run around trying to fill in diversity slots for your anthology — you know, the "one of each so long as there aren't too many of them" approach — you will more likely than not end up with a dog's breakfast of a volume in which it's clear that you selected writers for their optics, not their writing. That's tokenism, not sound editorial practice. The time to be trying to make your anthology a diverse one is before submissions come in, not during or after.

On the other hand, if you just put your call for fiction out there and cross your fingers, you'll end up with mostly the usual suspects. It's not enough to simply open the door. Why? Because after centuries of exclusion and telling us we're not good enough, an unlocked door is doing jack shit to let us know that anything's changed. Most of us will continue to duck around it and keep moving, thank you very much. We'll go where we know there are more people like us, or where there are editors who get what we're doing.

So make up your mind that you're going to have to do a bit of work, some outreach. It's fun work, and the results are rewarding….
(9) RARA AVIS. Definitely not on my bucket list.
Sometimes I wonder if I'm the only Hugo Award winner to have once shoplifted an L. Ron Hubbard book.

— Jason Heller (@jason_m_heller) January 6, 2017
(10) CHRISTENSEN OBIT. Artist Jim Christensen died January 8 of cancer. He was 74.
Christensen saw himself not as the "fantasy artist" label given him, but rather as an artist who paints the fantastic.

"I paint things that are not real," he told the Deseret News in 2008. "But fantasy often ventures into the dark and scary stuff. I made a decision long ago that I would not go to dark places. There's a lot of negativity in the world. I try not to be part of it."

His honors and awards include being named a Utah Art Treasure as well as one of Utah's Top 100 Artists by the Springville Museum of Art and receiving the Governor's Award for Art from the Utah Arts Council. He had won all the professional art honors given by the World Science Fiction Convention as well as multiple Chesley Awards from the Association of Science Fiction and Fantasy.

Christensen had served as president of the National Academy of Fantastic Art, and he co-chaired the Mormon Arts Foundation with his wife, Carole.
Dave Doering paid tribute: "I loved this man. For various years he was our Artist GoH at LTUE but also quite well known in all fantasy art circles."
(11) TODAY IN HISTORY
January 9, 1493 — On this date, Italian explorer Christopher Columbus, sailing near the Dominican Republic, sees three "mermaids"–in reality manatees–and describes them as "not half as beautiful as they are painted."
(12) WORLDBUILDERS. At Tor.com, David Weber discusses five authors who he says are "great world-builders." All five of the authors are women: Anne McCaffrey, Katherine Kurtz, Mercedes Lackey, Barbara Hambly, and Patricia McKillip:
"[McKillip] is, without a doubt, one of my two or three all-time favorite authors. When I first read The Riddle-Master of Hed in 1978, I immediately went out and found Heir of Sea and Fire and then waited impatiently for Harpist in the Wind. In many ways, the Riddle-Master's world is less fully articulated than Pern or Gwynedd, but I think that's because so much of the detail is cooking quietly away in the background behind the land rulers. There's a sense of an entire consistent, coherent foundation and history/backstory behind all of it, but the struggles of Morgon, Raerdale, and Deth take front stage with an intensity that reaches out and grabs the reader by the shirt collar and shakes him or her to the bone. Patricia's prose is absolutely gorgeous and evocative and her stories fully satisfy the deep love for the language my parents taught me as a very young reader. I literally don't think it's possible to over-recommend this series … and the rest of her stuff is pretty darn good, too."
(13) ST. ELSEWHERE. But did it work? "This Brazilian Grandma Has Been Accidentally Praying to a 'Lord of the Rings' Statuette"  —
Saint Anthony of Padua's the patron saint of Brazil, Portugal, pregnant women, and the elderly. He wears brown robes, and he usually holds baby Jesus and lilies. And – as one Brazilian woman discovered – a miniature figure of Santo Antônio also vaguely looks like Elrond, the elf lord of Rivendell from Lord of the Rings. Brazilian makeup artist Gabriela Brandao made the hilarious discovery last week and posted about it on Facebook for all to see. Brandao explained that her daughter's great-grandmother prayed to the Elrond figurine daily, erroneously believing it was Santo Antônio.
(14) IMAGINARY HUGO RECOMMENDATIONS. There is no such work, except in your mind:
Please nominate @ChuckTingle Trolls the Puppies as Best Related Work (performance art) #hugoawards

— R. L. Allison (@robdamnit) January 10, 2017
Well, and Chuck's mind.
please also nominate "TROLLING OF RABID PUPPIES" for Hugo Award of best related work

— Chuck Tingle (@ChuckTingle) January 10, 2017
(15) BRIANNA WU'S CAMPAIGN. She's already gaining media attention in Boston.
Brianna Wu was at the center of "Gamer-Gate" and received some horrific threats over social media. But instead of keeping a low profile, she tells Jim why she's now planning on running for Congress.
[Thanks to John King Tarpinian, Steven H Silver, Andrew Porter, Rob Thornton, Arnie Fenner, and Dave Doering for some of these stories. Title credit goes to File 770 contributing editor of the day Kip Williams.]