(1) MCINTYRE. Followers of CaringBridge learned today that Vonda N. McIntyre has finished work on her book. Jane Hawkins announced:
Vonda has finished Curve of the World! Be ready for a great read in a while! (No clue about publication date or anything like that.)
(2) PEAK OF THEIR CAREERS. Congratulations to Jason Heller (interviewed about his shortlisted book by File 770 in February), Alex Acks, and others whose work of genre interest made the finals of the 2019 Colorado Book Awards. Winners will be announced May 18. (Via Locus Online.)
Science Fiction/Fantasy
Murder on the Titania and Other Steam-Powered Adventures, Alex Acks (Queen of Swords)
While Gods Sleep, L.D. Colter (Tam Lin)
Denver Moon: The Minds of Mars, Warren Hammond & Joshua Viola (Hex)
General Nonfiction
Strange Stars: David Bowie, Pop Music, and the Decade Sci-Fi Exploded, Jason Heller (Melville House)
Juvenile Literature
The Lighthouse Between the Worlds, Melanie Crowder (Atheneum BFYR)
Del Toro Moon, Darby Karchut (Owl Hollow)
Nadya Skylung and the Cloudship Rescue, Jeff Seymour (Putnam)
(3) MARGINALIZED VOICES IN YA. Neither the headline on Katy Waldman's New Yorker article, "In Y.A., Where Is the Line Between Criticism and Cancel Culture?", nor the subhead, "When it comes to young-adult novels, what, precisely, is the difference between the marketplace of ideas and a Twitter mob?", genuinely reflects her approach to the topic she discusses, however, they're enough to help you decide whether you'd like to dive into the information she's assembled.
…[A] disparaging Goodreads review, which took issue with Jackson's treatment of the war and his portrayal of Muslims, had a snowball effect, particularly on Twitter. Eventually, Jackson tweeted a letter of apology to "the Book Community," stating, "I failed to fully understand the people and the conflict that I set around my characters. I have done a disservice to the history and to the people who suffered."

The Jackson fracas came just weeks after another début Y.A. author, Amélie Wen Zhao, pulled her novel before it was published, also due to excoriating criticisms of it on Twitter and Goodreads….
(4) DREAMING ABOUT THE DISNEY/FOX MERGER. Firefly fan and artist Luisa Salazar has created new Disney Princess images for Zoe Washburne, Inara Serra, Kaylee Frye, and River Tam.
(5) TWO RUSCH BOOKS IN NEW BUNDLE. "The 2019 Truly Epic Fantasy Bundle", curated by Kevin J. Anderson, is available for a short time from StoryBundle.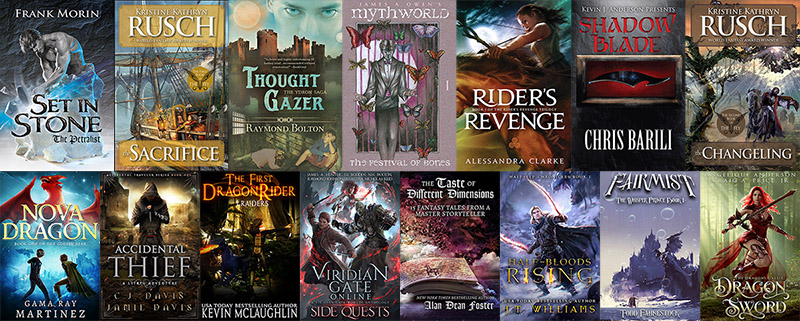 Epic Fantasy is a genre that stretches the boundaries of the quest. Whether a triumph of good vs. evil, or a search for meaning or truth, these stories take readers to a new place.
For StoryBundle, you decide what price you want to pay. For $5 (or more, if you're feeling generous), you'll get the basic bundle of five books in any ebook format—WORLDWIDE.
Thought Gazer by Raymond Bolton
MythWorld by James A. Owen
Rider's Revenge Trilogy Book 1: Rider's Revenge by Alessandra Clarke
The Fey Book 1: The Sacrifice by Kristine Kathryn Rusch
Set in Stone by Frank Morin
If you pay at least the bonus price of just $15, you get all five of the regular books, plus TEN more!
Shadow Blade by Chris Barili
The Taste of Different Dimensions by Alan Dean Foster
The Whisper Prince Book 1: Fairmist by Todd Fahnestock
The Fey Book 2: The Changeling by Kristine Kathryn Rusch
The First DragonRider by Kevin McLaughlin
Accidental Thief by C.J. Davis and Jamie Davis
Viridian Gate Online: Side Quests by James A. Hunter, D.J. Bodden, N.H. Paxton & More
Half-Bloods Rising by J.T. Williams
Nova Dragon – Book One of the Goblin Star by Gama Ray Martinez
The Dragon's Call Book 1: Dragon Sword by Angelique Anderson and Craig A. Price, Jr.
(6) AT THE CORE. The current Nature reports on "X-ray chimneys in the Galactic Centre". Fermi gets mentioned, no sign of Santa, though.
X-ray observations of the Galactic Centre have uncovered chimney-like structures filled with hot plasma. The discovery might reveal how energy is transported from this central region to far-off locations….

The centre of our Galaxy hosts a supermassive black hole that currently emits electromagnetic radiation extremely weakly, but could have been much more active in the past. Observations of ?-rays have revealed two huge structures known as Fermi bubbles located above and below the Galactic plane1 . These bubbles are filled with highly energetic particles moving at close to the speed of light, which were released from the Galactic Centre a few million years ago.
(7) TIE-INS. International Association of Media Tie-In Writers President Jonathan Maberry interviews "Pirate King" Chris A. Jackson.
What are you writing now?

Actually, my latest tie-in gig came right through IAMTW! Thanks, guys! One of our members is not only a tie-in writer himself, but is an editor for Mongoose Publishing, a British game publisher. They're doing a reboot of the great old SF RPG, Traveller, and the editor, Matthew Sprange, asked the group for anyone familiar with the game who was interested in writing a short story tie-in. I played Traveller a lot back in my college days, and jumped at the chance. I've since written four stories for Mongoose and I'm delighted with the experience!

What's your fan experience been like?

Mixed, but primarily positive. We all get those one-star reviews, right? A few stand out, however, and they are curiously all of the same theme: men who don't like romance in their fiction. Mostly, I just eye-roll these and let them go. You don't like romantic elements in your fiction, don't read mine, but don't tell me I'm doing it wrong. For the most part, the fan response has been great, and the feedback from my publishers has been wonderful. You know you're doing your job right when people come up to you at conventions begging for your next novel, and publishers actually solicit you for work without prompting. That, above all else, speaks for itself.
(8) HANRAHAN OBIT. The International Costumers Guild reports Jamie Hanrahan died March 20. He was an early member of S.T.A.R. San Diego, and his other fanac included a term as co-editor of PyroTechnics, "The Now and Then Newsletter of General Technics." His son Chuck wrote, "There was some kind of cardiac event and despite all heroic attempts, they were unable to restore a cardiac rhythm."
(9) TODAY'S BIRTHDAYS.
[Compiled by Cat Eldridge.]
Born March 21, 1902 — Gustav Fröhlich. Not widely known before landing the role of Freder Fredersen in Fritz Lang's Metropolis. Though my German be rusty, I see no indication that anything else he did was genre in nature. (Died 1987.)
Born March 21, 1936 — Margaret Mahy. New Zealand author of over a hundred children's and YA books, some with a strong supernatural bent. She won the Carnegie Medal twice for two of her fantasy novels, The Haunting and for The Changeover, something only seven authors have done in total. (Died 2012,)
Born March 21, 1946 — Timothy Dalton, 73. He is best known for portraying James Bond in The Living Daylights and License to Kill but is currently in The Doom Patrol as Niles Caulder, The Chief. As I've said before, go watch it now! He also was Damian Drake in Looney Tunes: Back in Action, Sir Malcolm on the Penny Dreadful series and Lord President of the Time Lords (Rassilon) during the Time of Tenth and Eleventh Doctors. He went to theatre to play Lord Asriel in the stage version of His Dark Materials.
Born March 21, 1956 – Teresa Nielsen Hayden, 63. She is a consulting editor for Tor and is best known for Making Light, ablog she shares with her husband Patrick. You can blame them for the Puppy target John Scalzi. And she is also one of the regular instructors for the writing workshop Viable Paradise.
Born March 21, 1958 — Gary Oldman, 61. First genre film role was as Rosencrantz in Rosencrantz & Guildenstern Are Dead. Next up is the lead role in Bram Stoker's Dracula. And, of course, he was Jean-Baptiste Emanuel Zorg In Fifth Element followed by being Lost in Space's Dr. Zachary Smith which in turn led to Harry Potter's Sirius Black and that begat James Gordon in the Batman films. Although some reviewers give him accolades for us as role as Dr. Dennett Norton in the insipid Robocop remake, I will not. Having not seen Dawn of the Planet of the Apes, I can't say how he is as Dreyfus in it.
Born March 21, 1962 — Matthew Broderick, 57. Very long, so let's get started… He started off in WarGames but appeared over the years in Ladyhawke, Project X, The Lion King franchise (surely talking lions are genre, aren't they?), Infinity (anything about Richard Feynman is genre), Godzilla, Inspector Gadget, the remake of The Stepford Wives, The Tale of Despereaux and Adventure Time.
Born March 21, 1966 — Michael Carroll, 53. He also writes Judge Dreddfor 2000 AD and the Judge Dredd Megazine. He has other genre work such as the New Heroes series (known in the States as the Quantum Prophecy series) and the Pelicos Trilogy which is part noir mystery and part end of all things human as well.
Born March 21, 1985 — Sonequa Martin-Green, 34. She currently plays Michael Burnham on Discovery. She had a brief recurring role as Tamara in Once Upon a Time and a much longer recurring role on The Walking Dead as Sasha Williams but I've never seen her there as zombies hold no interest to me. Well Solomon Grundy does… and she was in the Shockwave, Darkside film.
Born March 21, 1986 — Scott Eastwood, 33. Deputy Carl Hartman in Texas Chainsaw 3D (truly horrid idea that) Lieutenant GQ Edwards in Suicide Squad and Nathan Lambert in Pacific Rim: Uprising.
(10) NAME THAT MOON. Gently thieved from John Scalzi's Twitter feed (like so many good things are), Phil Plait's tweet leads us to his post on SYFY Wire "Contest: Pick names for Jupiter's new moons!"
We already have wonderful names for some of Jupiter's moons, like Io, Europa, Ganymede, Callisto (the four Galilean moons), Amalthea, Metis, Adrastea, Themisto, Carpo (also the little-known sixth Marx brother), Himalia, Leda… well, you get the picture. There are dozens more.

Now that these newly discovered moons have been confirmed it's time to name them. In general, the discoverer can suggest names to the International Astronomical Union (or IAU), the keeper of rules and lists of names. They'll mull things over and decide if the names are up to snuff.

Faced with this, Sheppard and his team have decided to do something fun: Hold a contest where you, Earthling, can suggest names for these tiny worlds*!

All you have to do is submit your suggestions to the team by simply tweeting them to the handle @JupiterLunacy (ha!) on Twitter, either as a text tweet or as a short video, and adding the hashtag #NameJupitersMoons. Cool!
(11) GIVING WRITER'S BLOCK A NEW MEANING. Also tweeted by Scalzi — he's discovered a use for the toxic waste social media miscreants aim at GRRM:
(12) YMMV. David Doering has a point: "Saw the announcement of a Funko Stan Lee doll on Amazon to be released in April. What made me curious is the delivery options: I do not think the word 'Expedited' means what you think it does…"
(13) BARRIE AWARD. Philip Pullman has won the J.M. Barrie lifetime achievement award. The Guardian has the story —
Author of His Dark Materials acclaimed as 'a magical spinner of yarns' who appeals to all ages – especially children
(14) SLEUTH. BookRiot has a neat quiz called "Which kickass literary investigator are you?"
(15) TOUGH NEIGHBORHOODS. At Crimereads, Adam Abramowitz discusses how gentrification threatens crime and noir fiction set in big cities, because the dodgy neighborhoods where those stories are set are rapidly vanishing: "Noir in the Era of Gentrification".
On the New York end, the bus route would take us through the Bronx, the borough announcing itself unfailingly with the calling card of a vehicle sitting squarely on its rims, hard by the side of the highway, engulfed in flames—welcome to the Bronx! Similarly, the arrival at the Port Authority Bus Terminal at 41st Street and 8th Avenue brought its own thrills. After all, it was a place described in a 1970 New York Times where "two types of people could be found inside, some are waiting for buses. Others are waiting for death." Though they left out the pimps waiting for those starry-eyed ingénues from Middle America, those corn-fed easy marks, sad scripts in waiting.
(16) EUROPE REBUILT. Cora Buhlert's latest article Galactic Journey is about postwar architecture: "[March 21, 1964] Building the City of the Future upon Ruins: A Look at Postwar Architecture in Germany, Europe and the World".
…One of my favourite new buildings in my hometown Bremen is the Stadthalle, a multi-purpose arena for exhibitions, sports events and concerts. Designed by Roland Rainer and completed only this year, the Stadthalle is notable by the six concrete struts which jut out of the front of the building and hold both the stands as well as the roof in a design reminiscent of tents and sailing ships.

For the Kongresshalle conference centre in Berlin, built for the Interbau exhibition of 1957, American architect Hugh Stubbins designed a spectacular hyperbolic paraboloid saddle roof, inspired by the Dorton Arena in Raleigh, North Carolina. The people of Berlin quickly nicknamed the organic structure the "pregnant oyster".
(17) VIDEO OF THE DAY. In "How to Write Descriptively" on YouTube, Nalo Hopkinson, in a TedEd talk from 2015, uses the work of Kelly Link, Cornelia Funke, and Tobias Buckell to provide samples of how to write imaginatively.
[Thanks to Cora Buhlert, JJ, Frank Catalano, John King Tarpinian, Chip Hitchcock, Cat Eldridge, SF Concatenation's Jonathan Cowie, Mike Kennedy, Martin Morse Wooster, Carl Slaughter, and Andrew Porter for some of these stories. Title credit goes to File 770 contributing editor of the day Rob Thornton.]