(1) FUTURE TENSE. "'Empathy Hour,' a short story by Matt Bell" at Slate is the newest story in the Future Tense Fiction series from Future Tense and Arizona State University's Center for Science and the Imagination about how technology and science will change our lives.
This week, like every week, it's the theme song that calls you to attention, the music simultaneously jaunty, patriotic, inspirational, commanding. As the fade-in begins, the tune gives way to the whup-whup-whup of unseen rotors, the familiar sound preceding your first glimpse of a helicopter's wash rippling the dark water surrounding a half-drowned house, where this week's family balances awkwardly atop their roof's wind-peeled slope, desperate for rescue: a mother, a father, two preteen daughters, and an especially attractive Australian cattle dog….
Bell's story is followed by a response essay "What are we going to do with more than 200 million climate refugees?" by Tim Robustelli and Yuliya Panfil.
It's already happening. Millions in low-lying Bangladesh are fleeing stronger cyclones and increased coastal flooding. After Hurricane Maria, thousands of Puerto Ricans have left behind their blue-tarped homes for the mainland United States. And farmers from the Sahel to Central America are abandoning their dried-up fields in droves.

The increasingly dire effects of climate change are resulting in unprecedented levels of displacement globally. And it's going to get worse: The World Bank recently estimated that there could be more than 200 million "climate refugees" by 2050. Experts suggest that about one-quarter of them will move overseas, while the rest will migrate within their own countries.

What will happen to these migrants as they leave their homes and livelihoods, and how will their new communities receive them?…
(2) SMALL CRAFT WARNING. "Puppet Makers Rise Up Against the Puppet Masters" – and The Hollywood Reporter is on the front lines.
As they push for unionization, craftspeople at the The Jim Henson Company say they are treated as an underclass, subject to abuse and unsafe conditions: "The job of the wrangler is eating sh** and taking blame."

… There are only about 25 people in the world who work as full-time wranglers — and they are currently seeking union representation, something that has eluded them since the job first emerged with the rise of Sesame Street and The Muppet Show in the late 1970s….
(3) PULLMAN QUITS AS SOA PRESIDENT. "'I would not be free to express my opinion': Philip Pullman steps down as Society of Authors president" – the Guardian has the story.
Philip Pullman has stepped down as president of the Society of Authors (SoA) after comments he made about Kate Clanchy's controversial memoir, Some Kids I Taught and What They Taught Me. In a letter sent to the SoA's management committee this month, the children's author said he "would not be free to express [his] personal opinion" as long as he remained in the role.

Pullman, who will remain a member of the trade union's council, came under fire last year when he spoke out in support of Some Kids I Taught and What They Taught Me, which was criticised for racial and ableist stereotyping. In response to a tweet that he incorrectly assumed was about Clanchy, Pullman, in a now-deleted tweet, said that those who criticised the book without reading it would "find a comfortable home in Isis or the Taliban".

The SoA released a statement at the time distancing itself from Pullman's comments, and Pullman later tweeted an apology for the harm he caused, saying criticism of Clanchy was "reasonable and balanced" and that people of colour "deserve every kind of respect".

However, as the controversy around Clanchy continues – she and her publisher "parted ways" in January – Pullman clearly felt that he could no longer remain in his role….
(4) MORE BANG FOR YOUR BUCK. Another part of the story "J.K. Rowling hits back at Putin after he likened Russia to her in rant against cancel culture" that should have been mentioned here yesterday is how Rowling's charity is doing matching donations in support of Ukraine.
…Rowling previously revealed that her children's charity, Lumos, had been working with the Ukrainian government since 2013, and she launched a fundraising appeal the day after the Russian invasion to help "the thousands of children trapped by the fighting in Ukraine's orphanages."

"A reminder: I will personally match all donations to our emergency appeal, up to £1million ($1.3 million). If you're able to, you can donate here. Again, thank you so very much to all who've already donated," she tweeted Friday.
(5) WHO KNEW? Slate explains why "Cross-stitch stores disappeared after Etsy banned Russian sellers."
Since Russia's "special operation" began in Ukraine, Western brands have been exiting the country rapidly, making it much harder to find cars, furniture, phones, and clothes. But the change has also affected more unexpected businesses. In early March, after PayPal announced shutting down its services in Russia, Etsy suspended Russian shops "due to expanding business restrictions, including multiple payment processors and credit cards ceasing operations in Russia."

This is how many American fans of cross-stitch—a needle craft in which you stitch tiny X's over and over to create a design on fabric—discovered that many of their favorite digital pattern designers are from Russia. Cross-stitchers will pay anywhere from about $3 for small, simple patterns to much more for large, complex designs, all of which can be downloaded instantly after purchase. They can also pay large sums for custom designs. After Etsy pulled the plug on Russia, shops with thousands of five-star reviews and large numbers of sales disappeared at once. "Did cross-stitch pattern makers go through a purge or something?" a Reddit user wondered. In a way, yes—and it's a fascinating example of how even the digital supply chain can be concentrated in one geographic area….
(6) GARETH POWELL Q&A. FanFiAddict chatted with Gareth L. Powell, author of Stars and Bones.
Join FanFiAddict's Adrian M. Gibson and author Gareth L. Powell for a chat about his new book Stars and Bones, its timely themes, the mentorship of Diana Wynne Jones and Helen Dunmore, paying it forward with a "field guide" on writing, the appeal of writing space opera and accessible sci-fi, social media and mental health and much more.

ABOUT THE AUTHOR: Gareth L. Powell is a BSFA award-winning author who writes science fiction about extraordinary characters wrestling with the question of what it means to be human. This includes works like the Embers of War series, the Ack-Ack Macaque series, the novellas Ragged Alice and Light Chaser, the latter of which he wrote with Peter F. Hamilton, and more. His latest novel, Stars and Bones, is out now through Titan Books.
(7) WHO'S GOT NEXT? Bleeding Cool has a wonderful article tracing the decades-long history of fake Who news: "When British Tabloids Made Up Stories About The Next Doctor Who".
…But secondly, this is what British tabloids do. And have done for decades. When it was announced that William Hartnell would no longer play The Doctor, the British press asked the question, just didn't suggest they had the answers….

The speculation would only really begin with the departure of Tom Baker at The Doctor in 1980. Which was also the time that the suggestion first arose about a female Doctor Who. Clearly, the "woke" 1980 for you there….
(8) FOR BETTER OR MULTIVERSE. At CrimeReads, Josh Weiss recommends alternate history novels, mostly of the "Hitler Wins" variety. "10 Must-Read Alternate History Thrillers".
The Yiddish Policemen's Union, Michael Chabon (2007)

This book was recommended to me by a friend in college. Hearing him describe the concept was a mind-blowing experience in and of itself. European-Jewish refugees settling Alaska at the outbreak of WWII? A thriving modern American town that speaks Yiddish? Ultra-Orthodox mafia bosses? This I had to see for myself….
(9) SWIFT WILL SPIN. "Tom Swift: The CW Confirms May Debut for 'Nancy Drew' Spinoff Series" – Bleeding Cool describes the planned adaptation.
…'Tom Swift' follows the serialized adventures of its titular character (Richards), an exceptionally brilliant inventor with unlimited resources and unimaginable wealth who is thrust into a world of sci-fi conspiracy and unexplained phenomena after the shocking disappearance of his father. Tom takes to the road on a quest to unravel the truth, leaving behind the comforts of his usual moneyed lifestyle while fighting to stay one step ahead of an Illuminati-scale group that's hellbent on stopping him.

Ashleigh Murray plays Zenzi, Tom's best friend, whose unabashed and unvarnished candor keeps him grounded while she forges a path for herself as a business visionary. Marquise Vilsón is his bodyguard Isaac, whose fierce commitment to his chosen family is complicated by his own simmering feelings for Tom. LeVar Burton voices Barclay, Tom's AI, whose insights and tough love have been a constant throughout Tom's life, Albert Mwangi is the mysterious and dangerous Rowan, who intersects Tom's path with hidden motivations and undeniable mutual chemistry. Meanwhile, at home, Tom's relationship with his mother Lorraine (April Parker Jones) becomes conflicted as she urges him to take his father's place in elite Black society.
(10) MEMORY LANE.
1989 — [Item by Cat Eldridge.] Thirty-three years ago, the Quantum Leap series premiered on NBC.
Created by Donald P. Bellisario (Tales of The Golden Monkey, AirWolf), it starred Scott Bakula as the time-travelling Sam Beckett and the cigar chomping Dean Stockwell as his holographic contact from the future, Admiral Al Calavicci. The series would air on NBC for five seasons and a total of ninety-seven episodes, gaining a large following after a very mediocre start.
So what was the reception for it at the the time? The New York Times liked it with these parting words: "Overall, 'Quantum Leap' has the distinction of being unpredictable, which is the last thing that can be said about the vast bulk of television series. And Mr. Bakula and Mr. Stockwell make the most of their leaping opportunities."
It has generated an immense fictional universe with at least twenty authorized novels to date (edited by Ginjer Buchanan!) and a universe of fan fiction, some that would make even Al turn red. There are non-fiction works such as The Making of Quantum Leap and Beyond the Mirror Image which was done as a Kickstarter endeavor. And Innovation Publishing did a thirteen-issue comic series as well. 
A sequel series coming on Peacock later this year is set thirty years after the original series ended and attempts to figure what happened to Sam Beckett.
Quantum Leap has a stellar 97% rating by the audience reviewers at Rotten Tomatoes.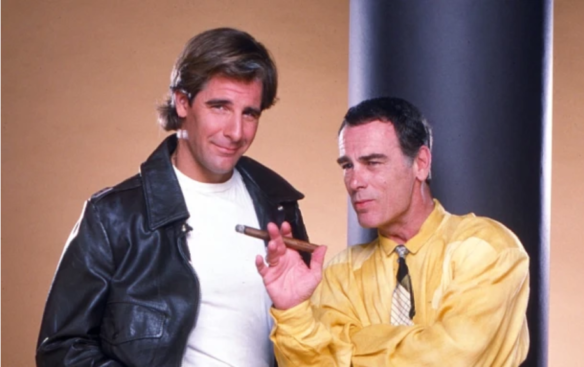 (11) TODAY'S BIRTHDAYS.
[Compiled by Cat Eldridge.]
Born March 26, 1924 — Peter George. Welsh author, most remembered for the late Fifties Red Alert novel, published first as Two Hours To Doom and written under the name of Peter Bryant. The book was the basis of Dr. Strangelove or: How I Learned to Stop Worrying and Love the Bomb. (Died 1966.)
Born March 26, 1931 — Leonard Nimoy. I really don't need to say who he played on Trek, do I? Did you know his first role was as a zombie in Zombies of the Stratosphere? Or that he did a a lot of Westerns ranging from Broken Arrow in which he played various Indians to The Tall Man in which at least his character had a name, Deputy Sheriff Johnny Swift. His other great genre role was on Mission: Impossible as The Great Paris, a character whose real name was never revealed, who was a retired magician. It was his first post-Trek series. He of course showed up on the usual other genre outings such as The Twilight Zone, The Man from U.N.C.L.E., The Outer Limits, Night Gallery and Get Smart. (Died 2015.)
Born March 26, 1942 — Erica Jong, 80. Witches which has amazing illustrations by Joseph A. Smiths is very much still worth your time nearly forty years on. ISFDB also lists Shylock's Daughter: A Novel of Love in Venice which is a time travel story but it certainly sounds more like a romance novel to me.
Born March 26, 1950 — K. W. Jeter, 72. Farewell Horizontal may or may not be punk of any manner but it's a great read. Morlock Night, his sequel to The Time Machine, is well-worth reading. I've heard good things about his Blade Runner sequels but haven't read them. Opinions? And his wiki page says he coined the term "steampunk". That so?
Born March 26, 1953 — Christopher Fowler, 69. I started reading him when I encountered his Bryant & May series which though explicitly not genre does feature a couple of protagonists who are suspiciously old. Possibly a century or more now. The mysteries may or may not have genre aspects (some such as Seventy Seven Clocks are definitely genre) but all are wonderfully weird. Other novels by him which I'd recommend are Roofworld and Rune which really are genre, and Hell Train which is quite delicious horror.
Born March 26, 1960 — Brenda Strong, 62. First film genre appearance was on Spaceballs as Nurse Gretchen. The role you probably remember her was on Starship Troopers as Captain Deladier though post-death she shows up in Starship Troopers 2: Hero of the Federation as Sergeant Dede Rake. She showed up on Next Gen as a character named Rashella in the "When the Bough Breaks" episode and she's been a regular on Supergirl as Lillian Luthor.
Born March 26, 1966 — Michael Imperioli, 56. Detective Len Fenerman in Peter Jackson's The Lovely Bones and Detective Ray Carling, the lead in Life on Mars and Rosencrantz in a recent Hamlet.
Born March 26, 1985 — Keira Knightley, 37. To my surprise, and this definitely shows I'm not a Star Wars geek, she was Sabé, The Decoy Queen, in The Phantom Menace. Next up for her is Princess of Thieves, a loose adaptation of the Robin Hood legend. Now I didn't see that but I did see her in Pirates of the Caribbean: The Curse of the Black Pearl as Elizabeth Swann. (She's in several more of these films.) I saw her as Guinevere, an odd Guinevere indeed, in King Arthur. Her last role I must note was as The Nutcracker and the Four Realms in which she was the Sugar Plum Fairy!
(12) NOT DEAD YET. The Comics Journal considers "The Strange Second Life of Legacy Comic Strips or: I Want Wilbur Weston Dead".
…It was a bathetic end for a shlub of a man… or was it? Because only a few short days after Wilbur's fall, [Mary Worth] readers were confronted with a single panel depicting a bedraggled, pink-shirted man, glasses still on his head and one shoe left on his feet, washing up on the shores of a desert island….

…"I WANT WILBUR WESTON DEAD" declared one reader, as if to will the outcome into the world. "We as a society need to organize a beach-storming on the scale of Normandy, all to ensure that Wilbur Weston remains dead," offered another. Comics critic Tom Shapira put forward the still-intriguing hypothesis that Wilbur was about to undergo the origin story of a familiar DC Comics superhero. It was the brief, ephemeral, but powerful buzz of a minor comics Twitter zeitgeist, all of which led me to a single question: what in God's name was going on here?…

…Mary Worth is therefore a prime example of what has been termed a legacy strip: a comic strip that has outlived (often literally) its original creators, and been passed along to new hands while maintaining continuity in syndication. Glance at the comic page of a daily print newspaper, if you can still find one, and you'll see that the list is long and, arguably, ignominious: Blondie, The Family Circus, Hagar the Horrible, The Wizard of Id, Beetle Bailey, Rex Morgan M.D. Not for nothing have these features been given the less charitable and more common description of zombie strips.

And yet: the Wilbur Weston episode intrigued me. Because if a strip like Mary Worth–a strip that, with one exception I'll discuss a bit later, I had never had cause to consider anything more than an innocuous presence in my grandparents' daily Los Angeles Times–could generate a week of Twitter conversation among pandemic-jaded millennials, then there was clearly some kind of life in this allegedly undead comic. I wanted to understand why this might have happened, and more than that, I wanted to know what Mary Worth's current creators thought about it. So I asked them.
(13) ROSE AGAIN. Seventeen years ago today Doctor Who returned with the episode "Rose" on BBC One. Here's a clip collage to help you celebrate.
(14) GROUNDBREAKING GROUND BEEF. Mashed remembers "Why Burger King's '70s Star Wars Promotion Was So Groundbreaking".
… The relationship between the burger giant and the iconic media franchise goes back decades to when its original movie trilogy was released. According to Finance 101, the original "Star Wars" film (now referred to as "Star Wars: Episode IV — A New Hope") was released in 1977 and was the highest-grossing film of all time until "E.T." — another iconic character from outside our world — came into the picture in 1982. Burger King then made its own groundbreaking move in connection with this first "Star Wars" movie.

It may be hard to imagine a time when an onslaught of fast-food toy tie-ins seemingly accompanied the release of nearly every major animated motion picture. Yet according to Wide Open Eats, fast-food restaurants didn't cross-promote movies prior to 1977, the year Burger King broke history by promoting "Star Wars." The first-of-its-kind marketing strategy included "Star Wars" posters, stickers, and drinking glasses (via Fast Food Reference)…
(15) SPOT ON. They should end up with a better image as fire dogs instead of police dogs: "See 'Spot' Save: Robot Dogs Join the New York Fire Department" reports the New York Times.
… The Police Department cut short its contract with Boston Dynamics last April after critics raised concerns about privacy, data collection, aggressive police tactics and the generally dystopian vibes the robot gave off as it trotted through a public housing development during a hostage situation.

Fire officials and robotics experts say the way the department plans to use the robots might help reshape the perception of their use for public safety purposes.

At the command of a human operator, the device can provide vital information in the midst of a calamitous event. It has the ability to descend deep underground after a steam leak to collect images and data about dangerous debris. It can also be deployed moments after a building collapse to gauge structural integrity or measure the concentration of toxic, flammable gasses like carbon monoxide to better inform firefighters responding to the scene….
(16) SECOND STAGE LENSMAN. Filmmaking in Britain will continue to grow if the tax laws cooperate: "A Hollywood Production (Made in Liverpool)" in the New York Times.
…The early "Star Wars" films and 10 years' worth of Harry Potter movies helped Britain get here. Film productions were attracted by experienced labor and visual effects companies and, critically, generous tax breaks. In 2013, the incentives were extended to TV productions that cost more than £1 million per broadcast hour — so-called high-end TV series, like "The Crown" and "Game of Thrones." In recent years, productions were offered a 25 percent cash rebate on qualifying expenditures, such as visual effects done in Britain. In the 2020-21 fiscal year, tax breaks for film, TV, video games, children's television and animation exceeded £1.2 billion.

In Britain, film gets a level of government attention that other creative industries, such as live theater, can only dream of.

"I would not like to contemplate the loss of the tax incentive," said Ben Roberts, the chief executive of the British Film Institute. Without it, Britain would become immediately uncompetitive, he added.

Most of the growth in production in Britain comes from big-budget TV shows, a staple of streaming channels. Last year, 211 high-end TV productions filmed in Britain, such as "Ted Lasso" and "Good Omens," and fewer than half of them were produced solely by British companies, according to the British Film Institute. Compared with 2019, the amount spent jumped by 85 percent to £4.1 billion.
(17) VIDEO OF THE DAY. [Item by Martin Morse Wooster.] Says Sang Joon Kim, "Imagine if your life is stressed out now, but it would be much worse if everyone you run into is a pigeon!"
[Thanks to Martin Morse Wooster, JJ, John King Tarpinian, Andrew Porter, Andrew (Not Werdna), SF Concatenation's Jonathan Cowie, Michael Toman, Cat Eldridge, and Mike Kennedy for some of these stories. Title credit belongs to File 770 contributing editor of the day Tom Becker.]