(1) ARRIVAL. "On Coming to Ursula K. Le Guin in My Own Time" at Literary Hub, an excerpt from Amal El-Mohtar's introduction to Worlds of Exile and Illusion by Ursula K. Le Guin.
… I took Le Guin for granted. When she died in 2018, I could have fit the span of my life inside hers almost three times. She had always been there, like a mountain, or the sun, and it was easy to fall into the certainty that she always would be. I was unfamiliar with her most celebrated works—The Left Hand of Darkness, The Dispossessed, books by which she became the first woman to win a Hugo Award for Best Novel, and then, five years later, the first woman to have won it twice.

I had assumed, with all the oblivious confidence of youth, that I'd get to read them while she was still with us and talk to her about them. I imagined that I would meet her one day, under ideal conditions that would make me seem interesting enough for conversation, and ask her about poetry, about being a middle-aged woman in the 1970s, and about science fiction. Her passing hit me harder than I expected, considering my slender acquaintance with her work, but that was the thing about Le Guin: to have lost her was to have lost a world I longed to visit….
(2) ROMANTIC NOVEL AWARDS. The Romantic Novelists Association announced the winners of the 2022 Romantic Novel Awards in London on March 7. The awards celebrate excellence in romantic fiction in all its forms. The complete list is here. In the RNA category of genre interest the winner is —
The Fantasy Romantic Novel Award
A Marvellous Light, Freya Marske, Pan Macmillan

(3) HIDDEN TREASURE. [Item by Bill Burns.] The BBC Archive started a new YouTube channel a couple of months ago, and there are some interesting SF items: BBC Archive – YouTube. As well as Star Wars, Doctor Who, and other media items, there's these more mainstream pieces from broadcast programs:
"Arthur C Clarke predicts the future" (September 1964)
"Douglas Adams on HITCHHIKERS GUIDE TO THE GALAXY game" (1984)
"ISAAC ASIMOV's 3 laws of ROBOTICS" (1965)
(4) SCREENTIME MACHINE. For the first five seconds I thought it was a Monty Python sketch. But no – these are all legit sff writers on a 1979 episode of the BBC's Book Programme trying to answer the question "What is SCIENCE FICTION?"
Robert Robinson presents a science-fiction themed edition of The Book Programme. What constitutes science-fiction, is there room in the genre for the metaphysical or spiritual, or should writers slavishly stick to the scientific? What is to be made of the phenomenon that is the sci-fi convention – is there something unique to science fiction that inspires such devotion in its fans? And is all fiction slowly becoming science fiction? Taking part are: Douglas Adams, the author of the science-fiction comedy 'The Hitchhikers Guide to the Galaxy'; Harry Harrison, a prolific science fiction writer best known for his 'Deathworld', 'Stainless Steel Rat' and 'Bill, the Galactic Hero' novels; Peter Nicholls, the editor of The Encyclopedia of Science Fiction; and Ian Watson, whose book 'The Jonah Kit' won the British Science Fiction Association award for Best Novel and whose new book "God's World" is reviewed here and forms the basis for the discussion.
(5) RELATED WORKS. Today, Cora Buhlert turns the Non-Fiction Spotlight on "Lovecraft in the 21st Century Dead, But Still Dreaming, edited by Antonio Alcala Gonzalez and Carl H. Sederholm".
…If you're just joining us, the Non-Fiction Spotlights are a project, where I interview the authors/editors of SFF-related non-fiction books that came out in 2021 and are eligible for the 2022 Hugo Awards….

The subject of today's Non-Fiction Spotlight is a collection of scholarly essays about H.P. Lovecraft entitled Lovecraft in the 21st Century: Dead, But Still Dreaming, edited by Antonio Alcala Gonzalez and Carl H. Sederholm….

Why should SFF fans in general and Hugo voters in particular read this book?

Carl: I first became interested in Lovecraft because of references to him in popular culture. As I began to read more and more of his stories, I became fascinated by the ways his work continues to show up in everything from heavy metal music to board games to internet memes to television shows. What I didn't know was that there were dozens of others having similar experiences. This book provides a glimpse at what others have discovered in their own journey through Lovecraft. I think anyone with an interest in Lovecraft, including SFF fans and Hugo voters, can discover just how far Lovecraft's influence goes through a book like this. Even those who already have a firm grasp of Lovecraft should be able to find new insights and research opportunities here….
(6) NATURE CALLS. SF² Concatenation has just Tweeted an advance post of the first of its four "Best of Nature Futures" one-page short stories for this year: "Freemium: It's no game" by Louis Evans.
When SETI detected an alien signal, they called Derek. Derek was a billionaire from designing computer games. He was bankrolling the search.

Soon – an impossibility in physics – Derek was in regular contact with the aliens. But eventually, there is a price….
(7) NEWBERY WINNER'S NEXT. In the Washington Post, Mary Quattlebaum interviews Newbery Award-winner Kelly Barnhill, whose new book The Ogress and the Orphans creates "a complex character that makes readers question the stereotype of ogres." "In Kelly Barnhill's new fantasy novel, no single hero can save the day".
…A more fully formed story started to emerge in 2020. This original fairy tale explored both the conflict and the generosity she was seeing in the world around her. She noticed, for example, that throughout the pandemic, some people worked together to protect one another from the coronavirus, and others did not.

"I saw the power that one individual has to make something better for another," she said.

A conversation with her "awesome and interesting" 10-year-old nieces also helped shape the story. The girls' parents are philosophers. They study knowledge — how people think and reason and how they decide right from wrong. The girls thought that philosophy should also consider kindness and animals.

Barnhill listened. "The Ogress and the Orphans" probes what happens to people's hearts and to the spirit of their communities when they give to others — or turn away. What happens when they respect and include others — or seek power over them?…
(8) WOOL GATHERING. At Bandcamp, Aidan Baker's album "The Sheep Look Up" is intended as "a 'soundtrack' to John Brunner's 1972 dystopian novel." Baker is a Canadian musician "making experimental ambient music."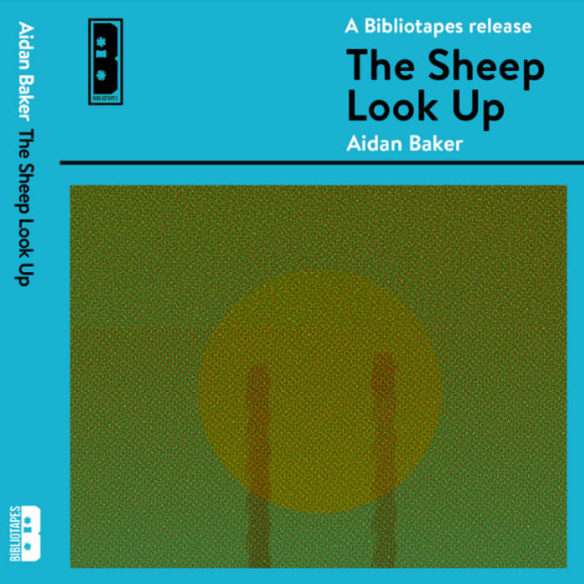 (9) MEMORY LANE.
1968 — [Item by Cat Eldridge] Anne McCaffrey's Dragonriders of Pern series has a fascinating Hugo history.
She won a Hugo the first time she was nominated, for the novella "Weyr Search" at Baycon (tied with Philip José Farmer's "Riders of the Purple Wage".) It was published in Analog Science Fiction / Science Fact, October 1967. It's in A Dragon-Lover's Treasury of the Fantastic anthology which was edited by Margaret Weis, available from the usual suspects at a very reasonable price.
It would be the only win for the Dragonriders of Pern series but by far is not the only nomination for the series.
Next up would be the "Dragonrider" novella which was nominated one year later at St. Louiscon. Three years later, her Dragonquest novel would get a nod at the first L.A. Con showing that Con had impeccable taste. And at Seacon '79, The White Dragon gets nominated. (I really love that novel.) The next L.A. Con would see another novel be nominated, Moreta: Dragonlady of Pern. (I've never heard of that one.) And the final nomination, also for a novel, was at MagiCon, for All the Weyrs of Pern.
The series did win a number of other awards including a Nebula for Dragonrider, a Ditmar and Gandalf for The White Dragon, a Balrog for Dragondrums and The Science Fiction Book Club's Book of the Year Award for The Renegades of Pern. It is, after all, an expansive series.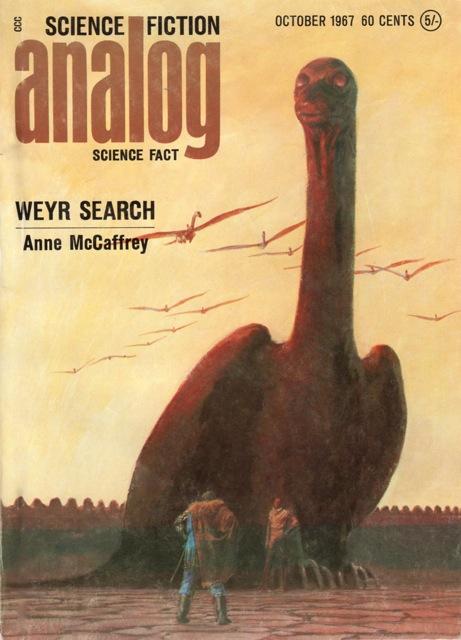 (10) TODAY'S BIRTHDAYS.
[Compiled by Cat Eldridge.]
Born March 7, 1925 — Richard Vernon. He is perhaps best remembered for playing the role of Slartibartfast in The Hitchhiker's Guide to the Galaxy series. His first genre role was Sir Edgar Hargraves in the Village of the Damned which was adapted from John Wyndham's The Midwich Cuckoos.  He's also in Goldfinger as Colonel Smithers. (Died 1997.)
Born March 7, 1926 — Alan Sues. Here for his outstanding performance in The Twilight Zone's "The Masks" as Wilfred Harper, Jr., one of the most chilling scripts written for that series. He really didn't have much of a genre history showing just otherwise on Wild Wild West and Sabrina, the Teenage Witch unless you want to include Rudolph and Frosty's Christmas in July where he played Scratcher the jealous Reindeer. (Died 2011.)
Born March 7, 1942 — Paul Preuss, 80. I know I've read all of the Venus Prime series written by him off the Clarke stories. I am fairly sure I read all of them when I was in Sri Lanka where they were popular among the British ex-Pat community.  I don't think I've read anything else by him. 
Born March 7, 1944 — Stanley Schmidt, 78. Between 1978 and 2012 he served as editor of Analog Science Fiction and Fact magazine, an amazing feat by any standard! He was nominated for the Hugo Award for Best Professional Editor every year from 1980 through 2006 (its final year), and for the Hugo Award for Best Editor Short Form every year from 2007 (its first year) through 2013 with him winning in 2013 at LoneStarCon 3.  He's also an accomplished author and l know I've read him but I can't recall which novels in specific right now though I know I enjoyed what I read by him.
Born March 7, 1945 — Elizabeth Moon, 77. I'll let JJ have the say on her: "I've got all of the Serrano books waiting for when I'm ready to read them. But I have read all of the Kylara Vatta books — the first quintology which are Vatta's War, and the two that have been published so far in Vatta's Peace. I absolutely loved them — enough that I might be willing to break my 'no re-reads' rule to do the first 5 again at some point. Vatta is a competent but flawed character, with smarts and courage and integrity, and Moon has built a large, complex universe to hold her adventures. The stories also feature a secondary character who is an older woman; age-wise she is 'elderly', but in terms of intelligence and capability, she is extremely smart and competent — and such characters are pretty rare in science fiction, and much to be appreciated." 
Born March 7, 1954 — Elayne Pelz, 68. She is a member of LASFS (and officer) and of SCIFI who worked on myriad cons, mainly in art show and treasury.  She was married to famous SF fan Bruce Pelz and assumed leadership of Conagerie, the 2002 Westercon, upon Bruce's death and the con was held successfully. She was the Chair of Loscon 20.
Born March 7, 1970 — Rachel Weisz, 52. Best remembered  for The Mummy films which I really, really love (well the first two with her), and her first genre film was Death Machine, a British-Japanese cyberpunk horror film which scores rather well – fifty-one percent — among audience reviewers at Rotten Tomatoes. I've also got her in Chain Reaction and The Lobster. As of late, Weisz starred as Melina Vostokoff in the MCU film Black Widow.
(11) INSIDER TRADING. Gizmodo finds evidence of intergalactic smuggling: "Star Wars Galactic Starcruiser Rare Merch Already on eBay".
It's only been a few days since Disney's lavishly priced Star Wars Galactic Starcruiser attraction previewed for invited media, influencers, and guests—yet eBay listings are already being promoted for exclusive items from the experience. Some item postings even have timetables for guests who have yet to step onto the Halcyon ship but promise to bring back merch for sale.

A sign that this might be different from the usual hive of scum and villainy where merch-flippers tend to dwell is that the prices seem to reflect ways to offset the cost of the trip itself—or for those who got freebies to maybe even get on board again….
(12) 2021 WAS GOOD FOR ONE THING. Yahoo! reports "Guillermo del Toro is really not into the Oscars' new format".
…Pan's Labyrinth director Guillermo del Toro has brought up another point of contention: The new format for the upcoming awards ceremony.

The Academy of Motion Pictures and Arts recently unveiled its new format, which involves pre-taping a select eight categories and announcing the winners in a pre-show. The categories moved to this lower-tier position include Best Production Design, Editing, Makeup and Hairstyling, Original Score, Sound, Documentary Short, Animated Short and Live-Action Short. After the last couple of arduous years in the film industry, del Toro thinks this change could not come at a worse time.

"The nominees that we have here, most of the ones we have here tonight, [worked] against many, many difficult odds [to get here], and we don't do [films] alone," del Toro said while receiving the Hollywood Critics Association's Filmmaking Achievement Award. "We do them together, and the people that made them with us did it risking everything in a pandemic, showing up, making the day, somewhat in a miracle.

"I must say, if any year was the year to think about it, this is not the year not to hear their names live at the Oscars. This is the year to sing it, and sing it loud," Del Toro continued. "We shouldn't do it this year; we shouldn't do it ever, but not this year… And we must say this… 2021 was a f**king great year for movies."…
(13) TIME'S THREE. "Take three historical figures, throw them together in some situation, and tell us the story that ensues." That simple description was enough make a success of Fantastic Books' Kickstarter campaign, fully funding the anthology Three Time Travelers Walk Into…, which will appear in June. "It pulls together the adventuring of such disparate figures as Julia Child, Jesus Christ, Michael Jackson, and Vlad the Impaler (well… not all in one story)."
Edited by Michael A. Ventrella, the contributing authors are Eric Avedissian, Adam-Troy Castro, Peter David, Keith R.A. DeCandido, Gregory Frost, David Gerrold, Henry Herz, Jonathan Maberry, Gail Z. Martin, Heather McKinney, James A. Moore, Jody Lynn Nye, L. Penelope, Louise Piper, Hildy Silverman, S.W. Sondheimer, Allen Steele, and Lawrence Watt-Evans.
(14) YOU CAN TAKE IT WITH YOU. Gizmodo noticed that "A Mars Rock Appears to Be Stuck in Perseverance Rover's Wheel". (Image at the link.)
NASA's Perseverance rover has involuntarily adopted a traveling companion, in the form of a stone that's lodged in one of its six aluminum wheels.

An image captured by Perseverance's Onboard Front Left Hazard Avoidance Camera, or Hazcam for short, shows the interloper sitting on the interior of a wheel. The rover must've kicked up the rock while exploring Jezero Crater, where it's been operating since it landed on Mars in February 2021.

The picture was taken on February 25, 2022, but a similar image taken five days later showed the rock still firmly in place. The stone, it would appear, is now a stubborn fixture of the $2.2 billion rover…. 
(15) RETURN TO SENDER. "Dreaming of Suitcases in Space". Hard to believe, but the New York Times, not Philip K. Dick, came up with that title. "A California start-up company believes it can one day speed delivery of important items by storing them in orbit."
…Inversion is building earth-orbiting capsules to deliver goods anywhere in the world from outer space. To make that a reality, Inversion's capsule will come through the earth's atmosphere at about 25 times as fast as the speed of sound, making the parachute essential for a soft landing and undisturbed cargo.

Inversion is betting that as it becomes cheaper to fly to space, government agencies and companies will want to not only send things to orbit but also bring items back to earth….

…What Inversion is trying to do is not easy. Designing a vehicle for re-entry is a different engineering challenge than sending things up to space. When a capsule enters the atmosphere from space, it is traveling at such high speeds that there is the danger of burning up — a huge risk for human travelers and precious nonhuman cargo alike.

Seetha Raghavan, a professor in the University of Central Florida's mechanical and aerospace engineering department, said it would be even more difficult to handle the heat, vibration and deceleration of the capsule when the vehicle size shrank.

"It all becomes harder when you have a smaller item to control," Ms. Raghavan said.

Inversion's plan for capsules in orbit raises questions about whether it will contribute to congestion in space, already a problem with the megaconstellations of satellites. And the abundance of satellites interfering with observations of planets, stars and other celestial bodies has been a common complaint among astronomers.

But Inversion said it was using materials to make its capsules significantly less reflective to decrease visual pollution. In addition, the company said its capsule would come with systems to avoid debris and collisions in orbit….
(16) CUBISM. [Item by Ben Bird Person.] Artist/illustrator Will Quinn did this piece commemorating the Dungeons & Dragon's gelatinous cube.
According to Patreon, "I listen to 'Not Another D&D Podcast' while I draw these days, and they were coincidentally fighting an ooze monster during this drawing (not a Gelatinous Cube, though. It was a Juiblex)."
[Thanks to JJ, John King Tarpinian, Andrew Porter, Michael Toman, Rob Thornton, Ben Bird Person, Chris Barkley, Bill Burns, SF Concantenation's Jonathan Cowie, Cat Eldridge, Mike Kennedy, and Martin Morse Wooster for some of these stories. Title credit belongs to File 770 contributing editor of the day Charon Dunn.]