(1) NO FOOLING. One of the most famous warships that never was – but what kind was it? "HMS Thunderchild – A bad day to be a Tripod," at Drachinifel. (Here's a portfolio of related designs by Baron-Engel, "HMS Thunderchild", at DeviantArt.)
My attempt to answer the question, just what exactly was HMS Thunderchild?
(2) BUDRYS ASSEMBLED. David Langford's Ansible Editions has released Beyond the Outposts: Essays on SF and Fantasy 1955-1996, a collection of Algis Budrys's standalone essays, reviews, appreciations, state-of-the-art reports, personal memoirs and thoughts on the mechanics of writing.
As noted in the latest Ansible, the Lulu coupon code LULU20 gives 20% off the paperback today and tomorrow (1 and 2 April). Published: April 2020 at $22.50. Ebook edition April 2020 at £5.50 . Approximately 211,000 words with index.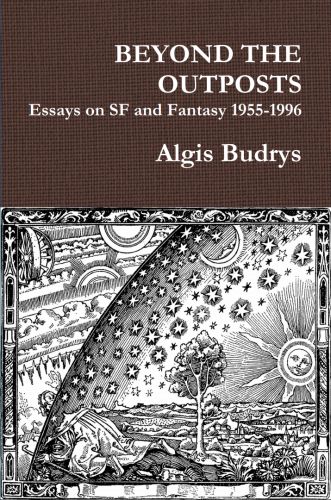 Among the major pieces here are "Paradise Charted", a tour-de-force potted history of the science fiction genre that filled some seventy pages of the special SF issue of TriQuarterly magazine; "Literatures of Milieux", a highly individual attack on the problem of defining our genre; the long series of "On Writing" columns written for Locus magazine; "Non-Literary Influences on Science Fiction", exploring in disquieting depth how magazine stories were routinely cut, padded or rearranged for production reasons beyond the control of author or editor; and "Obstacles and Ironies in Science-Fiction Criticism", casting a cold eye on the very thing that Budrys did best. Lighter notes are struck by mordant book and film reviews plus touches of sheer personal fun.
Here is Budrys's 1980 "Diagram of All SF" which accompanied his potted history of the genre for TriQuarterly magazine.
(3) STOKERCON UK. The Horror Writers Association's annual event, planned for the UK this year, has been postponed to August 6-9. More information here:
Further to our announcement last week, we wanted to inform the membership that, following further negotiations with the two convention hotels, they have finally agreed to issue refunds on the reservations of those who cannot make the proposed new dates of August 6–9, 2020 for STOKERCON UK. Unfortunately, as the hotels are closed at the moment due to the Government's restrictions, this cannot happen immediately.
(4) PHANTOM ZONE. Wil Wheaton provides isolation entertainment: "Radio Free Burrito Presents: The Ghost of Harrowby Hall". (The recording is on Soundcloud here.)
While I listen to medical professionals and practice self-quarantine at home, I'm making an effort to create and release free audio book shorts every few days. It's a good way for me to stay connected to my creative self, when my everything else self is so anxious and scared, all it wants to do is hide under the blankets and play video games.

…Today's reading is a satirical Victorian ghost story from the 1890s.
(5) HOLD THE DOOR! "Exploring the Four Types of Portal Narratives" by James Davis Nicoll at Tor.com.
Andre Norton understood the potential in doorways. A door could lead you from post-War Europe to the Witchworld, from a world where one is but an unwanted double to one where one can be a savior, from the world we know to ones where history played out very, very differently. In fact, portals and doorways are so common (see Judith Tarr's ongoing Norton Reread series) that it's odd none of her interstellar empires ever seemed to make use of them.
(6) DEVEREAUX OBIT. Cat Devereaux, the International Costumers' Guild 2005 Lifetime Achievement Award Recipient, died today. Active in costume fandom since the early 1980's, when she reached a time in life where traveling to conventions far away became tougher, she created one of the largest free informational and costume-supportive websites on the Internet, Alley Cat Scratch Costume, with resources for costume design and sewing.
(7) JACK OBIT. BBC reports "Star Wars actor Andrew Jack dies aged 76".
An actor and dialect coach who appeared in Star Wars and worked with A-list celebrities has died after contracting Covid-19, his agent has said.

Andrew Jack, 76, died in a Surrey hospital on Tuesday.

Agent Jill McCullough said she had been inundated with tributes to one of the acting world's "brightest and clearest voices".

She said Jack was unable to see his wife in his final days because she was quarantined in Australia.

His acting credits included The Last Jedi and the Force Awakens.
(8) TODAY'S DAY.
April 1 — The term "All Fools," was probably meant as a deliberate stab at All Saints (November 1) and All Souls (November 2) Day. Although the origin of playing practical jokes and pranks on this day is hazy, many folklorists believe it may go back to 16th-century France. At that time, New Year's Day was March 25, with a full week of partying and exchanging gifts until April 1. In 1582, the Gregorian calendar moved New Year's Day to January 1. Those who forgot or refused to honor the new calendar were teasingly called, "April Fool!" Weather folklore states, "If it thunders on All Fools Day, it brings good crops of corn and hay."
(9) TODAY IN HISTORY.
April 1, 1957 — Kronos premiered. It was produced by Irving Block, Louis DeWitt, Kurt Neumann, and Jack Rabin, and directed by Kurt Neumann. It starred Jeff Morrow and Barbara Lawrence. It was shown as a double feature with She Devil. Critics were mixed on it with the Variety reviewer finding much to like in it. Audience reviewers at Rotten Tomatoes give it a 44% rating.  Despite it being on both Youtube and the Internet Archive, it is still under copyright having been renewed by legal rights holders,  so a link for viewing it will not be provided as those are pirated copies.
(10) TODAY'S BIRTHDAYS.
[Compiled by Cat Eldridge.]
Born April 1, 1875 — Edgar Wallace. Creator of King Kong, he also wrote SF including Planetoid 127, one of the first parallel Earth stories, and The Green Rust, a bioterrorism novel which was made into a silent film called The Green Terror. Critics as diverse as Orwell, Sayers and Penzler have expressed their rather vehement distaste for him.  Kindle has an impressive number of works available. (Died 1932.)
Born April 1, 1916 — Mary, Lady Stewart (born Mary Florence Elinor Rainbow, lovely name that). Yes, you know her better as just Mary Stewart. Genre wise, she's probably best known for her Merlin series which walks along the boundary between the historical novel and fantasy. Explicitly fantasy is her children's novel A Walk in Wolf Wood: A Tale of Fantasy and Magic. (Died 2014.)
Born April 1, 1926 — Anne McCaffrey. I read both the original trilogy and what's called the Harper Hall trilogy oh so many years ago. Enjoyed them immensely. No interest in the later works she set there. And I confess that I had no idea she'd written so much other genre fiction! (Died 2011.)
Born April 1, 1930 — Grace Lee Whitney. Yeoman Janice Rand on Star Trek. She would reach the rank of Lt. Commander in Star Trek VI: The Undiscovered Country. Folks, I just noticed that IMDB says she was only on eight episodes of Trek. It seemed like a lot more at the time. Oh, and she was in two video fanfics, Star Trek: New Voyages and Star Trek: Of Gods and Men. (Died 2015.)
Born April 1, 1942 — Samuel R. Delany, 78. There's no short list of recommenced works for him as everything he's done is brilliant. That said I think I'd start off suggesting a reading of Babel- 17 and Dhalgren followed by the Return to Nevèrÿon series. I think his only Hugo win was in the Short Story category at Heicon '70  for "Time Considered as a Helix of Semi-Precious Stones"  as published  in New Worlds, December 1968.
Born April 1, 1953 — Barry Sonnenfeld, 67. Director of The Addams Family and its sequel Addams Family Values  (both of which I really like), the Men in Black trilogy (well, one out of three ain't bad) and Wild Wild West. He also executive produced Lemony Snicket's A Series of Unfortunate Events which I've not seen, and did the same for Men in Black: International, the recent not terribly well-received continuation of that franchise. 
Born April 1, 1960 — Michael Praed, 60. Robin of Loxley on Robin of Sherwood which no doubt is one of the finest genre series ever done of a fantasy nature. He also played Phileas Fogg on The Secret Adventures of Jules Verne, an amazing series that I think ever got released on DVD. 
Born April 1, 1963 — James Robinson, 57. Writer, both comics and film. Some of his best-known comics are the series centered on the Justice Society of America, in particular the Starman character he co-created with Tony Harris. His Starman series is without doubt some of the finest work ever done in the comics field. His screenwriting not so much. Remember The League of Extraordinary Gentlemen? Well that's him. 
Born April 1, 1970 — Brad Meltzer, 50. I'm singling him for his work as a writer at DC including the still controversial Identity Crisis miniseries and his superb story in the Green Arrow series from issues 16 to 21 starting in 2002.  He and artist Gene Ha received an Eisner Award for Best Single Issue (or One-Shot) for their work on issue #11 of Justice League of America series. 
(11) KYLE REMEMBERED. The First Fandom Annual, 2019 — David A. Kyle: A Life Of Science Fiction Ideas And Dreams is available. A centenary tribute to David A. Kyle, the annual is edited by John L. Coker III and Jon D. Swartz. Includes:
Foreword by Forrest J Ackerman
Introduction by Frederik Pohl
Afterword by Robert A. Madle
Bibliography by Christopher M. O'Brien
(128) pages in two volumes. Limited to 26 lettered copies. Laser-printed on 28 # paper. Photos and illustrations, 8½ x 11. Gloss color covers, booklet-stapled. Each set has a label signed by Kyle. To reserve a copy: [email protected]. Order your set by sending check or M.O. for $60 (includes packing, priority postage and insurance) payable to John L. Coker III at 4813 Lighthouse Road, Orlando, FL – 32808.
(12) ABOVE THE SKY. Galactic Journey's Gideon Marcus has a book out. His Journey Press has released Kitra — a YA Space Adventure.
Nineteen-year-old Kitra Yilmaz dreams of traveling the galaxy like her Ambassador mother. But soaring in her glider is the closest she can get to touching the stars — until she stakes her inheritance on a salvage Navy spaceship.
On its shakedown cruise, Kitra's ship plunges into hyperspace, stranding Kitra and her crew light years away. Tensions rise between Kitra and her shipmates: the handsome programmer, Fareedh; Marta, biologist and Kitra's ex-girlfriend; Peter, the panicking engineer; and the oddball alien navigator, Pinky.

Now, running low on air and food, it'll take all of them working together to get back home.
Journey Press has also published the well-received collection Rediscovery: Science Fiction by Women (1958-1963).
(13) TOUGH NEIGHBORHOOD. Hey, I thought my high school was dangerous. But compared to Gotham High?
From the #1 New York Times bestselling author of Alex and Eliza and The Witches of East End comes a reimagining of Gotham for a new generation of readers. Before they became Batman, Catwoman, and The Joker, Bruce, Selina, and Jack were high schoolers who would do whatever it took–even destroy the ones they love–to satisfy their own motives. After being kicked out of his boarding school, 16-year-old Bruce Wayne returns to Gotham City to find that nothing is as he left it. What once was his family home is now an empty husk, lonely but haunted by the memory of his parents' murder. Selina Kyle, once the innocent girl next door, now rules over Gotham High School with a dangerous flair, aided by the class clown, Jack Napier. When a kidnapping rattles the school, Bruce seeks answers as the dark and troubled knight–but is he actually the pawn? Nothing is ever as it seems, especially at Gotham High, where the parties and romances are of the highest stakes … and where everyone is a suspect.
(14) RIPPED TO SHREDS. Bad Astronomy's Phil Plait tells SYFY Wire readers: "It Looks Like A Star 750 Million Light Years Away *Was* Torn Apart By A Mid-Sized Black Hole".
In 2006, the light from a ridiculously violent event reached Earth. Hugely diminished by the time it reached us, it started out as an extremely powerful blast of X-rays… but unlike events such as a typical supernova or other high-energy processes which come and go rather quickly, this one faded slowly, visibly dropping in brightness over the course of more than ten years.

Not too many things can behave this way, and the most common is also one of the scariest: An entire star being ripped to shreds by the gravity of a black hole.
(15) HOSPITAL SETUP. [Item by Chip Hitchcock.] The process will look familiar to anyone who has done large-convention setup, but the purpose is more essential: "Transforming London's ExCeL centre into Nightingale hospital".
Timelapse footage has captured the transformation of London's ExCeL centre into a temporary hospital for coronavirus patients.

The Nightingale Hospital is expected to be operational by the end of the week.

Five hundred beds are already in place and there is space for another 3,500.
(16) THEY WERE EVERYWHERE. Maybe not through walls, but "'Dinosaurs walked through Antarctic rainforests'".
Scientists drilling off the coast of West Antarctica have found the fossil remains of forests that grew in the region 90 million years ago – in the time of the dinosaurs.

Their analysis of the material indicates the continent back then would have been as warm as parts of Europe are today but that global sea levels would have been over 100m higher than at present.

The research, led from the Alfred Wegener Institute (AWI) in Germany, is published in the journal Nature.

It's emerged from an expedition in 2017 to recover marine sediments in Pine Island Bay.

AWI and its partners, including the British Antarctic Survey (BAS), used a novel cassette drill-mechanism called MeBo to extract core material some 30m under the seafloor.

When the team examined the sediments in the lab, it found traces of ancient soils and pollen and even tree roots.

…Seeing the White Continent as we do today with its kilometres-thick ice covering, it's a challenge to the imagination to think of such productive conditions. But BAS director, Prof Jane Francis, says there have been several periods in Earth history when Antarctica's great glaciers were absent.

This study, she says, represents the first evidence for Cretaceous forests so close to the South Pole – just 900km away, at what would have been about 81-82 degrees South latitude.

"And, yes, there probably were dinosaurs in the forests," she explained. "If you go to the tip of the Antarctic Peninsula, you'll find a whole range of fossils – things like hadrosaurs and sauropods, and primitive bird-like dinosaurs. The whole range of dinosaurs that lived in the rest of the world managed to get down to Antarctica during the Cretaceous."
(17) KISS YOUR ASTERISK GOODBYE. The Root is sure "Samuel L. Jackson's Spirited Reading of 'Stay The F**k' At Home' Should Brighten Your Day". The heavily-bleeped Jimmy Kimmel Show video reading starts at 6:10.
Jackson presented a new poem written by Adam Mansbach, the author of the Amazon bestseller Go the F**k to Sleep, titled "Stay the F**k At Home." Jackson recorded the audiobook for Mansbach's 2011 hit, a perfect choice given his frequent use of the cuss word throughout both his prolific film career and in his personal life. The original book served as an exasperated way to get Mansbach's then two-year-old daughter to fall asleep, sparked in response to a Facebook post alluding to writing a book about his frustrations.
(18) TODAY'S OTHER PSA. Curb yourself already.
[Thanks to John King Tarpinian, Mike Kennedy, Chip Hitchcock, Andrew Porter, JJ, Martin Morse Wooster, Cat Eldridge, and Michael Toman for some of these stories. Title credit goes to File 770 contributing editor of the day Andrew.]