(1) DELANY'S STATEMENT. David Lubkin's Facebook page has become one of the centers for discussing the Mercedes Lackey controversy because Samuel Delany – whose work Lackey reportedly was praising when she used the slur – reacted to the issue in a comment there. Lubkin's post begins:
Science fiction writer Mercedes Lackey was recognized on Saturday at the Nebula Awards Conference as the newest SFWA Grand Master.

She was removed today from the conference and the additional panels she was scheduled for in accordance with the SFWA Moderation Policy for making a "racial slur" as a panelist yesterday.

The rule is "Respect all cultures and communities. Do not make derogatory or offensive comments even as a joke." and was deemed to apply in all SFWA space, and being given SFWA's highest honor that day didn't exempt her.

I didn't listen to the panel. But according to the moderator and a fellow participant, what happened: While praising the work of SFWA Grand Master and my old friend Chip (Samuel Delany), she referred to him as "colored." My guess is she'd chosen the term for being commonplace in Chip's experience growing up. (He turned 80 last month. She's 71 herself.)…
Delany wrote in a comment there: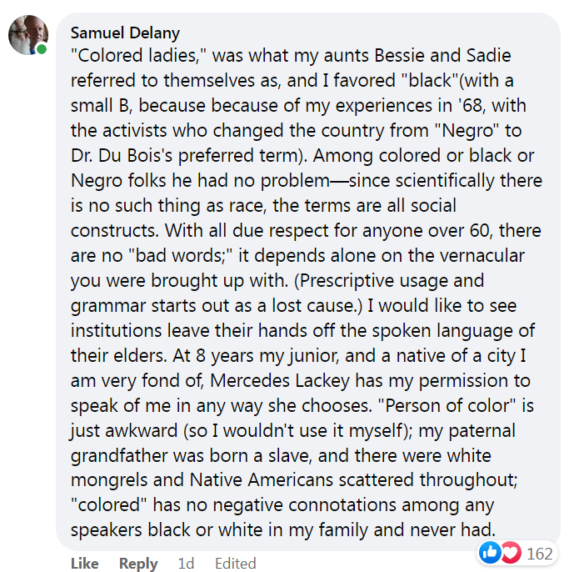 (2) ALTERNATIVE VIEW. K. Tempest Bradford wrote a balanced explanation of why Delany's exoneration of Lackey won't be the end of the issue for others: "On Samuel Delany, the use of the term 'colored', intergenerational conversations about language, and why SFWA was still right to remove Mercedes Lackey" at Tempest in a Teapot.
On Samuel Delany, the use of the term "colored", intergenerational conversations about language, and why SFWA was still right to remove Mercedes Lackey from programming.

Several people have tweeted the screenshot below at me due to my thoughts on this situation.

What strikes me about this is that Delany is coming at this issue from a him-centric viewpoint (which is fine). Thing is, this isn't just a Delany-centered problem. If Delany wants us all to refer to him as colored, fine. If he just doesn't care if that word is used to label/describe him even if he personally prefers black, also fine.

But this is also about how hearing a Black man referred to as colored by an older white woman affects other Black people and people of color broadly. It's not necessarily a respectful term to use in public on a panel at one of the community's most respected events.

Even if Delany is cool with one of his friends calling him Colored, it doesn't mean that the rest of us can't have a different reaction or find it upsetting. This is similar to how even worse slurs might be used in-group without issue but are frowned upon when used out-group.

And I'm sure Chip knows and understand this. My guess is he's upset by the perceived slight against his longtime friend by SFWA and that's what's at the forefront of that comment, though he is free to correct me.

Either way, it's one thing to use an outdated term that's generally considered a slur within a friend group and another to use the term on a panel at a con. That's what Mercedes Lackey should have been aware of and that's what most people are reacting to…
This is roughly the first half of Bradford's comment, which continues at the link.
(3) RETALIATION. Jen Brown, whose Twitter thread explained what happened on a Nebula Conference panel that resulted in Mercedes Lackey being removed from the event, reported last night on Twitter that she is being harassed.
(4) PUSHBACK. Some of the social media lightning generated by SFWA's removal of Mercedes Lackey from the Nebula Conference found its way to ground in responses to what was intended as a close-out tweet for the Nebula Conference. Critics protested that the term "comfort elves" resonated with the WWII term "comfort women".
The tweet was removed and this one took its place.
(5) KAY Q&A. The Reddit subreddit /r/fantasy brought Guy Gavriel Kay in to answer questions and talk about his new release All The Seas. "Hello, all. I am novelist Guy Gavriel Kay – Ask Me Anything".
What has been your favorite book to read over the last 24 months?

I *loved* John Banville's *The Untouchable* … that's partly because I'm fascinated by the Cambridge spies. But it is so elegantly written (Banville's known for that, and he's Irish, which is unfair) and also, this one actually inhabits the space I do, as to a quarter turn away from 'using' real lives and names. This is a fictionalized treatment, with characters *almost* the real ones. I'm always happy when I see other writers exploring that.
(6) PRAIRIE HORROR COMPANION. Westworld Season 4 premieres Sunday, June 26 on @HBO and @HBOMax.
(7) COLIN CANTWELL (1932-2022). Colin Cantwell, a concept designer of Star Wars vehicles, died May 21 at the age of 90. The Hollywood Reporter profile notes:
…His love of architecture and fascination with space provided the perfect combination for Cantwell to make serious moves in Hollywood, working on several projects, his initial credited work being '2001: A Space Odyssey.'

Colin Cantwell, the concept artist who designed iconic Star Wars spacecraft, including the X-wing Starfighter, TIE fighter and Death Star…

Cantwell's film credits include special photographic effects for 2001: A Space Odyssey (1968), technical dialogue for Close Encounters of the Third Kind (1977) and computer graphics design consultant for WarGames (1983). Yet, he was most renowned for his work with George Lucas on Star Wars, designing and constructing the prototypes for the X-wing, TIE fighter, Star Destroyer and the Death Star, among more.

… It was Cantwell's work on WarGames — programming the Hewlett Packard monitors to depict the dramatic bomb scenes on NORAD screens as the WOPR (War Operation Plan Response) computer nearly launched nuclear weapons — that led him to programming software that took the actual Hewlett Packard from a few colors to 5,000 colors.

In addition to his film work, Cantwell's wrote two science fiction novels, CoreFires 1 and CoreFires 2.
And according to the Guardian:
…He said "a dart being thrown at a target in a British pub" gave him the concept for the X-wing, and explained how he accidentally designed an iconic feature of the Death Star that became a crucial plot point: the meridian trench, used by the Alliance and Luke Skywalker as part of their attack on the mighty battle station in A New Hope.

"I didn't originally plan for the Death Star to have a trench, but when I was working with the mould, I noticed the two halves had shrunk at the point where they met across the middle," he told Reddit. "It would have taken a week of work just to fill and sand and re-fill this depression. So, to save me the labor, I went to George and suggested a trench. He liked the idea so much that it became one of the most iconic moments in the film!"
His IMDb listing also has his video game work.
(8) KENNETH WELSH (1942-2022). Actor Kenneth Welsh, best known for his work in Twin Peaks, died May 5. The New York Times noted these genre roles:
…Mr. Welsh appeared in 10 episodes of "Twin Peaks" in its second season, playing Earle, the vengeful, maniacal adversary and former F.B.I. partner of the protagonist, Dale Cooper (Kyle MacLachlan)…

But in his more than 240 movie and television roles, he ranged widely across genres, including … science fiction ("Star Trek: Discovery" in 2020).

His notable film notable roles included the vice president of the United States in Roland Emmerich's "The Day After Tomorrow" (2004), about the onset of an ecological catastrophe…
(9) MEDIA BIRTHDAY.
1980 – [By Cat Eldridge.] Forty-two years ago today, the most perfect Stephen King film imaginable came out in the form of The Shining. Directed by Stanley Kubrick from a screenplay by him and Diane Johnson, it was also produced by him. 
It had an absolutely wonderful primary cast of Jack Nicholson, Shelley Duvall. Danny Torrance, Scatman Crothers and Danny Lloyd. Jack Nicholson in particular was amazing in his role as was Shelley Duvall in hers. And the setting of the Overlook Hotel is a character in and itself — moody, dangerous and quite alive.
Kubrick's script is significantly different from the novel which is not unusual to filmmaking. However Stephen King was extremely unhappy with the film due to Kubrick's changes from his novel. 
If you saw it upon the first release, you saw a print that was a half hour longer than later prints. And Kurbrick released multiple prints, all different from each other. Some prints made minor changes, some made major changes.
It cost twenty million to make and made around fifty million. It did not make money for the studio.
So how was it received by the critics? Well it got a mixed reception.
Gene Siskel in his Chicago Tribune review stated he thought it was a "crashing disappointment. The biggest surprise is that it contains virtually no thrills. Given Kubrick's world-class reputation, one's immediate reaction is that maybe he was after something other than thrills in the film. If so, it's hard to figure out what." 
However Peter Bradshaw of The Guardian was much more positive: "The Shining doesn't look like a genre film. It looks like a Kubrick film, bearing the same relationship to horror as Eyes Wide Shut does to eroticism. The elevator-of-blood sequence, which seems to 'happen' only in premonitions, visions and dreams, was a logistical marvel. Deeply scary and strange."
I'll let Roger Ebert have the last word: "Stanley Kubrick's cold and frightening 'The Shining' challenges us to decide: Who is the reliable observer? Whose idea of events can we trust?"
Audience reviewers at Rotten Tomatoes currently give it a excellent ninety three rating.
(10) TODAY'S BIRTHDAYS.
[Compiled by Cat Eldridge.]
Born May 23, 1921 — James Blish. What was his best work? Cities in Flight? A Case of Conscience? I'd argue it was one of those works. Certainly it wasn't the Trek novels though he certainly pumped them out with nearly ninety all told if I'm reading ISFDB right. And I hadn't realized that he wrote one series, the Pantropy series, under a pen name (Arthur Merlyn). (Died 1975.)
Born May 23, 1933 — Joan Collins, 89. Sister Edith Keeler in "The City on the Edge of Forever", the sort-of-Ellison-scripted Trek episode which won a Hugo at BayCon. She has an extensive number of other genre appearances including Land of the Pharaohs, Mission: Impossible, The Man From U.N.C.L.E., Tales from the Crypt, Space: 1999, The Fantastic Journey, Future Cop, Fantasy Island and Faerie Tale Theatre.
Born May 23, 1933 — Margaret Aldiss. Wife of Brian Aldiss. She wrote extensively on her husband's work including The Work of Brian W. Aldiss: An Annotated Bibliography & Guide. He in turn wrote When the Feast is Finished: Reflections on Terminal Illness, a look at her final days. She also co-edited the A is for Brian anthology with Malcolm Edwards and Frank Hatherley. (Died 1997.)
Born May 23, 1935 — Susan Cooper, 87. Author of the superb Dark is Rising series. Her Scottish castle set YA Boggart series is lighter in tone and is just plain fun. I'd also recommend her Dreams and Wishes: Essays on Writing for Children which is quite excellent. The Grey King, part of The Dark is Risk series, won a Newbery, and she received a Lifetime Achievement Award from the World Fantasy Convention.
Born May 23, 1941 — Zalman King. OK he's best known for The Red Shoe Diaries which are decidedly not genre and indeed are soft core erotica but even that isn't quite true as some of the episodes were definitely genre such as "The Forbidden Zone" set in a future where things are very different, and "Banished" which deals with an Angel now in mortal form all on Earth. I'm betting there's more fantasy elements but I need to go through sixty episodes to confirm that. Denise Crosby appeared in two episodes of the Red Shoe Dairies playing the different characters, Lynn 'Mona' McCabe in "The Psychiatrist" and Officer Lynn 'Mona' McCabe in "You Have the Right to Remain Silent". Zalman himself played Nick in "The Lost Ones" episode on The Land of The Giants and earlier was The Man with The Beard in the Munsters episode of "Far Out Munsters". His final acting genre gig was on The Man from U.N.C.L.E. as Gregory Haymish in "The Cap and Gown Affair". (Died 2012.)
Born May 23, 1979 — Brian James Freeman, 43. Horror author. Novels to date are Blue November Storms, This Painted Darkness and Black Fire (as James Kidman). He's also done The Illustrated Stephen King Trivia Book (superbly done) which he co-authored with Bev Vincent and which is illustrated by Glenn Chadbourne. He publishes limited edition books here.
Born May 23, 1986 — Ryan Coogler, 36. Co-writer with Joe Robert Cole of Black Panther which he also directed. He will directed Black Panther: Wakanda Forever to be released this year. Producer, Space Jam 2, producer of the announced Wankanda series on Disney+. Black Panther was nominated at Dublin 2019: An Irish Worldcon, the year that Spider-Man: Into the Spider-Verse won the Hugo.
(11) COMICS SECTION.
Crankshaft finds photos from the wrong kind of rover.
(12) A FRESH LOOK AT S&S. Oliver Brackenbury talks about feminism and sword and sorcery with pulp scholar Nicole Emmelhainz on his So I'm Writing a Novel podcast: "Sword & Sorcery & Feminism, with Nicole Emmelhainz".
This covers things like Weird Tales Magazine, Robert E. Howard and Conan, Jirel as "Alice in Wonderland with a big sword", Howard and Lovecraft's correspondence with each other as well as fellow Weird Tales writers like Moore, S&S writing as "an opportunity to expose gender as fundamentally performative in nature", growth and change in Conan, the flexibility of sword and sorcery, what Nicole sees as the necessary qualities for an S&S story to be feminist, defying gender roles, the body as a vessel for victory, S&S as a very body-centric genre, good old barbarism vs civilization, queer possibilities in S&S, an intriguing ambiguity in the ending of Black God's Kiss, what might be a "trans utopic space" in sword and sorcery?, the potential for expanding the space of sword & sorcery along lines of gender & sexuality, cozy fantasy, and more!
(13) YOU HEARD IT HERE LAST. The BBC reports that a 1698 book predicting alien life in the solar system has been discovered in the UK: "Rare book predicting alien life discovered in Cotswolds".
…The book, lengthily entitled The Celestial World Discover'd: Or, Conjectures Concerning the Inhabitants, Plants and Productions of the Worlds in the Planets, Huygens questions why God would have created other planets "just to be looked" upon from Earth….
(14) GIVE CREDIT TO GENRE. The Cultural Frontline episode "Breaking the boundaries of fiction" is available at BBC Sounds.
How novelists working across popular genres like crime, horror and fantasy are overcoming literary snobbery to get their work the credit it deserves and broaden the definition of what makes truly great writing.

South Korean horror writer Bora Chung, shortlisted for the 2022 International Booker Prize, tells us what it means to see her work, a type of fiction often dismissed in her country as commercial and not 'pure literature,' nominated for the prestigious award.

Crime novelists from two very different countries, Deon Meyer in South Africa and Awais Khan in Pakistan, discuss with Tina Daheley why theirs is a misunderstood genre, one with the capacity to offer a social critique, and even change society for the better, all in the process of telling a great story.

Critically acclaimed New Zealand fantasy novelist Elizabeth Knox shares the magic of imagining fantastical new worlds, and how writing and reading fantasy can help us come to terms with traumatic experiences.
(15) IT IS A VERY GOOD YEAR. Glasgow In 2024 have commissioned Pixel Spirits to craft our own bespoke gin called "GIn2024". (Only available for delivery in the UK, they say: "Sadly, for now, different hurdles make it very difficult to ship internationally. We'll make sure to keep all Gin lovers updated though, in case this changes.")
Using the finest Science Fiction & Fantasy inspired botanicals, GIn2024 is rich and zesty, perfectly balanced with a subtle astringency and refined sweetness; exploring a taste journey out-of-this-world!

We have two sizes of bottles available, 70cl and 20cl and both have labels designed by our bid artists Sara Felix and Iain Clark.
Pricing and shipping: VOL 70cl for £37; VOL 20cl for £15; Postage to a UK address: £4.45 per bottle; ABV: 43%
The two bottles have different artwork on their labels. On the 70cl bottle, 'The Suffragette Tree, Glasgow' by the BSFA Award-winning artist, Iain Clark. And on the 20cl bottle, an armadillo design by the Hugo Award-winning artist, Sara Felix. Sara is taking inspiration from the Armadillo auditorium at the SEC in Glasgow, where the Glasgow bid aims to host the Hugo awards as part of Worldcon in 2024.
(16) MOON SHOT. NASA Astronaut Thomas Marshburn reads Goodnight Moon from the International Space Station, and Mark Vande Hei answers questions.
Watch as astronaut Thomas Marshburn reads out loud from the children's book "Goodnight Moon" by Margaret Wise Brown while floating in microgravity aboard the International Space Station. Also, Astronaut Mark Vande Hei joins Thomas to answer questions sent to them. This video was featured as a part of the Crayola and Harper Kids "Read Along, Draw Along" event to commemorate the 75th anniversary of the book's publication.
(17) NEW ALASDAIR BECKETT-KING VIDEO. [Item by Martin Morse Wooster.] Orson Welles has risen from the grave to denounce Sonic the Hedghog!
[Thanks to Michael Toman, Cat Eldridge, Mike Kennedy, Jennifer Hawthorne, Cora Buhlert, Martin Morse Wooster, JJ, John King Tarpinian, Chris Barkley, and Andrew Porter for some of these stories. Title credit belongs to File 770 contributing editor of the day Camestros Felapton.]