(1) NOT DEAD YET. Since the cancellation of San Diego Comic-Con 2020 was announced in mid-April the people behind it have been thinking about an online counterpart. This humorous video dropped on May 8.
What it all means has yet to be revealed. However, in April SDCC started posting coloring books and videos with the theme of Comic-Con [email protected].
While Comic-Con 2020 has been cancelled (we'll return in 2021!) and the Comic-Con Museum is currently closed along with the rest of the museums in Balboa Park, we want to welcome you to our newest endeavor: Comic-Con [email protected]!

We have great plans for this new section of our website. This will be your main source for some amazing Comic-Con Museum content, such as exclusive videos—including past events (Sense of Wonder with Jen Bartel, The Art of Shag, Will Eisner Week), and new video content created exclusively for the [email protected] program. Plus, we're proud to introduce our exclusive "Fun Book" series, a regularly scheduled downloadable PDF featuring activity and coloring sheets created by the Comic-Con Museum for various age groups.
For one example – "Comic-Con Museum Celebrates Will Eisner: Life Forces: The Art of the Comics Memoir."
(2) GNAW, YOU'RE KIDDING ME. The New York Times' Cathy Weaver says it's "Time to Check Your Pandemic-Abandoned Car for Rats".
You might want to make sure there's not a rat living (or recently dead) in your car's engine.

Why are you still reading? Check your car for a rat, I said. That's the tip. Rats like it in there, and while they could take up residence in a car engine at any time, anecdotal reports (and mankind's modern if imperfect knowledge of rat behavior) suggest the phenomenon may be occurring more frequently right now.

Three line breaks into this story, it is becoming increasingly clear that the depth of your interest in rats plunges far deeper than basic car maintenance tips. You are a person who seeks to understand rats in a way that rats may not even understand themselves. You want to read the invisible instruction encoded in a rat's brain that compels him to abandon the deli dumpster where he has spent the majority of his short life and, all of a sudden, carry a leaf and perhaps some twigs into the engine of your Jetta. OK. Here is more rat information…
(3) LEAPIN' LEPUS. "Juliet Johnson and Peter Capaldi On The Story of Richard Adams' Watership Down" on YouTube is a promotional video for Black Stone Publishing in which Richard Adams's daughter, Juliet Johnson, and Peter Capaldi discuss a new, unabridged version of Watership Down which Capaldi recorded to commemorate Richard Adams's centennial.
(4) SURVIVAL OF THE SFFEST. "Everything I Need To Know To Survive Covid-19 I Learned By Watching Scifi & Horror Movies" is a clever mashup by Evan Gorski and Michael Dougherty.
(5) SOFT RE-OPENING. South Pasadena's Vidéothèque movie rental business told people on its mailing list they expected to be allowed to reopen for pick-up service today.
Pursuant to County Health Dept provisions (& crossing our fingers), we will re-open Saturday, May 9 from 11am-7pm with front door service & will keep these hours daily.

Please refer to our website vidtheque.com to search for titles
They included a bunch of movie recommendation lists to stimulate the demand, including Time Out's "The 100 best horror films – the scariest movies ranked by experts". Number four on the list is
Alien

The miracle of birth
Talk about above and beyond: Ridley Scott was hired by Twentieth Century Fox to make '"Jaws" in space', and came back with one of the most stylish, subversive, downright beautiful films in either the horror or sci-fi genre. The masterstroke, of course, was hiring Swiss madman HR Giger as the film's chief designer – his work brings a slippery, organic grotesquerie to what could've been a straight-up bug hunt (© 'Aliens'). But let's not overlook Dan O'Bannon's script, which builds character without assigning age, race or even gender – plus one of the finest casts ever assembled.
(6) VIDEO GAME CREATOR. The Strong Museum of Play has received a collection of prototypes and projects from the family of inventor Ralph Baer.
Ralph Baer, known as the father of home video games and the first person to patent the idea of playing a video game on a television, spent more than four decades creating, inventing, and changing the landscape of play. The Strong museum, home to the World Video Game Hall of Fame, is pleased to announce that it has received a donation of prototype toys and technologies from Baer's family that showcase his work and his creative thinking. The items add to the museum's existing collection of Baer materials, which includes his personal papers and one of his desktop inventing workstations.

…Baer is known for his work in the video game industry, but in addition to creating the Magnavox Odyssey in 1972, the first home console machine, Baer led a successful career in toy and handheld electronic game design, creating the matching game Simon and the plush bear TV Teddy, among many other products. This collection includes dozens of items in various stages of development, including a Big Bird Talking Bank, the Video Buddy interactive system, augmented GI Joe rescue set, Super Simon, along with various other pieces or concepts, including talking greeting cards, a twirling carnival ride, modified stuffed animals, and a toy phone. Together, along with the museum's existing personal papers, they provide a window into Baer's design process.

"My father escaped Nazi Germany as a child, and he spent much of his life after that thinking differently about the world and trying to introduce more fun and whimsy into it. He was a visionary and creative force who never stopped learning, inventing, and tinkering—even into his 90s," says Mark W. Baer, his son and the Trustee of the Ralph H. Baer Trust.
(7) CREATURE FEATURE. Marie Brennan considers "New Worlds: Working Animals" at Book View Café.
…In fact, dogs serve as kind of a template for things we use working animals to do. The tasks of draft (pulling things like wagons or plows), pack (carrying loads directly) and riding came up when we talked about transportation, so I won't rehash the list of species used in different parts of the world — but I will note that certain animals we can't domesticate, like zebra and moose, can occasionally be tamed to perform those tasks. This category is where the Industrial Revolution made the most immediate and obvious dent: once we could replace muscle power with steam power and its successors, we no longer needed to keep millions of horses and mules and donkeys and camels and so forth to work for us.
(8) WHAT'S STUFFED INSIDE. NPR's Jason Sheehan rides the line: "These 'Little Eyes' Watch The World Burn".
Samanta Schweblin is not a science fiction writer. Which is probably one of the reasons why Little Eyes, her new novel (translated from Spanish by Megan McDowell) reads like such great science fiction.

Like Katie Williams's 2018 novel Tell The Machine Goodnight before it, Little Eyes supposes a world that is our world, five minutes from now. It is a place with all our recognizable horrors, all our familiar comforts and sweetnesses, as familiar (as if anything could be familiar these days) as yesterday's shoes. It then introduces one small thing — one little change, one product, one tweaked application of a totally familiar technology — and tracks the ripples of chaos that it creates.

In Tell The Machine, it was a computer that could tell anyone how to be happy, and Williams turned that (rather disruptive, obviously impossible) technology into a quiet, slow-burn drama of family and human connection that was one of my favorite books of the past few years. Schweblin, though, is more sinister. She basically gives everyone in the world a Furby with a webcam, and then sits back, smiling, and watches humanity shake itself to pieces.

You remember what a Furby is, right? They were those creepy-cute, fuzzy animal toys that could blink and squawk and sing, dance around and respond to some basic commands. They were toys that pretended (mostly poorly) that they were alive.

Schweblin's version is called a kentuki. It's a simple, fur-covered crow or mole or bunny or dragon with cameras for eyes, wheels, a motor. And a person inside. Virtually, of course. Not, like, for real. Because that would be horrifying. And Little Eyes is absolutely horrifying, but not that kind of horrifying….
(9) REDECORATING THE DOCTOR'S OFFICE. ScreenRant tries to explain "Why The Fourth Doctor Had A Second (Original) TARDIS Console Room".
…In the debut episode of Doctor Who's original season 14, The Doctor takes his then-companion, Sarah Jane Smith, to a different, unused console room, and then strongly suggests this place was actually the original hub of the TARDIS. This console room remained The Doctor's base for the remainder of the season and was a massive visual departure from what had come before, with wooden panel walls, stained glass windows, and a smaller, cabinet-like console. Unfortunately, the Victorian-style console room only lasted a single season before the white, pimply decor returned. Reports conflict as to whether the wood of the previous set was proving problematic to maintain, or whether incoming producer, Graham Williams, simply wasn't a fan.
(10) TODAY IN HISTORY.
May 9, 1973 — Soylent Green premiered in theatres. It was the last performance by Edward G. Robinson who gets a great death scene here. It starred Charlton Heston and Leigh Taylor-Young. It was directed by Richard Flieschier and produced by Walter Seltzer and Russell Thacher. It was rather loosely based on Make Room! Make Room! by Harry Harrison. Most of the critics at the time generally liked it, and at Rotten Tomatoes the film has an approval rating of 71% rating among audience reviewers.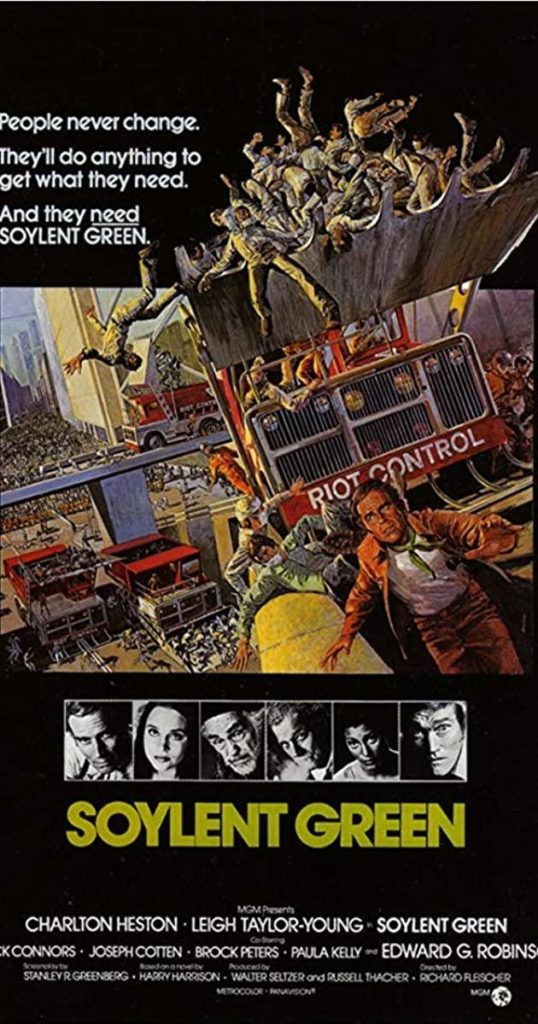 (11) TODAY'S BIRTHDAYS.
[Compiled by Cat Eldridge and John Hertz.]
Born May 9, 1860 — J. M. Barrie. For us and for many others he's the author of Peter Pan.  After that he had a long string of successes in the theater.  He knew George Bernard Shaw and H.G. Wells.  He joined the Authors Cricket Club and played for its team along with Sir Arthur Conan Doyle, A.A. Milne, and P.G. Wodehouse.  He was made a baronet in 1913. (Died 1937.)
Born May 9, 1913 — Richard McKenna. His short story "The Secret Place" was a Hugo finalist and won the Nebula.  "Casey Agonistes" (short story) and "Hunter, Come Home" (novelette) are in many anthologies; "Casey" has been translated into French, German, Italian; "Hunter" into French, German, Italian, Romanian; "Secret" into Dutch, German, Italian, Polish.  Cover artist for Volume 3 of the NESFA Press Essential Hal Clement (Variations on a Theme by Sir Isaac Newton).  Best known outside our field for The Sand Pebbles.  (Died 1963.)
Born May 9, 1920 — Richard  Adams. I really loved Watership Down when I read it long ago so will not read it again so the Suck Fairy may not visit it. Are any of the various Watership animated affairs worth seeing? Reasonably sure I've read Shardik once but it made no impression one way or the the other.  Heard good things about Tales from Watership Down and should add it my TBR pile. (Died 2016)
Born May 9, 1920 — William Tenn. Clute says in ESF that 'From the first, Tenn was one of the genre's very few genuinely comic, genuinely incisive writers of short fiction, sharper and more mature than Fredric Brown and less self-indulgent in his Satirical take on the modern world than Robert Sheckley.'  That pretty sums him up I think.  All of his fiction is collected in two volumes from NESFA Press, Immodest Proposals: The Complete Science Fiction of William Tenn: Volume I and Here Comes Civilization: The Complete Science Fiction of William Tenn: Volume II. (Died 2010.)
Born May 9, 1925 — Kris Neville. His most well-remembered work, the "Bettyann" novella, is a classic of science fiction. It would become part of the Bettyann novel, a fix-up of it and "Overture", a short story of his. He wrote a lot of rather great short fiction, much of which can be in the posthumous The Science Fiction of Kris Neville, edited byBarry N Malzberg (who greatly admired him) and Martin H Greenberg, and more (some overlapping with the first collection) Earth Alert! and Other Science Fiction Tales. He's not alas wisely available in digital form. (Died 1980.)
Born May 9, 1926 — Richard Cowper. Writer of some seriously comic genre fiction that Martin Amis loathed. The White Bird of Kinship series is what he's best remembered for and I'd certainly recommend it as being worth reading.  It appears that all of here are available from the usual digital suspects. (Died 2002.)
Born May 9, 1936 — Albert Finney. His first genre performance is as Ebenezer Scrooge in Scrooge. That's followed by being Dewey Wilson in Wolfen, a deeply disturbing film. He plays Edward Bloom, Sr. In the wonderful Big Fish and voices Finis Everglot in Corpse Bride. He was Kincade in Skyfall. He was Maurice Allington in The Green Man based on Kingsley Amis' novel of the same name. Oh, and he played Prince Hamlet in Hamlet at the  Royal National Theatre way back in the Seventies! (Died 2019.)
(12) COMICS SECTION.
Immortal words from The Far Side.
Bookshelves dominate Grant Snider's new Incidental Comic.
(13) KEEPING COMIC SHOPS AFLOAT. Shelf Awareness reports money will start flowing from the rescue fund next week: "Binc Distributing $950K to Comic Book Stores".
Next Tuesday, May 12, the Book Industry Charitable Foundation (Binc) will distribute more than $950,000 raised by the Comicbook United Fund to comic store owners. The fund was created in response to the Covid-19 pandemic by Creators 4 Comics, Jim Lee, DC and Oni-Lion Forge Publishing Group. Binc is distributing amounts ranging from $800 to $2,400 to 637 comic book shops across the U.S. and U.S. territories.

The Comicbook United Fund grew out of the Forge Fund, which Oni-Lion Forge established last year with a donation to Binc of $100,000. This year, DC added another $250,000 to the fund. In addition, after the pandemic hit, a coalition of artists, authors, comics creators and other supporters held more than 600 auctions on Twitter, and DC's Jim Lee began auctioning 60 original sketches in 60 days on eBay, with 95% of sales going to Binc.

In addition to the more than $950,000 that Binc is distributing to comic stores next week, Binc has distributed another $174,786 to 156 comic retail employees and owners to help with rent, mortgage, utilities, food and other necessities during this pandemic
(14) TIME AND TIDE. Wil Wheaton's latest read is "By request, an HP Lovecraft short story." Hear him at Soundcloud.
…I love the Cthulhu mythos, but I'm not crazy about Lovecraft's storytelling. I feel like he spends a lot of time in the high concept and the world building, without ever really going more than skin deep on his protagonists and narrative characters. NB: I haven't read a ton of Lovecraft, probably six or so short stories, so maybe he has a novel or novella with rich characters and narratives, but I haven't found it.

None of this is to suggest that he wasn't brilliantly creative and imaginative, just that his stories aren't the most satisfying use of my time.

However, hundreds of you have reached out in comments and emails, asking me to narrate something from the Cthulhu Mythos, so today's RFB Presents is a short, weird, lurid story called Dagon.
(15) OUR DYING EARTH. Tammy reviews "GOLDILOCKS By Laura Lam" at Books, Bones, and Buffy.
…Goldilocks has a fantastic premise and uses one of my favorite sci-fi tropes: leaving our dying Earth and striking out to colonize a new planet, in the hopes of saving humankind. And for the first half of the story, it lived up to this promise. But I ended up with mixed feelings, and I felt the first half was way stronger than the second half. Still, I had a lot of fun reading this book, and I'm going to recommend it to readers who love strong female characters and enjoy reading about current social issues. There are some scary events in Goldilocks that really hit close to home (can you say "pandemic"?) which added a lot of tension to the story, but I also felt that Lam made a few missteps with the characters' choices in some cases.
(16) IN THE BEGINNING. "Supergirl: 10 Things You Never Noticed About The First Episode" at ScreenRant.
… Since so much has happened in the meantime, it's easy to forget what Supergirl was like in its beginnings when Kara Danvers was still learning how to use her powers and was hoping to figure out how to be a hero. No matter how many times you've seen the show's first episode, you might have never noticed the following 10 details.
Number 10 —
National City

Kara reveals shortly after the beginning of the first episode that she lives and works in National City. The name of the city is a nice easter egg for all fans of the publisher DC comics.

National City doesn't have its origin in the comics, but by choosing this name for Supergirl's home, the show's creators paid homage to DC comics. Before DC was, well, DC, the company's name was National Comics Publications, hence the 'National' in the name of Supergirl's city.
(17) MASTERPIECE THEATRE. Gideon Marcus is there when That Was The Week That Was goes off the air, and other real news is happening, but no time to waste! This is the magazine with Robert Sheckley's Mindswap! — "[MAY 8, 1965] SKIP TO THE END (JUNE 1965 GALAXY]" at Galactic Journey.
…And then, having given my report, I'd tie it pithily to the subject at hand, namely the June 1965 Galaxy science fiction digest. But the fact is, there's lots to cover and I'm anxious to get it all down while it's still fresh in my mind. So, you'll just have to pretend that I was clever and comprehensive in my introduction….
(18) THE FAR FUTURE – 1947. At First Fandom Experience they'll take you back even further in time where you can see "A Rarity: Tellus News".
This issue of Tellus News, a "newspaper of the future," was discovered among a collection of fanzines from the 1940s. It was mis-categorized because of the cover date: "Sol 23, 1947"

But this hand-drawn fanzine was created in 1932 by Howard Lowe as a vision of what news might look like 15 years hence. It's not a copy — it's an original set of drawings. Rendered in colored pencil, it was likely never reproduced, and as such is a one-of-a-kind artwork….
(19) STAR WARS FOR THE 1 PERCENTERS. Michael Verdon, in the Robb Report story "Why 'Star Wars' Characters Are Taking Over the World's Most Expensive Superyachts" says the British superyacht firm Thirtyc has been putting out Star Wars-related yachts for Star Wars Day on May 4, and Verdon shows how the onepercenters are having cosplay fun with their expensive yachts.
…Seeing a storm trooper and Darth Vader on a million-dollar tender isn't an everyday occurrence. Neither is catching a glimpse of Princess Leia or Chewbacca driving away on another tender.

At first, the firm received a lot of compliments about their whimsical but highly realistic work. "As it spoke to peoples' imaginations, they started asking us to use their boats," says Armstrong. Soon, Star Wars vehicles like AT-AT Walkers and Starfighters appeared on superyacht helipads and rear decks.
(20) VIDEO OF THE DAY. "Universe" on YouTube is a 1960 documentary, directed by Roman Kroitor and Colin Low for the National Film Board of Canada, which Stanley Kubrick said was one of his inspirations for 2001.
[Thanks to Andrew Porter, Chip Hitchcock, Mike Kennedy, Martin Morse Wooster, Cat Eldridge, JJ, Michael Toman, and John King Tarpinian for some of these stories. Title credit goes to File 770 contributing editor of the day Andrew.]