(1) MARVEL VS DC: CONTEST OF THE CHAMPIONS. [Item by SF Concatenation's Jonathan Cowie.] BBC Radio 4 has just broadcast a documentary (just under half-hour) on DC and Marvel Comics. Most of it fans will already know, but there are some things in there folk might not! For example, I never knew that at one time, DC copied Marvel's grittier art style despite internal management misgivings. You can access it here.
Marvel and DC, the two titans of America superhero comics, have been locked in cosmic battle for over six decades – raging across publishing, radio, TV, movies, gaming and animation.

It's one of the greatest rivalries in the history of pop culture, ferociously debated by generations of readers, fans and industry creatives alike.

While both companies are now worth billions, this wasn't always the case.

This feature goes back to their early comic book roots, where DC comics and young upstart Marvel both had offices in 1960s Manhattan – and yet differed widely in their approach to the genre, posing very distinct ideas of what our superheroes should be – and as a result, what it means to be human. Do we want to look up to the skies or do we really want to see a reflection of ourselves? Are our heroes other, outsiders like gods – or are they basically people like us, who gain strange powers but keep their flaws? Readers had a choice.

The creative rivalry between Marvel and DC comics has always been more than a question of sales or market share. It is a fascinating culture clash of ideals, morals and even politics. It has constituted one of the greatest post-war, pop-culture wars of our times.
(2) TAFF EBOOK. Rob Hansen's British SF Conventions Volume 1: 1937-1951 was released June 1 as a free downloadable ebook on the Trans-Atlantic Fan Fund website. If you enjoy it, a donation to TAFF is welcome.
The cover photo from the London Festivention (1951) shows the editors of six of the seven fanzines then being published in the UK. From left to right: Mike Tealby (Wonder), Derek Pickles (Phantasmagoria), Fred Robinson (Straight Up), Walt Willis (Slant), Bob Foster (Sludge), Vince Clarke and Ken Bulmer (Science Fantasy News).
From Rob Hansen's Foreword

Surprisingly, there were five conventions organized, announced, and held in the UK during World War Two despite travel under wartime conditions being a difficult and sometimes dangerous affair. For example, the train taking Cardiff fan Terry Overton to one of those conventions pulled out of the station during an air raid as bombs rained down on his (and my) home city. The NORCONs were only cons in the most basic of senses but 1944's Eastercon was the most ambitious convention the UK had ever seen, as you will discover.
Hansen's already published book 1957: The First UK Worldcon fits into this sequence as volume 3.
(3) DRIVE-IN TRIVIA. MeTV asks "Can you complete the titles of these vintage 'monster' movies?" It wasn't easy but I managed to miss two of these softballs.
What would the landscape of horror be like without the famous monsters? For decades, audiences have screamed, laughed and even sometimes jeered at the creatures lurching across the screen. Some nightmares are done so well that they haunt you for years. Others look so cheap and tacky that they become famous for how terrible they look.

We've collected a dungeon full of classic horror and sci-fi flicks with "monster" in the title. You may recognize some of these movies from Svengoolie! See if you can complete their full, frightful names.
(4) IT MIGHT BE FILK. John Hertz took inspiration from a recent G&S-themed Scroll title (Pixel Scroll 6/1/23 Three Little Muad'Dibs From Sand Are We) to supply the verse:
Three Muad'Dibs who, all unwary,
Come from Atreides' seminary,
Free from the Wallach IX tutelary,
Three Muad'Dubs from sand.

Everything is a source of fun.
Paul isn't safe, his solitude's done,
Dune is a joke that's just begun.
Three Muad'Dibs from sand.

Three Muad-'Dibs from sand are we,
Pert as a *pop-hop* well can be,
Filled to the brim with melange glee,
Three Muad'Dibs from sand.
(5) CUE THE CHORUS. Meanwhile another poet soon will be represented in space: "Poem bound for Jupiter's moon Europa ties Earth to the watery world" reports Axios.
U.S. poet laureate Ada Limón on Thursday revealed her poem that will fly to Jupiter's moon Europa aboard NASA's Europa Clipper mission.

The big picture: The mission follows in the tradition of others — like NASA's Voyagers — that have sent pieces of art representing humanity into the cosmos.

What's happening: The poem uses water as a thread that binds Earth — and all of its humans — to Europa, a moon with an ocean beneath its icy shell.
"We are creatures of constant awe, curious at beauty, at leaf and blossom, at grief and pleasure, sun and shadow," Limón writes. "And it is not darkness that unites us, not the cold distance of space, but the offering of water, each drop of rain."
The poem is going to be engraved in Limón's handwriting and affixed to the spacecraft, expected to launch in October 2024.
(6) MEMORY LANE.
1987 – [Written by Cat Eldridge from a choice by Mike Glyer.]
Lawrence Watt-Evans' "Why I Left Harry's All-Night Hamburgers" story is where our Beginning comes from this Scroll. Though Mike of course selected it, I too have read it with great delight.
So the story won a Hugo at Nolacon II, and had a Nebula nomination as well.
It was published in Isaac Asimov's Science Fiction Magazine in their July 1987 issue.
I'm going to praise him for having up-to-date social media and for dropping out of Twitter. Check out the links to those sites from his ISFDB page
So here's the first chapter of that story….
Hamburgers Harry's was a nice place–probably still is. I haven't been back lately. It's a couple of miles off I-79, a few exits north of Charleston, near a place called Sutton. Used to do a pretty fair business until they finished building the Interstate out from Charleston and made it worthwhile for some fast-food joints to move in right next to the cloverleaf; nobody wanted to drive the extra miles to Harry's after that. Folks used to wonder how old Harry stayed in business, as a matter of fact, but he did all right even without the Interstate trade. I found that out when I worked there.
Why did I work there, instead of at one of the fast-food joints? Because my folks lived in a little house just around the corner from Harry's, out in the middle of nowhere – not in Sutton itself, just out there on the road. Wasn't anything around except our house and Harry's place. He lived out back of his restaurant. That was about the only thing I could walk to in under an hour, and I didn't have a car.
This was when I was sixteen. I needed a job, because my dad was out of work again and if I was gonna do anything I needed my own money. Mom didn't mind my using her car – so long as it came back with a full tank of gas and I didn't keep it too long. That was the rule. So I needed some work, and Harry's All-Night Hamburgers was the only thing within walking distance. Harry said he had all the help he needed–two cooks and two people working the counter, besides himself. The others worked days, two to a shift, and Harry did the late night stretch all by himself. I hung out there a little, since I didn't have anywhere else, and it looked like pretty easy work – there was hardly any business, and those guys mostly sat around telling dirty jokes. So I figured it was perfect.
Harry, though, said that he didn't need any help.
I figured that was probably true, but I wasn't going to let logic keep me out of driving my mother's car. I did some serious begging, and after I'd made his life miserable for a week or two Harry said he'd take a chance and give me a shot, working the graveyard shift, midnight to eight A.M., as his counterman, busboy, and janitor all in one.
I talked him down to 7:30, so I could still get to school, and we had us a deal. I didn't care about school so much myself, but my parents wanted me to go, and it was a good place to see my friends, y'know? Meet girls and so on.
So I started working at Harry's, nights. I showed up at midnight the first night, and Harry gave me an apron and a little hat, like something from a diner in an old movie, same as he wore himself. I was supposed to wait tables and clean up, not cook, so I don't know why he wanted me to wear them, but he gave them to me, and I needed the bucks, so I put them on and pretended I didn't notice that the apron was all stiff with grease and smelled like something nasty had died on it a few weeks back. And Harry–he's a funny old guy, always looked fiftyish, as far back as I can remember. Never young, but never getting really old, either, y'know? Some people do that, they just seem to go on forever. Anyway, he showed me where everything was in the kitchen and back room, told me to keep busy cleaning up whatever looked like it wanted cleaning, and told me, over and over again, like he was really worried that I was going to cause trouble, "Don't bother the customers. Just take their orders, bring them their food, and don't bother them. You got that?"
(7) TODAY'S BIRTHDAYS.
[Compiled by Cat Eldridge.]
Born June 3, 1901 — Maurice Evans. Ahhh the amazing work of make-up. Under the make-up that was Dr. Zaius in Planet of the Apes and Beneath the Planet of the Apes was this actor. Though this was his most well-known genre role, it wasn't his only ones — he was in a Thirties Scrooge as poor man, on Bewitched as Maurice, Samantha's father, on Batman as The Puzzler in "The Puzzles are Coming" and "The Duo Is Slumming", in Rosemary's Baby as Hutch, and finally in Terror in the Wax Museum as Inspector Daniels. Oh, and he showed up on Columbo as Raymond in "The Forgotten Lady". No, not genre — but I love that series! (Died 1989.)
Born June 3, 1905 — Malcolm Reiss. It's uncertain if he ever published any genre fiction but he's an important figure in the history of our community as he edited in the Thirties through the Fifties, Jungle Stories, Planet Stories, Tops in Science Fiction and Two Complete Science-Adventure Books. Fletcher Pratt, Ross Rocklynne, Leigh Brackett and Fredric Brown are but a few of the writers published in those magazines. (Died 1975.)
Born June 3, 1905 — Norman A. Daniels. Writer working initially in pulp magazines, later on radio and television. He created the Black Bat pulp hero and wrote for such series as The Avengers, The Phantom Detective and The Shadow. He has three non-series novels, The Lady Is a Witch, Spy Slave and Voodoo Lady. To my surprise, iBooks and Kindle has a Black Bat Omnibus available! In addition, iBooks has the radio show. (Died 1995.)
Born June 3, 1947 — John Dykstra, 76. He was one of the founders of Industrial Light & Magic. That means he's responsible for the original visuals for lightsabers, the space battles between X-wings and TIE fighters, and much of the other Star Wars effects. Can't list everything he later worked on, so I'll single out his work on Battlestar Galactica, the sfx for Batman Forever and Batman and Robin, the visual effects on X-Men: First Class, and visual effects supervisor on Doolittle.
Born June 3, 1950 — Melissa Mathison. Screenwriter who worked with Spielberg on E.T. the Extra-Terrestrial, Twilight Zone: The Movie and the charming BFG, the latter being the last script she did before dying of cancer. She also did absolutely splendid The Indian in the Cupboard which was directed by Frank Oz. (Died 2015.)
Born June 3, 1958 — Suzie Plakson, 65. She played four characters on the Trek franchise: a Vulcan, Doctor Selar, in "The Schizoid Man"(Next Gen); the half-Klingon/half-human Ambassador K'Ehleyr in "The Emissary" and "Reunion" (Next Gen); the Lady Q in "The Q and the Grey" (Voyager); and an Andorian, Tarah, in "Cease Fire" (Enterprise). She also voiced Amazonia in the "Amazon Women in the Mood" episode of Futurama. Really. Truly. By the way, her first genre role was in the My Stepmother Is an Alien film as Tenley. She also showed up in the Beauty and the Beast series as Susan in the "In the Forests of the Night" episode.
Born June 3, 1949 — Michael McQuay. He wrote two novels in Asimov's Robot City series, Suspicion and Isaac Asimov's Robot City (with Michael P. Kube-McDowell) and Richter 10 with Arthur C. Clarke. The Mathew Swain sequence neatly blends SF and noir detective tropes – very good popcorn reading. His novelization of Escape from New York is superb. (Died 1995.)
Born June 3, 1964 — James Purefoy, 59. His most recent genre performance was as Laurens Bancroft in Altered Carbon. His most impressive was as Solomon Kane in the film of that name. He was also in A Knight's Tale as Edward, the Black Prince of Wales/Sir Thomas Colville. He dropped out of being V in V for Vendetta some six weeks into shooting but some early scenes of the masked V are of him. And let's not forget that he's Hap Collins in the Sundance series Hap and Leonard which was steaming on Amazon Prime before the idiots there pulled it.
(8) COMICS SECTION.
Macanudo is there when puberty comes to 2001.
(9) JEOPARDY! [Item by David Goldfarb.] Friday's episode of Jeopardy! had a category in the first round called "Their Middle Initial", where each clue gave us a person's given name and surname and asked for…oh, you guessed.
The $1000 level was:
Of sci-fi and fantasy author Ursula Le Guin
One of the contestants did in fact know it.
(10) SPACE CHOW. [Item by Mike Kennedy.] Nope, it's not Rice-A-Roni. But, this San Francisco firm is competing in the Deep Space Food Challenge, sponsored by NASA and the Canadian Space Agency. The goal is to find ways to meet the food needs of astronauts on long-term space missions, such as one to Mars. Making the food interesting (as well as nutritious) is important from a psychological standpoint. "Does this look appetizing? If you go to Mars, it may be your meal" at CNN Business.
As part of a NASA competition called the Deep Space Food Challenge, a San Francisco based design firm shows CNN its ideas for tasty treats astronauts can grow themselves and even grill while on a long flight to Mars.
(11) JUSTWATCH. Here is the sff that JustWatch found people had on their screens in May.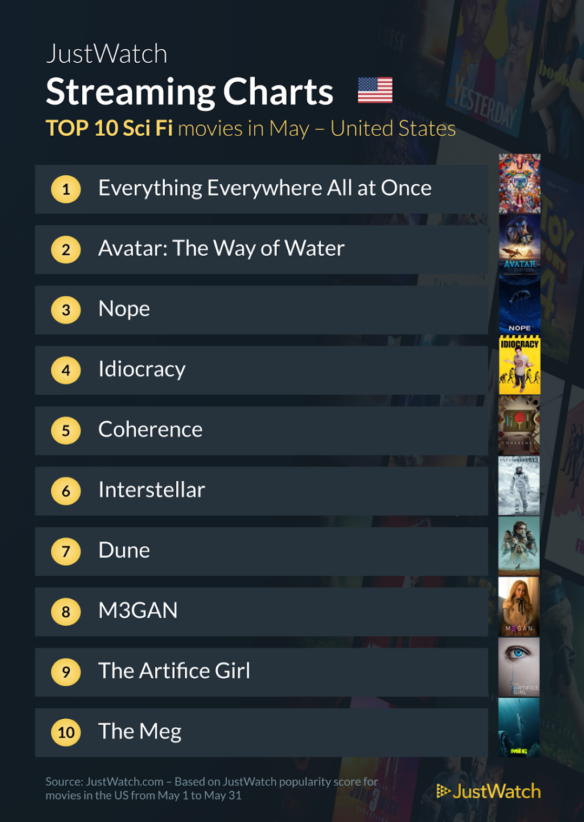 (12) DINO SKINNER ARRESTED. "Vandal Causes $250,000 in Damage to 'Jurassic Park' Exhibition, Police Say" – the New York Times has the story.
A newly opened dinosaur exhibition in Atlanta based on the blockbuster series of "Jurassic Park" movies has been temporarily shut down after an intruder broke in and caused $250,000 in damage, the police said. One man is in custody.

On Monday, officers from the Atlanta Police Department responded to a burglary call at Jurassic World: The Exhibition, where a manager said he discovered several exhibits had been damaged, according to a police report.

The exhibition, which has made stops in North America, officially opened Friday at Pullman Yards, a large entertainment venue east of downtown Atlanta. The show promises to immerse audiences in scenes inspired by the films and features life-size dinosaur models.

Officials for the exhibition said security footage showed four suspects before they entered the property on Sunday night. One suspect was later seen "sitting on top of one of the dinosaurs ripping off the skin covering," the report said….

… Michael Mattox, the executive vice president of Animax Designs, the company in Nashville that constructed the dinosaurs, told Fox5Atlanta last week that it took 18 months to design and build them.

About 140 artists, engineers and other creative people were involved in the production of the dinosaurs, he said.
(13) STEEL MAGNOLIAS. "Japan will put a wooden satellite into orbit next year" reports TechSpot.
Researchers from Kyoto University in Japan have determined that wood from magnolia trees could be the ideal construction material for a satellite due to launch into space next year.

Test results from a recent experiment aboard the International Space Station among three wood specimens revealed magnolia to be the most versatile. The samples, which were exposed to the harsh conditions of space for 10 months, returned to Earth this past January.

Analysis showed magnolia experienced no decomposition or damage like cracking, peeling, or warping. Furthermore, there was no change in the mass of the wood samples before and after their exposure in space….
(14) STARLINER STANDS DOWN. "Boeing finds two serious problems with Starliner just weeks before launch" reports Ars Technica. People are surprised this kind of problem was discovered so late in the process.
A Boeing official said Thursday that the company was "standing down" from an attempt to launch the Starliner spacecraft on July 21 to focus on recently discovered issues with the vehicle.

Mark Nappi, vice president and program manager for Starliner, said two spacecraft problems were discovered before Memorial Day weekend and that the company spent the holiday investigating them. After internal discussions that included Boeing chief executive Dave Calhoun, the company decided to delay the test flight that would carry NASA astronauts Suni Williams and Butch Wilmore to the International Space Station.

"Safety is always our top priority, and that drives this decision," Nappi said during a teleconference with reporters.

Two issues

The issues seem rather serious to have been discovered weeks before Starliner was due to launch on an Atlas V rocket. The first involves "soft links" in the lines that run from Starliner to its parachutes. Boeing discovered that these were not as strong as previously believed.

During a normal flight, these substandard links would not be an issue. But Starliner's parachute system is designed to land a crew safely in case one of the three parachutes fails. However, due to the lower failure load limit with these soft links, if one parachute fails, it's possible the lines between the spacecraft and its remaining two parachutes would snap due to the extra strain.
(15) UFO STUDY. The May 31 public meeting by the NASA team tasked with studying UAPs (UFOs) is archived on YouTube. "NASA's UFO study team holds a public meeting". Over 3.5 hours of talks, charts, stats, etc.
Other coverage includes "NASA reveals findings on unidentified objects" at CNN Business and "UFOs: Five revelations from Nasa's public meeting" at BBC News.
[Thanks to Michael Toman, Cat Eldridge, SF Concatenation's Jonathan Cowie, David Langford, John Hertz, Mike Kennedy, Andrew Porter, John King Tarpinian, and Chris Barkley for some of these stories. Title credit belongs to File 770 contributing editor of the day Jayn.]