(1) WHERE TO FIND WHO. HBO Max did this video meetup to promote that they are now the exclusive outlet for Doctor Who Seasons 1-11. (Future season/specials will premiere on BBC AMERICA.)
Moderated by Terri Schwartz of IGN, HBO Max, in partnership with BBC America, presents the first-ever, historic meeting of The Doctors: Jodie Whittaker, Matt Smith, and David Tennant.
(2) LIKE YOU NEED TEENY TINY BRANDING IRONS. [Item by Rob Thornton.] Remember the Cordwainer Smith story with the laminated mouse brain? here is a picture of a mouse brain slice that won a prize: "Extreme closeup of mouse-brain slice wins top Life Science Microscopy prize" at Ars Technica.
Spain's Ainara Pintor snagged the top honor from over 400 submissions with her gorgeous image of an immunostained mouse-brain slice, titled Neurogarden. The image focuses on the hippocampus area of a single slice, but there are more than 70 million neurons in the mouse brain as a whole, according to Pintor.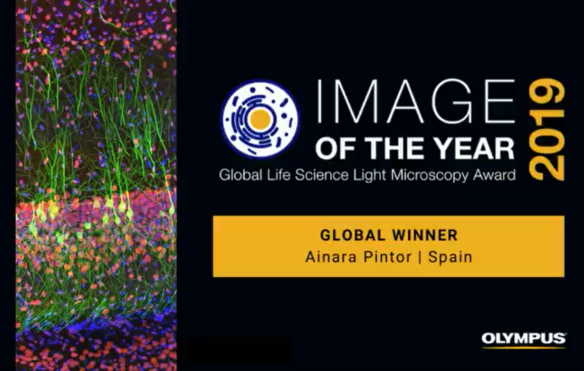 (3) THE MAINSTREAM GOES FILK. [Item by Rob Thornton.] A new musical genre named "bardcore" has emerged, in which musicians create medievalized versions of pop tunes reports The Guardian: "Never mind the ballads! How bardcore took over pop music".
Is [it] a big thing? Where on earth have you been for the past two months? Bardcore is booming online, swarming all over YouTube and Reddit, and appealing to what i-D Magazine calls Generation Z's 'existential humour'.
Here is a bardcore version of Radiohead's "Creep" as done by the musician Hildegard von Blingin'.
(4) OLD GUARD REVIEW. NPR's Linda Holmes reports that "'The Old Guard' Is A Smart Blend Of Action And Emotion".
…Here's a quandary: How do you make a compelling movie — one with a good measure of fairly graphic violence, by the way — about a group of heroes who can't be killed? Don't they always have the upper hand? Won't they always win? There are clever ways that the story itself gets around this problem, but it's also absolutely critical that it's in the hands of a director who understands, and can convey on film, that link between physical vulnerability and humanity. Because one of the things this story is about is that even if you do not die, the pain of cycling through injury after injury, recovery after recovery, reconstitution after reconstitution of your being, is a hard way to exist.

It's a story that's partly about the attrition of your spirit that can come from being, very literally, a "survivor." And particularly because new recruit Nile (KiKi Layne, whom you know from If Beale Street Could Talk) is a black woman and two of her teammates are men who fell in love after being on opposite sides of The Crusades (which is a witty idea, let's be honest), there is additional subtext here about the churn of violence and the costs of enduring it. Moreover, in a world seized with emergencies that activists are scrambling to address, it is frustrating enough when you feel like years have passed and all the attempts you have made to improve the world have come to nothing. What would it be like to feel that for centuries? For longer? Would you really want the long view? How much perspective could you stand to have about humanity?

More immediately, the plot is this: Andy (Theron) has been doing this the longest. She wants out of the hero business, really, but she can't escape. She's pulled into a job with teammates Booker (Matthias Schoenaerts), Joe (Marwan Kenzari) and Nicky (Luca Marinelli). The job, conveyed to them by a man named Copley (Chiwetel Ejiofor) is to rescue a group of kidnapped girls in South Sudan. How can they say no? When it turns out there's more to the job than meets the eye, she's confronted by the fact that there are people out there who know about her and her team and wish them no good.

Meanwhile, in Afghanistan, Nile is a young soldier consumed with the wars of the present, and shortly after she discovers that something is very unusual about her response to injury, she winds up in the company of the Old Guard. (They don't go around calling themselves that, by the way; it would be very corny. And they don't do it.)

This is the first film I've seen in quarantine that felt to me like a proper big summer movie — and yet it transcends so much of what's sometimes been disappointing about that category. Yes, it's a comic book movie. Yes, it's an action movie. Yes, it's about a team of good-doers. And it's exciting and satisfying and tense and all those things. But everything from its queer couple to its leading women to its director to its thoughtfulness to its point of view about violence makes it such a welcome addition….
(5) A SHORTER REVIEW OF SOMETHING EVEN OLDER. Brooke Bolander has a concise take. Thread starts here.
(6) THE CUPBOARD IS SEMI-BARE. Variety says transforming San Diego Comic-Con into an online experience has an extra challenge – how to bake a cake without all the usual ingredients: "Comic-Con 'At Home' Aims to Rescue Fandom's Biggest Week — Even If Marvel Studios and Lucasfilm Are No-Shows".
Indeed, almost no feature films announced panels for Comic-Con@Home. Paramount, Sony, and Universal are sitting out the convention entirely, while WarnerMedia's DC Entertainment elected to launch their own virtual fan convention — DC FanDome on Aug. 22 — to promote its suite of film, TV and comic book properties.

The biggest blow for Comic-Con@Home, however, is arguably the lack of participation from marquee Comic-Con participants Marvel Studios and Lucasfilm, which aren't bringing any of their features or live-action scripted TV series to Comic-Con@Home. Fans had been especially anticipating first looks at Marvel Studios' upcoming slate, including theatrical releases "Eternals" and "Shang-Chi and the Legend of the Ten Rings" and Disney Plus series "Falcon and the Winter Solider" and "WandaVision."
(7) SFWA DEI. The members of SFWA's newly-formed Diversity, Equity, and Inclusion (DEI) Committee are:
Alaya Dawn Johnson – traditional novelist
Alex Acks – traditional novelist
Crystal Watanabe – freelance editor
James Beamon – SFWA director-at-large, short fiction writer
Jane Pinckard – writer, game designer, researcher, teacher
Kyle Aisteach – short fiction writer
Michi Trota – SFWA Editor-in-Chief, critical and creative nonfiction writer
Tao Roung Wong – indie novelist
Whitney "Strix" Beltrán – game writer
The committee is developing procedures, and setting its action and scope, and will update the membership soon.
(8) IMAHARA OBIT. Grant Imahara, host of MythBusters' and White Rabbit Project, has died at the age of 49. The Hollywood Reporter story is here.
…While as part of the MythBusters team he sky-dived and drove stunt cars, on film sets he came into contact with some of the most iconic characters in screen history, installing lights onto Star Wars' R2-D2, creating the robot Geoff Peterson for The Late Late Show With Craig Ferguson and working on the Energizer Bunny.

…In his nine years at Lucasfilm, he worked for the company's THX and Industrial Light and Magic (ILM) divisions. In his years at ILM, he became chief model maker specializing in animatronics and worked on George Lucas' Star Wars prequels, as well as The Matrix Reloaded, The Matrix Revolutions, Galaxy Quest, XXX: State of the Union, Van Helsing, The Lost World: Jurassic Park, A.I. Artificial Intelligence and Terminator 3: Rise of the Machines.

In 2000, Imahara also competed in Comedy Central's BattleBots with a robot he built himself called "Deadblow" that won two Middleweight Rumbles, was the first season's Middleweight runner-up and became the third season's first-ranked robot.
He was also an actor on The Guild and Star Trek Continues (as Sulu in the latter.)
John Scalzi, who knew him from a JoCo Cruise, wrote a short farewell.
(9) MEDIA BIRTHDAY.
July 14, 1989 — Muppets From Space premiered. It is the first film since the death of Jim Henson to have an original Muppet-focused plot, and is a breakaway from other Muppet films as it is the only non-musical Muppets film to date. Directed by Tim Hill, it was produced by Brian Henson and Martin G. Baker off a script written by Jerry Juhl, Joey Mazzarino and Ken Kaufman. It starred Dave Goelz, Steve Whitmire, Bill Barretta, Frank Oz (in his last Muppet role), Jeffrey Tambor, F. Murray Abraham, David Arquette, Josh Charles, Hollywood Hogan, Ray Liotta and Andie MacDowell. Some critics really loved it, some really despised it and mourned the passing of Henson. It bombed at the box office. At Rotten Tomatoes, audience reviewers give it a not bad 58% rating.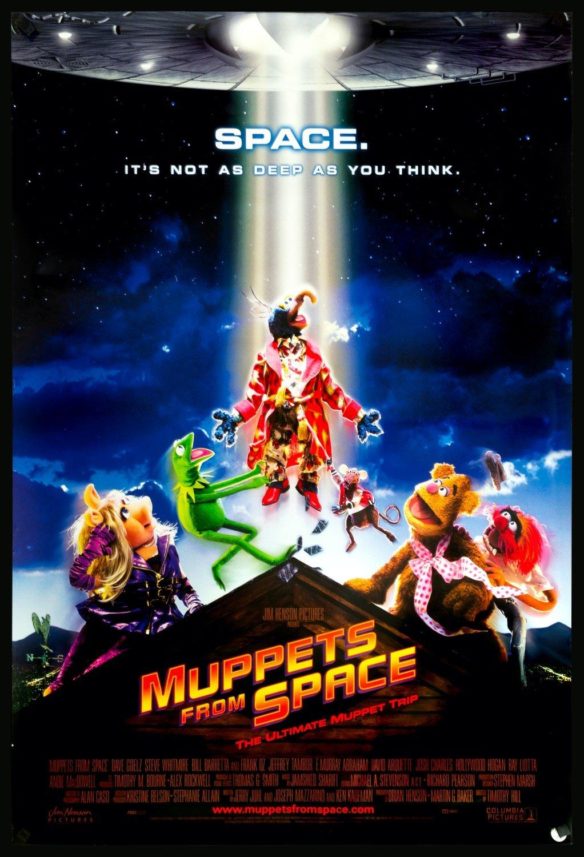 (10) TODAY'S BIRTHDAYS.
[Compiled by Cat Eldridge and John Hertz.]
Born July 14, 1918 – Ingmar Bergman. Director, writer, producer of film, television, theater, radio; questioning, perhaps re-creating, the human condition. Five dozen films, fifteen dozen plays, half a dozen ours; one is Mozart's Magic Flute; perhaps not The Magician, whose characters prove to be engaged in theatrical, not supernatural, magic. Three Academy Awards, Golden Bear at Berlin, Palme des Palmes at Cannes, many more. (Died 2007) [JH]
Born July 14, 1926 – Jef De Wulf. For us two dozen covers for works in French, like this and this; also this; five hundred all told. Had his own photography studio, in the end worked with the photo department of a regional newspaper. (Died 1994) [JH]
Born July 14, 1926 — Harry Dean Stanton. My favorite genre role for him? The video for Procul Harum's "A Whiter Shade of Pale". No, I'm not kidding. He also played Paul of Tarsus in The Last Temptation of Christ, Harold "Brain" Hellman in Escape from New York, Detective Rudolph "Rudy" Junkins in Christine, Bud in Repo Man, Carl Rod in Twin Peaks twice, Toot-Toot in The Green Mile, Harvey in Alien Autopsy and a Security Guard in The Avengers. He didn't do a lot of genre tv, one episode of The Wild Wild West as Lucius Brand in "The Night of The Hangman" and a character named Lemon on Alfred Hitchcock Presents in the "Escape to Sonoita" episode. (Died 2017.) (CE)
Born July 14, 1939 – George Slusser, Ph.D. Eight books of SF criticism; anthologies of papers at U. Cal. Riverside's Eaton Conference; Professor of Comparative Literature, first Curator of the Eaton Collection, Director of the Eaton Program for SF Studies. "Clarke, along with Asimov and Heinlein … human dramas determined by advances in science and technology… to blend two otherwise opposite activities." Pilgrim Award. (Died 2014) [JH]
Born July 14, 1943 — Christopher Priest, 77. This is the Birthday of the One and True Christopher Priest. If I was putting together an introductory reading list to him, I'd start with The Prestige, add in the Islanders and its companion volume, The Dream Archipelago. Maybe Inverted World as well. How's that sound? (CE)
Born July 14, 1949 — Nick Bantock, 71. This is a bit of a puzzler for me. He's the creator of The Griffin and Sabine Trilogy and The Morning Star Trilogy, a series of faux letters and postcards telling a story between two individuals. ISFDB lists it as genre but I've never heard it described as such before, and it certainly isn't shelved as such in bookstores that I've frequented. Who's read it here? (CE)
Born July 14, 1960 – Michèle de Laframboise, 60. A dozen novels for us, as many shorter stories in Abyss & Apex, Galaxies, Tesseract ("Women Are From Mars, Men Are From Venus"); others too. For one of her books she did this cover with Jean-Pierre Normand. Translated into German, Italian, Russian. Three Auroras, Prix Cécile-Gagnon, Prix Solaris. Website (in English and French, of course) here. [JH]
Born July 14, 1960 – Larry Segriff, 60. Two novels of Tom Jenkins, a young adult who finds adventure in the stars. Ten shorter stories. Three Tom Clancy Net Force tie-ins. Ten anthologies with Martin H. Greenberg. Productive and competent. [JH]
Born July 14, 1964 — Jane Espenson, 56. She had a five-year stint as a writer and producer on Buffy the Vampire Slayer where she shared a Hugo Award at Torcon 3 for her writing on the "Conversations with Dead People" episode, and she shared another Hugo at Chicon 7 for Games of Thrones, season one. She was on the the writing staff for the fourth season of Torchwood and executive produced Caprica. And yes, she had a stint on the rebooted Galactica. (CE)
Born July 14, 1966 — Brian Selznick, 54. Illustrator and writer best known as the writer of The Invention of Hugo Cabret which may or may not be genre. You decide. His later work, Wonderstruck, definitely is. The Marvels, a story of a travelling circus family is magical in its own right though not genre. (CE)
Born July 14, 1979 – Yukiko Montoya, 41. Novelist, playwright and theatrical director, radio and television host. Akutagawa, Noma, Mishima, Ôe Prizes; Nanboku and Kishida Drama Awards. Recent collection in English, The Lonesome Bodybuilder. The New York Times says she wins over her audience by pushing the absurd to extremes. For example, in "The Straw Husband" the narrator's husband is – [JH]
Born July 14, 1989 — Sara Canning, 31. Major roles in A Series of Unfortunate Events, Primeval: New World and The Vampire Dairies, she also appeared in Once Upon a Time, War for the Planet Of The Apes, Android Employed, Supernatural and Smallville to name some of her other genre work. (CE)
(11) COMICS SECTION.
TwistedDoodles translates parenting into genre:
(12) MR. RICO GOES TO WASHINGTON. David Gerrold told Facebook readers "Starship Troopers is the single most misunderstood book in the entire SF genre." An excerpt:
….Now, to be fair — Heinlein stacked the deck. Not the first time, not the last time. In this book, the enemy exist as a relentless, unending horde of mindless giant insects. Bugs. There is nothing there to empathize with. They are killing machines — chitinous terminators. The only response is kill or be killed. And in that context, Heinlein's assertin is justifiable.

Now, consider if the enemy was not some kind of alien bug — but instead, another branch of humanity. Or even just another nation with a shared border. And consider that the battle is not so much a fight to the death, but an argument over whether eggs should be broken at the big end or the little end. At that point, the whole discussion of military service breaks down with one simple question, "Are you fucking kidding me? You want me to die on that fucking hill?"

Second question? How well did Heinlein do it? Well, we're still talking about the book 60 years later, so I would say that he did a damn good job. Except that we're not just talking about the book, we're arguing ferociously about it. So maybe his point wasn't as clear as he intended it to be. The accusations of fascism have pretty much obscured the more interesting point, which is worth discussion even if we're not at war:

What is the obligation of a citizen toward the nation in which he lives? If the citizen benefits from their participation, what is their obligation — but also if the citizen does not benefit, what are their options?…
(13) STAR WARS IN THE NEWS. From the New York Times article, "Headed to the Convention? No I, More Republicans are Saying":
…Everyone in the media wants to act like it's some big deal that Susan Collins and Lamar Alexander aren't going to the convention," said Representative Matt Gaetz of Florida. "The reality is the number of delegates craving the octogenarians and septuagenarians of the Senate are surely lower than the number who have purchased their third Star Wars costume….
(14) A HIPPER FLIPPER. "Robot dolphins: the cruelty-free £20m 'animal' you can't tell from the real thing" – The Guardian will tell you call about it.
…They can respond to questions, swim happily in shopping mall display tanks, and withstand close contact that would usually be harmful to real animals – without any ethical problems. And they could soon be coming to aquariums in China.

Entrepreneurs in New Zealand are working with American creators of some of Hollywood's most famous creatures to develop animatronic dolphins that look almost identical to their living counterparts.

A robotic dolphin that can nod an answer to a child – thanks to the human controlling it by remote – might sound unappealing or disconcerting. But as marine parks around the world face increasing pressure to abandon exhibitions featuring real whales and dolphins, the creatures provide an appealing alternative, their creators say.
(15) THE PICTURE OF HEALTH. "The new tattoo: Drawing electronics on skin:" Tagline: "MU engineers discover the possibility of using pencils to draw bioelectronics on human skin."
… Since its invention, pencils — made of lead including various levels of graphite, clay and wax — have often been used for writing and drawing. In the study, the researchers discovered that pencils containing more than 90% graphite are able to conduct a high amount of energy created from the friction between paper and pencil caused by drawing or writing. Specifically, the researchers found pencils with 93% graphite were the best for creating a variety of on-skin bioelectronic devices drawn on commercial office copy paper. Yan said a biocompatible spray-on adhesive could also be applied to the paper to help it stick better to a person's skin.
(16) THE PERFECT IS THE ENEMY. HBO Max dropped a trailer for the animated series Close Enough, which premiered on the channel last week.
(17) THE LIGHTS IN THE STY ARE NOT STARS. Elly Griffiths speculates about "Why Marshes Capture Our Imaginations—And Inspire Some Of Our Most Unsettling Folklore" at CrimeReads.
…I first came across this legend when I was researching a book, which was subsequently called The Lantern Men. I soon found out that there are many myths and legends about mysterious lights appearing on marshland at night. One version links them to a wicked blacksmith called Jack who tricks the devil and so escapes hell but can never be allowed into heaven. Jack is condemned to walk the earth forever, carrying a single coal from hell inside a pumpkin. The tradition of putting lighted candles into pumpkins at Halloween, also known as jack o' lanterns, probably comes from this fable.

Jack is not the only creature abroad at night. Sometimes the blacksmith is called Will and, in English folklore, marsh lights are often called will o' the wisps, wisp meaning a bundle of twigs tied together to make a torch. There are some regional variations, hobby lanterns in the north and pixie lights in Devon and Cornwall, where hapless travelers are said to be 'pixie led'.
(18) HOPE AND GLORY. BBC says "'Hope' and ambition drive UAE's Mars mission".
The United Arab Emirates will despatch a satellite to Mars to study its weather and climate this week.

Hope, as the 1.3-tonne probe is called, is launching on an H-2A rocket from Japan's remote Tanegashima spaceport.

The 500-million-km journey should see the robotic craft arrive in February 2021 – in time for the 50th anniversary of the UAE's formation.

Lift-off is scheduled for 05:43 local time on Friday (20:43 GMT; 21:43 BST on Thursday).

An earlier attempt on Wednesday was called off ahead of time because of expected poor weather conditions over Tanegashima.

…Why is the UAE going to Mars?

The UAE has limited experience of designing and manufacturing spacecraft – and yet here it is attempting something only the US, Russia, Europe and India have succeeded in doing. But it speaks to the Emiratis' ambition that they should dare to take on this challenge.

Their engineers, mentored by American experts, have produced a sophisticated probe in just six years – and when this satellite gets to Mars, it's expected to deliver novel science, revealing fresh insights on the workings of the planet's atmosphere.

In particular, scientists think it can add to our understanding of how Mars lost much of its air and with it a great deal of its water.

The Hope probe is regarded very much as a vehicle for inspiration – something that will attract more young people in the Emirates and across the Arab region to take up the sciences in school and in higher education.
(19) UNWRAPPED BOXING DAY. "Rare Super Mario becomes highest-selling video game".
A rare version of the classic 1985 Super Mario Bros has sold at auction for $114,000 (£90,000), the most ever paid for a video game.

The cartridge, still in its original packaging, sold to an anonymous bidder.

And the US auctioneer said demand "was extremely high", partly because this particular packaging had been used for a short while only.

The previous record for an auctioned game was $100,000 – for a different copy of Super Mario.
(20) NOT ZERO YET. In Godzilla: King of the Monsters Pitch Meeting on ScreenRant, Ryan George explains that the film has lots of characters who utter "science words" and Snarky Countdown Guy, who is snarky when he isn't counting things down.
[Thanks to Rob Thornton, John Hertz, Chip Hitchcock, Cat Eldridge, JJ, John King Tarpinian, Michael Toman, Martin Morse Wooster, Daniel Dern, Contrarius, Mike Kennedy, and Andrew Porter for some of these stories. Title credit goes to File 770 contributing editor of the day Daniel Dern.]