(1) DUBLIN 2019 MEMBERSHIP DEADLINE. They say no at-the-door memberships or day passes will be sold, so join now.
(2) COMPLAINT ABOUT DUBLIN 2019 POLICY REVEAL. KerenL tweeted:
(3) CATS MUSICAL. Ready or not, coming to theaters this Christimas: "'Cats' musical drops first trailer with Taylor Swift and people are seriously divided".
Taylor Swift, whose cat Bombalurina is shown reclining and enjoying Catnip in the footage, announced the trailer had dropped Thursday — a day before it was scheduled to be released.

"I'm a cat now and somehow that was everything #Catsmovie" Swift tweeted.

Directed by Tom Hooper, the first trailer introduces a major cast which includes Jennifer Hudson as Grizabella, Judi Dench as Old Deuteronomy, Idris Elba as Macavity and James Corden as Bustopher Jones.
(4) TIS THE SEASON. Speaking of hairballs, here's just what everyone's looking to add to their holiday tree! From Hallmark: "Star Trek™ Tribble Fabric Ornament With Sound and Motion".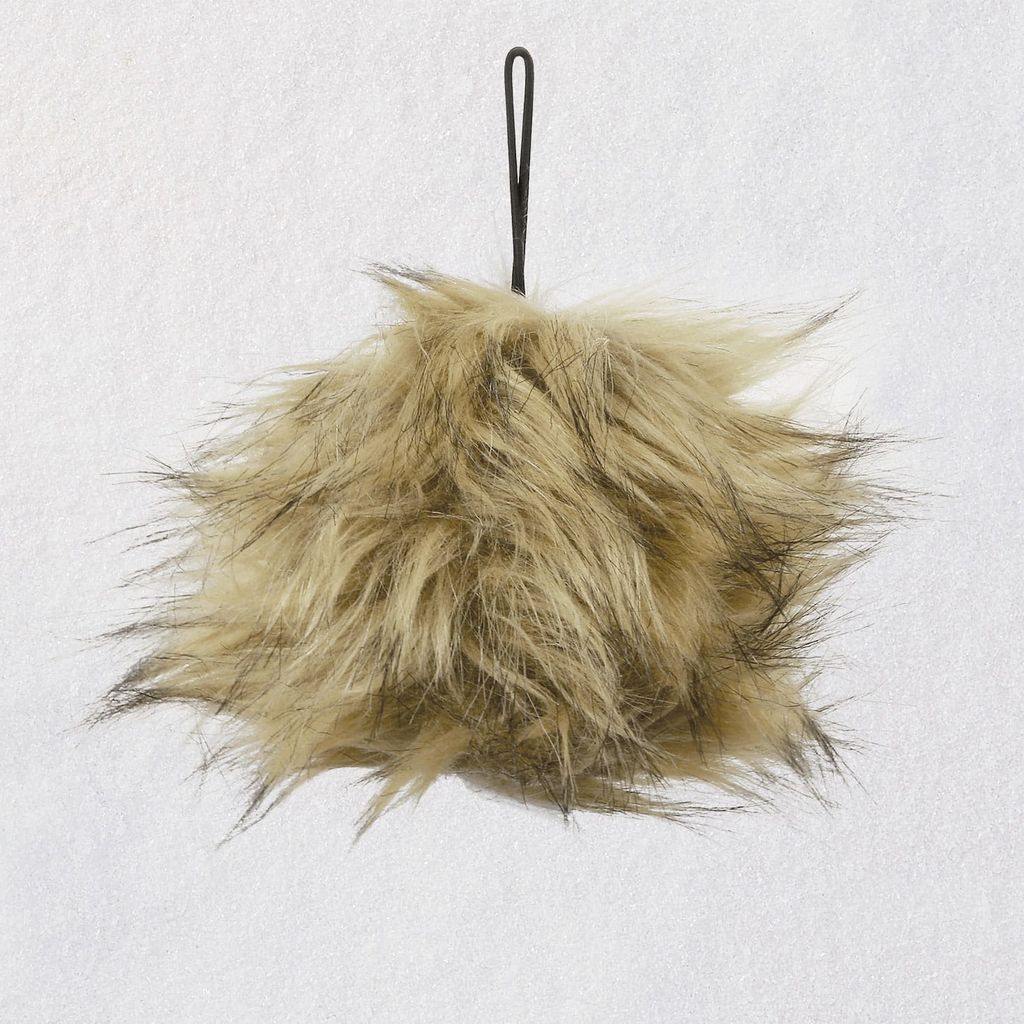 (5) INTO THE HALL. In a ceremony held at Balboa Park just ahead of the convention: "Batman Inducted Into Comic-Con Hall of Fame" – The Hollywood Reporter has the story.
The ceremony inducting Batman into the Comic-Con Museum Hall of Fame — the first fictional character to be awarded the honor — was the crowning moment of "The Gathering," a special celebration that doubled as a preview of The Batman Experience, a pop-up exhibit in the Balboa Park location that will eventually become the physical home of the Comic-Con Museum running during this year's San Diego Comic-Con, and a fundraiser for the Museum.

Both "The Gathering" and The Batman Experience are part of DC and Warner Bros.' wider celebration of the 80th anniversary of the release of Detective Comics No. 27, which introduced Batman to the world, a yearlong event that has already included events at South by Southwest and a USO tour featuring DC's Lee and Batman comic book writer Tom King.
(6) PITTING HIMSELF AGAINST THE CHALLENGE. The second Ad Astra trailer has dropped. Comes to theaters September 20.
Astronaut Roy McBride (Brad Pitt) travels to the outer edges of the solar system to find his missing father and unravel a mystery that threatens the survival of our planet. His journey will uncover secrets that challenge the nature of human existence and our place in the cosmos.
(7) UNIQUE. Who else writes like her? James Davis Nicoll advises Tor.com readers where to find "Five SFF Works Reminiscent of Andre Norton".
What other authors wrote books with thematic similarities to the books of Andre Norton? Too bad that no one has ever asked me that question. Let's pretend that someone has asked. Here are five suggestions.
(8) ANIME STUDIO FIRE DEATHS. BBC's overview: "Kyoto Animation fire: Arson attack at Japan anime studio kills 33".
At least 33 people died and dozens were injured after a man set fire to an animation studio in the Japanese city of Kyoto, officials say.

Police said the 41-year-old suspect broke into the Kyoto Animation studio on Thursday morning and sprayed petrol before igniting it.

The suspect has been detained and was taken to hospital with injuries.

Japan's Prime Minister Shinzo Abe said the incident was "too appalling for words" and offered condolences.

It is one of Japan's worst mass casualty incidents since World War Two.

Kyoto Animation, known as KyoAni, produces films and graphic novels, and is well regarded by fans for the quality of its productions.

…Reports say the man is not a former employee – but eyewitnesses say he appeared to be angry with the animation studio.

They said he ran away from the building towards a nearby train station after the fire started but fell to the ground. Some reports said he was pursued by employees of Kyoto Animation.

…The Asahi Shimbun newspaper quoted a 61-year-old neighbour as saying she clearly heard the man shout: "You ripped me off."

The suspect was injured and was being treated in hospital, so police could not immediately question him, NHK said.
This article contains both fan reactions and brief descriptions of the company's numerous popular creations: "Kyoto Animation: Fans heartbroken by deadly anime studio fire in Japan"
"One of the main things that stands out about Kyoto Animation is the quality of the animation itself," said Ian Wolf, an anime critic for Anime UK News. "It's very viewer-friendly."

The distinctive visual style and level of polish leads to a look that is instantly recognisable, Wolf said.

"The studio makes very little in the way that is controversial… little that is violent or sexual. I can't imagine why anyone would want to attack it."
(9) TODAY'S BIRTHDAYS.
[Compiled by Cat Eldridge.]
Born July 18, 1911 — Hume Cronyn. Way back in the Forties, his first genre role was as Gerard in The Phantom of The Opera. Since then he's appeared in such well-known films as Cocoon, Cocoon Returns and Batteries Not Included along with the more obscure outing of Richard Burton's Hamlet. (Died 2003.)
Born July 18, 1933 — Sydney Jay Mead. Industrial designer and concept artist, best known for his designs for Aliens, Blade Runner and Tron. Mead once said in Borrowing an idea from Los Angeles (NYT 20 July 2011) that "I've called science fiction 'reality ahead of schedule.'" An eight-minute film on him, "2019: A Future Imagined" can be seen here.
Born July 18, 1938 — Paul Verhoeven, 81. Direction, screenwriter and producer. Responsible for RoboCop , Total Recall,  Starship Troopers and the creepy Hollow Man. Mind this is the man who also did Basic Instinct and Showgirls.
Born July 18, 1943 — Charles Waugh,76. Anthologist and author, whose anthology work up to 2013 numbered over two hundred titles (!), mostly done with Martin H. Greenberg but a handful done with other co-editors as Greenberg died in 2011. Name a subject and there's likely an anthology on that subject that he had a hand in.  I have not read, nor do I have the very least desire, to read his two novels with Deepak Chopra. 
Born July 18, 1952 — Deborah Teramis Christian, 67. She's an author and game designer. has designed and edited role-playing game materials for Dungeons & Dragons such as Tales of the Outer Planes, Bestiary of Dragons and Giants, Dragon Dawn, and Kara-Tur: The Eastern Realms.  She also writes fiction under the name Deborah Teramis Christian with genre novel such as The Truthsayer's Apprentice and her latest, Splintegrate.
Born July 18, 1967 — Paul Cornell, 52. Author of the Shadow Police series which is quite excellent as well as writing a lot of television scripts for Doctor Who, Primieval and Robin Hood. He was part of the regular panel of the SF Squeecast podcast which won two Hugo Awards for best fancast.
Born July 18, 1967 — Vin Diesel, 52. His first genre role was as the delightful voice of The Iron Giant. He next shows playing Riddick in Pitch Black, the first in The Chronicles of Riddick franchise. He's Hugo Cornelius Toorop in Babylon A.D. and he's the fascinating if enigmatic voice of Groot in Guardians of the Galaxy and other MCU films. He's apparently in the next two Avatar films but I don't see his role determined. 
Born July 18, 1980 — Kristen Bell, 39. Veronica Mars. Genre, well not really, but a lot of y'all watch it. She also voiced Jade Wilson in Teen Titans Go! To the Movies which I highly recommend as it's highly meta.
Born July 18, 1982 — Priyanka Chopra, 37. As Alex Parrish in Quantico, becoming the first South Asian to headline an American network drama series. Is it genre? Maybe, maybe not, though it could fit into a Strossian Dark State. Some of her work in her native India such as The Legend of Drona and Love Story 2050 is genre. 
(10) COMICS SECTION.
Non Sequitur gets a good laugh by combining a UFO and a cave painter.
(11) THE BUD LIGHTS IN THE SKY ARE STARS. On the theory that everyone can play this for laughs, until someone gets killed, "Bud Light is offering free beer to any alien that makes it out of Area 51".
The world is ready to finally see the secrets hidden inside Area 51. And if one of those secrets happens to be living aliens, well, we have good news — they'll be greeted with free cans of Bud Light.

Anheuser-Busch, the maker of Bud Light, initially posted on Twitter, "We'd like to be the first brand to formally announce that we will not be sponsoring the Area 51 raid."

However, the brand quickly backtracked off that alienating claim, saying, "Screw it. Free Bud Light to any alien that makes it out."
(12) COMIC-CON BEGINS. And The Onion is there.
(13) LOYAL FANS. Billboards demanding Warner Bros,#ReleaseTheSnyderCut of Justice League appeared where they'll hopefully be seen by people on their way to San Diego Comic-Con.
(14) ANOTHER SDCC TRAILER EVENT. From The Hollywood Reporter:"'It Chapter Two' Trailer Launch Kicks Off Comic-Con".
The audience got an early look at the new trailer, which debuted online Thursday morning. The presentation, taking place on Comic-Con's preview night, is dubbed ScareDiego and is held off the San Diego Convention Center grounds, and unofficially kicks off the Con in terms of movie panels. The event, now in its third year, is growing and this year was held at the Spreckels Theatre with comedian and late night show host Conan O'Brien serving as moderator.
(15) CLOSE ENOUGH FOR GOVERNMENT WORK. James Davis Nicoll's contribution to the Apollo 11 anniversary observance is "Remembering the Moon Landing: Michael Collins' Carrying the Fire" at Tor.com.
…Collins was the Command Module Pilot. While the Lunar Lander descended to the Moon's surface, it was Collins' task to remain with the Command Module in Lunar orbit….

Rather than making any attempt at a dispassionate, neutral history of the Apollo Program, Collins provides a very personal account, a Collins-eye view of the American path to the moon. It's not a short process, which is why it takes 360 pages before Collins and his more well-known companions find themselves strapped into the largest, most powerful man-rated rocket to have been launched as of that date. Before that…
(16) CHICAGO STYLE DOG. I hate to think I'll missing out on this: "You Can Now Stay In An Oscar Mayer Wienermobile Overnight With Airbnb".
Starting on July 24, Oscar Mayer's iconic 27-foot-long Wienermobile is available to book overnight on Airbnb. Seriously. This is not a drill.

True hot dog fans know that the Wienermobile has pretty much travelled all across the country, spreading positive vibes and love for, well, wieners. And until now, no one has been able to spend more than a few hours in the famous Oscar Mayer vehicle, which makes this overnight camp-out option kind of a big deal.

Per their press release, the hot dog distributer has confirmed that its Wienermobile will be available to those staying in the Chicago area between August 1-4. Just in time for Lollapalooza!
(17) KGB. Ellen Datlow has shared her photos from the July 17 Fantastic Fiction at KGB where Theodora Goss read from her new collection Snow White Learns Witchcraft and Cadwell Turnbull read from his recently published novel, The Lesson.
(18) IT PAYS NOT TO BE IGNORANT. Congrats to Rich Horton who won $66.67 playing last night's HQ mobile-based trivia contest. One of the questions was:
"Which Hugo-winning writer did NOT write an episode of STAR TREK?"

The choices were:
Robert Bloch
Norman Spinrad
Robert Heinlein
Says Horton, "I'm sure I don't have to tell many people that Heinlein never wrote a Star Trek episode."
(19) WHERE'S THE BEEF? Apparently this is another thing you leave behind when you simulate a lunar mission: "Russia's Sirius Moon project leaves crew hungry for steak".
What do you crave after spending four months cooped up in a mock spaceship?

"A tasty steak!" was Anastasia Stepanova's swift reply, when she emerged from her Sirius-19 quarters, along with five other space guinea pigs.

The team of four Russians and two Americans – sent to Moscow by Nasa – were isolated, but stayed on terra firma. So, no weightlessness or cosmic radiation to worry about.

But in other respects the Sirius-19 experiment was designed to imitate conditions on a flight to the Moon.

Ms Stepanova's colleagues were also looking forward to tasty food, though cosmonaut Yevgeny Tarelkin, commander of this "mission", said he was missing his family.

They had big fridges and grew their own vegetables under artificial light. But the diet was hardly mouth-watering: mostly kasha (buckwheat porridge), puree and canned food.
(20) FLAME ON. Mashable makes sure we know "Drones with flamethrowers are a thing you can buy now". (Was this a Prime Day deal I missed?) [Via David Langford.]
As if drones weren't frightening enough, now they can be equipped with fire-spitting flamethrowers? Oh gawd.

Throwflame's TF-19 WASP drone attachment is capable of shooting targets with flames from 25 feet away. Every gallon of fuel capacity will get you 100 seconds of firing time.

According to Throwflame, the TF-19 WASP is made from carbon fiber and designed for drones with a five-pound payload capacity or more. In the video above, the flamethrower is shown mounted to a DJI S1000 drone.
[Thanks to James Davis Nicoll, Cat Eldridge, John King Tarpinian, JJ, Lis Riba, Martin Morse Wooster, Mike Kennedy, Chip Hitchcock, Daniel Dern, Carl Slaughter, and Andrew Porter for some of these stories. Title credit goes to File 770 contributing editor of the day Andrew.]