Right after the Fourth of July might not be when I shop for Christmas ornaments, but somebody does, because that's when Hallmark runs its Keepsake Ornament Premiere.
If the timing is for the convenience of retailers, there is also a certain logic in picking a spot on the calendar that is as far away as you can get from a date associated with Christmas trees. It's plain some of these ornaments are intended for a Halloween or Thanksgiving tree, while others probably are destined never to decorate a tree at all but to remain pristine in their original wrapping on collectors' shelves.
Although this first one has nothing to do with the Christmas season other than that's when four of the Harry Potter movies came out, if you believe there's an omniscient Santa Claus who knows when you've been bad or good, then this might work for you, too:
"There's nothing hidden in your head the Sorting Hat can't see…" Relive the Sorting Ceremony, one of the most eagerly anticipated traditions for first-year students at the Hogwarts School of Witchcraft and Wizardry. This Christmas tree ornament features the famous Hogwarts Sorting Hat, which moves and says lines about each house: Gryffindor, Slytherin, Ravenclaw and Hufflepuff (battery-operated).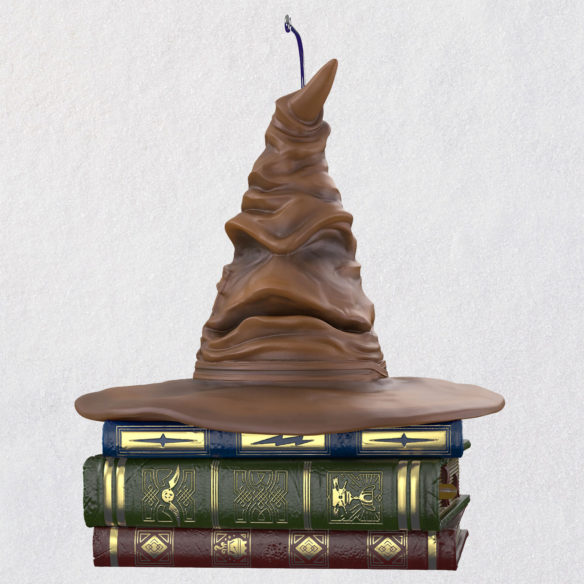 And Hallmark also caters to a sort of counter-Christmas clientele with these next two items.
Be sure to give Old Man Parker's "major award" a glorious spot on the tree this year! With its lampshade fringe and fishnet stockings, this premium porcelain Christmas tree ornament will have you reminiscing about the hit holiday movie "A Christmas Story" all season long. Year dated 2021.
Or to be even more frank about it:
Spread the spirit of Halloween Town to even the smallest of Christmas trees with this miniature ornament. The stylized design features Sally holding one of her potion ingredient jars. For a spooktacular display, pair it with our coordinating Lil' Jack and Lil' Oogie Boogie mini ornaments (each sold separately).
Then, if you call yours a Halloween or Thanksgiving tree, Hallmark has you covered.
Make it a Halloween of legendary proportions when you display this cute ornament! The diorama-style jack-o'-lantern design features an adorable Bigfoot creature with its iconic pose wandering in front of a moonlit forest.
Yes, it's hard to imagine a more sacred holiday memory than this —
Relive one of the most hilarious moments from "Friends" when you display this Christmas tree ornament. In an effort to cheer up Chandler, Monica wears a turkey on her head—complete with a fez and sunglasses. When you press the button to play the audio clip from the show, you're sure to proclaim your love…just as Chandler did on that fateful Thanksgiving Day.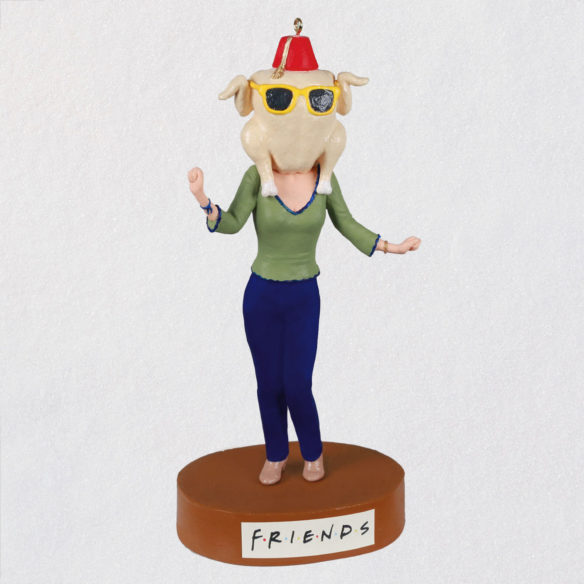 But it's a complete mystery what occasion Hallmark thinks people are celebrating when they buy creeptastic ornaments like these two:
After her sister's demise, the Wicked Witch of the West harbored villainous hope for getting her hands on the Ruby Slippers. Relive the climactic scene inside her castle as the Wicked Witch of the West demands that a frightened Dorothy turn over the enchanted footwear. Fans of the classic movie "The Wizard of Oz" will love adding this Christmas tree ornament to their collection.
And I think the most suitable tree for decorating with the next ornament would be something like Old Man Willow, who tried to turn the hobbits into mulch.
Considered one of the most powerful Disney villains, the dark and sinister Chernabog first reared its wicked head in the classic 1940 film "Fantasia." Pay tribute to good versus evil with this striking likeness of the menacing character ferociously emerging from Bald Mountain with his giant wings extended. Insert the bulb of a standard miniature light string through the rubber grommet on the ornament to create a special lighting effect.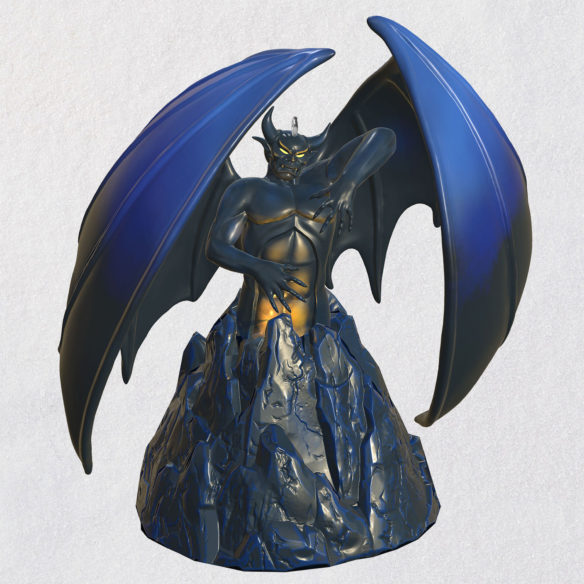 Otherwise there are literally dozens of Keepsake Ornaments that commemorate popular movies and TV shows.
If they're serious about selling these, quit fooling around, call him "Baby Yoda."
The legend continues with The Child named Grogu (often called "Baby Yoda" by fans) from the Disney+ original series The Mandalorian. This Christmas tree ornament features the mysterious Force-sensitive alien playing with a shifter knob—from Din Djarin's ship, The Razor Crest—as he sits atop a Stormtrooper helmet from remnants of the Galactic Empire.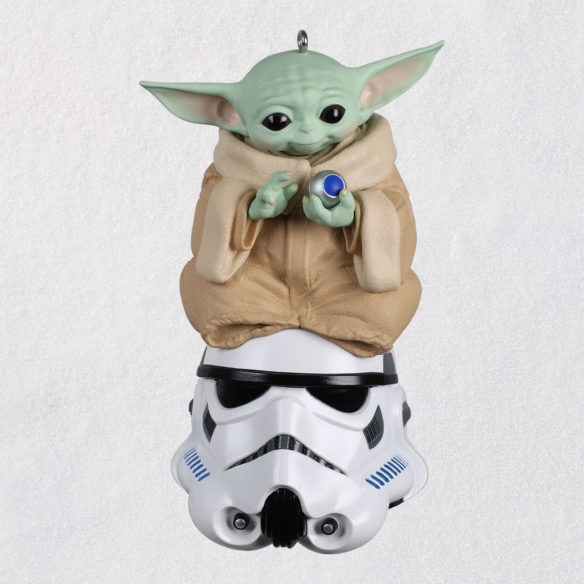 Ordinarily, when I see a robot it's not my first response that "He needs a few square meals under his belt" like I do with this one:
Loyal to the Rebel Alliance, K-2SO carried the markings of his former programming as an Imperial security droid, allowing him to effectively infiltrate Imperial installations and outposts. Rebellion hero Cassian Andor undertook the difficult task of reformatting K-2SO's personality, leaving him with a blunt disposition that cemented his place as a favorite character. Fans of Rogue One: A Star Wars Story will love displaying this metal Christmas tree ornament of the versatile droid.
There are quite a few sci-fi TV shows with ornaments. There's even an entire series of alternate-universe crew from Star Trek: TOS' "Mirror, Mirror" episode, including the iconic Spock.
A striking departure from his prime-universe self, Spock's discipline toward logic and science not only made him an inscrutable presence aboard the I.S.S. Enterprise but also led him to discern Captain Kirk's most dangerous secret. Plug the ornament into Hallmark's Keepsake Power Cord (sold separately) for constant illumination, then press the button to start a sound and light show based on the classic original Star Trek series episode "Mirror, Mirror." Connect all of the Star Trek Storytellers ornaments—Captain James T. Kirk, Lieutenant Hikaru Sulu, Lieutenant Nyota Uhura, First Officer Spock and Ensign Pavel Chekov—and the U.S.S. Enterprise Tree Topper (each sold separately) to unlock additional interactive performances.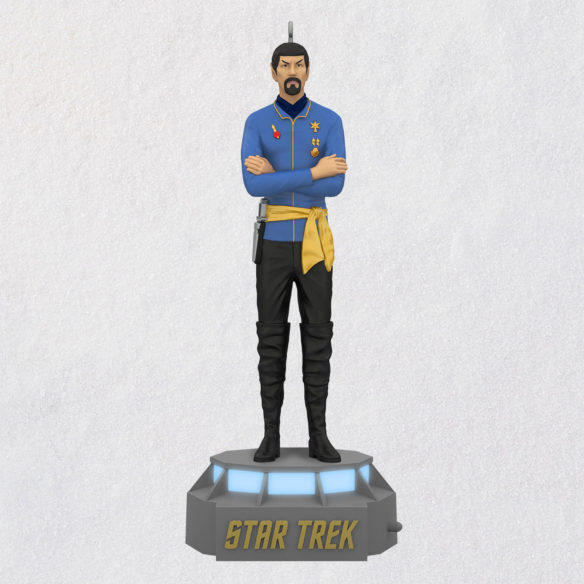 Likewise, many movies and other characters. I think it's the inclusion of the comic book that I like best about this one.
Eighty years ago, "Man's World" changed forever with the first appearance of Wonder Woman. This Christmas tree ornament celebrates the legacy of one of DC Comics' most powerful and beloved Super Heroes—a steadfast symbol of truth, justice and equality—alongside cover art from the Wonder Woman No. 1 comic book.
Want to bet there are a couple of Filers who will soon own this item?
Originally constructed from a single enchanted stone in the shape of a giant Power Skull, Castle Grayskull protects the hidden power of the Universe and the secrets of Eternia. He-Man and his foes struggle to hold the mysterious, timeless powers of the mighty fortress. This Christmas tree ornament is a nostalgic tribute to "He-Man and the Masters of the Universe" for fans of all ages.
In the end I admit that this ornament, which relates to no holiday and needs no tree to justify its existence, affords me so much amusement that if I'm not careful I'll wind up owning it.
He's not Sheldon Cooper, he's The Flash! Relive the hilarious events as the gang dresses up like the Justice League of America for a New Year's Eve costume party with this Christmas tree ornament. Press the button to play some of Sheldon's phrases from that unforgettable episode of "The Big Bang Theory" (battery-operated).