(1) BE SEEING YOU. The trailer for the next season of Doctor Who was released at San Diego Comic-Con International today. As a YouTube commenter concluded, "The end was literally BBC saying to us: Any questions? No? See you soon."
Radio Times adds details showrunner Chris Chibnall shared during that SDCC virtual panel: "Doctor Who series 13 to be serialised connected story".
…However, it looks like the next series of Doctor Who will be particularly unusual for the "modern" (aka post-2005) era of the show, with showrunner Chris Chibnall revealing during a virtual panel that the upcoming season 13 (starring Jodie Whittaker, Mandip Gill and John Bishop, above) would be a single serialised story rather than the usual collection of self-contained episodes.

"The big thing we're going to be doing this year is that it's all one story – so every episode is a chapter in a bigger story," Chibnall said during Doctor Who's [email protected] panel. "And so we've changed the shape of the series for this year.

"It's very much not a business as usual time," he added, explaining the role that coronavirus restrictions had made on the decision.

"And I think the challenges of getting the show up and running.. […] there were two ways we could go. You could go 'we're just going to do lots and lots of tiny episodes in one room with no monsters. Or we can throw down the gauntlet and say we're gonna do the biggest story we've ever done, and we're going to go to all kind of different places, and have all different characters and monsters, and it's all gonna be part of a bigger whole.

"I think it's definitely the most ambitious thing we've done…it's epic and ambitious and we do go to a lot of places."

Notably, this serialisation ties into the casting of newly-announced series star Jacob Anderson, who is set to play a character called Vinder across a number of episodes and whose presence across the series hints at more shared elements between episodes than fans might be used to….
And here's the full video of the panel:
(2) CHUCK TINGLE UPDATE. Chuck's Twitter account is still out of commission. Here's the update he gave to his Facebook readers.
(3) THE AI AFTERLIFE. "What Should Happen to Our Data When We Die?" asks the New York Times, raising the issue of posthumous privacy.
The new Anthony Bourdain documentary, "Roadrunner," is one of many projects dedicated to the larger-than-life chef, writer and television personality. But the film has drawn outsize attention, in part because of its subtle reliance on artificial intelligence technology.

Using several hours of Mr. Bourdain's voice recordings, a software company created 45 seconds of new audio for the documentary. The A.I. voice sounds just like Mr. Bourdain speaking from the great beyond; at one point in the movie, it reads an email he sent before his death by suicide in 2018.

"If you watch the film, other than that line you mentioned, you probably don't know what the other lines are that were spoken by the A.I., and you're not going to know," Morgan Neville, the director, said in an interview with The New Yorker. "We can have a documentary-ethics panel about it later."

The time for that panel may be now. The dead are being digitally resurrected with growing frequency: as 2-D projections, 3-D holograms, C.G.I. renderings and A.I. chat bots….
(4) CHUTZPAH. Miguel Esteban's memoir "Octavia Butler and the Pimply, Pompous Publisher" in the Los Angeles Review of Books reminds me of me trying to corral material from pros for my first fanzine earlier in the same decade – excluding offering to pay for it, of course.
…In 1979, when I was 14, I was determined to publish a biweekly, 24-page magazine of and about science fiction entitled Transmission. I commissioned Octavia, who was 32, to write an essay. (I do not believe I ever told her my age.) On July 28 of that year, I had heard her speak at the Fantasy Faire convention in Pasadena, California, where she participated in a panel debating the topic "How Science Fiction Handles Social Change." [1] Pasadena was Octavia's hometown.

… On August 3, 1979, I spoke and then wrote to Octavia, inviting her to contribute a 3,000-word essay to the inaugural (and ultimately only) issue of Transmission Magazine….

I offered her $50, which she accepted on the condition that she retain the copyright and the right to resell the essay three months after publication. "Since I am the only black woman writing sf, I have a feeling I'll be needing this article again," she explained.

At the end of the month, Octavia sent me her first draft, titled "Lost Races of Science Fiction." We spoke over the phone, following which this cocky, 14-year-old editor sent his comments to an established and revered writer….
(5) LET'S BUNGLE IN THE JUNGLE. "'It's Like a Joy Bomb!' Emily Blunt and Dwayne Johnson Open Up About New Disney Jungle Cruise Movie" in Parade Magazine.
Who would fare better in a jungle, Dwayne Johnson or Emily Blunt? "I'd like to think I would be OK," Johnson says, then points his finger at Blunt, his co-star in the new action-packed summer movie Jungle Cruise. "You would struggle."

But the actress is not having it. "You would be lost without your lip balm!" she says. "And you wouldn't have your soap. He's the cleanest human being alive. He needs to shower about five times a day." Blunt slams down her hand and looks at their interviewer. "Now, what else do you want to know?"…
(6) MEDIA BIRTHDAY.
1953 – Sixty- eight years ago on this date, Duck Dodgers in the 24½th Century, a Merrie Melodies cartoon starring Daffy Duck as space hero Duck Dodgers, premiered before films playing in the United States. This cartoon was the first of many appearances of the Duck Dodgers character including the Duck Dodgers series on the Cartoon Network. Porky Pig is here as a space cadet as is Marvin the Martian who first appeared very briefly in Haredevil Hare, a 1948 cartoon. It was directed by Charles M. Jones from a story by Michael Maltese and produced by Edward Selzer though he's uncredited in the cartoon.
George Lucas wanted it be shown before Star Wars during its initial run in theaters  but couldn't get the rights.  At Noreascon 4, it was nominated for a Retro Hugo Award for Best Dramatic Presentation — Short Form though The War of the Worlds (1953; Paramount) would win. Bits of the cartoon are on YouTube but the entire cartoon is not. You can purchase it on iTunes in a twofer with another Daffy cartoon, "The Scarlet Pumpernickel" for a buck ninety nine. Yeah I bought it. (And don't get started me on the rabbit hole of watching Warner Brothers cartoons!)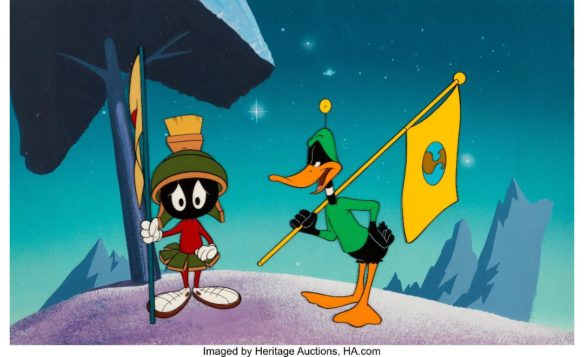 (7) TODAY'S BIRTHDAYS.
[Compiled by Cat Eldridge.]
Born July 25, 1907 — Cyril Luckham. He played the White Guardian first in the Fourth Doctor story, "The Ribos Opperation", part one and than twice more in the two part Fifth Doctor story, "Enlightment". He was also Dr. Moe in the Fifties pulp film Stranger from Venus, and also showed up in The Omega Factor, A Midsummer Night's Dream, Randall and Hopkirk (Deceased) and Tales of The Unexpected. (Died 1989.)
Born July 25, 1910 — Kendell Foster Crossen. He was the creator and writer of the Green Lama stories. He was a Buddhist crime fighter whose powers were activated upon the recitation of the Tibetan chant om mani padme hum. He also wrote Manning Draco series, an intergalactic insurance investigator, four of which are can be found in Once Upon a Star: A Novel of the Future. Kindle has a really deep catalog of his genre work, and the Green Lama stories have been made into audio works as well. (Died 1981.)
Born July 25, 1922 — Evelyn E. Smith. She has the delightful bio of being a writer of sf and mysteries, as well as a compiler of crossword puzzles. During the 1950s, she published both short stories and novelettes in Galaxy Science Fiction, Fantastic Universe and The Magazine of Fantasy & Science Fiction. Her SF novels include The Perfect Planet and The Copy Shop. A look at the usual suspects shows a two story collections but none of her novels. Interestingly there are myriad stories by her offered up separately for sale. (Died 2000.)
Born July 25, 1948 — Brian Stableford, 73. I am reasonably sure that I've read and enjoyed all of the Hooded Swan series a long time ago which I see has since been collected as Swan Songs: The Complete Hooded Swan Collection. And I've certainly read a fair amount of his short fiction down the years. He has but one English language Award, a BSFA for Best Short Fiction for "The Hunger and Ecstasy of Vampires" though he has a lot of nominations. The Hooded Swan series is available as separate novels from the usual suspects for two dollars and ninety-nine cents each.
Born July 25, 1969 — D.B Woodside, 52. He has a recurring role as Principal Robin Wood on Buffy the Vampire Slayer, mostly in season seven. Later he's Amenadiel on Lucifer. He has one-offs in Prey which I've never heard of and Numb3rs.
Born July 25, 1971 — Chloë Annett, 50. She played Holly Turner in the Crime Traveller series and Kristine Kochanski in the Red Dwarf series. She was in the "Klingons vs. Vulcans" episode of the Space Cadets sort of game show.
Born July 25, 1973 — Mur Lafferty, 48. Podcaster and writer. Co-editor of the Escape Pod podcast with Divya Breed, her second time around. She is also the host and creator of the podcast I Should Be Writing which won a Parsec Award for Best Writing Podcast.. She is also the Editor-in-Chief of the Escape Artists short fiction magazine Mothership Zeta. And then there's the Ditch Diggers podcast she started with Matt Wallace which is suppose to show the brutal, honest side of writing. For that, It won the Hugo Award for Best Fancast at Worldcon 76, having been a finalist the year before. Fiction wise, I loved both The Shambling Guide to New York City and A Ghost Train to New Orleans with I think the second being a better novel.
Born July 25, 1979 — Bryan Cogman, 42. He wrote eleven episodes of The Game of Thrones. He also acted in it, that being a cameo in "The Lion and The Rose" episode as a Dragonstone waiter. He would share a Hugo at Chicon 7 for Best Dramatic Presentation, Long Form for Game of Thrones, Season One. He's writer and producer of the forthcoming The Sword in The Stone series on Disney+. He's also a write and consulting producer for the forthcoming The Lord of The Rings on Amazon's streaming service.
(8) COMICS SECTION.
Ziggy's solves a problem and creates a neighborhood attraction.
(9) SLOUCHING TOWARD THE ISS. "Russian Module Headed for the ISS Is Still Having Problems" – Gizmodo has the details.
Russia's newly launched International Space Station module Nauka is still in the fight as of Friday afternoon, as early reports indicate that the module's backup engines have fired successfully. That's a big relief for Roscosmos, which nearly saw its long-awaited module become a tragic piece of space trivia instead of the newest piece of the International Space Station. But it's not out of the woods yet.

The first glitch in Nauka's journey happened yesterday, when the spacecraft didn't complete its first orbit-raising burn. This meant that the uncrewed Nauka wasn't on track to actually intercept the ISS, which it's scheduled to dock with on Thursday, July 29. The problem was attributed to a software issue in a computer aboard Nauka, which prevented the spacecraft's main engines from firing. Nauka's team was able to manage a remote course correction, but a second bout of course corrections were deemed necessary, and scheduled for today. One early report from journalist Anatoly Zak indicated that one of the spacecraft's engines sputtered back to life in a mission. The "backup engine seems to have fired fine," said Jonathan McDowell, an astrophysicist at the Harvard-Smithsonian Center for Astrophysics, in an email today, though he added that the status of the engines was not yet certain and it would likely be a few hours before a new dataset from Nauka verified the situation.

The thrusters are just one piece of the engineering puzzle, so the new module is hardly home free….
(10) CLOUDY, WITH A CHANCE OF HOMICIDE. Mashable introduces the trailer for a new animated series: "'Blade Runner: Black Lotus' trailer: Adult Swim and Crunchyroll team up".
A new trailer for the team-up between the Cartoon Network offshoot and anime streamer Crunchyroll serves us a first look at this CG take on the sci-fi dystopia dreamed up by filmmaker Ridley Scott. The 13-episode series stars, on the English-language side, Jessica Henwick (Netflix Marvel's Colleen Wing) as a female replicant with a mysterious backstory and purpose.
(11) JOE DANTE RETROSPECTIVE. [Item by Martin Morse Wooster.] In "Joe Dante's Battle With Hollywood," the Royal Ocean Film Society looks at the career of Joe Dante through three films: Looney Tunes: Back In Action, which Dante says took up a year and a half of his life and was micromanaged to death; Explorers, which has its moments but is essentially a rough draft, and Gremlins 2: A New Batch, which is a crazy film that has Leonard Maltin killed on screen for writing a bad review and Robert Picardo marrying a gremlin!
(12) RARITIES. YouTube's "The Auction Professor" calls these the "Top 20 Most Valuable Vintage Paperbacks". Editions of Richard Bachman? Check. Something published by Vargo Statten – what? I didn't know anybody outside of fanzines had ever heard of Vargo! As for the Star Wars and nonfiction books about Dune, I'm sorry to say I've never owned any of them! (If I own it, it's not rare, predictably.) Don't miss the "bonus" commentary following the credits.
[Thanks to Martin Morse Wooster, JJ, Michael Toman, Will R., John King Tarpinian, Cat Eldridge Mike Kennedy, and Andrew Porter for some of these stories. Title credit belongs to contributing editor of the day Jim Janney.]