(1) THAT NEVER HAPPENS. James Davis Nicoll introduces the Young People Read Old SFF panelists to "'Repent, Harlequin!' Said the Ticktockman" by Harlan Ellison. "A surprising YP: they liked this one," said James.
…"Ticktockman" represents a sea-change in the nature of works deemed worthy of Hugo Awards. Whereas previous entries were, for all their virtues, what one might call meat and potatoes SF, Ticktockman is a non-linear example of what was called the New Wave…. 
(2) BEST RELATED. Nicholas Whyte analyzes the category's history in "The Hugo for Best Related Work, including my own votes for this year" – and partially pulls back the curtain on decisions administrators made while he was still the Division Head overseeing this year's Hugo Awards.
…Now we have reached 2021. I relinquished my WSFS duties this year a bit earlier than planned, and so am in a position to give some commentary on eligibility decisions regarding works that ended up on the 2021 ballot. (Commentary on disqualifications will have to wait until the final results are announced; at this stage I will not even confirm or deny if there were any this year, let alone which categories might have been affected.)…
(3) HIS CHIEF COMPLAINT. Camestros Felapton's Debarkle reaches Chapter 47: "August Part 1" and the antics of Lou Antonelli.
…Among the retrospectives was a podcast/live-stream by the Superversive SF blog on August 1. …Later, the discussion turned toward Worldcon guest of Honour novelist and screenwriter David Gerrold who had been consistently critical of the Puppy campaigns. It was at this point that events took another twist. Hugo finalist Lou Antonelli had this to say:

… I personally wrote a letter addressed to the police chief in Spokane and said I thought the man was insane and a public danger and needs to be watched when the convention's going on, and I mean it. I attached my business card. I said this guy's inciting to violence….

The other guest did not react strongly to Antonelli's comment and he didn't elaborate on why he felt the need to contact the police department of Spokane (where Worldcon was being held). However, in a post on his own blog the following day elaborated on what he saw as a commercial threat from the critics of the Puppy campaigns…
(4) AUTHOR REDDING. Catherynne M. Valente will discuss her new book The Past is Red in a Zoom webinar on July 20 at 7:00 p.m. Eastern. Register here.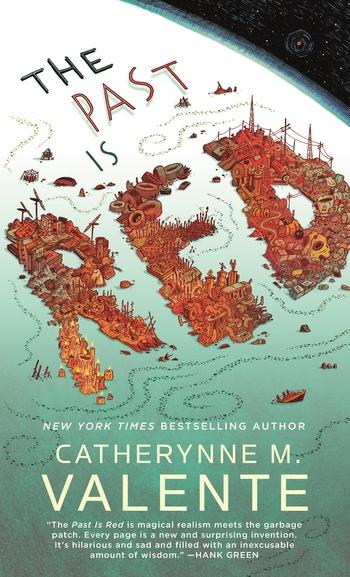 Catherynne M. Valente, the bestselling and award-winning creator of Space Opera and The Girl Who Circumnavigated Fairyland returns with The Past is Red, the enchanting, dark, funny, angry story of a girl who made two terrible mistakes: she told the truth and she dared to love the world. The future is blue. Endless blue…except for a few small places that float across the hot, drowned world left behind by long-gone fossil fuel-guzzlers. One of those patches is a magical place called Garbagetown.Tetley Abednego is the most beloved girl in Garbagetown, but she's the only one who knows it. She's the only one who knows a lot of things: that Garbagetown is the most wonderful place in the world, that it's full of hope, that you can love someone and 66% hate them all at the same time. But Earth is a terrible mess, hope is a fragile thing, and a lot of people are very angry with her. Then Tetley discovers a new friend, a terrible secret, and more to her world than she ever expected.
(5) IT'S A MYSTERY. Hannah Marder says there are "32 Questions I Still Have About Harry Potter". She shares them with Buzzfeed readers.
4. What would've happened if someone just, like, shot Voldemort?

Or the Death Eaters?? I feel like they should've at least tried it. Like, remember that Buffy episode where some mythical monster dude is like "no weapon forged can kill me" and Buffy literally just blows him up with a bazooka? We needed that energy.
(6) SERVING TEA ON THE TOPLESS TOWERS OF ILIUM. Spoon & Tamago celebrates that "Terunobu Fujimori's latest tea house is a Trojan pig" – although my first thought was – if Henry V had Imperial Walkers, they'd have looked just like this.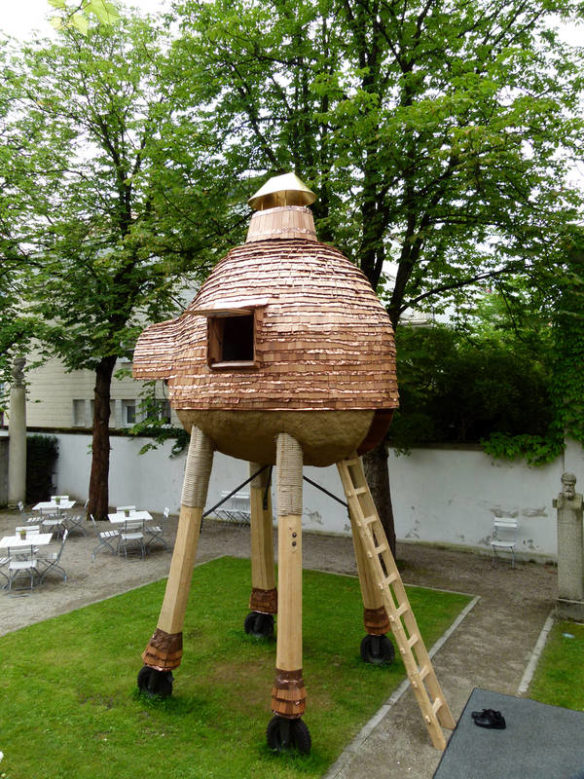 Architect-extraordinaire Terunobu Fujimori currently has a retrospective at the Museum Villa Stuck in Munich. There, amongst a comprehensive documentation of the architect's work since 1986, rests the mobile tea house "Walking Café." Fujimori's latest structure remains strongly affixed to his fascination with the tea house, but with a European twist, hence the name.

… Fujimori's tea house is somewhat of a dichotomy – a structure meant to encourage moderation and, in some cases, even asceticism, being constructed in the symbol of gluttony and sloth. However, it's important to remember that in the case of the Trojan horse, it's not what was on the outside but what was on the inside that mattered most.
(7) RICHARD DONNER (1930-2021). Director Richard Donner died July 5 at the age of 91. His genre movies included The Omen (1976), Superman (1978) and Superman II (1980), Ladyhawke (1985) and The Goonies (1985). For TV he directed six episodes of The Twilight Zone, four episode of The Man from U.N.C.L.E., and an episode of The Wild Wild West.
[He directed]  in the same year (1985) the medieval period adventure Ladyhawke and the seminal kids adventure pic The Goonies, the pic with a script penned by Chris Columbus based on a story by Steven Spielberg.

"Dick had such a powerful command of his movies, and was so gifted across so many genres," Spielberg said in a statement today on Donner's death. "Being in his circle was akin to hanging out with your favorite coach, smartest professor, fiercest motivator, most endearing friend, staunchest ally, and — of course — the greatest Goonie of all.  He was all kid. All heart. All the time. I can't believe he's gone, but his husky, hearty, laugh will stay with me always."
(8) MEMORY LANE.
2006 —  Fifteen years ago, Charles Stross wins the Sidewise Award in Best Long Form Alternate History for his Merchant Princes series. Other nominated works were Robert Conroy's 1862, Jo Walton's Farthing, Harry Turtledove's The Disunited States of America and Paul Park's The Tourmaline. There are eight novels out in the series with a ninth, Invisible Sun, due out in the fall. 
(9) TODAY'S BIRTHDAYS.
[Compiled by Cat Eldridge.]
Born July 5, 1904 — Milburn Stone. Though you no doubt best remember him as Doc on Gunsmoke, he did have several genre roles including as a German Sargent in The Invisible Agent, Captain Vickery in Sherlock Holmes Faces Death, Mr. Moore in The Spider Woman Strikes Back and Capt. Roth in Invaders from Mars. (Died 1980.)
Born July 5, 1929 — Katherine Helmond. Among her roles was Mrs Ogre in Time Bandits and Mrs. Ida Lowry in Brazil. Now I'll bet you can recall her scene in the latter…  She also have a voice role in the Cars franchise, and one-offs in True Blood, The Six Million Man and Faerie Tale Theater, and yes it's not really genre, appeared in Fear and Loathing in Las Vegas. (Died 2019.)
Born July 5, 1930 — John Wood. His first genre role was in Slaughterhouse-Five as an unnamed English Officer, his next in Ladyhawke as the Bishop of Aquila and then in the awful Avengers film as Trubshaw. He'd actually been on the earlier Avengers series as Edgar Twitter in "The Bird Who Knew Too Much" episode. He's had one-offs in Doomwatch, Young Indiana Jones Chronicles and Out of the Unknown. (Died 2011.)
Born July 5, 1950 — Huey Lewis, 71. He's here because he has a brief role in Back to the Future as the band audition judge in that scene. On Jimmy Kimmel Live, Huey Lewis reprised that role in a segment where the two actors as their characters arrive in the time machine and talk to the host.
Born July 5, 1957 — Jody Lynn Nye, 64. She's best known for collaborating with Robert Asprin on the ever so excellent  MythAdventures series.  Since his death,  she has continued that series and she is now also writing sequels to his Griffen McCandle series as well. She's got a space opera series, The Imperium, out which sounds intriguing. Her latest two novels are both written with with Travis Taylor, Moon Beam and Moon Tracks.
Born July 5, 1958 — Nancy Springer, 63 . May I recommend her Tales of Rowan Hood series of which her Rowan Hood: Outlaw Girl of Sherwood Forest is a most splendid revisionist telling of that legend? And her Enola Holmes Mysteries are a nice riffing off of the Holmsiean mythos. She won an Otherwise Award for her Larque on the Wing novel, and her latest, The Oddling Prince, came out several years ago on Tachyon. 
Born July 5, 1962 — Marc Gascoigne, 59. Winner of the World Fantasy Special Award—Professional for his Angry Robot press, and later he won the British Fantasy Award in the category Best Independent Press, again for Angry Robot. If you're a gamer, you'll be impressed by knowing that he co-wrote Games Workshop's original Judge Dredd RPG, and wrote the original Shadowrun source book.
Born July 5, 1964 — Ronald D. Moore, 57. Screenwriter and producer who's best remembered  for his work on Star Trek: The Next Generation where he fleshed out the Klingon race and culture, on the rebooted Battlestar Galactica, and Outlander. He's the creator and writer of For All Mankind. He was one of the folks who won a Hugo at Intersection for the Next Generation's "All Good Things…" and among the group nominated for one at LoneStarCon 2 for First Contact. His latest Hugo was won at Interaction for Battlestar Galactica's "33".
(10) COMICS SECTION.
The Far Side has a Game of Thrones-style twist on a famous nursery rhyme.
The Duplex finds beer blurs the boundaries of science.
(11) TEXT-FILLED BUBBLES. In the Washington Post, Theresa Vargas discusses Jupiter Invincible, a comic written by Pulitzer-winning poet Yusef Komunyakaa about an immortal who experiences the horrors of slavery. "Jupiter Invincible: Newest comic superhero is an enslaved man".
…Komunyakaa's name usually appears alongside a long list of accolades and accomplishments. Winning the Pulitzer Prize in 1994 for his poetry is just one of them. So he understands why people might be surprised to see his name at the bottom of a comic book. His own daughter was.

Komunyakaa admits to hesitating before agreeing to work on the project, which was dreamed up by filmmaker and publisher Ram Devineni during a stay in Maryland. But then, Komunyakaa says, he thought about how he read comic books as a child and about his own upbringing in Louisiana. His family didn't talk about slavery, but he found ways to learn about it through books and eventually taught African American history. A common theme in his poems is Black resilience….
(12) HIATUS. Mutts creator Patrick McDonnell tells why he is putting his strip on hiatus in "A Special Announcement From Patrick".
I have a special announcement to share with all of you: I'm working on a literary graphic novel with His Holiness the Dalai Lama. The tentative title is Heart to Heart and it will be published by HarperOne in the fall of 2022. The book is about the environment, animals, and (mostly) compassion. It has a strong, timely message and I'm honored and enthused to be part of this important project. As the book reveals itself, you will be the first to see its progress.

MUTTS has been my primary focus for over 26 years now and I have loved every minute — even the crazy pressure of the daily deadline. Like my hero Charles Schulz, I thought I'd never take a break from drawing my strip.

However, because of the time needed to focus on this book project, I'll be taking my first sabbatical — starting July 5. Some of my favorite (handpicked) strips will run during this six-month period. On January 1, 2022, I'll be back and excited to share new adventures with Earl, Mooch, and the gang. My short leave will be over before we know it.
(13) WE ATTRACT. "Why does Mercury have such a big iron core? Magnetism!" says Phys.org News.
…William McDonough, a professor of geology at the University of Maryland, and Takashi Yoshizaki from Tohoku University developed a model showing that the density, mass and iron content of a rocky planet's core are influenced by its distance from the sun's magnetic field. The paper describing the model was published on July 2, 2021, in the journal Progress in Earth and Planetary Science.

"The four inner planets of our solar system—Mercury, Venus, Earth and Mars—are made up of different proportions of metal and rock," McDonough said. "There is a gradient in which the metal content in the core drops off as the planets get farther from the sun. Our paper explains how this happened by showing that the distribution of raw materials in the early forming solar system was controlled by the sun's magnetic field."

McDonough previously developed a model for Earth's composition that is commonly used by planetary scientists to determine the composition of exoplanets. (His seminal paper on this work has been cited more than 8,000 times.)

McDonough's new model shows that during the early formation of our solar system, when the young sun was surrounded by a swirling cloud of dust and gas, grains of iron were drawn toward the center by the sun's magnetic field. When the planets began to form from clumps of that dust and gas, planets closer to the sun incorporated more iron into their cores than those farther away….
(14) IT FOLLOWS. [Item by Martin Morse Wooster.] Heineken has introduced a beer robot for people who think carrying a six-pack is too much work.
Put the can back into summer with a cooler that carries itself. The Heineken B.O.T. (Beer Outdoor Transporter) is a limited-edition autonomous robot cooler that dutifully follows its owner wherever they go with ice-cold cans of Heineken.
(15) REVENGE IS A DRINK BEST SERVED COLD. In another beer-tech breakthrough, Michael Reeves hacks Boston Dynamics's Spot so that it can pee beer in a cup. Because: revenge!
…I emailed them. I even tweeted at them. I would do anything for a Boston Dynamics robot dog to just be here. And what did they say? "We're only giving it out to construction companies." And of course I was bummed about that. What am I gonna do? So I just accepted it, moved on. And then two weeks later what do I see but Adam Savage gallivanting around with the robot dog. Does he look like a construction company? No. Those bastards lied to me. And so I waited and I waited and I waited until Spot became publicly available and then with the help of offline tv and the sponsor I lied to about where their entire budget was going, there's a Boston Dynamics robot dog right here and it's the coolest [ __ ] I've ever seen in my entire life… Still, you lied to me Boston Dynamics and so you're going to have to watch as I turn your state-of-the-art robot dog into a machine that pisses beer into a cup for me to drink….
(16) VIDEO OF THE DAY. [Item by Martin Morse Wooster.] In "The Tomorrow War Pitch Meeting" on Screen Rant, Ryan George, in a spoiler-filled summary, has the writer tell the producer that the aliens in this film are NOT bottles of hard seltzer because the hard seltzer is White Claw, and the villains in this movie are "white spikes." This dropped yesterday. And I decided if Ryan George or the Screen Junkies say their videos have spoilers I will listen to them.
[Thanks to Michael Toman, John King Tarpinian, Cat Eldridge, Moshe Feder, N., Nicholas Whyte, James Davis Nicoll, Rich Lynch, Mike Kennedy, Andrew Porter, Martin Morse Wooster, and JJ for some of these stories. Title credit belongs to contributing editor of the day John A Arkansawyer.]