(1) WRITER BEWARE. If they can't resolve a matter privately for an author, SFWA's Grievance Committee will sometimes turn the matter over to another SFWA arm, Writer Beware. Here's a write-up by Victoria Strauss of a recent investigation into Sky Warrior Books' use of termination clauses — "How Publishers Abuse Termination Fees; Sky Warrior Books".
As it happens, Eve is an active member of the Science Fiction and Fantasy Writers of America. She turned the matter over to SFWA's Grievance Committee, which has a good record of mediating disputes between authors and publishers. Bonham, however, refused to cooperate, doubling down on her denial of wrongdoing and reiterating her her demand for money. She also accused SFWA and Writer Beware of a dastardly conspiracy:

After all, if we are harmed, you will have participated in the further erosion of independent, small presses, and I can't believe the rumor that SFWA and Writer Beware are cooperating with the Big Five publishing houses' efforts to destroy the independents once and for all. Although I did find it curious that Writer Beware's publisher avoid list is populated exclusively with small presses, often based in rural areas, far from the New York in-crowd.

Damn. And we thought we were being so discreet. Seriously, though, I think Eve's experience illustrates how publishers can use termination fee clauses to retaliate against authors who displease them. The other authors I heard from who complained about nonpayment had their rights reverted without any demand for money. It's hard not to conclude that Eve was being punished for having the temerity to hire legal assistance. The other takeaway here is the importance of taking contract language seriously.
(2) AVOIDING SLAUGHTER. Josh Marshall of Talking Points Memo beings "This Is Not the Natural State of Things" by quoting someone he went to school with.
Thirty plus years ago I was lucky enough to be one of two poor kids on scholarships in my class at a school for rich kids in a small town in California. The other was the renowned science fiction writer John Scalzi. I just noticed this tweet from him as I was watching a welter of reports about what appears to be yet another terror attack in France.
Sometimes feels like a strong correlation between WWII passing from living memory, and autocracy seemingly getting more popular.

— John Scalzi (@scalzi) July 14, 2016
I don't think John was talking about the attack but the US election and elections now across the world. But perhaps he was talking about the whole picture in toto.

Autocracy is government based on fear, domination and insecurity. It is of course billed as the opposite. But it is born of these three horsemen and in turn breeds them. One of the shaping thoughts of the generation of actors and thinkers who emerged from the Second World War was the seared perception that stability, trust, peace and virtuous cycles of all sorts are not natural phenomena or human norms. In fact, they are brittle creations and perhaps abnormal in human affairs. Of course, these beliefs and the ambitions and goals which grew out of them led to their own follies. One can jump from 1945 to 1965 and see the wisdom of this recognition leading the same luminaries to walk into a folly of an entirely different kind. The men who built much of the world we live in today also built a world that was perpetually on the brink of cataclysmic nuclear annihlation. Their creation, let us say with some understatement, had real shortcomings….
(3) SCIENCEERS. Lloyd W. Currey has for sale a truly historic document: "(Fanzine History) Glasser, Allen. MINUTES OF THE MEETINGS OF THE SCIENCEERS, 26 APRIL 1930-27 SEPTEMBER 1930".
[New York?]: Allen Glasser, 26 November 1937. Octavo, 6 leaves plus cover sheet, typewritten copy, brad bound. A possibly unique historic record of the meetings of The Scienceers held from 26 April 1930 to 27 September 1930, documenting the birth of THE PLANET, the first true science fiction fan magazine. During the 14 June meeting the suggestion that a club paper be issued was met with unanimous approval, THE PLANET was chosen as the name of the proposed paper, and the editorial staff was elected. Under the editorship of Allen Glasser a total of six monthly issues dated from July 1930 to December 1930 were produced. The first issue, dated July 1930, was distributed to members at the meeting of 19 July, the August issue was distributed at the 2 August meeting, the September issue was distributed at the 30 August meeting, and the October issue was distributed at the 27 September meeting. The history of The Scienceers is presented concisely by former secretary Allen Glasser in his "explanatory note" dated 26 November 1937: "The Scienceers club was founded Dec. 11, 1929, and its first official meeting was held Jan. 4, 1930. From the latter date to April 26, 1930, when the following records begin, no minutes were kept, since meetings had been held at irregular intervals and the future of the club was uncertain. After the reorganization of April 26, The Scienceers held regular weekly meetings until September 27, 1930. Following that date, the club split into two separate groups, both of which disbanded by the end of the year without keeping any further records." See Moskowitz, The Immortal Storm, p. 10. Paper stock a bit tanned, else fine. (#155718).  Price: $450.00 
(4) ARCHIBALD PRIZE. Nick Stathopoulos was a runner-up to Louise Hearman for the Archibald Prize for portraits. Stathopoulos is a long-time fan, 10-time winner of the Australian NatCon's Ditmar Award, and a past Hugo and Chesley Award nominee.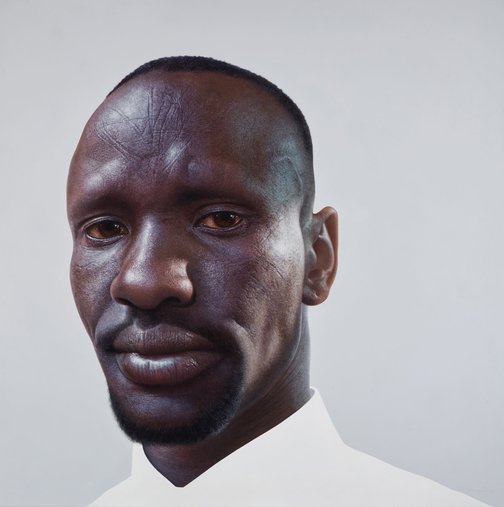 As Nick told his Facebook followers.
I had to contend with a film crew this morning…filming me not getting the call from the AGNSW. Then I had to go into the AGNSW with film crew knowing I wasn't the winner. But it was heartening to hear my name mentioned among the final contenders. (I do love Louise's work though…so I can't be disgruntled at her win. Well done!)
The Guardian's Andrew Frost named Stathopoulos as one of his two preferences to have won.
Louise Hearman's looming half-figure of Barry Humphries may have scooped the prize, but in a just alternate universe, Nick Stathopoulos's portrait of Deng Thiak Adut or Marc Etherington's painting of Ken Done would have been rewarded

Unjustly maligned by some critics for his photorealist style, Stathopoulos's subject, Deng Thiak Adut – a former Sudanese child solider who came to Australia, graduated law school and now works as a refugee advocate – has the kind of back story that would normally guarantee entry into the prize.

But it is also a commanding picture that contrasts areas of detail such as the face, skin and hair that are rendered photorealistically with a neutral grey background and white shirt. Not only does the picture go against the grain of the faux-expressionist impasto painting that remains popular, but it also demonstrates that the Art Gallery of New South Wales trustees can spot a good picture when they see one.
The 51 finalists are shown here.
The gallery's description of Stathopoulos' painting reads:
Sudanese refugee and lawyer Deng Adut came to the attention of Nick Stathopoulos through an advertisement for Western Sydney University, where Adut was a graduate. It movingly documented how he came to Australia following life as a child soldier in Sudan and how he put himself through law school, becoming a formidable refugee advocate and community leader.

Despite his increasingly busy schedule, Adut agreed to sit for Stathopoulos. 'You really need to have the subject there in front of you to capture that life-spark and commanding presence. Those eyes, those scars, tell a story that no ad could ever convey,' says the artist.

The portrait took over four months to complete, more time than Stathopoulos has ever spent on any single painting. 'I'm actually a very traditional practitioner by choice. I've spent my entire life developing my style and process. What I do is time-consuming, laborious and painstaking,' he says.

Born in Paddington, Sydney in 1959, Stathopoulos is a self-taught artist, known for his hyper-realistic style, particularly his paintings of his childhood toy collection. This is his fifth time as an Archibald finalist. He has also been a finalist in the Doug Moran National Portrait Prize twice. His portrait of Robert Hoge, Ugly, won the People's Choice Award in the 2014 Salon des Refusés and was a finalist in the 2015 BP Portrait Prize at the National Portrait Gallery in London. He is a finalist in the 2016 Shirley Hannan Portrait Prize.
(5) SULMAN PRIZE. Announced around the same time is the winner of the Sulman prize for subject, genre or mural painting. Judged by artist Judy Watson, the winner was Esther Stewart's Flatland Dreaming.
Based in part on Edwin Abbott's 19th century proto-science fiction novel, the work charts the zone between abstraction and figuration, deftly conflating dimensional space that the eye tries to unpack.
(6) RICK AND MORTY. The Rick and Morty Simulator is coming to Comic-Con. Dawn Incognito sent these lines —
Wanna try it first-hand? For those of you able to make it to San Diego Comic Con, we'll be at Adult Swim On The Green with HTC Vives in tow!
July 21st-24th from 11am – 6pm Located behind the Convention Center at Convention Way & 5th Ave Pier
Rick and Morty Simulator: Virtual Rick-ality smashes together the absolute VR chaos of the award-winning Job Simulator with the ridiculous, all-out, take-no-prisoners comedy of Rick and Morty. And now, for the worldwide, earth-shattering gameplay teaser reveal:
(7) FARINI OBIT. Corrado Farini: Italian film drrector, actor, died 11 July, aged 77. Best known for Baba Yaga (1973, aka The Devil Witch and Kiss Me, Kill Me), which he adapted from Guido Crepax's comics and had a cameo appearance as a Nazi.
(8) NINTENDO REVIVAL. Nintendo is launching the NES classic Mini in November.
According to the site NintendoLife the mini NES Classic Edition will cost $59.99. It will be loaded with 30 classic games and it comes with a NES controller.
Here are a few of the 30 games that will be pre-loaded:
Donkey Kong
Donkey Kong Jr.
Mario Bros.
PAC-MAN
Super Mario Bros.
TECMO BOWL
The Legend of Zelda
(9) HUGO REVIEWS. David Steffen is reviewing Hugo-nominated fiction at Diabolical Plots. The latest is — Hugo Novelette Review: "Obits" by Stephen King
(10) THREE MINUTES OF MAKING ROGUE ONE. SciFiNow says this "sizzle reel" was shown on the first day at Star Wars Celebration.
[Thanks to Dawn Incognito, Mark-kitteh, Steve Green, Cat Rambo, Cat Eldridge, Andrew Porter, and John King Tarpinian for some of these stories. Title credit belongs to File 770 contributing editor of the day Camestros Felapton.]