(1) VICFA TAKING PROPOSALS. The Virtual International Conference on the Fantastic in the Arts (November 5-11) is now accepting proposal submissions.
Organized by new Virtual Conference Coordinator and Afropantheologist Oghenechovwe Ekpeki and featuring genre-defining Guests of Honor Martha Wells, Steven Barnes, and Annalee Newitz, the week-long Virtual Conference for the Fantastic in the Arts includes the investigative insights of Guest Scholars Alec Nevala-Lee, Wole Talabi, and Jennifer Rhee.
Whether you are interested in the academic track or the creative track, they welcome your contribution.
The deadline for proposal submissions is September 15th, and acceptance notifications will be sent out on September 30th. For more detailed information, please see the attached CFP or visit the International Association for the Fantastic in the Arts website.

The Virtual International Conference on the Fantastic in the Arts (November 5th-11th) is currently accepting proposal submissions! This year, we are excited to convene about the theme: AAAA! – AI, Algorithms, Automata and Art. The International Association for Fantastic in the Arts will be hosting several phenomenal Guests of Honor, including Steven Barnes, Annalee Newitz, and Martha Wells. Additionally, our Guest Scholars are Alec Nevala-Lee, Jennifer Rhee, and Wole Talabi!

To submit your proposals, please see the links below. Please note that there are two links, one for academic track and one for creative track.
(2) SEND A CARD. Bjo Trimble is turning 90 on August 15! Her daughter Lora reminds anyone who wants to send a card that her address is:
Bjo Trimble
California Veterans Home
700 East Naples Court
Chula Vista CA 91911
(3) KGB. Fantastic Fiction at KGB reading series hosts Ellen Datlow and Matthew Kressel present C.S.E. Cooney and Steve Berman on Wednesday, August 9. Starts 7:00 p.m. EDT at the KGB Bar, 85 East 4th Street, New York, NY 10003. (Just off 2nd Ave, upstairs)
C.S.E. COONEY
C. S. E. Cooney is the World Fantasy Award-winning author of Bone Swans: Stories. Other books include The Twice-Drowned Saint, Saint Death's Daughter, Dark Breakers, and Desdemona and the Deep. Forthcoming from Outland Entertainment is Negocios Infernales, a TTRPG she co-designed with her husband Carlos Hernandez.
STEVE BERMAN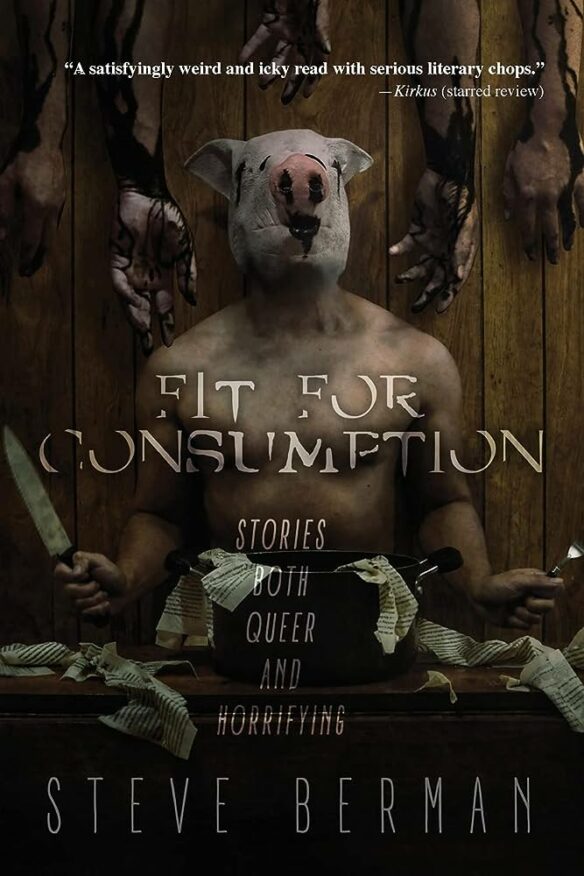 Steve Berman is the Lambda Literary Award-winning editor of over forty anthologies including His Seed and Burly Tales. He is also author of the Andre Norton Award finalist, Vintage, and four short story collections, the most recent being Fit for Consumption. Most of his work is queer speculative fiction and horror. He resides in Western Massachusetts.
(4) WARNER BROS. NOPOLOGY FOR BARBENHEIMER. Entertainment Weekly headlines its story "Warner Bros. apologizes for Barbenheimer posts amid backlash in Japan" but Google Translate says the release is worded, "We apologize to those who were offended by this series of inconsiderate reactions."
Warner Bros. is apologizing after its Japanese branch criticized the company's decision to publicly support the Barbenheimer craze on social media.

"Warner Brothers regrets its recent insensitive social media engagement," the company said in a statement to EW. "The studio offers a sincere apology."

Its remarks come one day after the Barbie Japan Twitter account posted a statement denouncing the online movement that links Greta Gerwig's fun and fashionable Barbie with Christopher Nolan's Oppenheimer — which chronicles the creation of the atomic bomb that killed at least 225,000 people in Hiroshima and Nagasaki — amid growing backlash in Japan that the trend trivializes the mass destruction caused by atomic bombs. The hashtag #NoBarbenheimer has recently been trending in Japan as a result….

[Previously] the Barbie U.S. Twitter account positively interacted with several Barbenheimer-inspired posts, including a fan-created poster that featured Barbie star Margot Robbie sitting on Oppenheimer actor Cillian Murphy's shoulder in front of a plume of orange smoke. The Barbie account commented on the fan-made image, writing, "It's going to be a summer to remember."
(5) THOUGHTS ABOUT PEMMI-CON. Ralston Stahler's Pemmi-Con report is a public Facebook post here. Following discussion of many areas of the con, noting the problems and the successes, Stahler concludes:
…All in all it wasn't the best con, and it wasn't the worst. I think out of all the NASFiC's it is the second lowest attended. Maybe covid or being a pretty distant location had something to do with it.
(6) MAKE THOSE RINGS SING. If File 770 readers happen to be in Berkshire, the Guardian has a recommendation: "The Lord of the Rings: A Musical Tale review – the greatest show on Middle-earth".
…First seen in the UK in 2007 at London's Theatre Royal Drury Lane – a 1996-seat theatre – the show is revived at the 220-capacity Watermill. This means that Simon Kenny's design and Anjali Mehra's choreography are a theatrical equivalent of stunts designed to find how many people can fit in a Mini.

The creative team ought to be listed in a Guinness book of theatrical records. During the long sections inside the tiny theatre, they cram in battles, orc attacks, treks across land, over mountains or through caves and lavish production numbers involving 20 actors or musicians (several performers also play instruments)….
(7) CRISTINA JURADO DEAL. Apex Book Company has acquired first North America English rights to the novella Chlorophilia by Spanish author Cristina Jurado. The deal was brokered by agent Hannah Bowman of Liza Dawson Associates.
Kirmen is different from everyone else in the Cloister. Due to the doctor's endless experiments on Kirmen, his skin, his eyes, even his organs are changing. Kirmen wonders if he even belongs with the other inhabitants of the dome that protects the last remnants of humanity from the forever storm raging against the glass. Kirmen's dreams of love, of acceptance, slip away with every treatment. What will happen when the doctor's transformations are complete? What will Kirmen be then?
Cristina Jurado is a bilingual author, editor and translator of speculative fiction. In 2019 she became the first female writer to win the Best Novel Ignotus Award (Spain's top sff Award) for Bionautas. Since 2015 she runs the Spanish multi-awarded magazine SuperSonic. In 2020 she was recognized with the ESFS's Best SF Promoter Award and started to work as a contributor of the bilingual quarterly Constelación magazine.
(8) CON OR BUST. Applications are being taken for Con or Bust's Goldman Fund initiative to assist Palestinian creators and fans of speculative fiction in attending the 2024 World Science Fiction Convention.
We'll be assisting self-identified citizens of Palestine and members of the Palestinian diaspora to pay for travel and membership expenses to five Worldcons beginning in 2024. If you qualify for the Goldman Fund and would like assistance attending 2024's Worldcon, apply here. The preferred application window runs from 31 July through 5 November, 2023. Applications received after the window closes will be considered for any remaining funds.
(9) WHERE THE THREE RIVERS MEET. Pulpfest's Mike Chomko appeared on local CBS affiliate's TALK Pittsburgh show to provide "An introduction to the 50th anniversary of PulpFest". The con starts tomorrow. Video at the link.
Mike Chomko, the marketing and programming director of PulpFest, joined the show to talk about the festival's dedication to a special form of fiction magazines.
(10) MEMORY LANE.
[Written by Cat Eldridge.]
1995 — Our Beginning is taken from Jane Yolen's The Wild Hunt. It was released as a hardcover edition twenty-eight years ago by Harcourt Brace with copious illustrations and cover art by Francisco Mora, a pupil of Diego Rivera, who was deep into the Mexican political scene making posters for trade unions and government literacy campaigns.
It's not — if one takes into account the illustrations — a novel really. I've got my personally signed copy on hand (yes, she is on the chocolate gifting list. She prefers no more than seventy percent chocolate.) and I'd say it'd be a novella if judged by length alone.
It is that rare wonderful work where the text and the illustrations (see the cover illustration below of The Wild Hunt as a turning clock) are truly intrinsic to each other. I cannot imagine it as just text, though I can imagine it as a spoken work as Yolen's language here is brilliant.
So let's have just the introduction to it as our Beginning…
A wild winter storm rages around a large house that is isolated from the rest of the world. Traditionally, the Wild Hunt appeared around the time of Epiphany— January 6 in the Church Calendar—when winter was at its most severe in Northern Europe. No country is specified, but this is, after all, a fantasy world. The house is both a comfortable dwelling with a large library in keeping with Jerold's quiet personality, and a parallel setting that matches Gerund's much more active one. A hundred yards from the house is a granite outcrop where the Hunt gathers: "This rock might have been a thousand miles away. Or a thousand years."
(11) TODAY'S BIRTHDAYS.
[Compiled by Cat Eldridge.]
Born August 2, 1917 — Wah Chang. Co-founder in the late 1950s, with Gene Warren and Tim Baar, of the special effects company Project Unlimited Inc. They provided the effects for numerous George Pal productions, including *The Wonderful World of the Brothers Grimm*, *Jack the Giant Killer*, and *The Time Machine* (for which they won an Academy Award, although Chang's name was erroneously omitted). Wang and his fellow Projects coworkers did essentially all of the effects for the original *Outer Limits* television series. Perhaps most famously, Chang created some of the best-known effects for the original *Star Trek*, including the communicator, the tricorder, the Romulan Bird of Prey, the Tribbles, and numerous aliens, although he did not receive screen credit for any of this work. A talented artist, later in life he gained renown as a wildlife sculptor. (Died 2003.) [PhilRM]
Born August 2, 1920 — Theodore Marcuse. He was Korob in "Catspaw", a second season Trek episode written by Robert Bloch that aired just before Halloween aptly enough. He had appearances in The Twilight Zone ("The Trade-Ins" and "To Serve Man"), Time Tunnel, Voyage to the Bottom of the Sea, Wild Wild West and The Man from U.N.C.L.E. in the episodes "The Re-collectors Affair", "The Minus-X Affair", and "The Pieces of Fate Affair". (Died 1967.)
Born August 2, 1932 — Peter O'Toole. I'm tempted to say his first genre role was playing King Henry in A Lion in Winter as it is alternate history. It really is despite some of you saying it isn't. Actually before that he's got an uncredited role in Casino Royale as a Scottish piper. Really he does. His first genre role without dispute is as Zaltar in Supergirl followed by being Dr. Harry Wolverine in Creator. He's Peter Plunkett in the superb High Spirits, he's in FairyTale: A True Story as a very credible Arthur Conan Doyle, and Stardust as King of Stormhold. Not surprisingly, he played in a version of Midsummer Night's Dream as Lysander. (Died 2013.)
Born August 2, 1948 — Robert Holdstock. Another one who died far too young. His Ryhope Wood series is simply amazing with Lavondyss being my favorite volume. And let's not overlook his Merlin Codex series which is one of the more original takes on that character I've read. The Ragthorn, co-written with Garry Kilworth, is interesting as well. (Died 2009.)
Born August 2, 1954 — Ken MacLeod, 69. Sometimes I don't realize until I do a Birthday note just how much I've read of a certain author. And so it was of this author. I've read the entire Fall Revolution series, not quite all of the Engines of Light Trilogy, just the first two of the Corporation Wars but I've got it in my to-be-finished queue, and every one of his one-off novels save Descent. His Restoration Game is quite chilling. I should go find his Giant Lizards from Another Star collection as I've not read his short fiction. Damn it's not available from the usual suspects! Hugo Award wise, he didn't win any but had some nominations. The Sky Road was nominated at the Millennium Philcon, Cosmonaut Keep at ConJosé and Learning the World at L.A. Con IV.
Born August 2, 1955 — Caleb Carr, 68. Ok, I'll admit that this is another author that ISFDB lists as genre that I don't think of as being as genre. ISFDB list all four of his novels as being genre including The Alienist and The Angel of Darkness which are not even genre adjacent by my reading. So is there something in those novels that I missed?
Born August 2, 1970 — Kevin Smith, 53. Well-loved comics writer who's worked for DC, Marvel and other venues. He was involved with both Daredevil and Green Arrow. He directed the pilot for the CW supernatural comedy series Reaper, produced and appeared in a reality television series, Comic Book Men, and appeared as a character in the animated Superman: Doomsday. He's also the showrunner for Masters of the Universe: Revelation animated series and the sequel Masters of the Universe: Revolution which will stream early next year. 
Born August 2, 1976 — Emma Newman, 47. Author of quite a few SF novels and a collection of short fiction. Her Planetfall series was nominated for the Best Series Hugo Award 2020. Also of interest to us is that she co-created along with her husband Peter, of the Hugo Award winning podcast Tea and Jeopardy which centers around her hosting another creator for a nice cup of tea and cake, while her scheming butler Latimer (played by Peter) attempts to send them to their deaths at the end of the episode.
(12) COMICS SECTION.
(13) WILL HER LOVE OF ANIME AND MANGA PROVE CONTAGIOUS? Ada Palmer launches a new column in Strange Horizons with "A Mitfreude of Anime and Manga's Relationship with Anglophone Science Fiction (Or, This Essay WILL NOT Try to Get You into Anime and Manga!)"
… Once upon a time an atomic-powered robot boy dodged censorship to talk about racism, and fifty years later Japan issued the first legal birth certificate granting citizenship to an AI. Once upon a time in a small Japanese town flourished Earth's glitteriest, rose-petal-y-est, most gender-bending form of theater, and ninety years later a comics shop owner in Cambridge, Massachusetts, exclaimed to me, "Girls are coming into the store now! There were none before!" And once upon a time kids gathered in the streets of Tokyo to hear a storyteller with hand-drawn illustration cards narrate a battle between a crime boss in a robot suit and a thousand-year-old superhero from Atlantis, and fifty-five years later a Japanese-built surgical robot took life-saving samples of my intestines.

Enjoying anime and manga has a high learning curve: you need to invest time learning their visual vocabulary, and many of the best works depend on knowing earlier tropes and patterns. But anyone can enjoy the history of anime and manga, how these media have shaped science, medicine, genre fiction, gender, and how—as twentieth century English was rising to dominance through music and TV around the globe—anime and manga managed to become the biggest body of modern media that gets translated into English instead of the other way around….
(14) THIS WOULD MAKE ME START WRITING LETTERS AGAIN. "Mr. Spock On A Stamp: Adam Schiff Urges U.S. Postal Service To Honor Leonard Nimoy" reports Deadline.
…In a statement, Schiff called Nimoy, who died in 2015, "an extraordinary activist, actor and friend."

"Nimoy's legacy includes his lengthy acting career — including his beloved and iconic role as 'Spock' in the Star Trek universe — and his many generous contributions to the arts and sciences, and his beautiful family."

On Monday, Schiff sent a letter to the Citizens Stamp Advisory Committee, asking them to recommend Nimoy to the Postmaster General. The committee selects individuals who have made "extraordinary and enduring contributions to American society, history, culture or environment." Living people are not currently eligible, and those who are deceased are considered at least three years after his or hear death. Stamps also are planned two- to three- years in advance….
(15) OVERVIEW OF JOHN WILLIAMS' COMPOSITIONS FOR CINEMA. Forbes talks to Mike Matessino, one of the foremost experts in the music of John Williams, who has produced numerous Williams soundtrack albums over the years, in "Re-Listening To John Williams, The Maestro Of The Movies".
What are your thoughts on "How to Steal a Million" — often cited as a highlight of Williams' '60s work?

Mike: If one looks at the earliest feature films John Williams scored, you see some fairly prominent director names that today are mostly known only among cinephiles — Frank Tashlin, Andrew McLaglen — and then Frank Sinatra, for whom John scored the only movie the actor/singer directed, "None But the Brave."

But then comes "How to Steal a Million" and three-time Oscar winner William Wyler. So this is the first project for a truly A-list director, and it remains, I think, the most sophisticated of the comedies that John Williams scored during that important period where he was based at 20th Century-Fox Studios.

I once asked Ian Fraser, who worked with Williams on "Goodbye, Mr. Chips" a couple years later, if had any sense on that project of just how great a composer Williams would become, and he said, "I knew it when I went to the sessions for 'How to Steal a Million,'" as Fraser was at 20th at that time working on 'Doctor Dolittle.' The "Million" score is a mixture of comedic elements and some terrific half-tongue-in-cheek suspense writing that showed just how versatile John Williams could be. It's also significant in that it is the first time he was given the opportunity to completely re-record music from the film for his own soundtrack album, so it really was a significant career milestone.
(16) HYVILMA. Gideon Marcus' new release Hyvilma is celebrated at Queer Sci Fi. Includes an excerpt from the book.
QSFer Gideon Marcus has a new queer YA sci-fi book out (bisexual): Hyvilma.

A damaged ship, a dying shipmate–can she save both?

Under attack! The flight back to Hyvilma should have been the easy part for the crew of the Majera–until a deadly ambush by pirates sends them reeling through hyperspace. Now getting to the planet in time is the only way Captain Kitra Yilmaz can save her dying friend.

But landing at Hyvilma may be impossible: war has broken out on the Frontier.
With illustrations by Hugo Finalist Lorelei Esther.
(17) AI EFFECTIVE IN BREAST CANCER SCREENING. [Item by Steven French.] Good to have some positive news about AI! The Guardian reports "AI use in breast cancer screening as good as two radiologists, study finds".
…But the latest study, which followed women from Sweden with an average age of 54, compared AI-supported screening directly with standard care.

Half of the scans were assessed by two radiologists, while the other half were assessed by AI-supported screening followed by interpretation by one or two radiologists.

In total, 244 women (28%) recalled from AI-supported screening were found to have cancer compared with 203 women (25%) recalled from standard screening. This resulted in 41 more cancers being detected with the support of AI, of which 19 were invasive and 22 were in situ cancers.

The use of AI did not generate more false positives, where a scan is incorrectly diagnosed as abnormal. The false-positive rate was 1.5% in both groups.
(18) WHAT WERE PEOPLE STREAMING IN JULY? JustWatch offers their monthly Top 10 streaming lists for July 2023.
(19) STORY FEEDBACK IN REALTIME. Apex Magazine presents Snap Judgment Episode 7, their "rapid-fire, live-streaming critique series."
Every quarter, industry professionals Jason Sizemore, Lesley Conner, and a special guest offer live feedback on the first page (up to 250 words) of genre short stories or novels. These first pages are read aloud by our talented host and narrator, Aly Grauer.

We are pleased to announce that our special guest editor for this event is author and editor Nick Mamatas!

HOW IT WORKS. Our host reads the title, genre, and text of the submission aloud without identifying the author. If at any point our panelists feel they would stop reading and reject the piece from their slush pile, they raise their hand. If all three hands are raised, our narrator stops reading.

Each panelist then gives their feedback on the opening: what works for them, what doesn't, and what could be done to improve it. Don't expect our panelists to be a mean group, but do expect them to be honest when it comes to assessing the work.

NICK MAMATAS. Special guest editor for this event is author and editor Nick Mamatas! Nick Mamatas is the author of several novels, including I Am Providence and The Second Shooter. His short fiction has appeared or will soon appear in Best American Mystery Stories, Asimov's Science Fiction, Tor.com, McSweeney's, and many other venues. Much of it was recently collected in The People's Republic of Everything. Nick is also an anthologist; his latest book is Wonder and Glory Forever: Awe-Inspiring Lovecraftian Fiction.
(20) VIDEO OF THE DAY (OR POSSIBLY TWO MONTHS AGO). Did we run this before? Well, it's always news to someone. Karen Gillan shares "A week in the life of playing Nebula in Guardians Of The Galaxy Vol 3".
Come spend a week with me filming Guardians of the Galaxy Vol 3
[Thanks to Cat Eldridge, SF Concatenation's Jonathan Cowie, Mike Kennedy, Kathy Sullivan, Steven French, PhilRM, Andrew Porter, John King Tarpinian, Chris Barkley, and Michael Toman for some of these stories. Title credit belongs to File 770 contributing editor of the day JeffWarner.]