(1) YOU CAN ORBIT BUT YOU CAN'T HIDE. Alex Parker likes to think Cassini's dive into Saturn is payback for the dinosaur extinction event. A thread explaining his complicated theory starts here:
So, the time has come. Everything is in place. Saturn can't dodge now.

I want to tell you all a little story.

— Alex Parker (@Alex_Parker) September 13, 2017
So all I'm saying is, if you see a bird on Friday after Cassini slams into Saturn, give them a nod. They know what we did.

They know.

— Alex Parker (@Alex_Parker) September 13, 2017
(2) SFWA GALAKTIKA SETTLEMENT NAMES AFFECTED AUTHORS. There are further developments in a story reported here in July. Full information at the SFWA Blog: "Agreement Reached with Galaktika on Past Infringements".
The Authors Guild and Science Fiction & Fantasy Writers of America (SFWA) announced today that they collaboratively reached an agreement with a Hungarian science fiction magazine, Galaktika, which for years had been reprinting stories of American and British science fiction writers without their permission….

Part of the settlement between the magazine Galaktika and SFWA and the Authors Guild was that Galaktika would provide a complete list of authors whose work had been published without authorization by Galaktika. The list below was created from the spreadsheet that they provided, and, as far as SFWA can discover, it is accurate. This list includes authors or their representatives who have already come to agreements with Galaktika or are still in the process of negotiation. It is being made public to aid authors who may not know their work was published without authorization. Note that some of the works affected may be out of copyright in Hungary.
(3) BOOK SMUGGLERS KICKSTARTER. Thea James and Ana Grilo have launched The Book Smugglers: Level Up Kickstarter.
We celebrate our tenth anniversary next year and we would like to level up, so we finally decided to take the leap and create a Kickstarter of our own. We are trying to raise $16,500 which will go towards a new season of short stories (under the theme "Awakenings") at a higher pay rate and ensuring we can hire freelancers to do production work for the ebooks. We would also love to get paid contributors to the blog on a weekly basis. If we raise more than the initial amount? The sky is the limit. All with a view to continue to publish and highlight diverse voices.

We donate our time to the Book Smugglers because we love the work that we do, which we hope to continue doing for another ten years.
To date their Kickstarter has raised 5,842 of its $16,500 goal.
(4) KEEP ON TICKING. Jim C. Hines reviews "The Tick, Season One". BEWARE SPOILERS. In case that sort of thing worries you….
I didn't need this to be a repeat of the animated show I loved. But it felt like it tried way too hard to be dark and gritty and edgy, at the cost of the heart and joy I was hoping for.

With all that said, I might still watch the next batch of six episodes when they come out. (I'm told that technically, this won't be season two, but the second half of season one.) If they continue to improve the way they did in those last couple of episodes…

But for now, I'm rating this a solid disappointment.
(5) GUILTY CONSCIENCE. Anybody who's watched the right episodes of the TV series Suits on the USA Network knows that lawyer Louis Litt is a Game of Thrones fan … at one point, he said, referring to himself, "A Lannister always pays his debts." This clip from the most recent episode shows that watching aGoT may not always be good for your mental health:
(6) ACROSS THE ATLANTIC BY HOT AIR. Black Gate's Sean McLachlan blows the whistle on a pre-internet author of bogosity: "Edgar Allan Poe Wrote Fake News".
In 1844 he was working for the New York Sun, and penned a front-page story for the April 13 issue trumpeting a new scientific wonder — the crossing of the Atlantic in three days by balloon. The story breathlessly related how a crew of eight men, including William Henson and Monck Mason, both well-known aeronauts, and famous British novelist Harrison Ainsworth, traveled in a powered balloon from England to Charleston, South Carolina, in 75 hours. The article went on to give various technical details.
(7) GETTING PAID, BUT NOT MUCH. Catherine Baab-Migura, in "Edgar Allan Poe Was A Broke-Ass Freelancer" on The Millions looks at how little money Poe made for his great works and how much time he had to hassle publishers to pay him. But now that you know his history with fake news, how broken up can you really feel?
A lot of fans know Edgar Allan Poe earned just $9 for "The Raven," now one of the most popular poems of all time, read out loud by schoolteachers the world over. What most people don't know is that, for his entire oeuvre—all his fiction, poetry, criticism, lectures—Poe earned only about $6,200 in his lifetime, or approximately $191,087 adjusted for inflation.

Maybe $191,087 seems like a lot of money. And sure, as book advances go, that'd be a generous one, the kind that fellow writers would whisper about. But what if $191,087 was all you got for 20 years of work and the stuff you wrote happened to be among the most enduring literature ever produced by anyone anywhere?
(8) AFTER THE EVE OF DESTRUCTION. Jennifer Brozek's new project returns her to the BattleTech universe: "Award-winning author Jennifer Brozek slated to pen the first Young Adult BattleTech trilogy".
Catalyst, licensors of the BattleTech tabletop game and Shadowrun roleplaying game, is taking the next step in creating a diverse BattleTech universe with a new young adult trilogy. Jennifer Brozek, award-winning author of BattleTech: The Nellus Academy Incident and Shadowrun: DocWagon 19, is developing a character-driven, action-filled story set after the Jihad, and exploring the tumultuous aftermath of the Age of Destruction. Currently scheduled for a Fall 2018 release date, it can't come soon enough for BattleTech fans looking for brand new fiction set in the military science fictional universe.
(9) SADCOMS. The Guardian should warn readers they might need a tissue here: "In the golden age of TV, the existential-animation is king"
Why is a talking cartoon horse making me cry? It's a question many of us might have asked ourselves as the new season of BoJack Horseman – an improbably moving Netflix cartoon about a version of Hollywood populated by talking animals – surfaced over the weekend.

The characters, led by BoJack (voiced by Will Arnett), make terrible decisions about sex and dating, sell themselves short, and generally end up miserable in the funniest possible ways. It's a show at the forefront of a recent crop of animated TV series for adults that surpass most live-action shows this side of Twin Peaks in terms of sheer emotional ambition.

There's BoJack, Adult Swim's critically lauded sci-fi series Rick and Morty, the Duplass brothers' Animals on HBO, and Archer, a workplace comedy about a spy agency that has gone crazily off the rails. In broad terms, TV is still embracing what critic Jenny Jaffe dubbed the "sadcom" – a show with an ostensibly comic outlook that trades in for pathos – but something special is happening in animation. With animated shows TV is able to flex different muscles.
(10) FROZEBUD. Citizen Lucas might go for this — "Star Wars Wampa Cave Snow Globe" from ThinkGeek.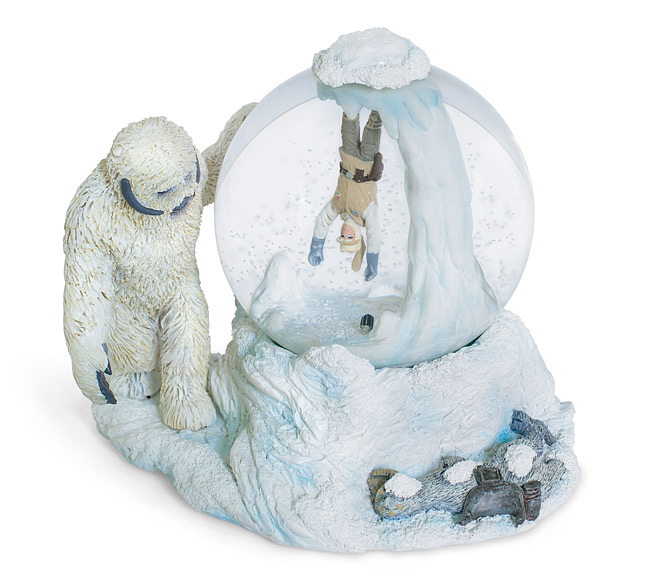 We're going to be honest here: we squeed when we first unboxed this product. Our excitement might have drawn other employees over to look. There are SO many little details. "Oh look! Luke's lightsaber is in the snow!" "I love how the ice of the cave starts on the inside of the globe and continues outside it." "OMG. THERE'S A DEAD TAUNTAUN ON THE SIDE." A Hoth snow globe just makes sense. And this Star Wars Wampa Cave Snow Globe created by our GeekLabs team is magnificent. It perfectly captures the tense atmosphere of the cave scene while still being a flippin' snow globe. Watch the snow gently settle around Luke in what looks like a hopeless situation. And the Tauntaun isn't gory so it's appropriate for all ages. Stick it behind your little holiday village diorama as a reminder to the elves and reindeer not to wander out alone.
(11) TODAY IN HISTORY
September 13, 1965 — Ghidorah, The Three-Headed Monster battled their way into theaters
September 13, 1974 — Planet of the Apes TV version premiered.
September 13, 1977 — Jay Anson's The Amityville Horror is published.
(12) TODAY'S CHITTY CHITTY BANG BANGER
Born September 13, 1916 – Roald Dahl
(13) YOUR FAVORITE ICONOCLASTS. Timothy the Talking Cat and Straw Puppy declare "Chapters are cultural convention that we need not adhere to" at Camestros Felapton's blog as they unleash (get it?) a new installment of their classic work.
"Well, well, well," said McEdifice, "if it isn't Commander Clench, my old nemesis. I thought I told you never to set foot again on the Grassland Planet of Steppe."

"Well yes, you did but as I explained at the time, I'm free to go anywhere I like and also I outrank you and also I have an orbiting space-dreadnought directly above us that could wipe you off the face of the planet before you could even grimace at me in a way I didn't like." explained Commander Clench.
I don't know, I thought this was quite readable…. Send help….
(14) EMPTY THE MAGAZINE. Bullets with the Monster Hunters International logo on sale for charity. Ten percent goes to the Houston Food Bank. They've already sold 60,000. Living in interesting times.
These are just bullets for handloading. This is not loaded ammunition. Also, be aware that this design is on the front of a 9mm bullet. It is VERY small and serves no purpose other than being really cool. Please do not expect anything magical or supernatural from them. They are just bullets with an awesome stamped logo. Though the lead we sourced does contain trace amounts of silver, it isn't enough for serious hunting. They are to be used on nothing larger than a gnome.
(15) NZ CONREPORT. At Concatenation, Lee Murray, Dan Rabarts and Darian Smith discuss LexiCon 2017, New Zealand's 38th National Science Fiction and Fantasy Convention – with a shout out to DUFF delegate Paul Weimer.
LM:  First up for me panel-wise was moderating a session on the language of science fiction and fantasy, with Swedish writer Emma Lindhagen, Cloud Ink Press' Mark Johnson and local personality Jack Newhouse sharing the front table. One of the first panels of the con, it was too soon for convention goers to have succumbed to con crud, so the room was packed and it was a lively discussion covering topics such as conlanging, conlinging, inclusiveness, and Klingon. I also moderated a panel on Introducing new readers to SFF, but because the session was scheduled against Paul Mannering in conversation with Guest of Honour Seanan McGuire, there were only seventeen of the con's attendees present. So we decided to pull the chairs into a circle and invite everyone to join in, which turned out to be a great idea as the input from the audience was terrific. I think that's one of the advantages of our New Zealand conventions: because we are small and most of us know each other, we can be flexible and no one throws a hissy fit. The DUFF delegate, Paul Weimer from Minneapolis, made a comment to that effect in the 'Australia and Us' panel, saying he hadn't realised before he came, just how close-knit our SF/F/H community is here, an aspect he felt might be unique to New Zealand.

DR:  In the way of all good cons, a good portion of the Con should have seen the bar buzzing with people rubbing shoulders and chinking glasses, and from time to time it was. Surprisingly, there was less of this than expected, mainly because so many of the attendees were going to panels, which in some cases came as a surprise even to them. So while there was less action in the bar than we are used to, the panels were humming and people were networking and fan fund delegates were hanging out and talking community-building while peddling raffle tickets and auction lots. I am not quite sure the Suncourt knew what they were letting themselves in for when they agreed to our booking the place out for a convention, but they were amazing hosts as well, and everything went off about as smoothly as we could have hoped.
(16) SCHRODINGER'S 7-11. Fast Company says "Two Ex-Googlers Want To Make Bodegas And Mom-And-Pop Corner Stores Obsolete".
While it sometimes feels like we do all of our shopping on the internet, government data shows that actually less than 10% of all retail transactions happen online. In a world where we get our groceries delivered in just two hours through Instacart or Amazon Fresh, the humble corner store–or bodega, as they are known in New York and Los Angeles–still performs a valuable function. No matter how organized you are, you're bound to run out of milk or diapers in the middle of the night and need to make a quick visit to your neighborhood retailer.

Paul McDonald, who spent 13 years as a product manager at Google, wants to make this corner store a thing of the past. Today, he is launching a new concept called Bodega with his cofounder Ashwath Rajan, another Google veteran. Bodega sets up five-foot-wide pantry boxes filled with non-perishable items you might pick up at a convenience store. An app will allow you to unlock the box and cameras powered with computer vision will register what you've picked up, automatically charging your credit card. The entire process happens without a person actually manning the "store."
Cat Eldridge sent the link with a comment, "Interesting idea but expecting it to be viable in ethic communities where a bodega or the cultural equivalent is as much community centre as store is incredible culturally naive."
Where Cat lives, "We have, other than gas stations that carry a range of stuff this plans on carrying, exactly one English language as first tongue convenience shop for the twenty thousand inhabitants of the peninsula. But there's dozens of ethically based shops including Central American, Middle Eastern, African, Russian and at least one Armenian one."
And to see the Bodega Cats, er, SJW Credentials mentioned in the above article, click here, Instagram has photos.
(17) BRIGHT. Will Smith in Bright available on Netflix starting December 22.
In an alternate present-day where magical creatures live among us, two L.A. cops become embroiled in a prophesied turf battle. Stars Will Smith.

Starring: Will Smith, Joel Edgerton, Noomi Rapace
(18) LEAGUE OF GODS. Out on DVD.
Based on the 16th-century Chinese novel Feng Shen Yan Yi (The Investiture of the Gods), the story tells of how King Zhou of Shang becomes a tyrant due to the wiles of Daji, a vixen spirit who is disguised as one of his concubines.
[Thanks to John King Tarpinian, Mark-kitteh, JJ, Martin Morse Wooster, Cat Eldridge, Daniel Dern, and Carl Slaughter for some of these stories. Title credit goes to File 770 contributing editor of the day Ingvar.]