(1) WISCON GOH SPEECH. Justine Larbalestier posted "My WisCon 40 Guest of Honour Speech" in August.
Teens have made YA the second most profitable fiction category in the USA—after romance. Twelve years ago I mostly had to explain what YA is. These days not so much. Some of those folks who were bewildered as to why anyone would write YA back then, now read it, and some of them even write it. YA advances are, on average, higher than those for SFF writers.

Most of the top-selling SFF books in the USA are YA, not adult. Many YA books sell millions of copies all over the world. Not my YA books, alas. Can't have everything.

YA, of course, could not be this huge if only teens were reading it. The Hunger Games trilogy sold far more copies in the USA than there are teenagers. Adults are reading YA in huge numbers. Adults are making YA super profitable for publishers.

But it was teens that started the YA explosion. They were the ones who pushed the Harry Potter, then Twilight, then Hunger Games series on their parents and teachers and other adults in their lives. Pretty much every mega-hit YA book starts out that way.

You'd think the shared bond of loving books would diminish the hatred and suspicion of teenagers and the things they like.

You'd be wrong.

There's now a whole genre of op ed pieces about how YA is destroying the minds of the adults foolish enough to read it, turning them into blithering, infantalised ninkompoops who will never grow up. At the same time we YA writers are also corrupting the teens who read our books. Multi-tasking!
(2) SEUSS/STAR TREK MASHUP. A Kickstarter appeal is raising funds for Oh, The Places You'll Boldly Go! —
[It's] a parody mash-up from the mind that brought you "The Trouble With Tribbles" that brings together two of the most beloved creations in history in a joyous celebration that will inspire you to join the high fliers who soar to high heights!

We're creating a 48 page, 8.5″ x 11″ book that's familiar and brand new at the same time, a perfect gift for children and adults of all ages, for anyone looking forward to the future.

David Gerrold is one of those gee-whiz-bang writers Who's written for Star Trek, and Babylon 5, and Sliders, He wrote the Dingilliad, When HARLIE Was One, And won Hugos and Nebulas for his Martian son. (And really, to answer the question that wearies, He promises there's a book 5 in the series.)
Ty Templeton's also a name you should know; We've followed his work back from Stig's Inferno. He's done Spider-Man, Star Trek, and Batman (it's true!) And won Eisners and Shusters, and taught comics too.
Glenn Hauman's the person we brought in to edit. He's okay, we guess. (Hey, don't blame us, he said it). He's wrote Star Trek and X-Men and colored some pics And now does the works over at ComicMix
The Kickstarter has raised $18,818 of its $20,000 goal at this writing, and has 11 days left to run.
(3) BOOK COVER AWARD. The ingenious Camestros Felapton's new project is ranking SFF book covers from the current year. Here's what he's got so far – "Best SFF Award Nominee Book Cover Award 2016: longlist".
Last year I ranked the Hugo best novels by book covers. I am going to do the same this year but I'll extend the field to include the Nebulas, Clarkes and whattheheck The Dragons (winners only – too many nominees). So not quite the Felapton Towers award for best SFF book cover because that is wayyyy to big a field but instead the Felapton Towers award for best SFF book cover for books that got nominated for an award.

PLUS: BONUS AUDIENCE PARTICIPATION! Regular readers (yes, even Phantom) please suggest one other book not on the initial list!
And here's his scoring system: "Best SFF Award Nominee Book Cover Award 2016: Criteria".
Eligibility: yeah whatever

Prize: A jpeg of Timothy the Talking Cat

Criteria: Not going to just rank the covers but consider them on the basis of some different strands:

Artwork: 0 to 4 points. Not every book cover needs its own epic painting but if it has one then the work gets graded from 0 to 4. Note that this is purely in terms of the artwork on its own merits. Relevance and appropriateness to the book will be covered elsewhere.
Functionality: 0 to 3 points. A cover has a basic job to do. Can you read the title and who wrote it? Is all the relevant information there? Is the information well ordered?
Graphic design (aesthetic): 0 to 6 points. Text, art, borders, colour, everything – as a complete image how good is the cover in terms of making all the bits work together aesthetically? An extra couple of points are available here for covers with no artwork per-se, so that artwork-heavy covers don't get an in-built advantage.
Relevance/appropriateness: 0 to 2 points. I haven't read all the books, so I don't want to weight this too heavily. Based on plot synopsis/reviews, does the book cover fit its contents? Does this horror story set in feudal Japan look like a cyberpunk western set in Mexico?
Jump in and give him a hand!
(4) TODAY'S BIRTHDAY GIRL
Born September 18, 1917 – June Foray, voice of Rocky the Flying Squirrel and innumerable other cartoon characters. Chuck Jones is reported to have said, "June Foray is not the female Mel Blanc, Mel Blanc was the male June Foray."
(5) FLYING W. Rumor has it that "Whataburger is having words with DC Comics over Wonder Woman's new logo.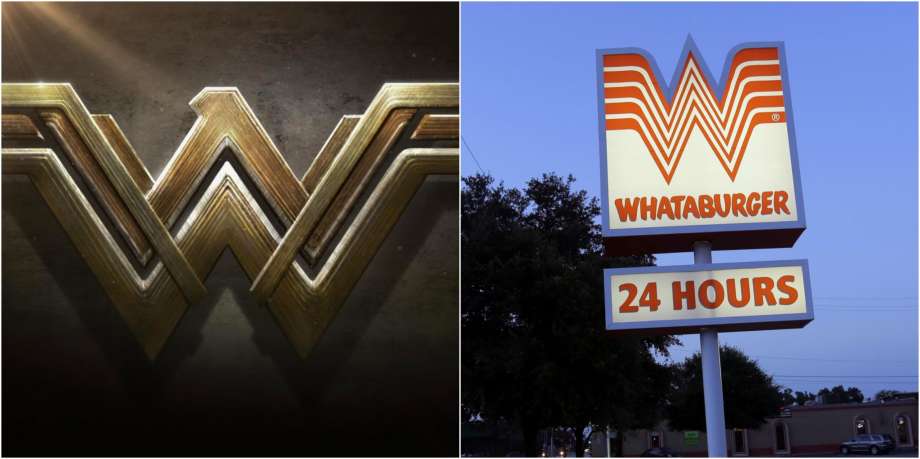 The worlds of fast food and comic book superheroes are colliding in a way that we've never seen before.

According to a Whataburger spokesperson, the San Antonio-based burger chain and DC Comics are currently involved in what the chain terms as a "friendly trademark discussion" with the classic comic book brand over the recent redesign of Wonder Woman's stacked W logo.

A story making the rounds on a handful of comic book blogs suggested that the two parties were at war with each other. It seemed like bunk on the outset but we decided to go directly to Whataburger to see if this was anything of note.

"Contrary to some suggestions, Whataburger is not at war with Wonder Woman over her newly redesigned logo. In fact, Whataburger supports superheroes like Wonder Woman and her friends in the Justice League," a Whataburger company spokesperson wrote in a statement to Chron.com. "Truth be told, Whataburger's own superhero – Whataguy – would love to team up with Wonder Woman and her friends sometime to battle evil together."
(6) YOU ORDERED SHELLFISH? John Scalzi, in Hawaii for a convention, has found all kinds of things to pretend to be distressed about at his luxury accomodations. For example:
This resort has bathroom tiles with fossils in them and it's kinda freaking me out. pic.twitter.com/kJepmvir72

— John Scalzi (@scalzi) September 16, 2016
(7) NEVER WERE TRUER WORDS SPOKEN. Wesley Chu hit the bull's-eye:
I hope video chat never becomes the standard. Ruins the whole point of working from home if i have to put on any clothes.

— Wesley Chu (@wes_chu) September 18, 2016
[Thanks to Glenn Hauman, John King Tarpinian, Steven H Silver, and Darren Garrison for some of these stories. Title credit goes to File 770 contributing editor of the day Lis Carey.]