(1) IT'S ABOUT TIME. The Sun tells about the actor's latest project — "Tom Baker is back playing Doctor Who nearly 40 years after originally playing the Time Lord".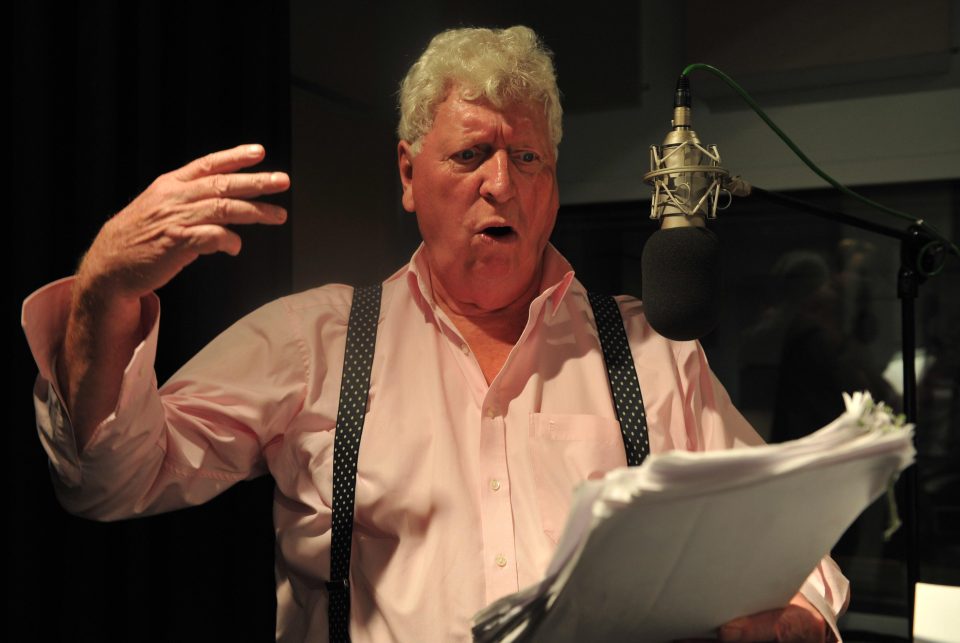 He recorded final scenes for Shada, written by Hitchhiker's Guide To The Galaxy creator Douglas Adams.

It was meant to be a six-episode tale for Tom's fourth incarnation of the Doctor in 1979-80.

But production was wrecked by a BBC technicians' strike and only half was filmed before it was shelved.

Tom and other members of the original cast — including Lalla Ward, 66, as companion Romana — returned for the recording in Uxbridge, West London.
They are voicing animated sequences that will replace the unfilmed material.
(2) NEXT LARA CROFT. Rick Marshall on Digital Trends has "First 'Tomb Raider' trailer introduces Alicia Vikander as the new Lara Croft".
Two films based on Lara Croft's adventures preceded the upcoming Tomb Raider reboot film: 2001's Lara Croft: Tomb Raider and 2003's Lara Croft Tomb Raider: The Cradle of Life. Both films cast Angelina Jolie as Lara Croft and collectively earned $432 million at the worldwide box office, making the series one of the highest-grossing film franchises based on a video game property.

Tomb Raider hits theaters March 16, 2018.
(3) THE SPIRIT OF SFF. Although I've become inured to this phrase being code for "more nutty nuggets, please," author Joseph Brassey has only the original meaning in mind when he talks about "Keeping the Fun in Science Fiction" at Fantasy-Faction.
I firmly believe, however, that a story should be able to confront real problems without losing its soul, its sense of fun, and this is found in the conviction that things can always be better. It is in an explicit rejection of a tone of cynicism, because work that grapples with darkness doesn't need to assume it is in the nature of our most misanthropic, derisive qualities to prevail. Hope is not a method, but it is the precursor of methods. The spark that ignites action and turns talk of change into moving feet and hands grasping for actions of worth. Hope is not the fire. It is the lighter of fires.

The human element is everything. Where the fantastical meets the machine. Where the magic meets the skycraft. Where the sword turns aside the crackling bolt of gunfire and the pilot spins the wheel to take her ship from the roaring path of the dragon's breath. Where conflict assails the human spirit and we find our noblest qualities in the face of ravening hate, violent authoritarianism, and bone-chilling fear.

It is in the wonder that reaches for stars, responds to fury with mercy, hatred with love, having the courage to peer beyond a terrible present to embrace a future awash with a thousand hues of color.
(4) GENRE WALK WITH ME. Abigail Nussbaum delves into her psychology as a viewer, the history of a particular show, and generational changes in the television medium in "That Gum You Like: Scattered Thoughts on Twin Peaks: The Return" at Asking the Wrong Question.
My third try with Twin Peaks was just a few months ago, when, in preparation for the upcoming revival series, I mainlined the entire 30 episodes of the show, plus Fire Walk With Me, over a long weekend.  It was strange experiencing the show this way, simultaneously a newcomer and someone who knew quite a bit about it, including the major turns of plot.  What was even stranger was how much the existence of The Return changed the meaning and significance of the original Twin Peaks, even before a single frame of it had aired.  From a failed experiment, it became merely a chapter in a story, whose later installments might yet redeem it.  Watching Twin Peaks was suddenly no longer an exercise in nostalgia and self-flagellation, but that venerable Peak TV practice of binge-watching the previous seasons before the new episodes start.  I ended up enjoying this rewatch much more than I was expecting (Fire Walk With Me, in particular, turns out to be a great deal more rewarding than I'd been led to believe), but I wonder if I would have felt the same if I didn't know that another chapter in the saga was just around the corner.
(5) YOUR HOST, BORIS KARLOFF. It's 1962 in England and a wonderful sf anthology series has just completed its run: "[Sep. 20, 1962] Out of this World (the British Summer SF hit!)". Galactic Journey's Ashley R. Pollard delivers mini-reviews of all the episodes.
As I mentioned before, this series was launched with Dumb Martian shown as part of the Armchair Theatre series.  The new series has a very spooky theme tune called The Concerto to the Stars, composed by Eric Siday, which plays against a background of moving microscopic tentacles that sets the tone for the show.  For those who are interested, Tony Hatch has expanded the theme tune into very catchy 45 record, available from all good record stores.

The format of the show has each episode introduced by Boris Karloff, who is disarmingly charming with his bon mots about the story to come.  There are two breaks for adverts, which is annoying, but this is commercial TV, so it is to be expected.  Then Mr. Karloff signs off the story with an announcement of the cast.
(6) LAWYER LETTERS GO GENRE. Adweek has the story: "Netflix Sent the Best Cease-and-Desist Letter to This Unauthorized Stranger Things Bar".
Evidence for this comes from Chicago, where an unauthorized Stranger Things bar recently opened and has since become quite popular. Naturally, Netflix wasn't OK with this. But instead of firing off a nasty, sharply worded missive, it sent a quite adorable letter to the owners in the style of the Stranger Things universe.

"Danny and Doug," the letter started out…

My walkie talkie is busted so I had to write this note instead. I heard you launched a Stranger Things pop-up bar at your Logan Square location. Look, I don't want you to think I'm a total wastoid, and I love how much you guys love the show. (Just wait until you see Season 2!) But unless I'm living in the Upside Down, I don't think we did a deal with you for this pop-up. You're obviously creative types, so I'm sure you can appreciate that it's important to us to have a say in how our fans encounter the worlds we build.

We're not going to go full Dr. Brenner on you, but we ask that you please (1) not extend the pop-up beyond its 6 week run ending in September, and (2) reach out to us for permission if you plan to do something like this again. Let me know as soon as possible that you agree to these requests.

We love our fans more than anything, but you should know the Demogorgon is not always as forgiving. So please don't make us call your mom.
(7) THE TRUTH IS OUT THERE. Early in Honest Trailers' take on Wonder Woman comes this line:
Now, Patty Jenkins bravely asks the question, "What if a female-led superhero movie wasn't absolute garbage from beginning to end, and had a powerful message for girls: Save the world, look flawless doing it, be a literal god, then men might begrudgingly half-tolerate your presence?"
"I pretty much howled," says Rick Moen, who sent the link, "Fair cop."
(8) VOICE OF OUR FRIENDS. Last night a thousand people paid tribute to the late June Foray. From The Hollywood Reporter, "Veteran Voice Actress June Foray Remembered by Lily Tomlin, More at Packed Event".
Billed as "Hokey Smokes! A June Foray Celebration," the grand gala was produced by animation veterans Mark Evanier, Jerry Beck, Bob Bergen, Howard Green and Tom Sito and ably hosted by Evanier, who was June's longtime friend and sometime employer.

Among the many eager to pay personal and professional tribute were Nancy Cartwright (the voice of Bart Simpson), Bill Mumy (who spoke of June's guest appearance on an episode of Lost in Space), animation historian Charles Solomon, Teresa Ganzel (The Duck Factory) and a surprise guest — Lily Tomlin — who won a voiceover Emmy in 2013 the same night June received the Governors Award. Tomlin said of Foray, "The characters she played were so much more than cartoons; they were our friends." …

Foray was also saluted for her tireless efforts to engender more respect for the world of animation as a founding member of the American branch of ASIFA (Association International du Film d'Animation), which produces the annual Annie Awards, and she is credited with helping to establish the Academy Award category for best animated feature film.

As a grand finale, Evanier invited a number of animation actresses who had been inspired by Foray's pioneering work to come up onstage and pose for a sort of "class photo" (below) flanking a large portrait of Foray in her natural habitat — seated at a microphone….

Evanier remarked that Foray's career began in the Golden Age of Radio in the 1930s and continued up to and including video games.
(9) TODAY IN HISTORY
September 20, 1979 – The theatrical release was edited down as the pilot episode for TV's Buck Rogers in the 25th Century
September 20, 1985 — Morons From Outer Space premiered theatrically on this day.
September 20, 1987  — Captain Power and the Soldiers of the Future premiered its first and only season.
September 20, 2002 – Firefly premiered.
(10) TODAY'S BIRTHDAY BOY
Born September 20, 1948 – George R.R. Martin
(11) MALTIN ON ELLISON BIO. Leonard Maltin approves "A LIT FUSE: THE PROVOCATIVE LIFE OF HARLAN ELLISON: AN EXPLORATION WITH EXTENSIVE INTERVIEWS by Nat Segaloff (Nesfa Press)" which is more than I can say 'til I read it. And maybe then.
Harlan Ellison is one of the most fascinating people I've ever met. An author, activist, and professional provocateur, he is incapable of being dull, which makes this book a page-turner almost by definition. His fame in the field of science-fiction obscures other facets of his career, including writing for television and movies. It's all chronicled in this highly readable profile by a longtime friend and follower. No single book could cover the entirety of Ellison's life, or reproduce every one of his memorable rants, but Segaloff makes a healthy start in that direction.
(12) QUARTER CENTURY MARK. SyFy Wire continues to celebrate the channel's 25th anniversary with lists – today "25 people we really miss".
In the last 25 years, we've had some amazing new creators of science fiction, fantasy, and horror emerge – but we've lost many true legends in the field along the way, as well. These writers, artists, actors, and visionaries helped to make our world a richer place with the power of their imaginations and continue to inspire us long after they're gone.
How often are you going to see David Bowie on a list sandwiched between Isaac Asimov and Ray Bradbury?
(13) LOTS TO TALK ABOUT. Amal El-Mohtar sees strengths and weaknesses in Annalee Newitz' Autonomous: "In A Future Ruled By Big Pharma, A Robot Tentatively Explores Freedom — And Sex: 'Autonomous'".
I rarely dog-ear the books I read for review, trusting myself to remember their most notable aspects. I dog-eared enough of Autonomous' pages to almost double its thickness, such was the granularity of things I wanted to highlight, praise, and discuss. From startling insights to delicately turned prose to whole passages of unbearably tender musings on the intimate desires of artificial intelligence, there's much more than I can feasibly talk about here. But here's some highlights.

Autonomous' main interest is the danger our late capitalist modernity poses to personhood, and the intricacies of what it means to be free – from ownership, from programming, from the circumstances of one's birth. But the parts that enthralled and moved me most – to laughter, to tears – were the musings on sexuality, and the contrast between Jack and Paladin's respective experiences. Throughout most of the novel, Jack's relationship to sexuality is written in clinical, chemical terms, a physical means to a physical end; Paladin's, meanwhile, is explored in intimate, puzzled probings, often starkly contrasted with the extreme violence for which Paladin was built. I loved the contrast between seeing a woman treat sex as casually as an itch to scratch, and a genderless robot building romance and sexuality from first principles, through internet searches, conversations with other AIs, and awkward, fumbling experiments.
(14) BUGS M 'LADY: Sophia Spencer and Morgan Jackson co-wrote a scientific paper on Twitter, entomology and women in science, after a tweet about Sophia's love for bugs went viral: "Once Teased For Her Love Of Bugs, 8-Year-Old Co-Authors Scientific Paper"
"We were hoping that we could find an entomologist or two, perhaps, that would be willing to talk to Sophie and share a little bit about their backstory," he said. "We were blown away with the number of people who came charging to help Sophia." The organization received more than a thousand replies and more than 130 direct messages.
(15) WOMEN IN POP CULTURE. Alexandra Heller-Nicholas takes a victory lap in "Hard Corps: Women in power and the politics of taking action".
This same toxicity has recently riddled science fiction and fantasy literature as well. In 2015 and 2016, alt-right trolls took aim at the prestigious Hugo Awards and what they perceived as a leftist bias. Women, of course, have long had a forceful presence in this literary domain, particularly those driven by strong ideological motivations: Ursula Le Guin, Margaret Atwood and Octavia Butler to name but a few. And in film, directors including Kristina Buozyte, Kate Chaplin, Kathryn Bigelow, Jennifer Phang and Lizzie Borden have each used science fiction codes and conventions in profound and often diverse ways.

But it is in front of the camera that the genre's history of strong, active women is the most visible and diverse. Heroine Maria and her evil gynoid doppelga?nger in Fritz Lang's Metropolis, aggressive sex bomb Jane Fonda as the title character in Roger Vadim's Barbarella, turbo-mum Sarah Connor from the Terminator franchise, resourceful Katniss Everdeen in The Hunger Games, and – of course – the iconic image of the no-shit-taking woman, Sigourney Weaver's Ripley from the Alien movies. For starters.

But if we're going to lift the lid off of this particular Pandora's Box, it's worth doing it properly. Representations of strong women in cinema bleed outwards across eras, production contexts and the often blurry lines of film genre itself. Any prehistory of women characters in the recent Star Wars movies – Rey (Daisy Ridley) from The Force Awakens and Jyn Erso (Felicity Jones) from Rogue One – must necessarily look far beyond the terrain of sci-fi itself.
(16) TERMINATOR WILL RETURN. Borys Kit's Hollywood Reporter story "Linda Hamilton Set to Return to 'Terminator' Franchise", says that James Cameron is producing a new Terminator film, to be directed by Deadpool director Tim Miller.
After waving hasta la vista, baby, more than 25 years ago, Linda Hamilton is returning to the world of Terminator, reuniting with James Cameron, the creator of the sci-fi franchise, for the new installment being made by Skydance and Paramount.

Cameron made the announcement at a private event celebrating the storied franchise, saying, "As meaningful as she was to gender and action stars everywhere back then, it's going to make a huge statement to have that seasoned warrior that she's become return."

With Hamilton's return, Cameron hopes to once again make a statement on gender roles in action movies.

"There are 50-year-old, 60-year-old guys out there killing bad guys," he said, referring to aging male actors still anchoring movies, "but there isn't an example of that for women."
(17) G AS IN GEEZER. Meanwhile, an octagenarian male hero gets the glory in William Shatner's Zero-G: Green Space, released September `9.
In the second installment of William Shatner's Zero-G series, Director Samuel Lord must identify a mole sabotaging the top-secret NASA project aboard the US space station Empyrean, while also fighting a fast-replicating virus that threatens humanity. In the year 2050, the United States sends the FBI to govern its space station, The Empyrean. Under the command of suave, eighty-year-old director Samuel Lord, the "Zero-G" men are in charge of investigating terrorism, crime, corruption, and espionage, keeping an eye on the rival Chinese and Russian stations as well….
(18)  PUNISHER. Nextflix has a new trailer up for the Punisher.
[Thanks to JJ, Meredith, Cat Eldridge, John King Tarpinian, Carl Slaughter, and Martin Morse Wooster for some of these stories. Title credit goes to File 770 contributing editor of the day Daniel Dern.]