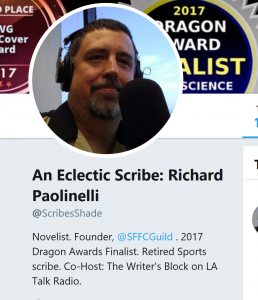 The Science Fiction & Fantasy Creators Guild may someday be a group, however, it seems author Richard Paolinelli is the only man behind the curtain right now. The SF&FCG founder says the publicity came prematurely —
Well, since we haven't officially launched the site and only went active on twitter because a blogger jumped the gun… technically there's just one – the Founder of this organization: @ScribesShade We're not taking applications for membership yet.

— SFFCGuild (@SFFCGuild) January 17, 2018
Camestros Felapton discovered the under-construction website and wrote about it in "The Scrappy Dappy Club?". (There's also an SF&FCG Facebook page.)
Since the revelation, Paolinelli has wasted no time trying to leverage attention for his efforts. SF&FCG tweeted N.K. Jemisin, who engaged briefly, then muted the conversation.
@nkjemisin Hoping your autoblocker doesn't zap us. We are a new organization hoping to steer the sci-fi/fantasy community of creators away from the bickering and fighting over non- sci-fi/fantasy issues and back to just creating wonderful new stories.

— SFFCGuild (@SFFCGuild) January 17, 2018
Well, bless their hearts. My response: "There are no non-SFF issues. But good luck!" https://t.co/eSHG3ijSoy

— N. K. Jemisin (@nkjemisin) January 17, 2018
SFWA ain't perf, but it's at least trying to do that. Maybe another org will come along to do better. But it's gonna have to start by acknowledging reality.

— N. K. Jemisin (@nkjemisin) January 17, 2018
Nick Mamatas also jumped on this yesterday. People joining his Twitter conversation tried to research who was behind the Guild, incorrectly guessing various Puppies. A WHOIS search showed the website was registered by author Karen L. Myers. However, it was neither the named Puppies nor Myers, as Richard Paolinelli (@ScribeShade) tweeted –
We weren't going to officially launch until Feb. 4th but, as we said, a blogger jumped the gun so we're not starting off the way we hoped and the site was not ready to go. Hey, that's life. Karen is merely helping out as she is way smarter at this than @ScribesShade is. ?

— SFFCGuild (@SFFCGuild) January 17, 2018
Today the SF&FCG looked for new targets to goad and made the mistake of trolling Alex Acks —
Maybe you need a new agent? Yours seems to have a very dark outlook on what your readers want to read. We prefer to think readers are looking for quality works that allow them to escape from the real world for awhile. Be well.

— SFFCGuild (@SFFCGuild) January 17, 2018
— who responded with tweets like these:
BTW? Don't be this guy. Shit talk a writer's agent and guarantee for life that said writer would not deign to piss on you if you were on fire.

(Also, don't insist you have a Nebula nom on a technicality, you sad fuck.) https://t.co/k3lYHQQ9bw pic.twitter.com/CGJwUbyg5R

— Alex BAN THE NAZIS Acks/Wells (@katsudonburi) January 17, 2018
Then Sarah Gailey emptied the magazine – her 6-tweet explosion starts here:
So I guess some fragile little pissbabies have started a guild so they can weep on each other's cravats about how they're too delicate to cope with change in an industry that's deeply unimpressed by their inadequacies?

— Sarah Gailey (@gaileyfrey) January 17, 2018
And Charlie Jane Anders responded ironically to SF&FCG's self-described apolitical stance.
We feel it is time to return to SFF stories, films, shows and games that allow the reader/viewer/player to escape the real world – as it used to be. That is all we are about. We ask you to join us and you are certainly free not to and go on your way in peace, as will we.

— SFFCGuild (@SFFCGuild) January 17, 2018
Up til now, Paolinelli has been trying to follow Jon Del Arroz' stairway to heaven, seeking interactions that could afterwards be portrayed to his base as attacks. He's enjoyed only moderate success.
His book was part of Jon Del Arroz' Odyssey Con book bundle [Scroll item 12], an attempt to exploit Monica Valentinelli's publicity for quitting as the convention GoH. Valentinelli had discovered shortly before last year's con that the committee not only still included a harasser she'd encountered before (their Guest Liaison), but she was going to be scheduled together with him on a panel, and when she raised these issues the first response from someone on the committee was a defense of the man involved. In contrast to the people who commiserated with the ex-GoH and mourned Odyssey Con's confused loyalties, JDA attacked Valentintelli for being "unprofessional," and went to work turning it into a book marketing opportunity. He arranged for flyers to be handed to Odyssey Con attendees offering them works by himself, Nick Cole, Declan Finn, L. Jagi Lamplighter, John C. Wright, and others including Paolinelli.
Later, when the Dragon Awards nominations came out, Paolinelli complained to me for identifying him as one of the nominees from JDA's bundle.
Paolinelli has also been on the radar here for advertising his book as a Nebula nominee (it wasn't a finalist; he tried to justify himself in this tweet.)
However, he has probably never been more successful in gaining the social media attention he's pursued than he has in the past 24 hours, Despite beginning with a sentiment no more provocative than this –
Thank you. We are hoping to make the SFFCG a friendly place for all SFF artists – regardless of race, creed, religion or politics – across many platforms to gather, collaborate and create outstanding new universes in their chosen medium.

— SFFCGuild (@SFFCGuild) January 17, 2018
— he has been getting everything that a follower of JDA's playbook could ask for.