(1) CELEBRATING A HALF CENTURY OF BRITISH COMICS FANDOM. Rob Hansen also sent a link to Blimey! The Blog of British Comics where you can get a free download of Fanscene, "a monster (300+ page) one-off fanzine done to celebrate 50 years of comics fandom in the UK."
It's only available in .pdf form and download links can be found here: "Celebrate the 50th anniversary of UK fandom with FANSCENE!"
Rob Hansen's piece starts on p.133 in part 2 of the download links.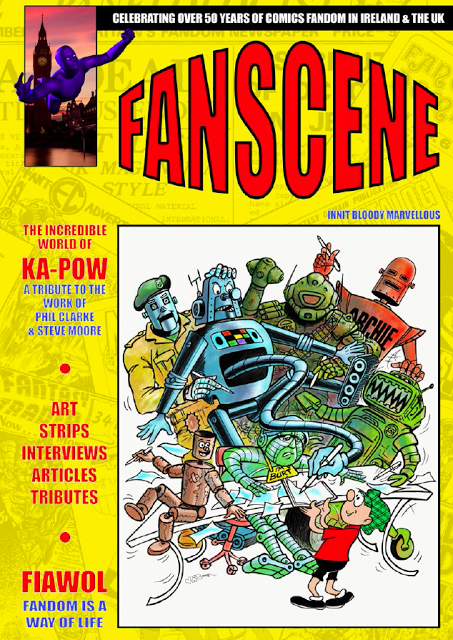 (2) CAST A GIANT SHADOW. The members of the actual 2018 Arthur C. Clarke Award jury are:
Dave Hutchinson, Gaie Sebold, Paul March-Russell, Kari Maund, Charles Christian; and Andrew M. Butler (chair)
(3) BADLY MISUNDERSTOOD. Cara Michelle Smith explains "Just Because Voldemort Assembled an Army of Warlocks to Destroy All Muggles, It Doesn't Mean He's 'Anti-Muggle'" at McSweeney's.
Look, I know how things might seem. When it comes to being sensitive to Muggles, Lord Voldemort doesn't have the best track record, and now he's gone and mobilized an army of 3,000 warlocks, witches, and wizards and instructed them to destroy any and all Muggles they can find. I also acknowledge that he's drummed up a fair amount of anti-Muggle sentiment throughout the wizarding world, with the way he's referred to them as "filthy vermin" and "shitheads from shithole lands." But did it ever occur to you that despite the Dark Lord having vowed that the streets will soon run red with Muggle blood, Voldemort might as well be, like, the least anti-Muggle guy you've ever met?

Let me tell you a little something about the Dark Lord: He loves Muggles. Seriously, the guy's obsessed with them. They're all he talks about. He can't get enough of the funny way Muggles are always babbling about things that are completely foreign to wizards like him — things like student debt, and being able to afford healthcare, and not being systematically murdered by people more powerful than them.
(4) STOP IN THE NAME OF LOVE. And McSweeney's contribute Drake Duffer offers a list of "Things That Begin a Sentence That Indicate You May Need to Refrain From Finishing That Sentence".
I won't steal any of his thunder, but you're going recognize all his examples.
(5) JUNIOR STAR TREK. This video has been on YouTube since 2008, however, it's news to me!
Back in 1969 ten-year-old Peter ("Stoney") Emshwiller created his own version of a Star Trek episode using his dad's 16mm camera. The, um, fabulous special effects were created by scratching on the film with a knife and coloring each frame with magic markers. The movie won WNET's "Young People's Filmmaking Contest," was shown on national television, and, all these years later, still is a favorite at Star Trek Conventions.
(6) GOING DOWN TO STONY END. The "Oldest Modern Human Fossil Ever Discovered Outside Africa Rewrites Timeline of Early Migration" reports Newsweek.
An international research team working in Israel has discovered the oldest-known modern human bones ever found outside the African continent: an upper jawbone, including teeth, dated to between 175,000 and 200,000 years old. It shows humans left Africa at least 50,000 years earlier than we had thought.

The scientists unearthed the fossil at Misliya Cave, one in a series of prehistoric caves on Israel's Mount Carmel, according to a Binghamton University press release. This region of the Middle East was a major migration route when humans spread out from African during the Pleistocene. A paper describing the findings was published in the journal Science.

"Misliya is an exciting discovery," co-author Rolf Quam, an anthropology professor at Binghamton University, said in the press release. "It provides the clearest evidence yet that our ancestors first migrated out of Africa much earlier than we previously believed. It also means that modern humans were potentially meeting and interacting during a longer period of time with other archaic human groups, providing more opportunity for cultural and biological exchanges."
(7) CORRECTION. Rob Hansen sent a correction about the date of Ron Ellik's death: "I've subsequently been informed I got the date of his death wrong and that he died not on the 25th but on the 27th. sigh"
Andrew Porter also sent a link to Fanac.org's scan of his 1968 newzine SF Weekly #215 with complete coverage. Ellik was killed in an auto accident in Wisconsin while moving to St. Paul, MN. He had been planning to be married shortly after the move.
(8) HARRIS OBIT. Mark Evanier paid tribute to the late comics editor in "Bill Harris R.I.P." at News From ME.
Comic book writer-editor Bill Harris died January 8 at the age of 84.

…One of his innovations when he was in comics was that he was one of the first editors to recognize that there was a promotional value in comic book fanzines. Many of the early zines of the sixties featured letters from Bill, telling fandom what would be forthcoming in the comics he edited. Few others in comics at the time saw any value in that but Harris predicted correctly the growing impact that fanzines and comic conventions would have on the field.
(9) COMICS SECTION.
Chip Hitchcock found a medical examiner working in a fairy tale in today's Bizarro.
Chip also spotted a hero who's made a career change in Bliss.
Mike Kennedy saw a kind of Fountain of Youth in Baldo.
(10) WORD. Vox.com has a post "Remembering Ursula Le Guin, Queen of Sass":
And in 2016, More Letters of Note, Shaun Usher's most recent collection of important letters written by important people, unearthed another classic Le Guin smackdown. In 1971 she was asked to blurb Synergy: New Science Fiction, Volume 1, the first of a four-volume anthology series that aimed to publish "the most innovative, thought-provoking, speculative fiction ever." Le Guin was less than amused by the request:

Dear Mr Radziewicz,

I can imagine myself blurbing a book in which Brian Aldiss, predictably, sneers at my work, because then I could preen myself on my magnanimity. But I cannot imagine myself blurbing a book, the first of a new series and hence presumably exemplary of the series, which not only contains no writing by women, but the tone of which is so self-contentedly, exclusively male, like a club, or a locker room. That would not be magnanimity, but foolishness. Gentlemen, I just don't belong here.

Yours truly,

Ursula K. Le Guin
(11) DENIAL. JDA cannot allow himself to believe that his behavior rather than his politics provokes the criticism directed his way, and so, after Jennifer Brozek spoke out about him (some quoted in yesterday's Scroll) he blamed others for pressuring her to express those opinions: "How Terrible Gossip Destroys Friendships – My Story With Jennifer Brozek" [link to copy at the Internet Archive.]
(12) APING APES. Scientists in China successfully cloned monkeys, which is the first time primates have been cloned — "Scientists successfully clone monkeys; are humans up next?" Remember Mark Twain's story about why God created the monkey – "He found out where he went wrong with Man."
The Associated Press also did a video report:
For the first time, researchers have used the cloning method that produced Dolly the sheep to create two healthy monkeys, bringing science an important step closer to being able to do the same with humans.
From New Scientist — "Scientists have cloned monkeys and it could help treat cancer".
The female long-tailed macaques represent a technical milestone. It should make it possible to create customisable and genetically uniform populations of monkeys, which could speed up treatments for diseases such as Parkinson's, Alzheimer's and cancer. But the breakthrough will inevitably raise fears that human cloning is closer than ever.

The monkeys hold such huge potential because they all inherit exactly the same genetic material, says the Chinese team that cloned them.

This would enable scientists to tweak genes the monkeys have that are linked to human disease, and then monitor how this alters the animals' biology, comparing it against animals that are genetically identical except for the alterations. It could accelerate the hunt for genes and processes that go wrong in these diseases, and ways to correct them, the team says
Kendall sent these links with a comment: "Reading elsewhere about how some fruits and veggies have been quasi-ruined by doing this, I got a little nervous reading the New Scientist say, 'It should make it possible to create customisable and genetically uniform populations of monkeys, which could speed up treatments for diseases such as Parkinson's, Alzheimer's and cancer.' Even though they're not talking about replacing the world's monkeys with one strain of monkey. Still, this got a little dystopian-animal-cloning idea whirring around in my head."
(13) HARDER THEY FALL. Here is the I Kill Giants trailer.
From the acclaimed graphic novel comes an epic adventure about a world beyond imagination. Teen Barbara Thorson (Madison Wolfe, The Conjuring 2) is the only thing that stands between terrible giants and the destruction of her small town. But as she boldly confronts her fears in increasingly dangerous ways, her new school counselor (Zoe Saldana, Guardians of the Galaxy) leads her to question everything she's always believed to be true. I Kill Giants is an intense, touching story about trust, courage and love from the producers that brought you Harry Potter.
[Thanks to Cat Eldridge, Andrew Porter, John King Tarpinian, Kendall, Rob Hansen, Carl Slaughter, JJ, Will R., and Chip Hitchcock for some of these stories. Title credit goes to File 770 contributing editor of the day Will R.]