(1) CHENGDU WORLDCON PROMO VIDEO UNVEILED. "Chasing Dreams for the Future_Worldcon" on YouTube.
A two-and-a-half minute video was released today on various platforms, including the official con site. It features animated characters, against imagery based on a variety of SF works, and also references prior Worldcons.
(2) CHENGDU WORLDCON ROUNDUP. [Item by Ersatz Culture.]
No reference to Lukyanenko in latest PR material
This Weibo post from the con's official account has a couple of interesting details. Google Translate rendition of the post text (minor manual edits to fix mangled names):
The World Science Fiction Conference is held for the first time in China. This science fiction event brings together the best science fiction writers and industry insiders from the East and the West in Chengdu, where the past and the future are intertwined.

Liu Cixin, Robert Sawyer, Richard Taylor, Lezli Robyn, Michael Swanwick, David Hull, Satoshi Hase, Neil Clarke, Wu Jing, Guo Fan, Wang Jinkang, Han Song, He Xi… these shining names in the science fiction world, these stars who evoke the exciting dreams of countless science fiction fans, will all be unveiled at the 2023 Chengdu World Science Fiction Conference.
I think this might be the first official mention of Michael Swanwick's attendance? Also, Japanese novelist Satoshi Hase is a name that I don't think I've previously seen mentioned as a guest.
The linked weixin.qq.com page has an article by a reporter from the Chengdu Business Times org, which is involved in the running of the con. The piece is titled (via Google Translate) "Liu Cixin and Robert Sawyer: Representative figures of hard science fiction from the East and the West will appear together in Chengdu!" Liu and Sawyer are interviewed, and it seems this will be the first in a series of interviews with con guests:
Starting today, we are launching a series of reports called "When Science Fiction Stars Shine" to introduce the science fiction writers, academicians, experts, and industry figures who will appear at this conference, and look forward to and welcome the event with everyone.
There's also a slightly puzzling statement which says "Robert Sawyer and Liu Cixin will appear together at The 81st World Science Fiction Convention Industrial Development Promotion Conference (WSDF)", with "WSDF" being an acronym appearing in the Chinese text. Whilst I've seen a bit of con-related material that has references to "industry" and "promotion", this is the first I've heard of something called the "WSDF". This "WSDF" term also appears in Weibo posts today from the HELLOChengdu and GoChengdu accounts, which reference the same news item.
Sawyer/Liu/Lukyanenko anthology published
It is reported that the "Stellar Concerto" Chinese-language anthology featuring stories from the three (ahem) Worldcon GoHs, which was previously covered in the September 28th Scroll, has now been published. The ToC shows that of the 18 stories, 7 are by Sawyer, 6 from Lukyanenko and 5 from Liu.
Special edition coffee packaging
I guess I jinxed things in yesterday's updates when I said I hadn't seen any evidence of sponsor branding, because guess what showed up today? Coffee cups and bags adorned with a stylized representation of the con venue. In fairness, they seem to be licensing from the science museum rather than the Worldcon — the text in the photos only mentions the former.
A couple more Xiaohongshu posts
A short video of street artists decorate an electricity substation.
This post has a handful of images, most of which are fairly familiar views of the interior and exterior of the venue, but there are a couple of things I haven't seen before: a topiary of something that I can't quite fathom, and what I assume is interior signage for the fan area.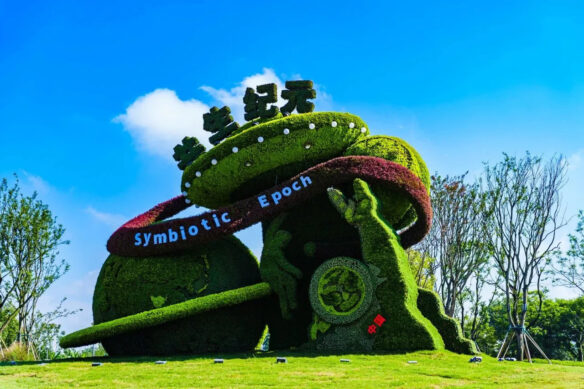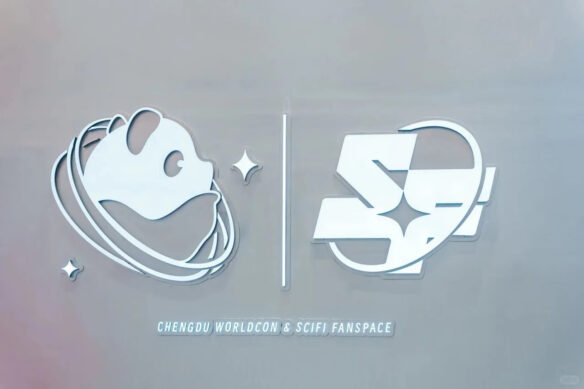 (3) ON THE DRAWING BOARD. Jeremy Zentner offers advice about "Designing Your Fictional Spaceship" at the SFWA Blog.
Spaceships have been iconic in science fiction ever since Jules Verne wrote From the Earth to the Moon. There are many features for writers to consider when designing their craft, including microgravity, faster-than-light (FTL) capabilities, journey time, habitation and resources, whether there's a menacing AI on board, and so much more. In this article, we'll examine how many published authors designed their sci-fi spaceships, so strap in and get ready for launch!

Interstellar travel: To FTL or not to FTL. In general, books that describe interstellar travel write about ships with FTL capability. In The Indranan War series, K.B. Wagers uses the Alcubierre drive, a concept developed by theoretical physicist Miguel Alcubierre to enable interstellar travel. Other books use wormhole technology. In John Scalzi's The Interdependency series, ships penetrate a network of wormholes called the Flow to travel to other star systems. Since the Flow is a natural phenomenon, it's also subject to cosmic events that can change the nature of its location, culminating in a great plot point. In Becky Chambers' The Long Way to a Small, Angry Planet, the Galactic Commons uses artificial gates that tunnel through the fabric of subspace, built by scrappy crews like that of the Wayfarer….
(4) CROWDFUNDING FOR APEX ANTHOLOGY. The Kickstarter campaign for The Map of Lost Places, edited by Sheree Renée Thomas and Lesley Conner, is now live. Click here – "The Map of Lost Places: A Horror Anthology by Apex Publications" to join in bringing this anthology to life. Check out the submission guidelines as well if you're interested in sending a story to the open call in December.
Here are the perks:
Beyond the anthology itself, we've got all sorts of fantastic rewards, add-ons, and stretch goals included in this Kickstarter. Ai Jiang has contributed a beautiful handmade planner as an add-on, and there are five slots available for 15-minute Zoom calls with Brian Keene. A little ways down the line, we'll have a few surprises from co-editor Lesley Conner, and maybe one or two other things up our sleeves….

Lesley and Apex Magazine managing editor Rebecca Treasure are also offering critiques on up to 7,500 words. Additionally, we have ten explorer care packages available, which will include items to keep you safe on your travels: a train ticket, holy water, a book of protective phrases…visit the Kickstarter page to find out more! Stretch goals include excitements like more open call slots, a new dark microfiction anthology from Marissa van Uden, art for the interior of the Map of Lost Places anthology, and an introduction written by Linda D. Addison.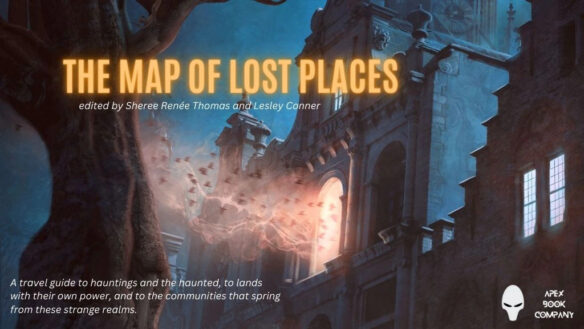 (5) WARNING ABOUT KOSA. Charlie Jane Anders is quoted in the Sacramento Bee's paywalled article "CA senators quiet on bill allowing removal of LGBTQ content".
"Simply put, KOSA as currently written would allow (Texas Attorney General) Ken Paxton and other red-state attorney generals to bring frivolous lawsuits against any content they believe is harmful to kids — which includes LGBTQIA+ content in their view. The states are already passing state laws to censor the internet, but a federal law would give them much more leeway," said writer and commentator Charlie Jane Anders in an email interview with The Bee.
(6) NOT QUITE THE ELEVENTH HOUR. The latest (in 1968) episode of Star Trek did not wow Gideon Marcus: "[October 10, 1968] Going Native (Star Trek: 'The Paradise Syndrome'" at Galactic Journey.
With two episodes under its belt, the third season of Star Trek has both disappointed and elated. The general reaction to "Spock's Brain" amongst the fan population (beyond the Journey) was universally negative. Buck Coulson of Yandro has even called for this season's producer Fred Freiberger to be ridden out on a rail. On the other hand, "The Enterprise Incident" wowed everyone. And so, we waited eagerly for Trek at 9:59 PM on a Friday night, a night when we could have been out drinking and carousing (who are we kidding—we're probably the only group for whom the Friday night "death slot" is actually perfect timing).
What we got was…well, closer to "Spock's Brain" in terms of quality….
(7) WHEN FRANCHISES LOSE THEIR WAY. Not behind a paywall! "Jedi Knights and Vulcans Both Suck Now. What Happened?" asks Charlie Jane Anders at Happy Dancing.
Something strange happened to both Star Wars and Star Trek around twenty-five years ago: both franchises suddenly became disillusioned with their spiritual, selfless bands of heroes.

The Jedi knights and the Vulcans had been an essential part of these iconic universes from the very beginning, and twentieth century viewers would have come away with a mostly positive impression of them. That changed drastically in the late 1990s, when both Trek and Wars started portraying their respective bands of detached, disciplined seekers of truth as uptight jerks. It was a jarring transformation, and I'm still wondering what exactly happened….
(8) THERE IS ANOTHER. And what about Battlestar Galactica? To find out what Charlie Jane Anders thinks you'll need to listen to episode 138 of Our Opinions Are Correct – "Battlestar Galactica, 20 Years Later".
One of the greatest science fiction shows on TV debuted twenty years ago: the rebooted version of Battlestar Galactica. This show broke new ground in depicting realistic politics — and a nuanced view of a society of artificial people. How does it hold up? To find out, Charlie Jane went back and watched the entire series — here's what she found.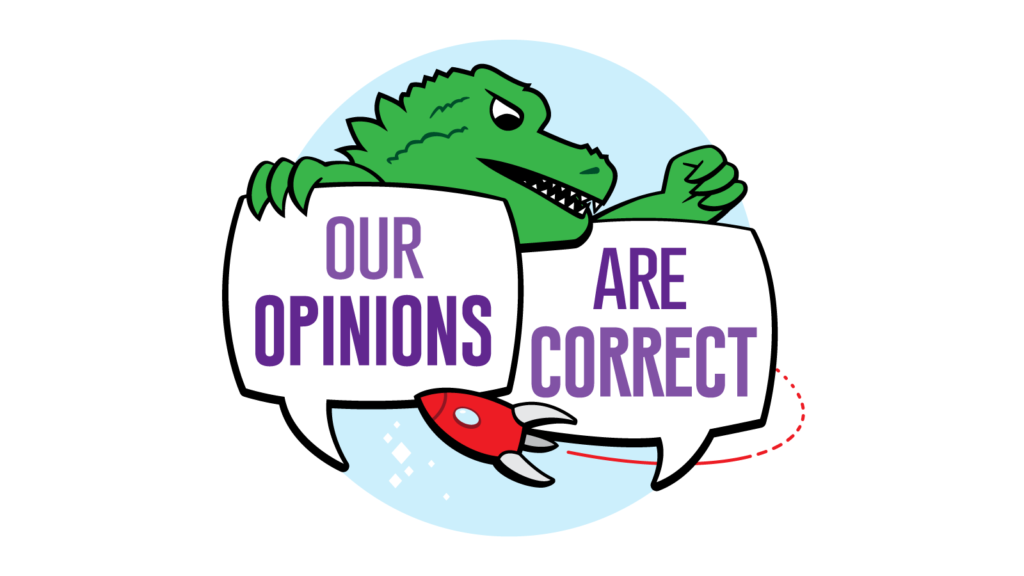 (9) TODAY'S BIRTHDAYS.
[Compiled by Cat Eldridge.]
Born October 10, 1924 — Ed Wood, Jr. Best remembered for Plan 9 from Outer Space which inexplicably has a sixty-eight percent rating among audience reviewers at Rotten Tomatoes. Really how could they? He did a lot of terribly bad genre films including Night of the Monster and Bride of The Ghouls. (Died 1978.)
Born October 10, 1927 — Dana Elcar. Most of you will remember him as Peter Thornton on MacGyver which I submit is possibly genre, but he has a long genre history including Russ in Condorman which was inspired by Robert Sheckley's The Game of X. He also played Sheriff George Paterson in Dark Shadows, and showed up in 2010 as Dimitri Moisevitch. (Died 2005.)
Born October 10, 1931 — Victor Pemberton. Writer of the script for the the "Fury from the Deep", a Second Doctor story in which he created the Doctor's sonic screwdriver. He had appeared as an actor in the series, in a non-speaking role as a scientist in "The Moonbase" story. In 1976, he wrote the BBC audio drama Doctor Who and the Pescatons which I remember hearing. Quite good it was. (Died 2017.)
Born October 10, 1931 — Jack Jardine. A long-time L.A. fan who was present at many West Coast cons and who shared the dais on panels with some of the major names in SF. He attended his last convention, in a wheelchair, assisted by his daughter Sabra, after a debilitating stroke at the age of 70. His health continued to get worse until he died from heart failure. File 770 has more here. (Died 2009.)
Born October 10, 1941 — Peter Coyote, 82. He actually did two genre films in 1982 with the first being Timerider: The Adventure of Lyle Swann in which he appeared as Porter Reese and the second being E.T. the Extra-Terrestrial which he's Keys, the Agent hunting E.T. down. Sphere in which he's Captain Harold C. Barnes is his next SF outing followed by The 4400 and FlashForward series being his next major genre involvement.
Born October 10, 1947 — Laura Brodian Freas Beraha, 76. While married to Kelly Freas, she wrote Frank Kelly Freas: As He Sees It with him along with quite a few essays such as "On the Painting of Beautiful Women or Ayesha, She Who Must Be Obeyed" and "Some of My Best Critics are Friends – or Vice Versa". She's credited for the cover art for New Eves: Science Fiction About the Extraordinary Women of Today and Tomorrow.
Born October 10, 1966 — Bai Ling, 57. She's Miss West in that wretched Wild West West and the Mysterious Women in the exemplary Sky Captain and the World of Tomorrow, she has a major role as Guanyin in The Monkey King which aired on Syfy. Nope, not seen that one. Her last genre role was Zillia in Conjuring: The Book of the Dead, a horror film riffing off Alastair Crowley.
(10) COMICS SECTION.
Pearls Before Swine – "I'll just say — it hits pretty close to home even with my minimal experience at autographings!" says Rich Horton.
Wizard of Id has a Dune reference.
(11) DUBLIN COMIC ARTS FESTIVAL. James Bacon's report about the other con he went to last weekend: "In Review: Diving deep into DCAF 2023, the Dublin Comics Art Festival" at Downthetubes.net.
The Dublin Comics Art Festival, held this year over the weekend of Saturday and Sunday 7th and 8th of October, has been connecting comics and comic fans for years and I got the opportunity to go to their new venue, Richmond Barracks, which is now repurposed as a community cultural centre and library.

I depart Octocon, the National SF convention taking place at the Gibson Hotel and jump onto a Luas (tram), which terminates outside the hotel door and get off at Golden Bridge and its a very short walk to this excellent venue.

This gathering is in a lovely open and airy hall, filled with excitement and art, it's a welcoming space and it's busy.

… In many respects I found DCAF as rewarding as Thought Bubble when it comes to small press, entry level publications, zines and art. It's a good show, with a wide and desirable selection of vendors. I also liked how relaxed everyone was. It was friendly but there is no hard sell. An occasional "feel free to browse" or "happy to answer questions" and I have to bite my tongue and not ask "why haven't Marvel hired you for covers" because actually, the creative art of writing and drawing ones own unique story, for me as a reader, is hugely rewarding. I'll take this, thanks….
(12) HE MADE A LITTLE MISTAKE. The New York Times reports "Unity Chief Resigns After Pricing Backlash" "John Riccitiello angered video game developers who use Unity's software when he announced a new fee structure that could have significantly increased their costs."
John Riccitiello, the chief executive of Unity Technologies, abruptly stepped down on Monday, less than a month after a change to the company's pricing structure infuriated thousands of software developers who rely on the video game company's tools.

Unity, which makes the underlying software that powers video games, has long imposed an annual licensing fee on developers. But in September, the company said it would begin charging developers additional money each time someone downloaded one of their video games. That meant developers would pay more as their games increased in popularity. Mr. Riccitiello was one of the main proponents of the change….

…His swift exit underscored the precarious position Mr. Riccitiello found himself in after an attempt to fix a corporate balance sheet awash in red ink. But the abrupt shift in the company's financial model angered many programmers who rely on Unity for their own businesses….
(13) IN THE ZONE. In "20 Best Quotes From The Twilight Zone (& What They Mean)", ScreenRant sifts through the series' twists and morals. Among them:
Season 4, Episode 1, In His Image

"In His Image" follows an android man named Alan, created by Walter Ryder to be a perfect version of himself. However, as the ending reveals, Alan has unexplained flaws that cause him to want to kill others. Walter takes over his life at the end of the episode, realizing he is actually a perfect version of Alan. The episode's quote, "There may be easier ways to self-improvement, but sometimes it happens that the shortest distance between two points is a crooked line."

The common phrase says the shortest distance between two points is a straight line, but The Twilight Zone turns this on its head. The quote is saying the bizarre scenario in which Walter created a robot version of himself was the quickest way for him to realize that he is actually the best version of himself. There may have been an easier way, but this is the fastest way he came up with. This could be applied to various areas in life, as sometimes unusual circumstances can be the most effective way to realize or accomplish something.
(14) THE EVOLUTION OF WOMEN. "Eve by Cat Bohannon review – long overdue evolutionary account of women and their bodies" in the Guardian.
…This long overdue evolutionary account is the pre-history to Caroline Criado Perez's Invisible Women (2019), showing how wrong it is to think of women as just men with breasts and wombs bolted on. Over hundreds of thousands of years, women have developed more sensitive noses (particularly around ovulation and pregnancy), finer hearing at high frequencies, extended colour vision, and longer life expectancy than men by an impressive half decade. Forget plasma exchange and supplementation – entrepreneurs trying to extend human life should be studying women, who comprise around 80% of today's centenarians.

American academic and author Cat Bohannon asks how this came to be, tracing defining female features back to our "presumed true ancestors", our Eves as she calls them. The story starts more than 200m years ago in the Jurassic period with a rodent, Morganucodon, nicknamed Morgie, which still laid eggs but also had glands on its tummy that began secreting milk. It was perhaps the first breastfeeder….

… There is no fossil record of brains or wombs. Where any organ once was becomes a cavity of uncertainty. Bohannon finds the gaps "incredibly fun", excavating possibilities from silence. She revises the opening of Stanley Kubrick's 2001: A Space Odyssey, for example, replacing the testosterone-filled scene of early man as the "primordial inventor" of weapons, with women who were sharpening the tools while also making the babies…
(15) IS STEPHEN KING 'KING'? [Item by SF Concatenation's Jonathan Cowie.] Moid over at Media Death Cult channel on YouTube is teasing us as to whether Stephen King the horror writer is a king of SF????
The Science Fiction Of Stephen King Filmed in a haunted forest in the pouring rain.
[Thanks to Andrew Porter, Ersatz Culture, John King Tarpinian, Steven French, Rich Horton, James Bacon, Chris Barkley, Cat Eldridge SF Concatenation's Jonathan Cowie, and Mike Kennedy for some of these stories. Title credit belongs to File 770 contributing editor of the day Jayn.]