(1) NOIR WITH EXTRA MUSTARD. Here's the first trailer for POKÉMON Detective Pikachu, coming to theaters May 10.
The story begins when ace private eye Harry Goodman goes mysteriously missing, prompting his 21-year-old son Tim to find out what happened. Aiding in the investigation is Harry's former Pokémon partner, Detective Pikachu: a hilariously wise-cracking, adorable super-sleuth who is a puzzlement even to himself. Finding that they are uniquely equipped to communicate with one another, Tim and Pikachu join forces on a thrilling adventure to unravel the tangled mystery. Chasing clues together through the neon-lit streets of Ryme City—a sprawling, modern metropolis where humans and Pokémon live side by side in a hyper-realistic live-action world—they encounter a diverse cast of Pokémon characters and uncover a shocking plot that could destroy this peaceful co-existence and threaten the whole Pokémon universe.
(2) CRITICS RECOGNIZE HAWKE. Author Sam Hawke won a Canberra Circle Critics Award for her novel City of Lies.
(3) FEED INTERRUPTED. Cory Doctorow's Unauthorized Bread is being adapted for TV: "Topic Studios Buys Cory Doctorow's Sci-Fi Novella 'Unauthorized Bread'".
Topic Studios (who were behind mainstream hits including Spotlight and Leave No Trace) have begun work on an adaptation of Cory Doctorow's upcoming novella Unauthorized Bread. The planned TV series takes aim at the 'Internet of Things' by imagining a world in which corporations have put user locks on all kitchen appliances so that they only work with brand-name food — to the point that even a toaster won't work on Unauthorized Bread. Doctorow's novella comes out next January.
(4) OOPS. A New Zealand newspaper's mistake inspired an epically funny Twitter thread.
Arguably Malcom X-Men was his best work https://t.co/D3Zw1n3rvE

— Dusty (@DustinGiebel) November 13, 2018
(5) DATA POINTS. Trekspertise considers "Androids vs Holograms: Personhood In Star Trek."
Star Trek's defense of personhood is both loud & obvious, like Picard's defense of Androids. But, what if there was a more subtle way? Enter the Holograms.
(6) LIBERTYCON 2019.  The LibertyCon 32 Guests of Honor will be:
(7) FURRIES ON CNN. The next episode of Lisa Ling's CNN series This Is Life is "Furry Nation" – and the trailer shows it is, indeed, about fursuited fans. Airs this Sunday.
(8) RED PLANET TOUCHDOWN. Cnet says "NASA set to broadcast its first Mars landing in six years" and tells where to watch.
It's been a while since we've sat down in front of the TV to watch a good ol' Mars landing.

But clear your calendar because NASA said Tuesday it will broadcast its InSight Mars Lander touching down on the Red Planet on Nov. 26 on NASA Television and its website, as well as Twitter and Facebook.

The last time NASA broadcast a landing was six years ago, and it made for exciting viewing: The Curiosity rover executed a dramatic plunge to the surface.

InSight was launched May 5, and if it's successful, it will be NASA's first spacecraft to land on Mars since Curiosity in 2012. NASA says its mission is to study the "deep interior" of Mars. It's data will "help scientists understand the formation of all rocky worlds, including our own," the space agency said.
(9) BEST OF 2018. Do I want to make James Davis Nicoll yell that 2018 isn't over again? Yeah, why not? Here's a link to "Tor.com Reviewers' Choice: The Best Books of 2018". Ten folks make selections, including Paul Weimer. Here are Mahvesh Murad's picks.
I'm a fangirl of Megan Abbott's lean, mean writing, so of course I was going to enjoy her latest novel, Give Me Your Hand. I didn't know just how much of an impact it would have though, because it did, with its taut, intense narrative about two young women scientists working on premenstrual dysphoric disorder research. Abbott is so deft at turning a thriller narrative inwards, forcing us to dip our fingers into the bloody souls of female friendships.

There have been a few revamps of ancient epics this year, and Madeline Miller's Circe is one of the two I loved. It's a gorgeous book ostensibly based on The Odyssey, but told from the perspective of the witch Circe, and is a glorious exploration of femininity and feminism, divinity and motherhood.

The second book based on an epic that will stay with me for a long while is Maria Dahvana Headley's The Mere Wife, a sharp,visceral feminist take on Beowulf. Headley's writing has rhythms I've always been fascinated by, and The Mere Wife is no exception to her unabashed no holds barred approach to any narrative. If Beowulf was a story about aggressive masculinity, The Mere Wife is one of femininity, where the female characters are more than just monster, hag, trophy—they are also in turn hero, saviour, leader.
(10) BUCK BUCK BOOK. Gabriel Iglesias, in "The 10 Weirdest Crime Novels You Probably Haven't Read" on Crimereads, recommends such "crime/bizarro hybrids" as Repo Shark by Cory Goodfellow, in which "ancient entities turn into sharks" and Embry by Michael Allen Rose, in which all the characters are chickens.
Sometimes weirdness doesn't affect the core of the narrative, and this is a perfect example. Embry is an extremely strange tribute to 1950s sleuth pulp. There are fistfights, a mysterious murder, a lot of running and hiding, and a femme fatale that helps the antihero. In fact, the only difference between this and a Dashiell Hammett novel is that the characters are all chickens. Yes, poultry. Rose is obviously a fan of pulp, and the fun he had writing this is palpable in every page, every cracked shell, and every bloody feather.
(11) TODAY IN HISTORY
November 13, 1933 – The Invisible Man debuted in theaters.
November 13, 1940 – Disney's Fantasia premiered.
(12) TODAY'S BIRTHDAYS
[Compiled by Cat Eldridge and JJ.]
Born November 13, 1887 – A.R. Tilburne. Pulp artist who by 1938 was selling illustrations to Short Stories and Weird Tales, and  the 1940s he also drew many interior story illustrations for Weird Tales. In 1947 he painted the cover for H. P. Lovecraft's The Lurking Fear which was published by Avon. (Died 1965.)
Born November 13, 1888 – Philip Francis Nowlan. He's best known as the creator of Buck Rogers. While working in Philadelphia, he created and wrote the Buck Rogers comic strip, illustrated by Dick Calkins. Nowlan and the syndicate John F. Dille Company, later known as the National Newspaper Service syndicate, were contracted to adapt the story into a comic strip. The strip made its first newspaper appearance on January 7, 1929. (Died 1940.)
Born November 13, 1955 – Whoopi Goldberg, 63. Best known for her role as Guinan the Barkeep in Ten Forward on Enterprise in Star Trek: The Next Generation which she reprised in Star Trek Generations and Star Trek: Nemesis. Other genre appearances include It's a Very Merry Muppet Christmas Movie, Pinocchio 3000, Teenage Mutant Ninja Turtles and The Adventures of Rocky and Bullwinkle  to name but a few of her appearances as she's very busy performer!
Born November 13, 1957 – Stephen Baxter, 61. Ok I'm going to confess that the only thing I've read that he's written is the Long Earth series with Terry Pratchett which produced five books, The Long Earth, The Long War, The Long Mars, The Long Utopia and The Long Cosmos. I've only read the first three but they are quite stellar SF! I really, really need your help to figure out what else of his that I should consider reading. To say he's been a prolific writer is somewhat of an understatement and he's gotten a bonnie bunch of literary awards as well.  It's worth noting that Baxter's story "Last Contact" was nominated for the 2008 Hugo Award for best short story.
Born November 13, 1969 – Gerard Butler, 49. He's done Tomb Raider, Reign of Fire, the 300 films (for which he received a Saturn nomination), the How to Train Your Dragon films, Beowulf & Grendel, Dracula 2000, Tale of the Mummy, Gamer, and Timeline.
(13) STAN LEE TRIBUTES. Michael Cavna has an appreciation of Stan Lee in the Washington Post that includes an interview with Neil Gaiman. It starts with a strong lede: "There was a lot more to comics' greatest showman than just showing up, convention after convention, show after show. And to the man who long wore that mantle, with great power came great adaptability." "Stan Lee became one of pop culture's greatest showmen — by making fans feel like part of the club".
Lee told me that the key to all this success was that he began to listen to himself — to what fascinated him about fairy tales and classic novels alike, from Grimm to "Great Expectations." Lee was drawn to the strength we find in ourselves at the height of human frailty.

That universal appeal to our vulnerabilities — at the height of tumultuous times and generational change in the United States in the 1960s — helped Marvel's creations become embraced and embedded in mainstream culture. And as their popularity grew, Lee grew from his duties as writer-editor to his role as promoter and ringmaster.

"He was the huckster that comics needed — he was the showman," novelist and "Sandman" writer Neil Gaiman told me Monday. "He was also an effective writer. When you look at the [Marvel] comics by other people who weren't Stan, you realized how efficient and effective he was."
(14) VINTAGE LEE. Marcus Errico, in the Yahoo! Entertainment story "The Lost Stan Lee Interview:  From Making Modern Fairy Tales To The Hero He Most Identified With", reprints an interview from 2015.
Yahoo Entertainment: You've created so many universes of superheroes in your career — do you have a philosophy of superheroism?
Stan Lee: I hate to make it sound un-intellectual, but to me, I think of these superheroes the way young people read fairy tales. When you're 3, 4, 5 years old, you read about giants and witches and monsters and things like that. And they're colorful and bigger than life, and you're a little kid and you're impressed with them. [But when] you get a little older, you can't read fairy tales anymore. Suddenly, along come these superhero stories and to me they're like fairy tales for grown-ups because they're all bigger than life, they're about characters that really have abilities that no human beings possess. … You're recapturing the enjoyment you had when you were a kid reading fairy tales. So I don't think there's anything thing very much deeper to it than that.
(15) WHEN WOLVERINE PLAYED SECOND BANANA. Hugh Jackman told this Stan Lee anecdote to Stephen Colbert:
'The Front Runner' star Hugh Jackman remembers thinking his portrayal of Wolverine would make him the center of attention on the red carpet at Comic Con. That was until the paparazzi abandoned him for Stan Lee.
Jackman also admitted that when he was cast he'd never heard of wolverines, thought it was a made up name, because they don't have any in Australian zoos. Instead, he spent lots of time studying wolves and their mannerisms. On the first day of filming Wolverine the director told him he'd got it totally wrong.
(16) JUNO SNAP. Smithsonian proves "Juno's Latest Photo of Jupiter Is Breathtaking".
On October 29, the Juno spacecraft that has been orbiting Jupiter since 2016, swooped above the planet's North Temperate Belt and snapped what may be its most mesmerizing image of the gas giant's clouds yet. The image, taken 4,400 miles above the planet and enhanced by citizen-scientists and artists Gerald Eichstädt and Seán Doran, includes white pop-up clouds and an anticyclonic storm that appears as a white oval.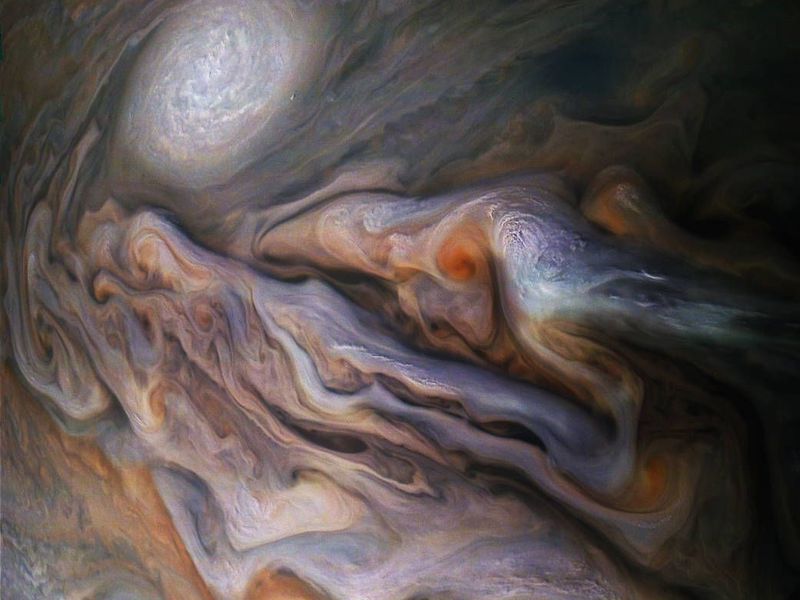 (17) THINKING OF A BOOK WILL KEEP YOU WARM. It is the time of year for a reading blanket. Litograph has all kinds of thematic graphics. Here is a link to their sci-fi/fantasy genre designs.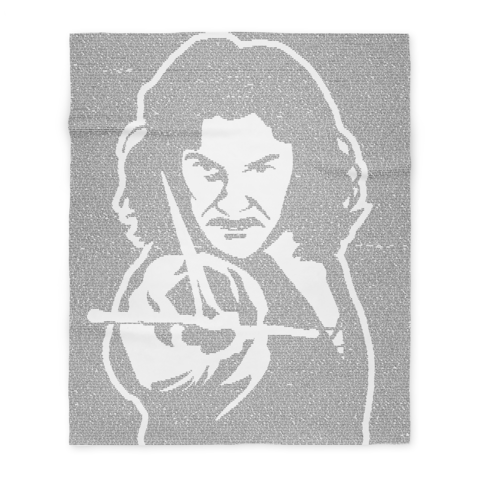 (18) PAST LIVES. Filers consumed by the discussion of Barbie in comments may be interested to see that Galactic Journey's John Boston coincidentally uncovered a Philip K. Dick story inspired by the doll in a 1963 Amazing — "[November 13, 1963] Good Cop (the November 1963 Amazing)"
…The adult humans are completely preoccupied with Perky Pat, a blonde plastic doll that comes with various accessories including boyfriend, which the flukers have supplemented with various improvised objects in their "layouts," which seem to be sort of like a Monopoly board and sort of like a particularly elaborate model train setup.  On these layouts, they obsessively play a competitive game, running Perky Pat and her boyfriend through the routines of life before the war, while their kids run around unsupervised on the dust- and rock-covered surface chasing down mutant animals with knives.

Obviously the author has had an encounter with a Barbie doll complete with accessories, and didn't much care for it….
(19) RIVERS OF LONDON. Fantasy Literature's Rachael "Ray" McKenzie fills readers in about Lies Sleeping by Ben Aaronovitch:
Peter Grant, our favourite semi-competent detective cum wizard-in-training, returns in Lies Sleeping (2018), the seventh book in Ben Aaronovitch's RIVERS OF LONDON series. The Faceless Man has been unmasked and is on the run, and it is now up to Peter and the inimitable Detective Chief Inspector Nightingale (slash last officially sanctioned English Melvin the Wizard) to apprehend him.
(20) ONE OF LIFE'S MYSTERIES. Adam-Troy Castro can't understand it. Who can?
If I live to be a thousand, I will never ever understand this impulse possessed by the dull, the cornball, the second-rate, to think they can take on the quick, in battles of wits.

…And yet they try. Oh, how they try.

When I see the dullards taking on Jim Wright, or David Gerrold, or John Scalzi, or J.K. Rowling — all masters at such responses — I am not astonished at how cleverly these misguided ripostes are returned. I am astonished that the barely equipped aggressors took them on, virtually unarmed, and thought that it would end well….
(21) CASE OF THE HIVES. BBC asks "Can listening to bees help save them – and us?"
Can artificial intelligence (AI) and machine learning help save the world's bees? That's the hope of scientists who are scrambling to reverse the dramatic declines in bee populations.

Bees are in trouble, but we're not quite sure why.

It could be the overuse of insecticides; air pollution; warming temperatures; the varroa destructor mite; or even interference from electromagnetic radiation.

Or it could be a combination of all these factors. But until we have more data, we won't know for sure.

So the World Bee Project and IT firm Oracle are creating a global network of AI "smart hives" to give scientists real-time data into the relationships between bees and their environments./CHip
(22) QUEEN FOR A KING. "Queen of New York" featuring Christiani Pitts and members of the cast is a video based on a song from King Kong, which has just opened on Broadway
[Thanks to Chip Hitchcock, Mark Hepworth, John King Tarpinian, Paul Weimer, JJ, Cat Eldridge, ULTRAGOTHA, Martin Morse Wooster, Mike Kennedy, Olav Rokne, Carl Slaughter, and Andrew Porter for some of these stories. Title credit goes to File 770 contributing editor of the day Matthew Johnson.]