(1) VISIONS OF WFC 44. Ellen Datlow's photos from World Fantasy Con 2018 are up on Flickr.
(2) DESIGNING WAKANDA. Black Panther designer Hannah Beachler spoke to the CityLab Detroit conference about what went into designing the capital city of Wakanda for the blockbuster movie. Social responsibility and connection to culture were critical in her designs of everything from street plans to public transit — "The Social Responsibility of Wakanda's Golden City" at CityLab.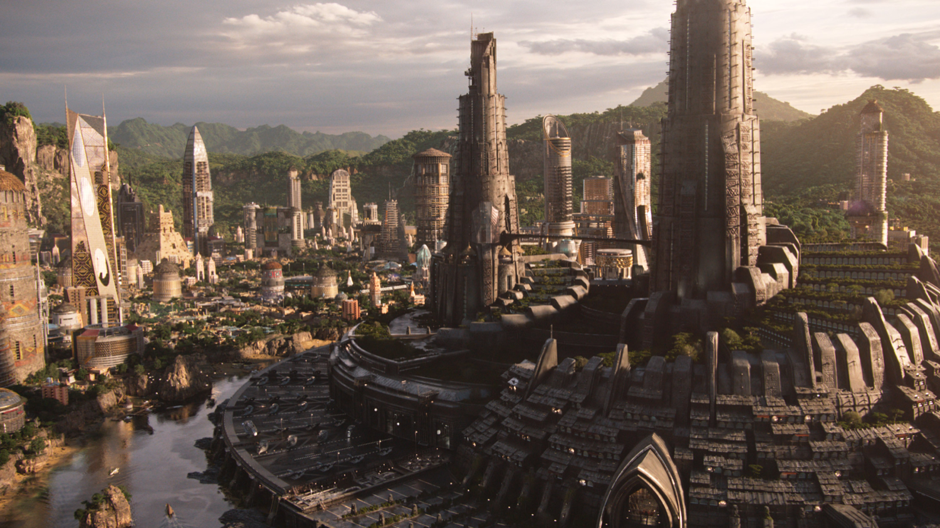 … It took ten months and 500 pages to design Golden City, the thriving Afrofuturist capital of Wakanda. The result is a stunning, complex metropolis that has delighted urbanist nerds and city-dwellers alike. Behind it all is Beachler, a production designer whose job is to act as "cinematic architect" and to create the "landscape of a story."

…"You know what's keeping us together: the connectivity of people, not the connectivity of users. We're not users; we're people, but we've convinced ourselves that we're users," she said. "So I took all of that, and I just chucked it out of Wakanda, because the people were the most important thing about it, and we're forgetting it. And I think that's why people responded to Wakanda on this massive level: people."
(3) BOOK BUCKET BRIGADE. "A Store Had to Move Thousands of Books. So a Human Chain Was Formed" – the New York Times has the story:
The plea went out a few weeks ago from the bookstore in a port city in southern England: "Care to lend a hand?"

Volunteers were needed for "heavy manual work" in shifts. It was "essential" that they be able to lift and carry boxes and office supplies. Among the supplies: thousands upon thousands of books.

The appeal from October Books, a nonprofit that began 40 years ago as a "radical" bookshop, came after a rent increase forced it from its old home in Southampton, Jess Haynes, a member of the collective and one of the few paid employees, said on Wednesday.

The shop was looking to move lock, stock and barrel about 150 meters (just under 500 feet) to a three-story building that used to house a bank. Would anybody respond to the call for help?

This past Sunday, the bookstore got more than a helping hand — it got hundreds. A human chain began forming from the old October Books stockroom, snaking past 54 doors to the new building. The shop stopped counting after about 250 people showed up…
(4) GLASS UNIVERSE. Dava Sobel, the author of Longitude and Galileo's Daughter, will be talking about her latest book The Glass Universe in the Johns Hopkins University/Applied Physics Laboratory (in Laurel, Maryland) on Friday, November 9 at 2 p.m. This talk is open to the public held at the Parsons auditorium (directions here). A summary of the talk is below (taken from this link):
Edward Pickering, who took over as director of the Harvard College Observatory in 1877, was a physicist, not an astronomer. Pickering quickly moved to expand activities beyond determining the positions of stars and the orbits of asteroids, moons, and comets. He invented new instruments for studying stellar brightness to help quantify the changes in variable stars. He introduced photography as a boon to celestial mapping and a key to characterizing the spectra of stars. The images that Pickering began amassing on glass plates in the late 19th century came to number in the hundreds of thousands and are currently being digitized to preserve their enduring value. Their abundance of pictures necessitated a special building to house them and a large team of assistants – nearly all women – to analyze them.

Pickering's glass universe gave these women the means to make discoveries that still resonate today. Williamina Fleming, Antonia Maury, Henrietta Swan Leavitt, Annie Jump Cannon, and Cecilia Payne Gaposchkin, the most famous members of the group, all played a part in the early development of astrophysics.
(5) BABY. Heath Miller and Cat Valente share their parental discoveries:
Attending Worldcon in 2010 & meeting a girl? $200. Moving 15,000+ miles to be with her? $2500. Cost of having a baby in America? You Don't Want To Know. Unwrapping baby's swaddle at 6am to discover his mother has secretly changed his outfit in the night? Priceless. pic.twitter.com/mcx1oQAJZR

— Hellbound Heath Miller (@veryheathmiller) November 5, 2018
Baby hates silence.

Baby LOVES loud action movies played through the subwoofer. Goes right to sleep, happy as a little bear.

Welp. Guess it's gonna be a John Mclane Christmas. And Thanksgiving.

— Catherynne Valente (@catvalente) November 4, 2018
(6) OPIE'S SPACE PROGRAM. [Item by Mike Kennedy.] At the Beeb (no, not this one), Science Editor Paul Rincon talked to Ron Howard, who was wearing his Executive Producer hat for the National Geographic series, Mars (Ron Howard: Creating vision of a future Mars colony). Season 2 begins 11 November.
"When I first began the series a couple of years ago, I thought it was a great idea to do an adventure about going to Mars and we should make it as real as we possibly could," Mr Howard says.

"But I wasn't sure I believed in the idea of going to Mars. I knew I believed in the idea of space exploration… and any show that advocated that was making a statement that was healthy and positive for human beings – to inspire their imaginations to look outward.

"But as I have gone through the process of working on the show and interviewing some of the big thinkers, I now really do believe in it strategically – I don't mean that from a military standpoint, I mean it from the point of the ongoing evolution of the human species… I not only believe it's viable, I'm a big supporter."

Season one of Mars followed the crew of the spacecraft Daedalus, as the astronauts attempted to create a pioneer settlement on the Red Planet in 2033. Season two is set nine years later and follows the fortunes of the first fully-fledged colony. The script tackles the everyday challenges of the settlers, including the first births on the Red Planet, outbreaks of disease and mechanical breakdowns.
(7) ARMSTRONG AUCTION RESULTS. NBC News totes up the results: "Neil Armstrong memorabilia fetches $7.5 million at auction".
Dallas-based Heritage Auctions says the item that sold for the highest price, $468,500, at Saturday's auction was Armstrong's spacecraft ID plate from Apollo 11's lunar module Eagle. Also sold were a fragment from the propeller and a section of the wing from the Wright brothers' Flyer, the first heavier-than-air self-powered aircraft, which each sold for $275,000.

The flight suit Armstrong wore aboard Gemini 8, the 1966 mission that performed the first docking of two spacecraft in flight, brought the astronaut's family $109,375.
(a) In a separate auction, a gold-colored Navy aviator's helmet once owned by John Glenn, the first American to orbit the earth, sold for $46,250.
(b) It appears there were some flown artifacts in the Armstrong auction (but not the Glenn auction)
(8) TODAY'S BIRTHDAYS.
[Compiled by Cat Eldridge and JJ.]
Born November 5, 1903 – H. Warner Munn, Writer and Poet known in genre for his early stories in Weird Tales in the 20s and 30s, his Atlantean/Arthurian fantasy saga, and his later stories about The Werewolf Clan. After making two mistakes in his first published genre story, he compensated by becoming a meticulous researcher and intricate plotter. His work became popular again in the 70s after Donald Wollheim and Lin Carter sought him out to write sequels to the first novel in his Merlin's Godson series, which had been serialized in Weird Tales in 1939, and they published those novels as part of their Ballantine and Del Rey adult fantasy lines. The third novel in the series received World Fantasy and Mythopoeic Award nominations, he himself was nominated three times for the World Fantasy Award for Life Achievement, and he was Guest of Honor at the 1978 World Fantasy Convention. He won the Balrog Award for Poet twice in the 80s, and received the Clark Ashton Smith Award for Poetry.
Born November 5, 1938 – James Steranko, 80, Artist, Illustrator, Writer, Publisher, and Magician who is noted for his work in the comic book and graphic novel industry. His breakthough was the Nick Fury, Agent of S.H.I.E.L.D. feature in Marvel Comics' Strange Tales, and the subsequent series, in the 60s. His design sensibility would become widespread within and without the comics industry, affecting even Raiders of the Lost Ark and Bram Stoker's Dracula, for which he created conceptual art and character designs. He also produced several dozen covers and illustrations for genre novels and anthologies in the 60s and 70s. His two-volume history of the birth and early years of comic books established him as a historian of the field. He received and Inkpot Award and Dragon Con's Julie Award, and was inducted into the Will Eisner Comic Book Hall of Fame in 2006.
Born November 5, 1940 – Butch Honeck, 78, Sculptor and Fan who learned mechanics, welding, machining, and metal finishing as a teenager, then went on to build a foundry and teach himself to cast bronze so he could create shapes that were too complex for welding. His bronze fantasy sculptures, which depict dragons, mythical creatures, wizards, and other fantasy-oriented themes, use the lost wax method with ceramic shell molds and are characterized by intricate details, mechanical components, humor, and surprise. He has been Artist Guest of Honor at several conventions, was named to Archon's Hall of Fame, and won a Chesley Award for Best Three-Dimensional Art.
Born November 5, 1942 – Frank Gasperik, Writer, Filker, and Fan who was a close friend to Larry Niven and Jerry Pournelle. He was Tuckerized as a character in several novels, including in Lucifer's Hammer as Mark Czescu, in Footfall as Harry Reddington (aka Hairy Red), and in Fallen Angels. His own genre writing in collaboration with filker Leslie Fish resulted in a novella in Pournelle's Co-Dominium universe, and an unfinished work which Fish completed for him after his death, at John F. Carr's request. He was a well-known filker in that community; here he is doing "The Green Hills of Earth". He died in 2007.
Born November 5, 1944 – Carole Nelson Douglas, 74, Writer and Editor who has produced a fantasy series and several genre series which are mysteries with a supernatural twist, including one which showcases Arthur Conan Doyle's minor Sherlockian character Irene Adler as a brilliant investigator. But I'm here to pitch to you her SJW credential series instead (and dissenters can now go elsewhere) in the form of her Midnight Louie series, which was inspired by a classified ad seeking an adoptive home for a big black cat. Each novel is told in part from the point of view of Midnight Louie; the cat himself speaks in a style which some say is like that of a Damon Runyon character. Great dearies, lovely premise.
Born November 5, 1958 – Robert Patrick, 60, Actor and Producer best known in genre as FBI Special Agent John Doggett in The X-Files series, as the T-1000, the main adversary of Terminator 2: Judgment Day, and a main role in the alien abduction movie Fire in the Sky – all of which netted him Saturn nominations. He has had a main role in the TV series Scorpion, and recurring roles in True Blood and From Dusk till Dawn. He has also appeared in a lengthy list of genre movies, including The Last Action Hero, Asylum, Future Hunters, Warlords from Hell, Alien Trespass, and Double Dragon, and episodes of Stargate: Atlantis, Lost, Tales from the Crypt, and The (new) Outer Limits.
Born November 5, 1960 – Tilda Swinton, 58, Oscar-winning Actor who is well-known to genre fans as the evil White Witch in the Chronicles of Narnia films, for which she received a Saturn nomination; roles in the films The Curious Case of Benjamin Button and Doctor Strange won her Saturn trophies. She played the long-lived main character in Orlando, computing pioneer Ada Lovelace in the film Conceiving Ada, and had parts in Constantine, Snowpiercer, The Zero Theorem, and the upcoming zombie comedy The Dead Don't Die.
Born November 5, 1964 – Famke Janssen, 54, Actor who started out as a fashion model, and then had an acting career breakthrough as an unknown in an episode of Star Trek: The Next Generation. This was followed quickly by appearances in genre films Lord of Illusions, Deep Rising, and House on Haunted Hill, then her 15-year genre role as Jean Grey / Phoenix in the numerous X-Men films, for which she won a Saturn Award. Since then, she has had main roles in the horror series Hemlock Grove and the supernatural social media film Status Update.
Born November 5, 1968 – Sam Rockwell, 50, Oscar-winning Actor who is probably best known as !Spoiler alert! (just kidding) Guy Fleegman, a redshirt in the Star Trek homage Galaxy Quest, whose character initially simply exists for comic relief but transcends that casting by the end of the Hugo-winning film. He also played Zaphod Beeblebrox in The Hitchhiker's Guide to the Galaxy, had parts in The Green Mile, Iron Man 2, Teenage Mutant Ninja Turtles, and Cowboys & Aliens, and voice a lead role as a guinea pig in the animated Disney film G-Force.
(9) COMICS SECTION.
Off the Mark cleverly juxtaposes James Bond and Poe to trigger this punchline.
(10) MALIBU TREK. Deadline found a home on the market with some celebrity history in its own right: "'Star Trek: The Next Generation' Home For Sale In Malibu, Part Of 'The Survivors' Episode".
(a) House is listed for $5.695 million
(b) This appears to be the listing — https://www.coldwellbankerhomes.com/ca/malibu/27553-pacific-coast-hwy/pid_27011186/
(c) A photo from that listing is:
(11) LOOKING FOR THE GOLDEN AGE. David M. Barnett (@davidmbarnett) of the UK-based Independent newspaper uses Alec Nevala-Lee's Astounding as a jumping-off point to explore the ongoing diversification of science fiction authorship and audiences. In "Out of this world: The rise and fall of Planet Sci-fi's 'competent man'" he offers a perspective on John W. Campbell's legacy, both negative and positive, and puts recent events in science fiction fandom in context for a popular audience. Registration required.
Campbell was what he was, and he did what he did. He didn't create science fiction, nor did he own it. It was an important period in history, but one that has passed. Science fiction today is new and wondrous and inclusive, and perhaps, in years to come, historians will be referring to this, not the Campbell era, as the true Golden Age.
(12) APOCALYPSE TUESDAY. The Rumpus says this is "What to Read When the World Is Ending". A few sff works made the list.
…The above cataloguing of recent atrocities isn't exhaustive. If the world isn't truly ending, it's certainly in the midst of several significant crisis. And in moments of crises, we at The Rumpus find solace in, and draw strength from, literature. Below is a list of books our editors think are especially appropriate to read right now, in this fraught political moment….

Who Fears Death by Nnedi Okrafor
In a post-apocalyptic Africa, the world has changed in many ways; yet in one region genocide between tribes still bloodies the land. A woman who has survived the annihilation of her village and a terrible rape by an enemy general wanders into the desert, hoping to die. Instead, she gives birth to an angry baby girl with hair and skin the color of sand. Gripped by the certainty that her daughter is different—special—she names her Onyesonwu, which means "Who fears death?" in an ancient language. Even as a child, Onye manifests the beginnings of a remarkable and unique magic. As she grows, so do her abilities, and during an inadvertent visit to the spirit realm, she learns something terrifying: someone powerful is trying to kill her.
(13) ARE YOU TRACKING WITH ME? There will be a Traincon to the 2019 NASFiC / Westercon / 1632 Minicon happening in Layton, UT next July. Well, two Traincons might be more accurate, since organizers want to have one running to the con from Chicago and another from the San Francisco Bay Area (and return). More information at the link.
Join your fellow fans on Amtrak for the trip to Spikecon and then back home. We'll have fun on the train, getting together periodically to discuss SF, the con, or anything that comes to mind. Games and filk, too, if anyone is so inclined – all with old friends and new. While you're at it, don't forget to enjoy the beautiful scenery. The train from the Bay Area (Traincon West) crosses the Sierra Nevada, the one from Chicago (Traincon East) crosses the spectacular Rockies, both in full daylight.

There will be no group reservation for this Traincon; members will need to make their own individual Amtrak reservations; early reservations are recommended for the best prices…..
The organizers are Bill Thomasson and Nancy Alegria.
(14) HOTEL WATCHING IN NZ. The Comfort Hotel in Wellington (venue for some recent NZ NatCon's and about a km from WorldCon venues) will be renamed and refurbished.
Renovations for the 115-room Comfort Hotel will begin after March 2019 with expected completion at the end of that year, for rebranding as Naumi Heritage Wellington.

The Quality Hotel renovations will also be completed about the same time, and be rebranded as Naumi Suites Wellington with 62 rooms.

…The theme of the hotel refurbishments in Wellington will be "romantic Edwardian age meets literary bohemian", according to a Naumi media statement – "a space that embraces diversity and steadfastly refuses to be boring".
(15) LOVE OFF THE CLOCK. SYFY Wire's "FanGrrls" columnist Alyssa Fiske extols "The appeal of the time-travel romance":
While some may accuse the genre of being formulaic (fools), romance does indeed have some of the greatest tropes of any kind of story. Enemies to lovers, fake dating becoming real, the good old "oh no there's only one bed in this hotel room I guess we have to share," all of these tropes are at once familiar and thrilling. The building blocks may be the same, but each swoony outcome has its own sense of magic.

In particular, time travel and other time-related complications pop up again and again. Whether they're communicating via time bending mailbox (The Lake House), kept apart by centuries as a plastic centurion (Doctor Who), or powered by genetic anomalies both charming (About Time) and devastating (The Time Traveler's Wife), this obstacle has long been a popular stalwart in the romantic canon.
(16) GHOST MOONS. NBC News goes for the clicks with its headline "'Ghost moons' discovered in orbit around Earth". These are patches of "dust" at the Earth-Moon L4 & L5 (Lagrange) points
Astronomers in Hungary say they've detected a pair of what some call "ghost moons" orbiting our planet not far from the moon we all know.

The hazy clouds of dust — tens of thousands of miles across but too faint to be seen with the naked eye — were first detected almost 60 years ago by a Polish astronomer, Kazimierz Kordylewski. But the patches of light he found were too indistinct to convince some scientists that the clouds were really there, and the existence of the "Kordylewski clouds" has long been a matter of controversy.

Now the astronomers, Gabor Horvath and Judit Sliz-Balogh of Eötvös Loránd University in Budapest, have obtained clear evidence of the clouds using a specially equipped telescope in a private observatory in western Hungary.
(17) MORE IMPORTANT — IRON OUTSIDE OR IRON INSIDE? [Item by Mike Kennedy.] At the A.V. Club, Tom Breihan is considering "the most important superhero movie of every year" in a series entitled "Age of Heroes." Breihan is up to 2008 and asks, "Does the most important year for superhero movies belong to The Dark Knight or Iron Man?"
Midway through Christopher Nolan's 2008 movie The Dark Knight, the Joker gets himself arrested so that he can then break out of his holding cell and continue his grand experiment in human darkness. While he's locked up, he's placed in the custody of the Major Crimes Unit, the police force that's supposedly been devoted to locking up Batman. In the movie, people keep referring to the Major Crimes Unit as the MCU. As in: "There's a problem at the MCU!" Watching it today, you might hurt your neck doing double-takes at those initials every time. The Dark Knight, as it happens, came out at the last moment that "MCU" could possibly refer to anything related to Batman.
Today, of course, we know the MCU as the Marvel Cinematic Universe, the steamrolling blockbuster-generating engine that has become the dominant commercial force in all of moviemaking. It was never a given that the Marvel Cinematic Universe would work. By the time the people at Marvel got around to establishing their own movie studio, they'd already sold off the rights to many of their most-famous characters: Spider-Man, the X-Men, the Fantastic Four. Only the relative dregs were left over, and nobody knew whether a relatively minor character like Iron Man could anchor a whole movie, let alone a franchise. It was a gamble.

It was a gamble, too, to cast Robert Downey Jr., a faded star who'd spent years battling his personal demons. […]
Breihan lavishes much praise on Iron Man and notes how well it set up much of the Marvel Cinematic Universe that followed, but in the end he picks The Dark Knight as the more important movie. His reasoning may surprise you and you may or may not agree with it. In part, he say:
[…] The Dark Knight made money, too; it was the highest-grossing movie of 2008. But it didn't just make money. It was, in its moment, widely hailed as something resembling a masterpiece. When, for instance, the Academy of Motion Picture Arts And Sciences failed to nominate The Dark Knight for a Best Picture Oscar, there was such a wide public outcry that the Academy changed its roles to allow for more nominees. That is an impact.
It should probably be noted that Breihan doesn't believe The Dark Knight actually was a masterpiece, but that doesn't diminish the impact such a perception may have had in the moment. Some of Breihan's highest praise goes to Heath Ledger's performance (sadly, his last) as the Joker.
[…] Ledger is legitimately disgusting: dirty and scarred-up, with yellow teeth and a tongue that's constantly darting in and out of his mouth, like a lizard's. But he's magnetic, too. He tells different stories about his scars, just so we'll know that he's always lying. He confounds criminals as badly as he does police. He dances his way through a hospital explosion and intimidates a roomful of mob bosses. His voice—the best description I can manage is a tweaked-out Richard Nixon impression—is chilling and alien. And he seems to be in love with Batman in ways that make even Batman uncomfortable: "Don't talk like you're one of them. You're not."
Besides Iron Man and The Dark Knight, Breihan devotes a fat paragraph to a handful of other superhero movies from 2008, plus a sentence or two to several others. Finally, he promises a look at 2009's Watchmen in the next Age of Heroes installment.
(18) GAIMAN'S SANDMAN. NPR's Etelka Lehoczky on a new printing of Neil Gaiman's Preludes and Nocturnes: "Enter 'Sandman': Anniversary Edition Celebrates 30 Years Of Dream-Spinning".
When Neil Gaiman first envisioned the Sandman, the supernatural dream lord he created 30 years ago, he thought about prison. "Before I even knew who he was," Gaiman writes in the afterword to The Sandman Vol. 1: Preludes and Nocturnes, he had the image of "a man, young, pale and naked, imprisoned in a tiny cell, waiting until his captors passed away, willing to wait until the room he was in crumbled to dust."

Dreams and imprisonment? It's not a connection most would make. True, dreams are just about the only thing a prisoner has of his own, but it seems odd to imagine the bringer of dreams himself trapped in a cell. As so often happens with Gaiman, though, meditating upon one of his intuitions leads you to a whole new way of thinking
(19) TUNING UP DEADPOOL. Daniel Dern recommends "Deadpool The Musical 2 – Ultimate Disney Parody!". "The songs aren't the best… but, among other things, it's arguably one of the best representations of the X-Men (about halfway in), and many of the Avengers. And the last minute or two is great."
[Thanks to Chip Hitchcock, Cat Eldridge, JJ, John King Tarpinian, Olav Rokne, Errolwi, Martin Morse Wooster, Mike Kennedy, Carl Slaughter, Michael J. Walsh, and Andrew Porter for some of these stories. Title credit goes to File 770 contributing editor of the day Soon Lee.]