(1) IN SFWA TIMES TO COME. Cat Rambo in "What I'm Hoping For SFWA in 2016" tells about the organization's accomplishments and shortfalls in 2015, and what the future holds. Here's an excerpt from each category —
SFWA's 2015 Accomplishments

We hammered out membership criteria that didn't just include writers publishing independently or with small presses but made us the first organization to consider crowdfunded projects as a publication path. That's led to an influx of new members and fresh energy that's been delightful to be part of….

Some Bad Stuff

The lack of a plan behind the 50th Anniversary Anthology finally sank that project when our CFO and I realized that the books would have to sell for 84.50 each in order to break even….

What I'm Looking Forward to in 2016

M.C.A. Hogarth has been a terrific Vice President, proactive and self-guided. One of her projects is a guidebook for SFWA members that explains everything: how to join the discussion forums, how to nominate for the Nebulas, how to participate in the Featured Book Program on the website, who to mail with directory issues, etc. That will appear in 2016 and I think it will be a bit of a revelation to us all….
Rambo ends with Henry Lien's anthem "Radio SFWA," which I must say I am a huge fan of, whatever it may do for anybody else…. (The lyrics appear when you click "show more" at the song's YouTube page.)
(2) RULES ARE MEANT TO BE BROKEN. "Star Wars: The Force Awakens lands unprecedented award nomination" reports Polygon.
Star Wars: The Force Awakens has already shattered plenty of box office records, but the movie has also made history by reportedly earning an unprecedented nomination from the Broadcast Critics Association.

According to The Hollywood Reporter, the Association made the historic move to include the film as the eleventh contender for their Best Film award. The nomination list had come out eight days before The Force Awakens was released, effectively shutting the film out entirely. Usually, films must be submitted during a specific voting period and those that don't meet the deadline aren't considered at all.
(3) GOOD FOR A QUOTE. Academic Henry Jenkins, who appeared as a witness in The People Vs. George Lucas, explains "What We Talk About When We Talk about Star Wars" at Confessions of an Aca-Fan.
This blog post might be subtitled "The Pretentious Ass Strikes Back." Here's a story we tell in my family.

In 1977, Cynthia Ann Benson, an undergraduate at Georgia State University, has signed up for a class on film theory and criticism, with some nervousness about whether it will take the pleasure out of going to the movies. On the first day of class, the instructor — Jack Creech — is late, and a group of students are gathered outside the classroom. This guy — you know the one — another undergraduate student  is standing around making assertions about gender, race, and technology in the recently released Star Wars movie to anyone who will listen and to many who would probably rather not be listening. She goes off after class and writes a letter to her best friend describing "this pretentious ass pontificating about the social significance of Star Wars" as summing up everything that made her fearful of cinema studies.  It took me several years to overcome that unfortunate first impression and get her to go out on a date with me. We've now been married for almost 35 years.

So, it was some ironic glee that I accepted the invitation of the media relations folks at USC to be put on a list of experts who could talk to the media about Star Wars. I found myself doing some dozen or more interviews with reporters all over the world in the week leading up to the release of A Force Awakens, filling them in about the impact which the Star Wars franchise has had over the past few decades.
(4) HE'LL BE HERE ALL WEEK FOLKS. James H. Burns sent an email to ask: "Hey, Mike, do you know why I'll be wearing a deerstalker cap on the 25th?"
The answer: "Because I'll be Holmes, for Christmas."
(5) I'M MELTING…MELTING….
Even a Sith lord no match for the Australian summer: Chocolate Darth Vaders, collapsing in Melbourne. By @ajobbins pic.twitter.com/8i9FSMg6Yy

— Alan (@GammaCounter) December 21, 2015
(6) HIGH CASTLE TO CONTINUE. Amazon's The Man In The High Castle has displaced Titus Welliver-starrer Bosch as its most-watched original according to The Hollywood Reporter.  The show's pilot also has been streamed more times than any other pilot in Amazon history. The company announced a few days ago it has renewed the show for a second season.
(7) DID YOU PAY ATTENTION? Pit your wits against "Orbit's Ultimate 2015 Science Fiction and Fantasy Quiz" at Playbuzz. Multiple choice questions, for example:
Fans visited the Discworld for the last time this year, with Terry Pratchett's final book, The Shepherd's Crown, released in August. If you were to visit Ankh Morpork, how would you recognise the city's crest? It contains…
JJ says, "In my opinion, it's way too heavy on media (Film, TV, comics) and Game of Thrones, but I'm sure a lot of Filers will do well on it."
(8) BIG NAME ZOMBIE WRITERS. Jonathan Maberry and George Romero are joining forces to edit Rise of the Living Dead, an anthology of all-original stories set in the 48 hours surrounding Romero's landmark film.
Rise of the Living Dead will be published by Griffin, and will include stories by Brad Thor, Brian Keene, Chuck Wendig, David Wellington, George Romero, Isaac Marion, Jay Bonansinga, Joe Lansdale, Joe McKinney, John Russo, Jonathan Maberry, Keith R.A. DeCandido, Mike Carey, Mira Grant (pen name of Seanan McGuire), Neal Shusterman & Brandon Shusterman, and Sandra Brown & Ryan Brown.
(9) LEWIS PART THREE. Matthew David Surridge unveiled "Wandering the Worlds of C.S. Lewis, Part III: Dymer" at Black Gate.
In 1922 C.S. Lewis recorded in his diary that he had "started a poem on 'Dymer' in rhyme royal." His phrasing's interesting: a work "on" Dymer, as though it were a well-known subject. "Dymer" was already a familiar story to him. He'd written it out in prose in 1917, one of his first mature prose works to use modern diction and avoid the archaisms of William Morris' novels. Late in 1918 he wrote in a letter that he'd just completed a "short narrative, which is a verse version of our old friend Dymer, greatly reduced and altered to my new ideas. The main idea is that of development by self-destruction, both of individuals and species." Nothing of this version seems to have survived in the 1922 poem, which was finished in 1925 and published in 1926 to mixed reviews.
(10) HERE COMES SANTA CLAUS. After viewing "Boston Dynamics' Robo-Dogs Pulling a Sleigh is a Terrifying Glimpse of Christmas Future", Will R. asked, "Do electric puppies dream of…wait…where was I?"
I love the possibility of a Christmas battle royal between the Robo-Dogs and the regiment of parading Krampuses – it would be the real life equivalent of that Doctor Who episode where the Daleks fought the Cybermen….
(11) PARTYARCHS. Because the MidAmeriCon II Exhibits team will be helping people throw parties in the Worldcon's event space, rather than have them in hotel rooms, they are inviting people to an advance discussion —
Hi all you party throwers!

At MidAmeriCon II, we are going to have a different party setup and we have some questions to ask of you and answers to share with you.

Please subscribe to our party-discussion mailing list by sending an email to [email protected] with the subject line of SUBSCRIBE.

Even if you aren't going to throw a party, we are interested in your insight and advice.
(12) BOND ON ICE. James H. Burns calls"Do You Know How Christmas Trees Are Grown?" from the sixth James Bond movie, On Her Majesty's Secret Service, "Perhaps the most unusual song in a James Bond film." Nina Van Pallandt is the singer.
The song played behind this action scene:
(13) RECOMMENDATION SITE. Ken Marable's 2016 Hugo Recommendation Season is working its way through every category week at a time. It just wrapped up the Best Fanzine recommendations.
Previously covered – Best Semiprozine, Best Fan Writer, Best Professional Artist, and Best Editor (Short Form). See the schedule at the site for when others will be covered.
(14) BOIL'EM, BAKE 'EM, STICK 'EM IN A STEW. Peru's Centro Internacional de la Papa will learn how to grow "Potatoes on Mars".
A team of world-class scientists will grow potatoes under Martian conditions in a bid to save millions of lives.

The experiment, led by the International Potato Center (CIP) and NASA, is a major step towards building a controlled dome on Mars capable of farming the invaluable crop in order to demonstrate that potatoes can be grown in the most inhospitable environments.

The goal is to raise awareness of the incredible resilience of potatoes, and fund further research and farming in devastated areas across the globe where malnutrition and poverty are rife and climbing….

By using soils almost identical to those found on Mars, sourced from the Pampas de La Joya Desert in Peru, the teams will replicate Martian atmospheric conditions in a laboratory and grow potatoes. The increased levels of carbon dioxide will benefit the crop, whose yield is two to four times that of a regular grain crop under normal Earth conditions. The Martian atmosphere is near 95 per cent carbon dioxide.
(15) FISHER. "Han Jimbo" (James H. Burns) says this interview with Carrie Fisher from earlier in the month is just delightful.
(16) CINEMATIC COAL LUMP. 'Tis the season to remember what is generally regarded among the worst movies ever made.
Santa Claus Conquers the Martians can be viewed free online. (As if you would pay to see it!)
(17) WAY OF THE HOBBIT. Ebook Friendly draws our attention to the "Following the Hobbit trail (infographic)".
Quirk Books, an independent book publisher based in Philadelphia, has released a fantastic infographic that will let you study the timeline of Bilbo and Frodo Baggins.
The visual was prepared for Quirk Books by Michael Rogalski.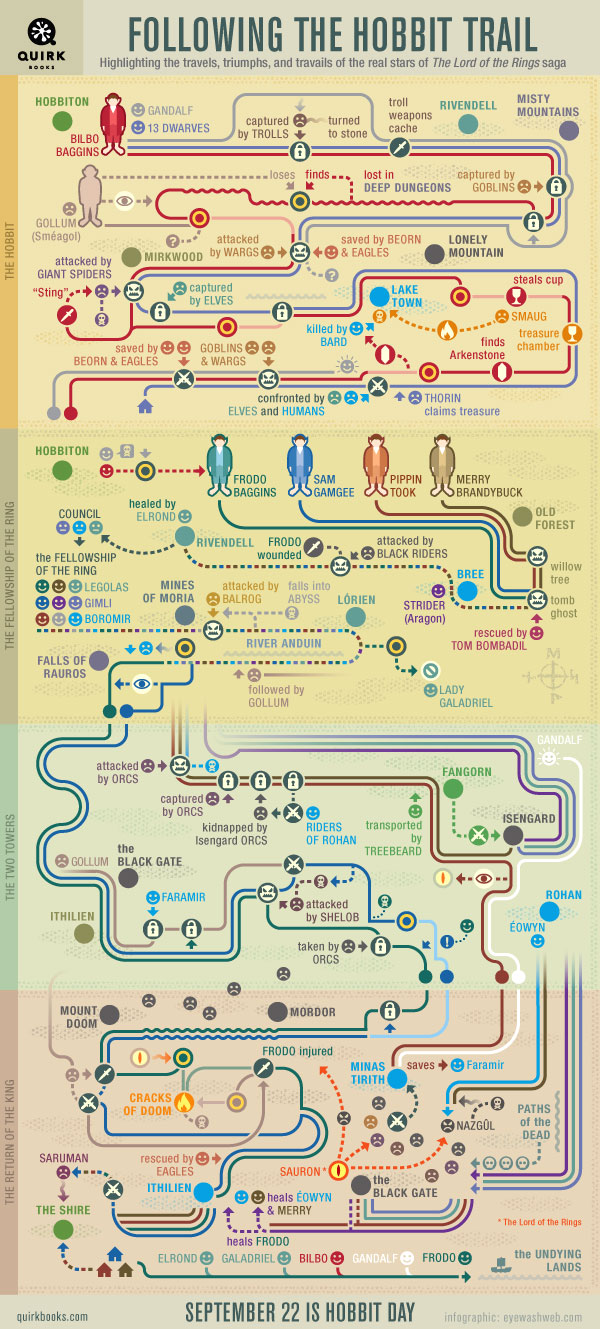 [Thanks to Andrew Porter, Will R., James H. Burns, John King Tarpinian, JJ, and Gregory N. Hullender for some of these stories. Title credit goes to File 770 contributing editor of the day Iphinome.]