(1) MST3K+PO. Patton Oswalt has agreed to join Mystery Science Theater 3000 as the Forrester's newest Evil Henchman, TV's Son of TV's Frank. Joel Hodgson explains:
I first became aware of Patton around fourteen years ago, when he was doing "commentary" for the MTV Awards – live in the room during the event! I realized right away he was a kindred spirit, and damn funny too. Since then, obviously, he's bloomed into this amazing comedy/internet dynamo, and I've gotta tell you: I've seen a lot of stand-ups over the years, but – no lie – Patton really is one of the best ever. And just as important, he's a very fun, articulate and witty soul – just the kind of person who we've always tried to bring onboard for MST3K.

That's probably why, when I started putting together my dream roster of special "guest writers" for the next season of MST3K, the idea of Patton kept coming back to me. I knew he was a Mystery Science Theater fan from way back – he even moderated our 20th Anniversary Reunion panel at San Diego Comic-Con)–and I thought he'd be terrific at writing riffs. Then I started to wonder if he might be a good fit on camera, too.

Remember last week, how I said my creative process usually starts with visuals, and then I work backward? Well, in this case, I first imagined Patton dressed up like TV's Frank. I figured maybe he'd be Frank's son, or at least a clone. But yeah: the idea of Patton wearing black lab assistant's garb, with a big mound of silver hair and a spitcurl…? It was just really funny to me, in a visual / cross-referential / meta kind of way.
(2) HIGH CASTLE. Marc Haefele, once the editor for some of Philip K. Dick's later books from Doubleday, praised Amazon's The Man in the High Castle on an NPR affiliate's show "Off-Ramp." BEWARE MINOR SPOILERS.
Juliana (Alexa Davalos) — Frink's estranged wife in the book, his girlfriend in the series — was that rarest of Dick characters, a strong, positive, effective woman. She is even more so on the screen. The substitution of various film reels for the original fictional novel McGuffin generally works, albeit there seem to be a few too many abandoned operating 16 mm projectors left around.

And there are some clunkers. Like when the Nazi elevated monorail from which-side-is-he-on Nazi/underground operative Joe Blake (Luke Kleintank) descends bears the label "U-Bahn." Whoops, that's a subway folks. The elevated is an "S-Bahn." Or why is "Mack the Knife," a song by a Communist  (Bertolt Brecht) and a Jew (Kurt Weill), being  sung at an otherwise terrifyingly well-imagined Aryan Victory Day picnic in occupied Long Island?
(3) BEST STAR WARS MOVIE. Michael J. Martinez marches on: his Star Wars rewatch has reached movie #5 — "Star Wars wayback machine: The Empire Strikes Back".
In this rewatch, we have the crown jewel of the entire saga: The Empire Strikes Back. Pretty much everything we love about Star Wars is front-and-center here, and this one stands up to the test of time as well as any classic film you can think of. Yes, it's as good as I remembered.
(4) FICTIONAL HISTORY. Jonathan Nield delivers "A defense of historical fiction" at Pornokitsch.
…Perhaps this introduction may be most fitly concluded by something in the nature of apology for Historical Romance itself. Not only has fault been found with the deficiencies of unskilled authors in that department, but the question has been asked by one or two critics of standing – What right has the Historical Novel to exist at all? More often than not, it is pointed out, the Romancist gives us a mass of inaccuracies, which, while they mislead the ignorant (i.e., the majority?), are an unpardonable offence to the historically-minded reader. Moreover, the writer of such Fiction, though he be a Thackeray or a Scott, cannot surmount barriers which are not merely hard to scale, but absolutely impassable. The spirit of a period is like the selfhood of a human being – something that cannot be handed on; try as we may, it is impossible for us to breathe the atmosphere of a bygone time, since all those thousand-and-one details which went to the building up of both individual and general experience, can never be reproduced….
(5) RIDING HIGH IN APRIL, SHOT DOWN IN MAY. We all have those days.
When you find out a prominent member of the SFF community thinks your work isn't any good. pic.twitter.com/Zi8DeOlUOg

— Paul Weimer (@PrinceJvstin) December 9, 2015
(6) BURSTEIN IN TRANSLATION. Michael A. Burstein had a short story in a recent issue of the Chinese prozine Science Fiction World.
I am pleased to announce that my short story "The Soldier WIthin" has been translated and published in the November 2015 issue of [Chinese characters]. (In English, the magazine is known as Science Fiction World.) This is my first time having a story translated into Chinese or published in China. I'd like to thank Joe Haldeman for having purchased the story for the anthology Future Weapons of War back in 2007, and the editor of SF World, Dang Xiaoyu (I hope I have that right), for choosing to reprint the story .

In theory, this means the story will be read by approximately 1 million people in China. That would make it the most widely read story of mine.
(7) THE BILLIONS NOBODY WANTED. Remember when no film buyers wanted Star Wars for their theater chains? Me neither. But several swear it happened in "'Star Wars' Flashback: When No Theater Want to Show the Movie in 1977", an article from The Hollywood Reporter.
LENIHAN I was 23 and booking country towns in Northern California for United Artists, which also owned the Coronet Theatre in San Francisco. I tease Travis all the time that the only time I ever won was when he picked The Deep for a theater in Redding, Calif., while I picked Star Wars. On opening day at the Coronet, there were lines around the block. It played there until Close Encounters of the Third Kind opened in December, and we were still hitting our holdover numbers.
(8) FAMOUS COSTUMES. The "Star Wars and the Power of Costume" exhibit will be moving to Denver where it will run from November 13, 2016-April 2, 2017.
Included in the show's 60 costumes, which will be displayed in the museum's Hamilton Building Anschutz and McCormick galleries, are such classics as Princess Leia's bikini, Darth Vader's menacing black uniform, and the royal red gown Queen Amidala (Natalie Portman) wore in 1999's " Star Wars: Phanton Menace."

In addition to featuring costumes and conceptual art, the exhibit includes videos with designers, actors and George Lucas talking about the creative process.
(9) UNHEARD OF. New York Magazine discovered it takes less than 90 seconds to repeat all the dialogue spoken by women other than Princess Leia in the entire original Star Wars trilogy.
(10) STAR CHOW. And if that doesn't give you a case of Star Wars-related indigestion, here's a couple more things to try.
You'll need:
Donut holes
12 ounces white candy melts
Black icing
Blue icing
Orange Icing
Lollipop sticks
When it comes to setting up a holiday dinner table, why not make it more festive by incorporating Star Wars! Flavored butter can be made to be savory or sweet. Pumpkin Spice and Cranberry orange butters are warm and seasonal and taste great with breads and scones. Garlic Herb and Sriracha Lime have a kick that goes well with crackers and sandwiches made of leftovers.

By shaping them into stormtrooper helmets the butter becomes a unique and fun way to add Star Wars to your traditional holiday meal.
(11) HOLY ANDY WARHOL! Or failing that, an entire line of Campbell's products in Star Wars-themed cans.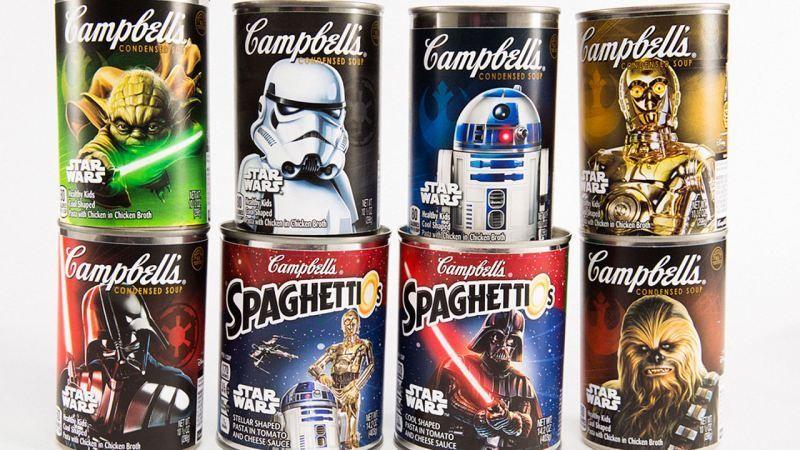 (12) HOUSE CALL. Should you need an antidote, try paging through Dining With The Doctor: The Unauthorized Whovian Cookbook by Chris-Rachael Oseland.
Your taste buds are about to take a wibbly wobbly, timey wimey adventure through the 2005 Doctor Who reboot. Megafan and food writer Chris-Rachael Oseland spent a year rewatching all of series one through six and experimenting in her kitchen to bring you a fresh recipe for every single episode. There are recipes in here for every level of cook. If you're terrified of the kitchen, there are things so simple even Micky the Idiot couldn't get them wrong. For the experienced chefs, there are advanced fish and beef dishes that wouldn't be amiss on the Starship Titanic. Along the way, you'll also find plenty of edible aliens to decorate the table at your next Doctor Who viewing party.

This book is a treat for any Whovian who wants to offer more than a plate of fish fingers and a bowl of custard at your next viewing party. Want to host an elegant dinner party to show off your new Tardis corset? Start the evening with a Two Streams Garden Cocktail followed by Baked Hath, Marble Cucumber Circuits with Vesuvian Fire Dipping Sauce, Professor Yana's Gluten Neutrino Map Binder, Slitheen Eggs, and some of Kazran's Night Sky Fog Cups for dessert.
(13) PARODY. Ed Fortune wrote and produced a homage to the world of sci-fi fandom called This Is Not The Actor You Are Looking For, the story of an actor from a popular movie franchise with a confession to make.
(14) THEY MIGHT BE. The BFG official trailer #1. A girl named Sophie encounters the Big Friendly Giant who, despite his intimidating appearance, turns out to be a kindhearted soul who is considered an outcast by the other giants because unlike his peers refuses to eat boys and girls.
(15) INSTANT CLASSIC. Kyra's lyrics to "Old Man Zombie" –
Old man zombie,
That old man zombie,
He don't say nothing
But won't stop moving —
He just keeps shambling
He just keeps shambling along.

It might be fungal,
It might be viral,
We might be trapped in
A downward spiral,
But old man zombie
He just keeps shambling along.

You and me, we sweat and swear,
Body all aching and racked with fear,
Bar that door!
Hide that pit!
I wandered off alone
And I just got bit.

I'm infected
Your brain I'm eyeing,
I'm scared of living
And tired of dying,
I'm old man zombie
And just keep shambling along!
[Thanks to John King Tarpinian, and Hampus Eckerman for some of these stories. Title credit goes to File 770 contributing editor of the day Josh Jasper.]