(1) STRANGE TOY. Robin Sloan offers "Voyages in sentence space".
Imagine a sentence. "I went looking for adventure."

Imagine another one. "I never returned."

Now imagine a sentence gradient between them—not a story, but a smooth interpolation of meaning. This is a weird thing to ask for! I'd never even bothered to imagine an interpolation between sentences before encountering the idea in a recent academic paper. But as soon as I did, I found it captivating, both for the thing itself—a sentence… gradient?—and for the larger artifact it suggested: a dense cloud of sentences, all related; a space you might navigate and explore.

…My project called sentencespace, now public on GitHub, serves up an API that provides two things.

Sentence gradients: smooth interpolations between two input sentences.
Sentence neighborhoods: clouds of alternative sentences closely related to an input sentence.

Sentence neighborhoods are simpler than gradients. Given an input sentence, what if we imagine ourselves standing at its location in sentence space, peering around, jotting down some of the other sentences we see nearby?
Mlex sent the link together with a screenshot of his own experiment with gradients between two sentences: "I put in the opening and closing phrases of Dhalgren and got the output (in the screenshot attached)."
(2) JUKKA WINS. The Finnish Science Fiction and Fantasy Writers Association presented Worldcon 75 chair Jukka Halme with the Cosmos Pen Award, their highest honor.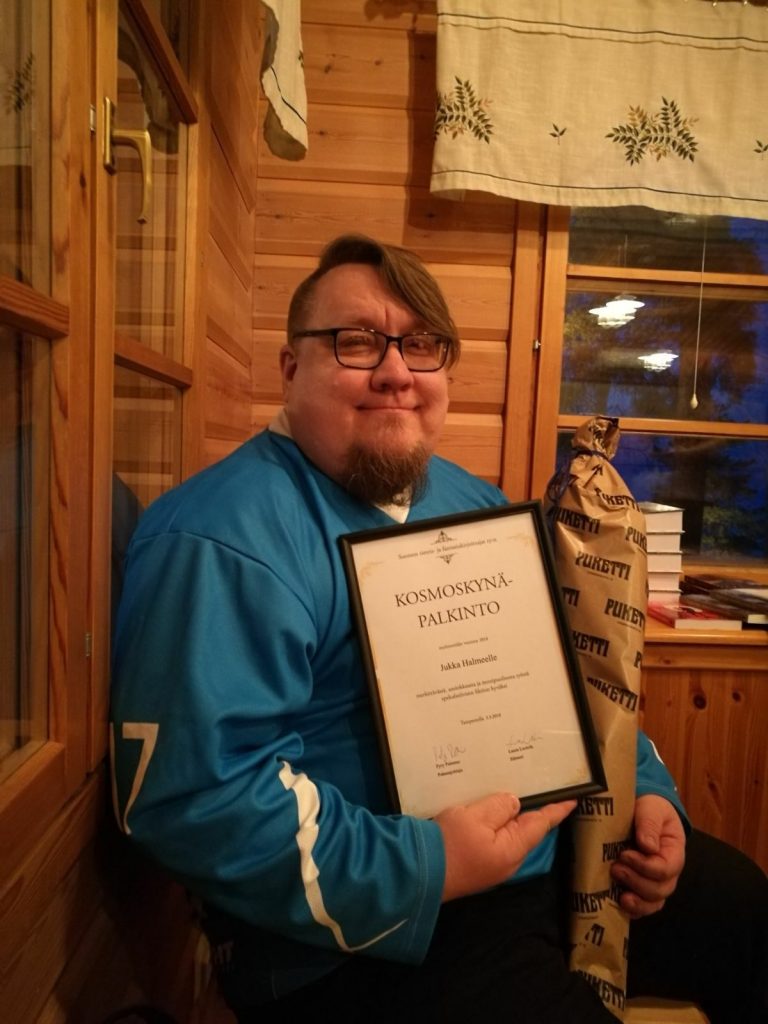 (3) SPIRIT AWARDS. Get Out won the top two categories at today's Film Independent Spirit Awards ceremony, Best Feature and Best Director.
The Spirit Awards recognize independent filmmakers. Read the full list of winners here.
(4) SUGGEST CHESLEY AWARD NOMINEES. The Association of Science Fiction and Fantasy Artists is seeking suggestions for 2017 works for consideration for this year's Chesley Awards in the categories Hardback Cover, Paperback Cover, Magazine Cover, Interior Illustration, Gaming Related Illustration, Product Illustration, Color Work Unpublished, Monochrome Work Unpublished, Three Dimensional Art, Art Director, and Lifetime Artistic Achievement. Anyone can suggest works for consideration, you do not need to be an ASFA member.
The Suggestion form is here: https://goo.gl/v8QuzP
The gallery of works suggested so far is here.
The deadline is March 5.
(5) THESE BOOTS. Will Terry Goodkind get a veto over his next book cover? Although not yet displayed on the Macmillan website, another service is circulating this draft cover art for the third novel in his Nicci Chronicles series. Siege of Stone goes on sale December 31, 2018. Unfortunately, the banner obscures the character's footwear, one of the things Goodkind criticized in his recent blast about the cover for Shroud of Eternity.
(6) DID PKD EVER COMPLAIN ABOUT HIS COVERS? Alicia Kroell, in "33 of the Weirdest Philip K. Dick Covers We Could Find" at LitHub, has unearthed some truly creepy covers!
(7) ASSEMBLY REQUIRED. Roy Scranton reviews an Iraqi sf novel in New Republic — "A Surreal Story from Baghdad".
Frankenstein in Baghdad begins with an explosion in Baghdad's Tayaran Square, the full significance of which doesn't become clear until later, when the junk dealer Hadi tells his story to a group of journalists at a coffee shop. One, a German documentary-maker, leaves halfway through, laughing off Hadi's tale as a fable stolen from a Robert De Niro movie. But Mahmoud al-Sawadi, an Iraqi magazine journalist, stays and listens closely, because what Hadi's telling him is genuinely weird, even for Baghdad: how after the explosion he'd picked up someone's nose off the street and sewed it onto the face of a corpse he'd been building in his shed. Then how, while he was sleeping, the corpse apparently got up and walked away.

Hadi's a well-known liar, and a drunk to boot, but as Mahmoud discovers, this time the junk man was telling the truth. His story sparks the plot of Ahmed Saadawi's brilliant, rueful novel, which won the 2014 International Prize for Arabic Fiction and has recently appeared in a crisp, moving, and mordantly humorous English translation from Jonathan Wright and Penguin Books. Hadi, it turns out, created a monster.
(8) STIERS OBIT. David Ogden Stiers, best known for playing Major Charles Emerson Winchester III on MAS*H, died March 3 at the age of 75. He also appeared in several genre TV shows, and had numerous voice acting roles in animated films.
Stiers was a prolific voice actor, working in eight Disney animated features including 1991's Beauty and the Beast (in which he played Cogsworth), The Hunchback of Notre Dame (the Archdeacon), Pocahantas (Governor Ratcliffe) and Lilo & Stitch (Dr. Jumba Jookiba). He also voiced Kamaji in the English-dubbed version of Hayao Miyazaki's Spirited Away.
(9) TODAY'S BIRTHDAYS
(10) TODAY'S BIRTHDAY DOMAIN
(11) WAKANDA AND COSPLAY. NPR explores how "'Black Panther' Brings New Visibility To Cosplayers Of Color".
The film "Black Panther" has inspired black cosplayers around the country to be more visible within the cosplay community.

Cosplay, which is short for "costume play," is when people wear often-handmade costumes to embody fictional characters from comic books and popular movies like Captain America and Star Wars. But black and other non-white cosplayers often feel excluded because non-white characters are rarely featured prominently in the fantasy worlds of comics. They are often relegated to the roles of sidekicks or villains rather than the superheroes.

But Black Panther, which features a black lead and a predominantly black cast, offers a multifaceted depiction of African life where people of color play both the villains and the heroes. These characters are transforming the playing field for non-white cosplayers like Tamara Heredia, a black cosplayer from Houston, Texas. …
(12) ANCIENT SAILORS. Learn Moana's real history — "DNA sheds light on settlement of Pacific".
Prof Reich, who is lead author of the study in Current Biology, added that Vanuatu was a "gateway to the remote Pacific islands… through that region of Vanuatu and neighbouring islands, people spread all over the Pacific".

The first people to arrive in the islands belonged to the Lapita culture, who expanded out of Taiwan between 5,000 and 6,000 years ago, reaching Vanuatu about 3,000 years ago. "They were really talented seafaring people," said Dr Cosimo Posth, from the Max Planck Institute for the Science of Human History in Jena, Germany. Dr Posth was co-author of the study in Nature Ecology & Evolution.

Their secret was the specialised outrigger canoe, which is characterised by the addition of lateral support floats which stabilise the main hull. This innovation, says Dr Posth, "allowed them to cover immense distances of the ocean".
(13) BUTLER TALK. The Pasadena (CA) Museum of History will host a lecture, "Telling My Stories: The Pioneering Fiction of Octavia E. Butler", on March 29 at 6:30. Tickets now on sale.
Join Natalie Russell, Assistant Curator of Literary Collections at the Huntington Library and curator of the recent Huntington exhibition, Telling My Stories: The Pioneering Fiction of Octavia E. Butler, for this lecture in celebration of Womens History Month and in conjunction with the new exhibition Dreaming the Universe. Octavia E. Butler was the first female African American writer to make science fiction her career. A shy, only child from Pasadena, she dreamed of ordinary people in extraordinary worlds, and extraordinary people in ordinary worlds, and put them on the page. Her stories brought the voice of women of color to a genre traditionally dominated by white men. That powerful voice tackled issues, not just about race, but themes that continue to resonate with a wide audience: power, identity, gender, class, the environment, and what it means to be human.

This program is presented in partnership with the Historical Society of Southern California – George A. V. Dunning Lecture Series.

Tickets include light refreshments and entrance to the exhibition Dreaming the Universe: The Intersection of Science, Fiction, & Southern California starting at 5:30 pm. Tickets: Members $10; General $15. Advanced ticket purchase is recommended, visit https://octaviabutlerlecture.brownpapertickets.com.
(14) APPRENTICED TO A PILOT. From 2012, John Hodgman presents "Dana Gould as Maurice Evans as Dr. Zaius as Hal Holbrook as Mark Twain." And I'll throw in a twisted Gilbert & Sullivan reference as the headline.
[Thanks to JJ, Chip Hitchcock, Alan Baumler, Mark Hepworth, Cat Eldridge, John King Tarpinian, Carl Slaughter, Martin Morse Wooster, Mike Kennedy, and Andrew Porter for some of these stories. Title credit goes to File 770 contributing editor of the day Kurt Busiek.]