(1) NEGATIVE EXPOSED. The Hawaii Tribune Herald invites you to "Meet Powehi, the first black hole ever witnessed":
The first image of a black hole, taken with the help of two Hawaii telescopes, was released today.

The supermassive black hole located in the center of Messier 87 galaxy was named Powehi, meaning embellished dark source of unending creation.

Astronomers consulted with Larry Kimura, of the University of Hawaii at Hilo's College of Hawaiian Language, who sourced the name from the Kumulipo, a primordial chant describing the creation of the universe.

"It is awesome that we, as Hawaiians today, are able to connect to an identity from long ago, as chanted in the 2,102 lines of the Kumulipo, and bring forward this precious inheritance for our lives today," Kimura said in a press release.

The two Hawaii telescopes involved in the discovery — James Clerk Maxwell Telescope and Submillimeter Array — are part of the Event Horizon Telescope project, a network of radio observatories around the world…..
(2) NEBULA CLARIFIED. SFWA's Andre Norton Award for Young Adult Science Fiction and Fantasy is now classified as a Nebula. This was not always so, as David D. Levine explains in his blog post "I am now officially a Nebula Award winner!" He first began to wonder if something had changed when he saw this tweet —
Suddenly I was Schroedinger's Award Winner. Was I a Nebula winner or not? That depended on whether the change was deliberate and whether it applied retroactively. Not that it really mattered, of course. The award trophy is the same, and it means exactly as much or as little as it did before. But, for me, it would be huge if I could call myself a Hugo- and Nebula-winning writer. I always wanted to, and I had been disappointed to discover after winning the Norton that I couldn't. But now I could. Or could I?
As Levine explains, the official answer is: Yes.
(3) LION KING TRAILER. Disney's The Lion King opens in theaters on July 19.
Director Jon Favreau's all-new "The Lion King" journeys to the African savanna where a future king is born. Simba idolizes his father, King Mufasa, and takes to heart his own royal destiny. But not everyone in the kingdom celebrates the new cub's arrival. Scar, Mufasa's brother—and former heir to the throne—has plans of his own. The battle for Pride Rock is ravaged with betrayal, tragedy and drama, ultimately resulting in Simba's exile. With help from a curious pair of newfound friends, Simba will have to figure out how to grow up and take back what is rightfully his. The all-star cast includes Donald Glover as Simba, Beyoncé Knowles-Carter as Nala, James Earl Jones as Mufasa, Chiwetel Ejiofor as Scar, Seth Rogen as Pumbaa and Billy Eichner as Timon. Utilizing pioneering filmmaking techniques to bring treasured characters to life in a whole new way, Disney's "The Lion King" roars into theaters on July 19, 2019.
(4) ALL BRADBURY ALL THE TIME. Fahrenheit 451 was Barnes & Noble's bestselling trade paperback in March, according to the B&N Sci-Fi & Fantasy Blog – "B&N Bestsellers in Science Fiction & Fantasy: March 2019".
(5) 2020 INVITES SCHOLARLY SUBMISSIONS. CoNZealand, the 2020 Worldcon, has issued a "Preliminary call for papers" for its Science and Academic Stream. Guidelines at the link.
Paper, Panel and Round Table proposals are invited for the CoNZealand 2020 Science and Academic Stream, an academic convention traditionally included as part of the annual World Science Fiction Convention.

Contributions are sought for a multidisciplinary academic program that will engage audiences, including not only fellow academics but also many of the world's top science fiction authors and a well-educated and highly engaged public. In addition to traditional academic research that engages science fiction as a subject of study, scholars are encouraged to present research on or about any academic or scientific subject that is likely to engage the imagination of this eclectic and forward-thinking audience.

Potential contributors should note that science fiction explores all aspects of the future of humanity, and academic presentations on the social sciences, humanities and the arts have historically been as popular as those on science and science-related topics.
(6) HEAR MARTHA WELLS. Nic and Eric interview award winning author Martha Wells about her Murderbot series and other works. The Wells interview starts at 36:43 in episode 190 of the All the Books Show.
(7) MARVEL HISTORY. TheHistory of the Marvel Universe arrives in July. A massive Marvel info dump? "This is not that," says writer Mark Waid.
The Marvel Universe is a sprawling, interconnected web of rich history, dating back to its very beginnings…and now, it's all coming together in a huge new story!

This July, Marvel invites readers to join legendary writer Mark Waid (Avengers No Road Home) and Exiles artists Javier Rodriguez and Alvaro Lopez for a brand-new tale in what is destined to become the DEFINITIVE history of the Marvel Universe!

History of the Marvel Universe will reveal previously unknown secrets and shocking revelations, connecting all threads of the past and present from the Marvel Universe! From the Big Bang to the twilight of existence, this sweeping story covers every significant event and provides fresh looks at the origins of every fan's favorite Marvel stories!

"We've seen Marvel histories and Marvel encyclopedias and Marvel handbooks, and I love that stuff. I absorb them like Galactus absorbs planets," Waid told Marvel. "This is not that. There's information here, but there's also a story. The Marvel Universe is a living thing, it is its own story, and we're trying to approach it with some degree of heart to find the heart in that story so it doesn't read like 120 pages of Wikipedia."
(8) THORPE OBIT. The South Hants Science Fiction Group reports that Geoff Thorpe (1954–2019) was discovered dead at home last week. Here's their announcement, courtesy of Terry Hunt:
We are sorry to hear that long-time SHSFG member Geoff Thorpe passed away last month. He discovered fandom later in life when longtime UK fan Fran Dowd met him online on Library Thing and convinced him that he might enjoy SF conventions. He attended the 2005 Worldcon in Glasgow and was subsequently introduced to the SHSFG. He joined the group in 2006 becoming a regular, active member hosting Book Club meetings and Christmas parties. He remained a con-goer, attending Eastercons and World Cons as well as a host of smaller cons in the UK and continental Europe.

He also represented Cambridge University and England in domestic and international Tiddlywink competitions.
Thorpe began commenting at File 770 in 2012, and was involved in a number of discussions about WSFS rules.
(9) TODAY'S BIRTHDAYS.
[Compiled by Cat Eldridge.]
Born April 10, 1939 — Max von Sydow, 90. He played  Ernst Stavro Blofeld in the Never Say Never Again and Ming the Merciless in Flash Gordon. He shows up in the Exorcist II: The Heretic as Father Lankester Merrin while being King Osric in Conan the Barbarian. Dreamscape sees him being Doctor Paul Novotny while he's Liet-Kynes the Imperial Planetologist in Dune. He was Judge Fargo in Judge Dredd (and yes, I still like it), in Minority Report as Director Lamar Burgess, Sir Walter Loxley in Ridley Scott's Robin Hood and finally in Star Wars: The Force Awakens as Lor San Tekka.
Born April 10, 1953 — David Langford, 66. And how long have you been reading Ansible? If he's not noted for that singular enterprise, he should be noted for assisting in producing the second edition of the Encyclopedia of Science Fiction, not to mention some 629,000 words as a principal editor of the third (online) edition of the Encyclopedia of SF, and contributed some eighty thousand words of articles to the Encyclopedia of Fantasy as well.
Born April 10, 1957 — John Ford. Popular at Minicon and other cons where he would be Dr. Mike and give silly answers to questions posed to him while wearing  a lab coat before a whiteboard. His most interesting novel I think is The Last Hot Time, an urban fantasy set in Chicago that might have been part of Terri Windling's Bordertown series but wasn't. (Died 2006.)
Born April 10, 1992 — Daisy Ridley, 27. She had the lead role of Rey in the Star Wars sequel films, starring in Star Wars: The Force Awakens and Star Wars: The Last Jedi. She charmingly voiced Cottontail in Peter Rabbit. Though not genre, she is Mary Debenham in the most recent Murder on the Orient Express which I'm looking forward to seeing. Her first film, Scrawl which is horror, is due to be released this year. 
(10) COMICS SECTION.
(11) PLAYING THE PERCENTAGE. In the Washington Post, Michael Cavna says that Olivia Jaimes, a year after taking on Nancy, has turned Nancy into a character that Rhymes With Orange cartoonist Hilary Price describes as "100 percent geek, 0 percent meek." But Jaimes isn't making enough money from "Nancy" to quit her day job: "'Nancy' and artist Olivia Jaimes continue to make the comics page 'lit' one year in".
"I'd actually recommend people think very critically about it before making a go at a career in comics," Jaimes says. "You don't have to make the thing you love your job. Prioritize your own emotional well-being above 'making it' in any classical sense."
(12) DEL ARROZ STIRS THE POT. JDA really did try to sign up for the Nebula Conference, I'm told —
JDA also made time today to fling poo at the Nebula Conference program – "The Nebula Conference Panels Are Listed And It's Hilarious" [Internet Archive link].
I'd definitely say the panel highlight is "Managing a career through Mental Illness" something that is at least very useful for all of SFWA's leadership from my experiences with them.
(13) HPL HONORED WITH FOSSIL. "Scientists Discover 430 Million-Year-Old Sea Cucumber". They named it after something in Lovecraft – but if this is supposed to be a monster, it's not very big!
Because of its many tentacles, the new organism was named Sollasina cthulhu, in honour of the monster from the works of Howard Lovecraft., according to the CNET portal.

The remains of organism were found at a site in Herefordshire, UK. The size of the organism did not exceed 3 cm, and the scientists discovered that the remains were 430 million years old.
(14) SPIN YOUR FATE. Archie McPhee offers the "What Would Bigfoot Do?" notebook for $7.95.
Bigfoot spends a lot of time alone, just thinking, as he wanders through the forest. As with anyone who has done that much self-reflection, he's got a lot of wisdom. So, when you're confused about what to do next, you could do worse than asking, "What would Bigfoot do?"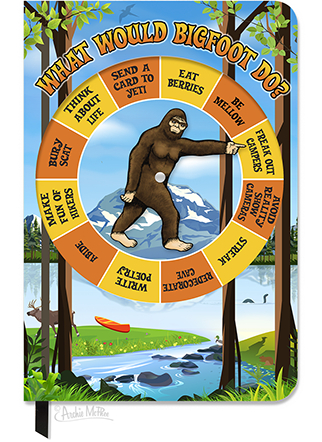 (15) INTRO TO RPG. Chris Schweizer tells a neat D&D story. Thread starts here.
(16) A PROMISE THEY MIGHT KEEP. According to NPR, "Facebook Promises To Stop Asking You To Wish Happy Birthday To Your Friend Who Died". I know it's always a red-letter day for me when all of my FB friends with birthdays are still around to enjoy them.
On Facebook, people linger long after death.

A friend's photo might pop up on a timeline. A child's video might show up in Facebook "Memories," highlighting what happened on this date in years past. Sometimes these reminders bring a smile to the faces of friends and family left behind.

But Facebook's algorithms haven't always been tactful. Unless someone explicitly informs Facebook that a family member has died, Facebook has been known to remind friends to send birthday greetings, or invite a deceased loved one to an event.

Facebook COO Sheryl Sandberg on Monday announced that the social network will use artificial intelligence to determine when someone has died, and stop sending those kinds of notifications. Sandberg didn't explain exactly how the new artificial intelligence features will work, but a Facebook spokesperson told NPR the company will look at a variety of signals that might indicate the person is deceased. The spokesperson wouldn't provide details on what those signals may be.
(17) DIANA DISHES. "Why Dame Diana Rigg 'loves to be disliked'" – I'll bet you didn't know that.
As Game of Thrones returns for its final series, Dame Diana Rigg – aka Olenna Tyrell – looks back on her time with the hit HBO show.

She may have had many of the best lines on Game of Thrones, but Dame Diana Rigg says she has not watched the series "before or since" she appeared in it.

Accepting a special award at this year's Canneseries TV festival in France, the British actress said she "hadn't got a clue" about what was happening on the show.

Olenna left at the end of the last series by drinking poison – a death scene she said was "just wonderful".

"She does it with dignity and wit, and wit is not often in final death scenes," says the actress, who will celebrate her 81st birthday in July
(18) FAMILY REUNION. ComicsBeat pointed out teaser for the animated Addams Family, to be released October 11.
Give it a look-see below, and if it sends ya, you'll be able to see it on Halloween (very apropos). The Addams Family stars Isaac, Charlize Theron, Chloë Grace Moretz, Finn Wolfhard, Nick Kroll with Bette Midler and Allison Janney
[Thanks to Martin Morse Wooster, John King Tarpinian, Chip Hitchcock, Charon D., Mike Kennedy, JJ, Cat Eldridge, Carl Slaughter, and Andrew Porter for some of these stories. Title credit goes to File 770 contributing editor of the day Jack Lint.]