(1) PREVIEWING F&SF. The Magazine of Fantasy & Science Fiction's May/June 2019 cover art is by Cory and Catska Ench.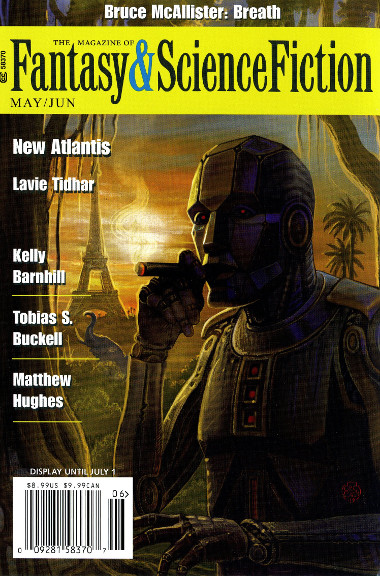 (2) IT'S WINTERTIME IN THE CITY. "We must fight together now. Or die." Game of Thrones returns for its final season on April 14.
(3) UNWRAPPING THE PACKAGE. Stephen Zeitchik in the Washington Post says the Writers Guild of America voted 7,882 to 382 to require a new code of conduct from agents that says they can only get money from writers' commissions and not from packaging shows. If the Association of Talent Agents doesn't agree, the result could still be mass firing of agents: "Hollywood writers overwhelmingly approve new code for agents, placing parties on a collision course".
The Association of Talent Agents released a statement in the wake of the results.

"Now that the WGA is past its vote, we look forward to getting back into the room to work through an agreement that serves the best interest of writers, respects their individual choice, and prevents unnecessary disruption to our industry," it said. "We stand ready and waiting.
(4) ED KRAMER DEVELOPMENTS. As a result of information made public in a motion filed by Ed Kramer's lawyer, Gwinnett Superior Court Judge Kathryn Schrader said she has already stepped aside from hearing criminal matters involving District Attorney Danny Porter. The Daily Report has the story: "Gwinnett DA Seeks Recusal of Judge Under GBI Investigation Over Computer Hack Claim".
Gwinnett County Superior Court Judge Kathryn Schrader has stopped hearing criminal cases after District Attorney Danny Porter called in the Georgia Bureau of Investigation to look into whether she improperly allowed third parties—including a convicted felon—to access her county computer to see whether the DA hacked it.
(5) SHEESH. Vice's Samantha Cole determinedly misses the point of what was actually nominated: "An Internet Fan Fiction Archive Is Nominated for a Hugo".
Archive of Our Own is a finalist in the prestigious Hugo award's Best Related Works category—which means thousands of fanfics are Hugo finalists.

Frank Herbert's Dune, Ursula K. LeGuin's The Left Hand of Darkness, and Neuromancer by William Gibson—these classic Hugo award nominees, everyone has heard of. But what about the thousands of fanfiction works all addressing the question, "what if Steve Rogers and Tony Stark from the Avengers fucked?"

This week, the Hugo awards—a set of literary awards given to the best science fiction and fantasy works of the year—announced that Archive of Our Own (Ao3), a massive internet fanfic archive, is a finalist in the Best Related Works category for 2019. If the archive wins a Hugo this year, hundreds of thousands of user-created transformative works—much of it horny, weird, and beautiful fan-made takes on existing pop culture like the aforementioned Avengers fanfic—will join the past and current honorees.
(6) HUGO HIGHLIGHTS. Rocket Stack Rank has put online their annual "Annotated 2019 Hugo Award Finalists" for short fiction that highlights the 18 finalists among the top 280+ stories of 2018 in their Best SF/F list. Eric Wong explains –
Sorted by score, the red highlights make it easy to see there were no surprises among the finalists for novellas and novelettes (other than one outlier being outside the top 10 for each), whereas there was less broad agreement among awards, year's best anthologies, and prolific reviewers for the short story finalists (especially compared to 2017 and 2016). Go to the article to see the results, with links that also show yellow highlights for stories that are also Nebula or Sturgeon finalists.
(7) KGB. Fantastic Fiction at KGB reading series hosts Ellen Datlow and Matthew Kressel present Dale Bailey and Arkady Martine on April 17.
Dale Bailey is the author of eight books, including In the Night Wood, The End of the End of Everything, and The Subterranean Season. His story "Death and Suffrage" was adapted for Showtime's Masters of Horror television series. His short fiction has won the Shirley Jackson Award and the International Horror Guild Award and has been nominated for the Nebula and Bram Stoker awards.
and
Arkady Martine is a speculative fiction writer and, as Dr. AnnaLinden Weller, a historian of the Byzantine Empire and a city planner. Arkady grew up in New York City and, after some time in Turkey, Canada, and Sweden, lives in Baltimore with her wife, the author Vivian Shaw. Her debut novel, A Memory Called Empire, has received starred reviews from Kirkus, Publishers Weekly, and Library Journal, was named a Library Journal Debut of the Month, listed on Publishers Weekly's Top 10 Spring Debuts, and has been featured on NPR's On the Record and AM 860 Philadelphia's Fictional Frontiers. Find her at www.arkadymartine.net or on Twitter as @ArkadyMartine.
Begins April 17 at 7 p.m., KGB Bar, 85 East 4th Street (just off 2nd Ave, upstairs), New York, NY. Readings are free
(8) DON'T SNIFF. I'm not going to suddenly start covering candidates here, but I was hooked by the first paragraph of Joel Stein's opinion piece and the search for advice about the boundaries of touch (or avoiding it): "Joe Biden wants to be mindful about personal space? Get him a hula hoop".
Our nation is dangerously divided. A house cannot stand when some people are totally into being hugged by strangers and others, who are normal, hate it.

Long ago — before the Age of Hugging — I lived in New York City, a place known for its firm handshakes and disdain for all human emotion other than anger. When I came to L.A. for vacation, my high school friend Ross greeted me at LAX with a hug. I did not know why Ross did this. Was Ross telling me he was gay? Had I disrespected Ross' gang and he'd put a hit on me? Was there some giant insect on my back?

Joe Biden is like Ross, not me….
(9) ONE MORE MINUTE OF ENDGAME. Marvel shares another peek with the theme "It's not about how much we lost, it's about how much we have left."
(10) TODAY'S BIRTHDAYS.
[Compiled by Cat Eldridge.]
Born April 3, 1783 — Washington Irving. Best known for his short stories "Rip Van Winkle" and "The Legend of Sleepy Hollow", both of which appear in The Sketch Book of Geoffrey Crayon, Gent. collection. The latter, in particular, has been endlessly reworked downed the centuries into genre fiction. (Died 1859.)
Born April 3, 1924 — Marlon Brando. It looks like his role as Jor-El on Superman was his first venture into anything of a genre nature although his turn as Peter Quint in The Nightcomers might be considered as such. Certainly his work in The Island of Dr. Moreau as Dr. Moreau is scene-chewing at its very, very best. His appearance in Superman Returns is CGI combined with a not terribly clever re-adaptation of footage from the previous film. (Died 2004.)
Born April 3, 1929 — Ernest Callenbach. Ecotopia: The Notebooks and Reports of William Weston was rejected by every major publisher so Callenbach initially self-published it. Ecotopia Emerging is a prequel published later. Yes, I read both. As such fiction goes, they're ok. Nothing spectacular, characters flat and writing style pedestrian. If you can find a copy, Christopher Swan's YV 88: An Eco-Fiction of Tomorrow which depicts the regreening of Yosemite Valley, it is a much interesting read. (Died 2012.)
Born April 3, 1936 — Reginald Hill. Now this surprised me. He's the author of the most excellent Dalziel and Pascoe copper series centered on profane, often piggish Andrew Dalziel, and his long suffering, more by the book partner Peter Pascoe solving traditional Yorkshire crimes. Well there's a SF mystery tucking in there set in 2010, many years after the other Dalziel and Pascoe stories, and involves them investigating the first Luna murder. I'll need to read this one. (Died 2012)
Born April 3, 1958 — Alec Baldwin, 61. I've no idea how many times I've see him in Beetlejuice as Adam Maitland as it's one of my favorite films, period. Despite those who don't like The Shadow and him in his dual role of Lamont Cranston and The Shadow, I'm quite fond of it. Let's just skip past any mention of The Cat in the Hat… Ahhhh Rise of the Guardians where he voices Nicholas St. North. Another go to, feel good film for me. He's Alan Hunley in some of Mission: Impossible franchise, a series I think I've only seen the first two films of. And here's a weird one — the US. run of Thomas The Tank Engine & Friends replaced the U.K. narrator, some minor musician no one had ever heard of by the name of Ringo Starr with him.
Born April 3, 1962 — James R. Black, 57. I'd like to say he's best known for his leading role as Agent Michael Hailey on The Burning Zone but since it was short-lived and I'm sure not anyone actually watched it on UPN that might stretching reality a bit. If you like great SF, The Burning Zone is certainly worth seeing. Prior to his run on that series, he's got a number of one-offs of Babylon 5, Deep Space 9, The Sentinel, Space: Above and Beyond and in his first genre role was Doctor Death in Zombie Cop.
(11) COMICS SECTION.
Sheldon applies the lessons of Dune at home.
(12) SUPPORT AMAZING. An Indiegogo appeal has launched for "Amazing Stories – Special All-Color Issue!". In the opening hours the Amazing team has raised $1,561 of their $35,000 goal. The issue will include fiction by Shirley Meier, Lawrence Watt-Evans, Paul Levinson, Jack McDevitt, R.S. Belcher, Dave Creek, Adam, Troy-Castro, Sally McBride, Paul Di Filippo , Sean Chappell, and Allen Steele, and art by Melissa Des Rosiers, Ron Miller, Amanda Makepeace, Jon Eno, Tom Miller, Matt Taggart, M.D. Jackson, Chukwudi Nwaefulu, Oliva Beelby, and Vincent Di Fate.
Amazing Stories – the Special Edition

We're Amazing Stories and we've been bringing you new science fiction, digitally since 2012 and also print and audio since 2018. We're here to raise some money to go to the next level – a special all-color issue for the first issue of our second year with greatly improved print quality!

What Do You Get?

If you support our special edition campaign you will get discounts on subscriptions, but you can also get collectible cards, our famous comicbook, and lapel pins as well as the best in science fiction today. Science fiction that's fun and entertaining!
(13) OLD NEWS MADE NEW. WED's sexism in respect to animators' salaries was notorious, but now "Disney accused of valuing 'male workers more'".
Walt Disney Co. is being sued over claims it underpays female employees.

Andrus Anderson LLP claims corporate policies, such as basing new employees' wages on previous salaries, have a discriminatory effect on women.

The legal action, brought on behalf of two women, claims the company does not have an internal mechanism to ensure women are not paid less than male counterparts for the same work.

Disney denies the allegations calling them "without merit".

According to the complaint, reported in Variety, financial analyst LaRonda Rasmussen raised a concern regarding her pay with Disney's human resources after discovering six men who shared the same job title were being paid more than her.
(14) CO2 CAPTURED. "Climate change: 'Magic bullet' carbon solution takes big step". The residue looks like what Thanos did to superheroes:
A technology that removes carbon dioxide from the air has received significant backing from major fossil fuel companies.

British Columbia-based Carbon Engineering has shown that it can extract CO2 in a cost-effective way.

It has now been boosted by $68m in new investment from Chevron, Occidental and coal giant BHP.

But climate campaigners are worried that the technology will be used to extract even more oil.

The quest for technology for carbon dioxide removal (CDR) from the air received significant scientific endorsement last year with the publication of the IPCC report on keeping the rise in global temperatures to 1.5C this century.

In their "summary for policymakers", the scientists stated that: "All pathways that limit global warming to 1.5C with limited or no overshoot project the use of CDR …over the 21st century."
… Carbon Engineering's process is all about sucking in air and exposing it to a chemical solution that concentrates the CO2. Further refinements mean the gas can be purified into a form that can be stored or utilised as a liquid fuel.
(15) PARDON ME. "Mars methane surge spotted from space" reports BBC.
A European spacecraft has confirmed a report of methane being released from the surface of Mars.

The methane spike was first measured by Nasa's Curiosity rover on the surface; now it has been confirmed by the Mars Express orbiter.

The nature and extent of methane in the Martian atmosphere is intensely debated.

The gas is of interest because terrestrial methane can be made by life forms, as well as geological processes.

Methane is only supposed to have a very short lifetime in the Martian atmosphere, so detecting it there means it must have been released very recently.

A strong signal of methane was measured by the Curiosity rover on 15 June 2013.

The measurement was confirmed in data collected the next day by the Planetary Fourier Spectrometer (PFS) on board Mars Express.
(16) WHAT 'US' MEANS. Behind a paywall in the March 28 Financial Times, Precious Adesina discusses African-Americans in horror films in a piece tied in to the release of Us.
In the 1940s, black people rarely featured in horror films, and when they did it was totally as comic relief. 'The depiction of black (people) as helpless creatures was undoubtedly appealing to many white Americans,' says the social and cultural historian Ann Kordas. Take King of the Zombies (1941), a film about an aeroplane that crash-lands on a Caribbean island, leaving the pilot, the passenger, and his black servant stranded at a mansion where the employee repeatedly encounters zombies in the kitchen. Despite his many attempts to warn the white protagonists about the danger, he is dismissed as foolish. This kind of simple-minded, cowardly black man was a regular trope of horror at the time…

…But of all these (horror) films, it is Us that makes perhaps the boldest statement–by making no explicit argument about race at all. Here blackness is not integral to the plot. By placing a black family in a story that could just as easily have featured a white one, Peele seems to suggest that people of colour no longer have to justify their existence as ordinary middle-class Americans. They can just be.
(17) SPIDER FAN. Cat Eldridge praises "Spider-Man: Into the Spider-Verse" at The Green Man Review.
There are also a black and white noir version of the hero from a thirties Universe, a pig version and a far future Japanese tech version — just a few of an infinite possibilities. All of these heroes, which are animated in a style true to the their trope. Somehow the producers will manage to use what seems like dozens of animation styles without them clashing. They even do this while making it sometimes look like you've dropped into a comic book itself, or that that a few pages of a given comic are being referred to. Neat!
(18) THE WHY BEHIND THE JOKER. The Hollywood Reporter has the story:
The first trailer for Joaquin Phoenix's Joker dropped Wednesday and fans got a better look at how the Oscar-nominated actor will portray one of cinema's most iconic villains.
(19) VIDEO OF THE DAY. "The WInd in the Willows" on Vimeo starts off as appearing to be a trailer for an animated version of the children's classic by Andy Biddle but turns into an advertisement for the Wildlife Trusts narrated by Sir David Attenborough.
[Thanks to John King Tarpinian, Gordon Van Gelder, Mike Kennedy, Chip Hitchcock, Cat Eldridge, JJ, Martin Morse Wooster, Nancy A. Collins, Carl Slaughter, and Andrew Porter. Title credit goes to contributing editor of the day Paul Weimer.]