(1) IS IT WASTED ON THE YOUNG? At Young People Read Old SFF James Davis Nicoll unleashes the panel on Joe Haldeman's "Tricentennial".
This month's selection has an unusual history for a Hugo finalist, having been commissioned to accompany an already completed cover….

Generally speaking, this sort of exercise does not result in notable fiction1. Haldeman managed to deliver a story that wasn't simply a finalist but a Hugo winner. Perhaps it's not entirely coincidental that even though his career as an SF writer was still in its early days, he had by this point racked up two Hugo nominations2, a Hugo win, a Nebula win, a Ditmar win, and been a finalist for the Locus six times.

Tricentennial stuck a chord with readers way back in the mid-1970s. Will it be as successful with the youth of today? Let's find out!…
(2) THAT NEW LAFFERTY STORY. Meanwhile, at Galactic Journey the Traveler is reading the latest Galaxy – back in time, when the stories themselves were young! "[May 12, 1967] There and Back Again (June 1967 Galaxy)".
Polity and Custom of the Camiroi, by R. A. Lafferty

A three-person anthropological team investigates the highly libertarian planet of Camiroi. Society there is highly advanced, seemingly utopian, and utterly decentralized. Sounds like a Heinleinesque paradise. However, there are indications that the Terrans are being put on, mostly in an attempt to just get them to leave.

The result is something like what might have happened if Cordwainer Smith and Robert Sheckley had a baby. That'd be one weird tot…but an interesting one.

Four stars.
(3) HE'LL GIVE YOU AN EARFUL. In "An Observation on Audiobooks" John Scalzi discusses his experience with the medium.
…As an author, I was not initially in love with audiobook versions of my books because it was an interpretation, and because the narration was not the way I heard the book in my own head — the narrative beats would sometime be different; a word would be given a different emphasis; a character who I heard one way in my head would sound different (and sometimes would feel like they had a different personality entirely).

Two things got me over this. The first was that audio increased my annual income from writing by about a third, which smoothed over quite a lot. The second thing was that I realized that audiobook narration is a performance and that, like one can appreciate the myriad of ways that actors have approached the "To Be Or Not To Be" soliloquy in Hamlet, one can equally look at the choices the narrator makes in their performance and see how they are in conversation with the text, often in ways that are a surprise to me, the author. So the necessary fact of the interpretation stopped being an annoyance and became a thing of interest….
(4) POINT OF DO RETURN. "Once more with feeling: why time loop stories keep coming back", according to the Guardian's Gillian McAllister.
If you die, what's the plan for the next life?" This is the question posed in the opening scene of the recent BBC adaptation of Kate Atkinson's 2013 novel Life After Life, in which the protagonist, Ursula, repeatedly dies and starts over from birth. It's a fascinating idea: what would you do differently, and what would remain the same? It is one explored in another hit TV show that has just returned for a second season, Russian Doll, the first season of which saw the main character, Nadia, return endlessly to the night of her 36th birthday party, suffering a different death each time.

Mainstream film and television have a long history of playing with time loops. But while Groundhog Day was a huge success in the early 1990s, narratives about ordinary people caught in this speculative twist have been harder to pull off in literature. Perhaps this is because there tends to be an earnestness to such stories that doesn't translate into fiction, and a tendency towards repetition that readers may not tolerate as well as viewers. It is trickier to create a montage in fiction: part of what makes Groundhog Day so compelling is the ability to only show the differences in Bill Murray's repeating days….
(5) ORVILLE THIRD SEASON. "Our return is imminent." The Orville: New Horizons arrives June 2 on Hulu.
(6) THE MOON THAT SOLD ITSELF. [Item by SF Concatenation's Jonathan Cowie.] "A Twenty-First Century Moon Race Is Kicking Off A New Era of Lunar Exploration" reports Nature. These six countries are about to go to the Moon — here's why.
Japan, South Korea, Russia, India, the United Arab Emirates and the United States aim to send missions to the Moon in the next year. But will they all make it?

NASA's US$93-billion Artemis programme might be stealing most of the limelight with its maiden launch this year because it's the first step towards sending astronauts to the Moon. But the United States is just one of many nations and private companies that soon plan to launch missions, heralding what scientists say could be a new golden age of lunar exploration.

Science isn't the only driving force. The flurry of missions also signals the growing ambition of several nations and commercial players to show off their technological prowess and make their mark, particularly now that getting to the Moon is easier and cheaper than ever before….
(7) MUSK CONTRADICTED. Shannon Stirone says let the record reflect that "Mars Is a Hellhole" in The Atlantic.
There's no place like home—unless you're Elon Musk. A prototype of SpaceX's Starship, which may someday send humans to Mars, is, according to Musk, likely to launch soon, possibly within the coming days. But what motivates Musk? Why bother with Mars? A video clip from an interview Musk gave in 2019 seems to sum up Musk's vision—and everything that's wrong with it.

In the video, Musk is seen reading a passage from Carl Sagan's book Pale Blue Dot.

…Musk reads from Sagan's book: "Our planet is a lonely speck in the great enveloping cosmic dark. In our obscurity, in all this vastness, there is no hint that help will come from elsewhere to save us from ourselves. The Earth is the only world known so far to harbor life. There is nowhere else, at least in the near future, to which our species could migrate."

But there Musk cuts himself off and begins to laugh. He says with incredulity, "This is not true. This is false––Mars."

He couldn't be more wrong. Mars? Mars is a hellhole. The central thing about Mars is that it is not Earth, not even close. In fact, the only things our planet and Mars really have in common is that both are rocky planets with some water ice and both have robots (and Mars doesn't even have that many)…
(8) CURIOSITY SNAPS A PHOTO. Mars may be a hellhole, but it's a hellhole with a door. "'Secret doorway built by aliens' spotted in picture taken by rover on Mars". Picture at the link.
Recent pictures from Nasa's Curiosity Mars rover show an intriguing feature which looks like a doorway nestled in the rocks on the Martian landscape.

It looks so convincing that it can almost tempt you to believe that it leads to a Martian hideaway – or a gateway to another Universe entirely.

While the internet seems to be having a field day with conspiracy theories about the mysterious doorway, some Reddit users aren't buying it.

Many party poopers have pointed out the door is likely just a shear fracture — the result of some kind of strain on the rock, breaking part of it off….
(9) PIECES OF EIGHT. Octothorpe 57 is out now! Listen here! "Back Bacon is Best".
John is a muppet bilby, Alison is actively drinking, and Liz MURDERS OWLS. We discuss Reclamation 2022 and the COVID that ensued, before talking about Horizon Forbidden West a whole bunch. Also other things.
Below, the Octothorpe cast are depicted as Australian mammals in muppet form. John is a bilby, Alison is a quokka, and Liz is an echidna. John has a glitter octothorpe on his forehead.
(10) MALTIN ON MOVIES. [Item by Martin Morse Wooster.] I heard this podcast Leonard and Jessie Maltin did with Gustav Hoegen. Hoegen is Dutch, and when he was 6 he went with his father to the Tuchinski Theatre (an old-school picture palace) in Amsterdam to see Return of the Jedi, and he decided he wanted a career in the movies. He worked his way up through British special effects shops in 2013 and now runs his own company, Biomimc Studio. His creatures have appeared in four recent Star Wars movies, one of the Jurassic World pictures, and Ridley Scott's Prometheus. He says that Ridley Scott, J.J. Abrams and Tim Burton were the best directors to work with, and he gets work because directors realize that actors do a better job reacting with an actual object on screen rather than doing the entire film via green screen. "Maltin on Movies: Gustav Hoegen".
(11) SOMETHING FISHY. Radio Times spoke with the showrunner: "Russell T Davies confirms he planted Doctor Who red herrings". But he won't tell which ones.
…"There's been a few false stories and false tales and we placed a few posts ourselves, a couple of misleading things, and we're very pleased that that kind of worked."

However, Davies clarified that the rumour James Corden might be taking on the role wasn't one of his red herrings, adding: "We didn't plant that one, so that caught me frankly."

While Davies did not expand on which names he'd planted in the press, a number of actors associated with the award-winning screenwriter were rumoured to be Jodie Whittaker's replacement…
(12) ANN DAVIS (1934-2022). The Guardian paid tribute to the late Ann Davies as an "actor admired for her many roles in TV drama series including Z Cars, EastEnders and in 1964 an appearance in Doctor Who." She died April 26 at the age of 87.
…Television immortality came early on when when she joined forces with the first Doctor Who, William Hartnell, in 1964 in The Dalek Invasion of Earth. As Jenny, a determined and capable freedom fighter, Davies was a cold and efficient co-combatant with the series regular Barbara (Jacqueline Hill, in real life Davies's friend and neighbour).

The action required them to encounter the Daleks in arresting scenes filmed at London landmarks. At one point they smashed through a patrol with a van, which required early morning shooting in the capital to avoid the crowds. Although it was just one guest role in her long career, Davies remained in demand for Doctor Who interviews and signings.
(13) MEMORY LANE.
1969 – [By Cat Eldridge.] Samuel Delany's Nova was nominated for a Best Novel Hugo at St. Louiscon fifty three years ago, the year that Stand on Zanzibar won. Two amazing novels; in this Scroll I'm here just to talk about Nova though I won't deny that Stand on Zanzibar is an amazing novel as well.
Nova came at a point in Delany's career after he had just won three Nebulas, two for novels, Babel-17 and The Einstein Intersection, plus one for his short story, "Aye, and Gomorrah.." The first novel was nominated for a Hugo at NYCon 3, the short story and the latter novel at BayCon. BayCon would see him get also nominated for "The Star Pit" novella, and St. Louiscon the next year would see his "Lines of Power" novella get nominated. It was a very fecund time for him.
And then there was Nova, a fantastic novel that was first published by Doubleday in August 1968. Is it space opera? Is it really early cyberpunk? Of course it also had strong mythological underpinning and the tarot figured prominently into the story as well, so it couldn't be nearly put into any categories, could it? All I know is that I really liked reading it.
Reviewer Algis Budrys said in the January 1969 issue of Galaxy Science Fiction that it was "highly entertaining to read" and a later review on the Concatenation site said, "Though a novel, this runs like a string of tangled short stories fused and melted through one another, with fantastic concepts, but making its preposterous mission sound utterly credible for its extraordinary characters."
(14) TODAY'S BIRTHDAYS.
[Compiled by Cat Eldridge.]
Born May 12, 1937 — George Carlin. Rufus in Bill & Ted's Excellent Adventure and Bill & Ted's Bogus Journey. He also showed up in Scary Movie 3 and Tarzan II. I once met him many decades ago at a Maine summer resort. He was really personable and nice. (Died 2008.)
Born May 12, 1942 — Barry Longyear, 80. Best-known for the Hugo- and Nebula-winning novella Enemy Mine, which became a film by that name as well (novelized by Longyear in collaboration with David Gerrold.) An expanded version of the original novella, plus two novels completing the trilogy, The Tomorrow Testament and The Last Enemy, make up The Enemy Papers. I'm very fond of his Circus World series, less so of his Infinity Hold series. 
Born May 12, 1973 — Mackenzie Astin, 49. His major genre role was in The Magicians as Richard/Reynard but he's also appeared in I Dream in Jeannie… Fifteen Years Later (who knew?), Agents of S.H.I.E.L.D., The Outer Limits, Lost and The Orville.
Born May 12, 1950 — Bruce Boxleitner, 72. His greatest genre role was obviously Captain John Sheridan on Babylon 5. (Yes, I loved the show.) Other genre appearances being Alan T. Bradley in Tron and Tron: Legacy, and voicing that character in the Tron: Uprising series. He has a recurring role on Supergirl as President Baker.
Born May 12, 1953 — Carolyn Haines, 69. Though best known for her Sarah Booth Delaney mystery series at twenty books and counting, she has definite genre credits having two orbs in her Pluto's Snitch series, The Book of Beloved and The House of Memory, plus the rather excellent The Darkling and The Seeker though you might not recognize them as being hers as she wrote them as R.B. Chesterton. Her genre books are on Kindle. 
Born May 12, 1958 — Heather Rose Jones, 64. Member of our File 770 community.  She received the Gaylactic Spectrum Award for the Mother of Souls, the third novel in her Alpennia series which has now seen four novels published, quite an accomplishment. For six years now, she has presented the Lesbian Historic Motif Podcast subseries of the Lesbian Talk Show.
(15) COMICS SECTION.
(16) WALK THIS WAY. "How far did Sam and Frodo walk in Lord Of The Rings?" Yahoo! Movies found someone who thinks they know the answer.
They might have big feet, but with those little legs Hobbits Samwise Gamgee and Frodo Baggins had their work cut out trekking from Bag End to Mount Doom in JRR Tolkien's seminal The Lord of the Rings trilogy.

One thing that has always enthralled fans when picking up Tolkien's books is the attention to geography and the maps of Middle Earth.

Well now, thanks to one brilliantly thorough Imgur user called Mattsawizard, we can see how far those little legs had to go.

Better still he's contextualised them with the UK….
(17) QUITE A HANDFUL. James Davis Nicoll directs us to "Five SFF Stories That Are Much Funnier Than They Sound". First on the list:
The Night Life of the Gods by Thorne Smith (1931)

At first glance, Hunter Hawk seems to have been served the same dismal gruel as any other Thorne Smith protagonist. His home is inhabited by a swarm of grasping relatives, each one more feckless than the last. Other Smith protagonists require some external impetus to jar them out their conventional rut. Not Hunter Hawk, for long before the reader meets him, Hawk has energetically embraced mad science.

Having invented a petrification ray, Hawk's immediate impulse is to turn it on his disappointing relatives. This leaves the inventor free for a meet-cute with Megaera, a 900-year-old fairy. It happens that Megaera has a trick that mirrors Hawk's: she knows how to turn stone to living flesh. The couple could use this to de-petrify his relations. Instead, they transform statues of Roman gods into living deities.

The gods demand entertainment. Fortuitously, Jazz Age America is more than able to provide it.
(18) CONTAGIOUS ENTHUSIASM. [Item by Martin Morse Wooster.] Chris Holm, author of a near-future sf novel where antibiotics have failed, offers eight recommendations for movies where disease is amok and creatures are covered with goo. "Eight Biological Horror Movies Guaranteed to Make Your Skin Crawl" at CrimeReads.
…Since [my novel] Child Zero seems to be scaring the bejesus out of everybody, I thought a fun way to celebrate its release would be an alphabetical roundup of my eight favorite biological horror movies.

Why biological horror rather than, say, body horror? Because even though the latter is an accepted horror subgenre, I'm not convinced everything on my list qualifies. Besides, I'm here to hype a biological thriller, not a body horror novel—so, y'know, synergy!…
(19) SAY CHEESE. What else do you say when you photograph something with a big hole in it? From the New York Times: "The Milky Way's Black Hole Comes to Light". (Photo at the link.)
Astronomers announced on Thursday that they had pierced the veil of darkness and dust at the center of our Milky Way galaxy to capture the first picture of "the gentle giant" dwelling there: a supermassive black hole, a trapdoor in space-time through which the equivalent of four million suns have been dispatched to eternity, leaving behind only their gravity and violently bent space-time.

The image, released in six simultaneous news conferences in Washington, and around the globe, showed a lumpy doughnut of radio emission framing empty space. Oohs and aahs broke out at the National Press Club in Washington when Feryal Ozel of the University of Arizona displayed what she called "the first direct image of the gentle giant in the center of our galaxy." She added: "It seems that black holes like doughnuts."…

… Black holes were an unwelcome consequence of Albert Einstein's general theory of relativity, which attributed gravity to the warping of space and time by matter and energy, much as how a mattress sags under a sleeper.

Einstein's insight led to a new conception of the cosmos, in which space-time could quiver, bend, rip, expand, swirl and even disappear forever into the maw of a black hole, an entity with gravity so strong that not even light could escape it.

Einstein disapproved of this idea, but the universe is now known to be speckled with black holes. Many are the remains of dead stars that collapsed inward on themselves and just kept going.,,,
(20) NOVA FIREBALL. [Item by SF Concatenation's Jonathan Cowie.] The cover of the latest Nature is inspired by the article, "Chance discovery sheds light on exploding stars" (which is behind a paywall.) Here's the introduction:
Nova explosions occur when a runaway thermonuclear reaction is triggered in a white dwarf that is accreting hydrogen from a companion star. The massive amount of energy released ultimately creates the bright light source that can be seen with a naked eye as a nova. But some of the energy has been predicted to be lost during the initial stages of the reaction as a flash of intense luminosity — a fireball phase — detectable as low-energy X-rays. In this week's issue of Nature, Ole König and his colleagues present observations that corroborate this prediction. Using scans taken by the instrument eROSITA, the researchers identified a short, bright X-ray flash from the nova YZ Reticuli a few hours before it became visible in the optical spectrum. The cover shows an artist's impression of the nova in the fireball phase.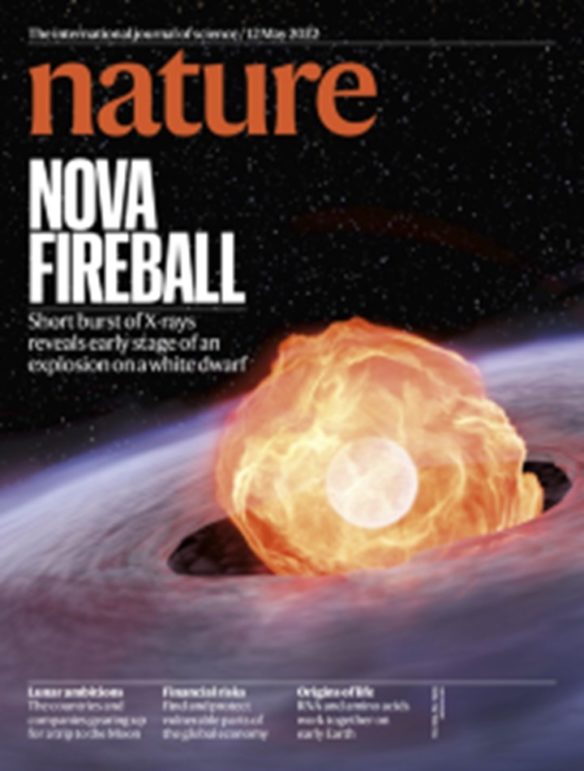 (21) DEEP SUBJECT. Terry Pratchett talks to Leigh Sales of Australian Broadcasting about his Alzheimer's and his support for right-to-die legislation in this 2011 clip: "Sir Terry Pratchett on life and death".
(22) LEGO MUPPETS. IGN invites everyone to "Meet the LEGO Muppets Minifigures".
On May 1, LEGO will release a series of Muppet Minifigures depicting Jim Henson's most iconic creations: Kermit the Frog, Miss Piggy, Fozzie Bear, Rowlf the Dog, Gonzo the Great, Animal, Janice, Swedish Chef, Dr. Bunsen Honeydew, Beaker, Statler, and Waldorf. LEGO sent IGN a preview set of all 12 minifigures, and we took a few photos (see below) to show off their details….

Part of what makes the Muppets lovable is their scruffiness; they're cute, but not cloying in appearance or mannerism. And LEGO captures this quality by customizing each head distinctively–to be rounded, or conical, or exaggerated as need be.

Gonzo's nose is huge. Beaker's head is narrow. Honeydew's eyes are non-existent. The Muppets are not subsumed by the LEGO aesthetic; if anything, LEGO compromised its design boundaries to ensure these figures retained that intangible 'Muppet-ness' they all possess….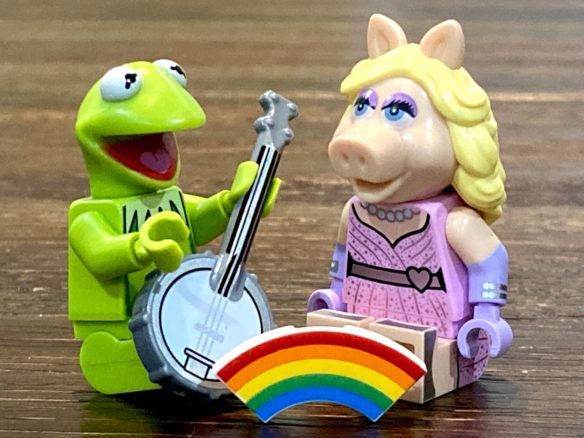 (23) VIDEO OF THE DAY. Another conversation between Lewis and Tolkien (from Eleanor Morton): "JRR Tolkien and CS Lewis realise something about dwarves".
[Thanks to John King Tarpinian, Chris Barkley, Andrew Porter, SF Concatenation's Jonathan Cowie, Steven French, Andrew (Not Werdna), Michael Toman, Cat Eldridge, Mike Kennedy, Martin Morse Wooster, and JJ for some of these stories. Title credit belongs to File 770 contributing editor of the day Tom Becker.]