(1) CHENGDU'S UNIQUE OFFER. The Chengdu Worldcon committee is offering financial and other assistance to at least some Hugo finalists so that they can attend the convention. File 770 has tried to learn who is being offered the help. The Chengdu committee has yet to respond. File 770 is aware of some individual pros and fans who have been contacted. Here is a screencap of the message provided by an uncredited recipient.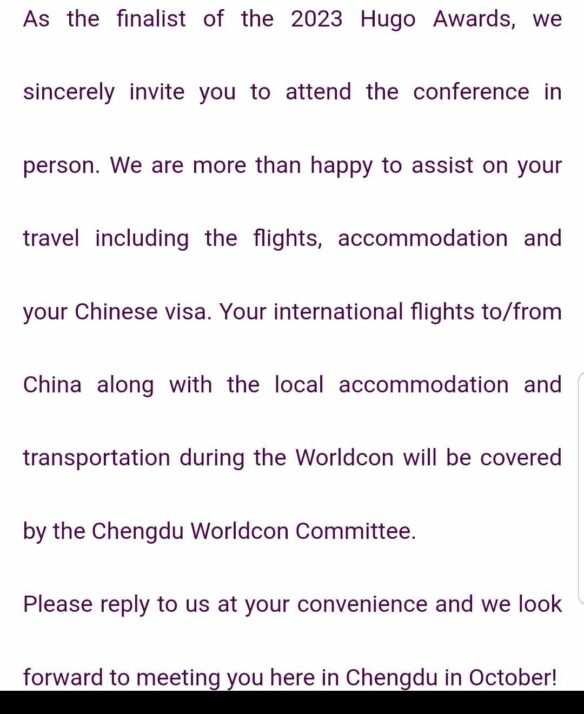 File 770 contacted a sampling of finalists to ask if they'd received the message. The following people commented for the record.
John Scalzi got the offer. "I did and I passed, in part because I am already counterscheduled."
Ursula Vernon also received the offer: "Whether it was for the Best Novelist or Best Novella, I couldn't tell you, but I know at least one other person who's gotten the offer. (I am unable to attend due to health, which takes any questions of whether or not to accept such off my plate.) …They offer visa help though, which, having visited China, is arguably worth more than all the accommodations! 'Writer' is not a profession that the people giving visas look kindly on—when I went to Tibet, I listed my occupation as 'jewelry maker'."
On the other hand, Olav Rokne, an editor at the fanzines Unofficial Hugo Book Club Blog and Journey Planet, said, "Neither Amanda nor I have received such an offer…. So far, nothing for either of the fanzine finalists that I was a part of."
(2) PICKET DUTY. George R.R. Martin says this year's strike is "the most important of my lifetime" in "Actors Join the Strike!" at Not A Blog.
…The SAG contract ended on June 30, but the actors gave AMPTP every chance to reach an equitable agreement by extending negotiations to July 12. That proved to be a futile gesture. The studios did not move an inch from their previous positions, and still refuse to address some of the most important issues on the table, including AI and payments and residuals from streaming. They gave the actors no choice but to walk.

As for the writers… well, the studios are not even TALKING to us. All negotiations between AMPTP and the WGA shut down back in May when the strike started. It is hard to reach any agreement when the other side won't even come to the table.

I joined the WGA in 1986 and have been through several strikes with them. We made gains in all of them, but some issues are more important than others… and this year's strike is the most important of my lifetime. An unnamed producer was quoted last week saying the AMPTP strategy was to stand fast until the writers started losing their homes and apartments, which gives you a hint of what we're facing.

But we ARE facing it. I have never seen such unity in the Guilds; the strike authorization votes for both SAG and WGA were as close to unanimous as we are ever likely to see….
Although Martin's overall deal with HBO was suspended on June 1, he's not idle.
…I still have plenty to do, of course. In that, I am one of the lucky ones. (These strikes are not really about name writers or producers or showrunners, most of whom are fine; we're striking for the entry level writers, the story editors, the students hoping to break in, the actor who has four lines, the guy working his first staff job who dreams of creating his own show one day, as I did back in the 80s).

Last week we had a great meeting with the producers on THE IRON THRONE, the stage play we've been working on the past few years. The scripts for that one are coming along well, and it's got me very excited….
(3) MEDICAL UPDATE. Eisner-winning comics artist Colleen Doran told her Patreon supporters (in a public post) she has recovered after being in danger of losing sight in one eye.
…I've had other things on my mind. But we are amazed and delighted to win the Eisner Award for Neil Gaiman's CHIVALRY.

…In even better news (something I really wasn't talking about until I was sure how things would go,) I was blinded in the left eye in a freak accident which caused an extremely painful corneal ulcer. Still have no idea what happened. But what seemed to be a minor issue had me in the emergency room in a matter of hours. I was in imminent danger of permanently losing sight in the eye, or losing the eye entirely.

…. And I practiced my life as an artist with one eye. Just in case.

I can draw with one eye tied behind my back, and was showing work to my pro peeps to see if they could tell what was drawn with both eyes and what was drawn with one eye.

It's super not pleasant though, and for awhile my eye was so sensitive to light that even light in my good eye hurt the bad one. I spent days sitting in the dark feeling pretty dark.

Yesterday was the first day I was able to get back to a full slot at the drawing board, as my sight has almost completely returned to normal.

Yesterday was a very good day…
(4) X. John Scalzi is "Preparing My X-it" after today's rebranding of Twitter as X. He's not really leaving, he says he will be posting much less frequently. Will he miss it? And what is he moving on to?
…But, one, having your career predicated on how many followers you have on a single site is fraught anyway, and two, this is the nature of social media, isn't it? Think of all those bands who had hundreds of thousands or even millions of followers on MySpace and then that imploded. And then, three, not everything is about the sheer number of followers. I loved being on Twitter not because I had tens of thousands of people to market to, but because I was having fun. And today, I'm having fun in other places; at the moment I'm especially having fun on Bluesky. Bluesky is tiny and invite-only and at the moment absolutely fucking useless to market one's self on, and I kinda love it and the conversations I'm having on it. So there's that….
(5) DOWNLOAD TWO CHINESE FAN WRITERS' HUGO PACKETS. [Item by Ersatz Culture.] Two of the Chinese Hugo finalists for Best Fan Writer have made their Hugo voter packet submissions publicly available.
Arthur Liu aka HeavenDuke aka 天爵 – PDF can be downloaded at this link in either Chinese or English.
Riverflow (河流) – PDF — riverflow-pack.pdf; contains both Chinese and English
Both of these include bilingual material that was previously published in Journey Planet and at Strange Horizons; the English language Arthur Liu packet also includes 3 machine-translated essays that hopefully we were able to bash into a moderately acceptable state in the few days we worked on them. (And as the tweet says, all the errors that didn't get caught – of which I'm sure there'll be many – are on my head.)
(6) LA IN 2026. The LA in 2026 Worldcon bid had a table at Pemmi-Con. Thanks to Kevin Standlee for the photo of bid chair Joyce Lloyd.
Their old website has been replaced by "LA in 2026 – Adventure Awaits!" They're taking presupports here.
Are you stuck in the daily grind, yearning for a taste of the extraordinary? Dreaming of vistas untouched, of stories untold? Welcome!

Join us and embark on a journey where the journey itself is the destination.

LA in 2026 – we don't just explore places, we uncover stories. We're not just explorers of mountains, oceans, or galaxies. We're pioneers of imagination. We traverse magical kingdoms, navigate mythical seas, walk through enchanted forests, and soar with dragons. We don't just chase the sun, moon, or stars – we unlock the secrets of the cosmos and dance with time.
They have not yet identified the city or venue they are bidding for, although the site selection vote will be held in Glasgow in a little over a year from now.
In addition to Joyce Lloyd, the website names these other members of the bid:
Bobbi Armbruster: Vice Chair, Chicon 7; over 40 years of Worldcon and convention experience
Sherri Benoun: Co-Chair, World Fantasy 2019; over 30 years of Worldcon and convention experience
Bert Boden: Over 20 years of Worldcon and convention experience
Steve Cooper: Co-Chair, Loncon 3, 2014; over 20 years of Worldcon and convention experience
Genny Dazzo: Over 30 years of Worldcon and convention experience
Bruce Farr: Co-Chair, World Fantasy 2019, 2001 and 1991; over 40 years of Worldcon and convention experience
Lea Farr: Co-Chair, World Fantasy 2001; over 40 years of Worldcon and convention experience
Sara Felix: Chair, ArmadilloCon 32, 2012; over 20 years of Worldcon and convention experience
Elizabeth Klein-Lebbink: Over 40 years of Worldcon and convention experience
Shaun Lyon: Co-Founder & Program Director, Gallifrey One (33 years); over 30 years of Worldcon and convention experience
Karin May: DH Staff Services, Chicon 8; over 5 years of Worldcon and convention experience
Christian B. McGuire: Chair, LA Con IV, 2006; Co-Founder & Chair (13 years), Gallifrey One; over 30 years of Worldcon and convention experience
Helen Montgomery: Chair, Chicon 8; Vice Chair, Chicon 7; over 20 years of Worldcon and convention experience
Elayne Pelz: Over 40 years of Worldcon and convention experience
Jerome Scott: Over 30 years of Worldcon and convention experience
Randy Shepherd: Chair, LoneStarCon 3, 2013; Vice Chair, LoneStarCon 2, 1997; over 20 years of Worldcon and convention experience
Ben Yalow: Co-Chair, Chengdu 2023: over 40 years of Worldcon and convention experience
(7) WHEN WIKIPEDIA WORKS RIGHT. Immediately after Michele Lundgren was charged as a Michigan fake Trump elector somebody tried to add that information to the first paragraph of her husband Carl Lundgren's Wikipedia entry.
The attempt ran afoul of Wikipedia's policy to avoid "Coatrack articles".
Typically, the article has been edited to make a point about something else. The nominal subject is functioning as an overloaded coat-rack, obscured by too many "coats"…

A coatrack article fails to give a truthful impression of the subject. In the extreme case, the nominal subject gets hidden behind the sheer volume of the bias subject(s). Thus the article, although superficially true, leaves the reader with a thoroughly incorrect understanding of the nominal subject….
Good call!
(8) MEMORY LANE.
"Beginnings", written by Cat Eldridge from a choice by Mike Glyer, is moving to a weekly schedule. One will appear in the Scroll each Wednesday.
(9) TODAY'S BIRTHDAYS.
[Compiled by Cat Eldridge.]
Born July 24, 1878 — Lord Dunsany whose full name and title was a jaw dropping Edward John Moreton Drax Plunkett, 18th Baron of Dunsany. So ISFDB lists him as genre for the Jorkens body of work among works. H'h. Gary Turner, who some of you will recognize from Golden Gryphon Press and elsewhere, reviewed The Collected Jorkens: Volumes One, Two, and Three, for Green Man, so I've linked to the review here. They also list The King of Elfland's Daughter which I'm going to link to another review on Green Man as it's an audio recording with a very special guest appearance by Christopher Lee. (Died 1957.)
Born July 24, 1895 — Robert Graves. Poet, historical novelist, critic. Author of, among other works, The White Goddess (a very strange book), two volumes called the Greek Myths, Seven Days in New Crete which Pringle has on his Best Hundred Fantasy Novels list and more short fiction that bears thinking about. (Died 1985.)
Born July 24, 1916 — John D. MacDonald. Primarily a mystery writer whose Travis McGee series I enjoyed immensely and which I re-read recently survived the Suck Fairy hovering over my shoulder the entire time despite the misogyny and somewhat regressive politics therein. He wrote a handful of genre works including the sublime The Girl, the Gold Watch & Everything. ISFDB lists a collection, End of the Tiger and Other Short Stories, which I presume is genre. Presumably. (Died 1986.)
Born July 24, 1936 — Mark Goddard, 87. Major Don West, the adversary of Dr. Zachary Smith, on Lost in Space. Other genre appearances were scant. He played an unnamed Detective in the early Eighties Strange Invaders and he showed up on an episode of The Next Step Beyond which investigated supposed hauntings as Larry Hollis in "Sins of Omission". Oh, and he was an unnamed General in the Lost in Space film.
Born July 24, 1945 — Gordon Eklund, 78. He won the Nebula for Best Novelette for "If the Stars Are Gods", co-written with Gregory Benford. They expanded it into a novel which was quite good as my memory says. So would anyone care to tell the story of how he came to write the Lord Tedric series which was inspired by an E.E. Doc Smith novelette? If the Stars Are God is available at the usual suspect as well as Cosmic Fusion, which according to Amazon "was originally written between January 1973 and September 1982, a mammoth 300,000-word epic novel of 'science fiction, sex, and death.'"
Born July 24, 1951 — Lynda Carter, 72. Wonder Woman of course. But also Principal Powers, the headmistress of a school for superheroes in Sky High; Colonel Jessica Weaver in the vampire film Slayer; Moira Sullivan, Chloe Sullivan's Kryptonite-empowered mother in the "Prodigy" episode of Smallville; and President Olivia Marsdin in one version of Supergirl.
Born July 24, 1964 — Colleen Doran, 59. Comics artist and writer. Work particularly worth noting includes Warren Ellis' Orbiter graphic novel, Wonder Woman, Legion of Superheroes, Teen Titans, "Troll Bridge" by Neil Gaiman and her space opera series, A Distant Soil. She also did portions of The Sandman, in the "Dream Country" and "A Game of You". She's tuckerised Into Sandman as the character Thessaly is based on Doran. Her work has received the Eisner, Harvey, Bram Stoker, and International Horror Guild Awards.
Born July 24, 1981 — Summer Glau, 42. An impressive run of genre roles as she was River Tam in the Firefly franchise, followed by these performances: Tess Doerner in The 4400, Cameron in Terminator: The Sarah Connor Chronicles, Bennett Halverson in Dollhouse (is this worth seeing seeing?), Skylar Adams in Alphas and lastly Isabel Rochev who is The Ravager in Arrow. And she appears as herself on The Big Bang Theory in "The Terminator Decoupling" episode. Another series I've not seen.
(10) COMICS SECTION.
The Argyle Sweater remembers why one character was dropped from Star Wars.
MUTTS tells us how to calm the Hulk down.
(11) BIGGER THAN A BLOCKBUSTER. While Barbie blew up box offices all over this past weekend, Oppenheimer definitely did not bomb. "Box Office: 'Barbie' Opens to Record-Setting $155 Million, 'Oppenheimer' Shatters Expectations With $80 Million Debut" in Variety.
"Barbenheimer" is more than just a meme. It's a full-fledged box office phenomenon.

Over the weekend, moviegoers turned out in force for Greta Gerwig's neon-coated fantasy comedy "Barbie," which smashed expectations with $155 million to land the biggest debut of the year. But they also showed up to see Christopher Nolan's R-rated historical drama "Oppenheimer," which collected a remarkable $80.5 million in its opening weekend.

Hundreds of thousands of ticket buyers refused to choose just one movie between the seemingly different blockbusters from auteur directors with sprawling casts and twin release dates. So they opted to attend same-day viewings of "Barbie" and "Oppenheimer," turning the box office battle into a double feature for the ages….
(12) ENDER'S GAME. IRL. [Item by Mike Kennedy.] "UK Defense Ministry: Russian children to be taught combat drone operation" reports Kyiv Independent.
…Russian children are to undergo training to learn how to operate combat drones, the U.K. Defense Ministry reported in its July 24 intelligence update.

British intelligence cites Artem Sheikin, a Russian senator, who announced that the curriculum will include lessons in terrain reconnaissance and countering Ukrainian drones.

The move highlights how Russia considers the use of drones "an enduring component of contemporary war."

The training will be part of the "Basics of Life Safety" course. From Sept. 1, 2023, high school students will be taught how to operate an assault rifle, hand grenade skills and combat first aid, as well as the training on drones, as part of the syllabus.

"Russia's renewed emphasis on military induction for children is largely an effort to cultivate a culture of militarized patriotism rather than develop genuine capability," according to the report….
(13) IN HIS CUPS. Camestros Felapton analyzes a book's recipe for success "Review: Legends and Lattes by Travis Baldree".
…The premise is simple. In a D&D-like world, a sword-wielding orc becomes tired of the life adventuring, treasure-finding, dungeon-crawling, monster-slaying shenanigans and decides to quit that life and instead open up a coffee shop. The main obstacle is in this world only the inventive gnome civilisation even knows what coffee is. It is a simple idea, one I've even heard called "obvious" (presumably because coffee shops feature in a subset of fan fiction) but as with copyright, the issue is never the obviousness of an idea but its actual execution. In this case, the idea is executed very well indeed….
(14) FUTURAMA. New York Times TV critic Margaret Lyons subheads this review: "I'm nostalgic, but I also want that nostalgia to be ridiculed."
'Futurama'

When to watch: Now, on Hulu

"Viewers must binge responsibly, the same way they smoke cigarettes or drink bleach," quoth Philip J. Fry in this new revival of "Futurama." Easy enough; Hulu is releasing episodes weekly, which contributes to the throwback vibe.

"Futurama" has been canceled and revived a few times since its initial run on Fox from 1999-2003. In some ways, its superior ability to spring back to life set an un-meetable standard for other shows: An animated series untethered to reality and about giant leaps forward in time has an advantage over live-action series with more specific expiration dates. If anything, the show's taut sense of humor has become more mainstream, and now it is a contemporary with its descendants.

If you can't have a good time watching "Futurama," maybe you can't have a good time….
[Thanks to Michael Toman, Cat Eldridge, SF Concatenation's Jonathan Cowie, Dariensync, Ersatz Culture, Mike Kennedy, Andrew Porter, John King Tarpinian, and Chris Barkley for some of these stories. Title credit belongs to File 770 contributing editor of the day Jon Meltzer.]