(1) LE GUIN IN PERSPECTIVE. "It's not Jung's, it's mine: Language-Magic" at the London Review of Books, Colin Burrow offers an overview of Ursula Le Guin's career.
…But in the hands of an author like Ursula Le Guin, science fiction 'isn't really about the future', as she put it in The Last Interview. 'It's about the present.' It changes one or two structuring facts about the world as it is and asks: 'What would humans do if this and this were true?' The questions Le Guin asked were big, and her answers to them were subtle. Half a century ago she wondered: 'What if people were gender-neutral most of the time, but changed between male and female at random when they came on heat, so that you could write sentences like "The King was pregnant"?' (as in her Left Hand of Darkness). Or, 'what if a capitalist planet had a moon on which there was a society with no laws and no private ownership?' (as in her Dispossessed). Alongside these large questions her fiction also poses less visible challenges to its readers. Are you so unconsciously racist that you didn't notice this woman or this wizard was brown-skinned? Didn't you realise that the person you thought was an alien is actually from Earth?
For Le Guin these questions almost always led back to one core idea about people. They get stuff wrong even when they want to get it right, and the more they think they're in control the worse the mistakes they're likely to make. In The Carrier Bag Theory of Fiction (first published in 1988 and now reissued with a thoughtful introduction by Donna Haraway), she described her writing as a 'great heavy sack of stuff, my carrier bag full of wimps and klutzes … full of beginnings without ends … full of space ships that get stuck, missions that fail and people who don't understand'. Her modesty downplays how deeply her fiction gets inside the darker parts of the human mind….
(2) CLASS ACTION. "Amazon.com and 'Big Five' publishers accused of ebook price-fixing" in a recently-filed class action lawsuit reports The Guardian.
Amazon.com and the "Big Five" publishers – Penguin Random House, Hachette, HarperCollins, Macmillan and Simon & Schuster – have been accused of colluding to fix ebook prices, in a class action filed by the law firm that successfully sued Apple and the Big Five on the same charge 10 years ago.

The lawsuit, filed in district court in New York on Thursday by Seattle firm Hagens Berman, on behalf of consumers in several US states, names the retail giant as the sole defendant but labels the publishers "co-conspirators". It alleges Amazon and the publishers use a clause known as "Most Favored Nations" (MFN) to keep ebook prices artificially high, by agreeing to price restraints that force consumers to pay more for ebooks purchased on retail platforms that are not Amazon.com.

The lawsuit claims that almost 90% of all ebooks sold in the US are sold on Amazon, in addition to over 50% of all print books. The suit alleges that ebook prices dropped in 2013 and 2014 after Apple and major publishers were successfully sued for conspiring to set ebook prices, but rose again after Amazon renegotiated their contracts in 2015….
(3) URSA MAJOR AWARDS. [Item by N.] The furries are at it again. No virus can hold them down. I mean this as a positive. Nominations for the 2020 Ursa Major Awards have opened and will continue until February 13. Click here to participate.
What's eligible? Consult the Recommended Anthropomorphics List.
(4) A DISH NAMED WANDA. Camestros Felapton screens the latest Disney+ offering: "Review: WandaVision Ep 1 & 2"
…We are primed for an genre mash-up of superheroes, sit-com pastiche and surreal horror. On the one hand, that is a bold move and on the other hand what we have is essentially a kind of "holodeck episode" in which familiar characters are placed in a contrasting genre for sci-fi or fantasy reasons. Your tolerance for holodeck episodes may vary but they can be fun — the bold choice here is making it the premise of the series and centring two characters who have limited time to develop their characters in the movie…
(5) ROLE YOUR OWN. StryderHD presents Stranger Things' Millie Bobby Brown as Princess Leia in this #Deepfake video.
At some point in time we are going to either recast or totally CGI parts of actors if you ever want to see them younger or a prequel of a movie they were in or unfortunately great actors we have lost, maybe to ever see them again. In this specific video everyone voted to see who would play a good Princess Leia Organa in a possibly TV series/prequel in the Star Wars universe and you all picked Millie Bobby Brown from "Stranger Things" fame as well as being in "Godzilla: King of the Monsters" and other things. What do you all think of her as playing the part?
(6) DIE BY THE DICE. SYFY Wire says to expect a "Dungeons & Dragons live-action TV series by John Wick creator Derek Kolstad".
Tread carefully with torch in hand, because there's a new Dungeons & Dragons TV series reportedly around the corner — and it's coming from a creative mind with a whiplash action pedigree.

John Wick creator and screenwriter Derek Kolstad is reportedly rolling the 20-sided dice as the newly-recruited writer for a live-action D&D series from Hasbro & eOne, according to The Hollywood Reporter. Kolstad, who helped propel Keanu Reeves to new levels of action stardom as the mind behind John Wick's fast-paced brand of slick secret-society infighting, will reportedly write and develop a pitch for the as-yet unnamed D&D series.
(7) MISSING INGREDIENT. Don't hold your breath expecting it to happen, but Tim Allen would still like to do the film. "Tim Allen Offers Update on Galaxy Quest 2" at ComicBook.com.
…"It's a fabulous script," Allen said in an interview with EW, "but it had a hiccup because the wonderful Alan Rickman passed. So it all got very sad and dark because [the script] was all about [Lazrus] and Taggart. It was all about their story. It doesn't mean they can't reboot the idea, and the underlying story was hysterical and fun….I haven't reached out to anybody in the last week, but we talk about it all the time. There is constantly a little flicker of a butane torch that we could reboot it with. Without giving too much away, a member of Alan's Galaxy Quest family could step in and the idea would still work."

Allen also maintained that the years between the film and now, or five years from now, wouldn't have any huge effect on their ability to make the sequel either, adding: "[The sequel] could happen now or in five years and it doesn't matter at all because when you travel at light speed, when you come back it can be like only 20 minutes, but 20 years have passed, right? That part is wonderful for the sci-fi freak in me. But right now it's in a holding pattern."
(8) MEDIA ANNIVERSARY.
2001 — Twenty years ago, Greg Bear's Darwin's Radio wins the Nebula Award and would also win the Endeavour Award. It was nominated for the Locus and Campbell Awards as well the same year. It was followed by a sequel, Darwin's Children which would receive nominations for the Arthur C. Clarke, Locus, and John W. Campbell Memorial Awards.
(9) TODAY'S BIRTHDAYS.
[Compiled by Cat Eldridge and John Hertz.]
January 16, 1895 – Nat Schachner.  Chemist, lawyer, author.  President of American Rocket Society.  Director of public relations, Nat'l Council of Jewish Women.  History and historical fiction e.g. The Mediaeval Universities, biographies of Burr, Hamilton, Jefferson, The Wanderer about Dante and Beatrice.  For us two novels, a hundred shorter stories.  (Died 1955) [JH]
Born January 16, 1905 — Festus Pragnell. Ok, he's here not because he had all that a distinguished a career as a writer or illustrator, but because of the charming story one fan left us of his encounter with him which you can read here. Festus himself wrote but three novels (The Green Man of Kilsona, The Green Man of Graypec, and The Terror from Timorkal), plus he wrote a series of stories about Don Hargreaves' adventures on Mars. Be prepared to pay dearly if you want to read him as he's not made it into the digital age and exists mostly in the original Amazing Stories only. (Died 1977.) (CE) 
Born January 16, 1943 — Michael Atwell. He appeared in Doctor Who twice, first in a Second Doctor story, "The Ice Warriors", and later in the in the Sixth Doctor story, "Attack of the Cybermen." He also voiced Goblin in the Labyrinth film, and had a recurring role in Dinotopia. (Died 2006.) (CE) 
Born January 16, 1945 – Russell Letson, age 76.  Journalist and technical writer.  Plays acoustic guitar, wrote about Hawaiian slack-key (Aloha Guitar, 2014).  Taught English awhile.  Book reviewer for Locus since 1990.  Introduced the Gregg Press edition of Leiber's Wanderer.  Filer.  [JH]
Born January 16, 1946 – Mike Horvat, age 75.  Printer by trade.  Co-founder of Slanapa (the Slanderous Amateur Press Ass'n).  Donated his fanzine collection to Univ. Iowa, see here.  Active in apas outside our field, a decades-longer tradition; founded the American Private Press Ass'n, was its Librarian until 2005.  Also amateur radio, postage stamps.  [JH]
Born January 16, 1948 — John Carpenter, 73.  My favorite films by him? Big Trouble in Little China and Escape from New York.  His gems include the Halloween franchise, The Thing, Starman (simply wonderful), The Philadelphia Experiment, Ghosts of Mars and many other films. What do you consider him to done that you like, or don't like for that matter? I'm not fond of Escape from L.A. as I keep comparing to the stellar popcorn film that the previous Escape film is. (CE)
Born January 16, 1952 – Cy Chauvin, age 69.  Fan Guest of Honor at Fan Fair III, at Lunacon 27, see here.  Edited the Wayne Third Foundation's clubzine.  Co-founded MISHAP.  Stippler.  Reviewed for Amazing.  Anthologies A Multitude of Visions (criticism), The Tale That Wags the God (Blish's only).  Letters, essays, fanart, in Algol, Janus, Matrix, NY Rev SF, Riverside Quarterly, SF Commentary, Vector.  [JH]
Born January 16, 1958 – Marla Frazee, age 63.  Illustrated It Takes a Village, three dozen more including eight Borrowers, wrote some of them.  Two Caldecott Honors, Boston Globe – Horn Book Award.  "Study the genre and the best books of the time.  Read all the time.  Read everything you can.  Be passionate and honest about what you are doing and why you are doing it."  Has a little Free Library in her front yard.  Here is The Planetoid of Amazement.  Here is Bed-Knob and Broomstick.  Here is The Farmer and the Monkey.  [JH]
Born January 16, 1961 – Karen McQuestion, age 60.  Eight novels for us, a dozen others, sold a million copies.  "I believe in almost everything, which makes the world seem both miraculous & terrifying."  Her home-office has a mahogany desk, a recliner, bookcases, framed prints from one of her illustrators, and an electric fireplace "which some of my family think is tacky, but I don't care."  [JH]
Born January 16, 1968 – Rebecca Stead, age 53.  Lawyer, married another; spent a few years as a public defender.  Vassar woman (as was my grandmother).  Newbery Medal; The Guardian prize (first winner outside the Commonwealth).  For us, four novels including both of those prizewinners, one shorter story.  [JH]
Born January 16, 1970 — Garth Ennis, 51. Comic writer who's no doubt best known for  Preacher which he did with illustrator Steve Dillon, and his stellar nine-year run on the Punisher franchise. I'm very fond of his work on Judge Dredd which is extensive, and his time spent scripting Etrigan the Demon For DC back in the mid Nineties. What by him should I be reading?  (CE) 
Born January 16, 1974 — Kate Moss, 47. Yes, she's done SF. To be precise Black Adder which we discussed a bit earlier. She played Maid Marian in "Blackadder Back & Forth" in which as IMDB puts it "At a New Millennium Eve party, Blackadder and Baldrick test their new time machine and ping pong through history encountering famous characters and changing events rather alarmingly." You can watch it here. (CE)
Born January 16, 1976 — Eva Habermann, 45. She is best known for playing the role of Zev Bellringer on Lexx. She was succeeded in her role by Xenia Seeberg. Ok, I'll confess that I've never seen the series which I know exists in both R and not so R versions. Who here has seen it in either form? She was also Ens. Johanna Pressler in Star Command, a pilot that wasn't to be a series that was written by Melinda Snodgrass. And she had a role in the Code Name: Eternity series as Dr. Rosalind Steiner. (CE) 
(10) HOT SHOT. "Don't Miss the Hot Fire Test for NASA's Artemis Moon Missions" – Well, it already happened this afternoon, but the video will be replayed today at 10:00 p.m. Eastern on NASA Television. Which is probably just minutes away by the time the Scroll will be posted.
Editor's note: This advisory was updated Jan. 16 to update the window for the hot fire test, as well as start time for NASA TV coverage. Because test preparation is running ahead of schedule, NASA TV coverage will begin at 3:20 p.m. EST for a test start time of 4 p.m.

NASA is targeting a two-hour test window that opens at 4 p.m. EST Saturday, Jan. 16, for the hot fire test of NASA's Space Launch System (SLS) rocket core stage at the agency's Stennis Space Center near Bay St. Louis, Mississippi. Live coverage will begin at 3:20 p.m. on NASA Television and the agency's website, followed by a post-test briefing approximately two hours after the test concludes.
(11) JEOPARDY! John King Tarpinian proudly snapped this while watching Jeopardy! on Friday night.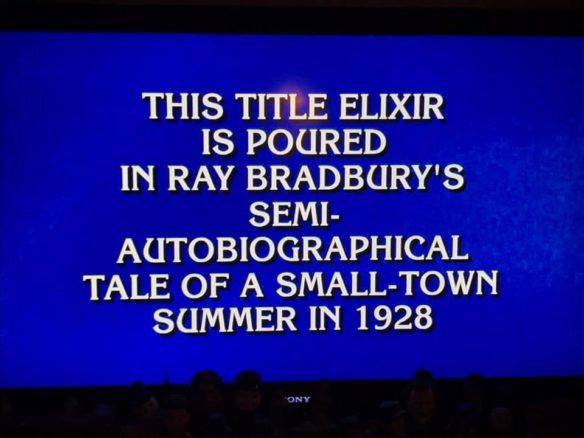 (12) LOCAL CHOW. BBC Sounds has audio of The Food Chain episode "The arctic eating adventure". Andrew Porter urges everyone to listen to the show and watch the linked video.
When the only road into her town was blocked by a landslide, documentary filmmaker Suzanne Crocker was shocked by how quickly supermarket shelves went bare. It set her mind racing; would her remote Canadian town – just 300km from the Arctic circle – be capable of sustaining itself? She decided to undertake a radical experiment: an entire year of eating 100% local.

Emily Thomas hears how she grew, hunted, foraged and negotiated her way through the seasons with a cupboard bare of salt, sugar and caffeine. How did she persuade three hungry teenagers to come on board, and what did a year of eating local do to family dynamics?

Suzanne's film about the experience is available on FirstWeEat.ca until February 1.
(13) THE PROGNOSTICATORS LOOK UP. At Literary Hub, Rob Wolf interviews the author to find out "Why Kim Stanley Robinson Wrote a New Cli-Fi Novel… in Which Things Actually Get Better".
Rob Wolf: The book opens with a heat wave in the Indian province of Uttar Pradesh. We see it unfold through the eyes of a Western aid worker, Frank May. Could you talk about what happens, what this disaster is and how it sets the story in motion?

Kim Stanley Robinson: I began to read about wet-bulb temperatures, which is a heat index that combines heat and humidity. Everybody who watches weather channels is already familiar with heat indexes, and everybody who lives in humid areas knows about the heat and humidity in combination. There's been discussion amongst a certain portion of the people trying to think about climate change that maybe we just have to adapt to higher global average temperatures. They aren't so worried about crossing the 2-degree centigrade Celsius rise in global average temperature and all that. We'll go to three. We'll go to four. We'll just adapt.

But the problem is this wet-bulb 35 is only about 95 degrees Fahrenheit, plus 100 percent humidity, and human bodies can't deal. They die. You would have to be in air conditioning. And in heat waves like that, power systems and grids often fail, in which case there would be mass deaths. There's been a wet-bulb 34s all over the tropics and even in the Chicago area, and a few wet-bulb 35s have already been seen for an hour or two across the globe. They're going to be more and more common.

What it suggested to me was that we can't actually adapt to a three- or four-degree average rise because we'll be getting these heat waves that will be deadly and power grids will fail and millions will die. So I thought, well, okay, let's follow that thought into a novel where one of these happens and everything gets radicalized, everything goes crazy. What would that look like? And can I start from that and actually thirty years later come to a better place?
(14) TROLL BRIDGE 'CAUSE WE'RE COMIN' TO A TOWN. Snowgum Films has posted their 2019 Pratchett tribute Troll Bridge: The Moving Picture on YouTube.
Cohen the Barbarian was angry. Angry that he never died in battle, angry that the world had forgotten him, and angry that his knees were starting to play up in the cold. He was also angry that his faithful mount had been gifted the ability of magical speech. The horse was insisting that they had made a wrong turn back at Slice. He was also angry that the horse was probably right. This was not how it was supposed to end for the barbarian. This was not how the Discworld's greatest hero imagined it at all.
(15) VIDEO OF THE DAY. In "Godzilla–The Soul of Japan" on YouTube, Kaptain Kristian says the original Japanese version of Godzilla was a powerful anti-nuclear allegory (Godzilla's head is shaped like a mushroom cloud, and he has no scales so his skin looks like radiation burns) but the film was re-shot and censored for its substantially different American release.
[Thanks to John King Tarpinian, N., Danny Sichel, Nina Shepardson, John Hertz, JJ, Mike Kennedy, Cat Eldridge, Martin Morse Wooster, Andrew Porter, and Michael Toman for some of these stories. Title credit goes to File 770 contributing editor of the day Jack Lint.]