(1) POWERFUL CANON. Amy Tenebrink shares the impact that stories by a leading sff author had on her: "Personal Canons: Nnedi Okorafor".
…Onyesonwu is one of those angry, defiant, adventurous heroines of my heart. But Who Fears Death isn't just a story of a warrior girl; it's the story of all warrior girls. Who Fears Death is, itself, angry, defiant, and adventurous. It rips apart the fabric of our quotidian world and shows us, more clearly for all its speculation, what is wrong with us but what could be right with us. This is speculative fiction at its best: incisive, unflinching, uncompromising. Untethered from what's "real" in a way that can show us what is, in fact, actually real—and what could be real if only we reached for the stars.

In Who Fears Death, Nnedi put a heroine of my heart into a book of my heart. Who Fears Death showed me, in a moment, what speculative literature can be: not just a series of quest-wanderings, of dragon-slayings, of evil mage-vanquishings, but an inspirational, aspirational blueprint for me and my place in the world. Who Fears Death is itself a sword, a magic wand, a spell that can change everything.
(2) ALPHA OF THE OMEGA. The award administrators — Sci-Fest L.A. and Light Bringer Project — have announced that the Tomorrow Prize and The Roswell Award will now reside under an umbrella competition name, the Omega Sci-Fi Awards. Here's the new logo.
(3) MEMBERS OF THE JURY. James Davis Nicoll introduces the Young People Read Old SFF panel to "The Pleiades" by Otis Kidwell Burger.
The Pleiades is impressive enough readers would no doubt run out to acquire her other works. Unfortunately, Rediscovery's biographical entry on her reveals that her SF career was quite short1. At least, I assume younger readers would react as positively as I did. How did my Young People actually feel?
(4) QUESTIONS ABOUT THE POLICY. [Item by Cora Buhlert.] Non-binary writer Akwaeke Emezi, whose works are at least borderline SFF, has declared that they will no longer submit their novels to Women's Prize for Fiction (where they were a finalist last year), after being asked to provide proof of their legal gender: "Akwaeke Emezi shuns Women's prize over request for details of sex as defined 'by law'" in The Guardian.
… Emezi said that when Faber got in touch with the Women's prize about submitting The Death of Vivek Oji, they were informed: "The information we would require from you regards Akwaeke Emezi's sex as defined by law."

"Forget about me – I don't want this prize – but anyone who uses this kind of language does not fuck with trans women either, so when they say it's for women, they mean cis women," wrote Emezi. "And yes, this does mean that them longlisting [Freshwater] was transphobic. It's fine for me not to be eligible because I'm not a woman! But you not about to be out here on some 'sex as defined by law' like that's not a weapon used against trans women."

The Women's prize was established in response to the Booker failing to shortlist a single female writer in 1991. Following Emezi's nomination in 2019, the organisers of the £30,000 award said it was working on a policy "around gender fluid, transgender and transgender non-binary writers".

Responding to Emezi's comments, the prize organisers said that their terms and conditions for entry equated the word "woman" with "a cis woman, a transgender woman or anyone who is legally defined as a woman or of the female sex".
(5) O'DELL KICKSTARTER. [Item by Cora Buhlert.] Here is a Kickstarter of interest: Claire O'Dell is looking for funding to republish her River of Souls trilogy, which came out in 2010 from Tor, when she was still writing as Beth Bernobich: "The River of Souls Trilogy, Second Edition" With 26 days left, $566 of the $2,500 goal has been raised.
I'm Claire O'Dell, author of the Lammy Award-winning Janet Watson Chronicles, the River of Souls trilogy, and the Mage and Empire books.

Back in 2007, writing as Beth Bernobich, I landed my very first book deal—a three-book contract with Tor Books for my novel Passion Play and two sequels, aka, the River of Souls trilogy.  Passion Play came out in October 2010, and to my absolute delight it won the RT Reviewers' Choice Award for Best Epic Fantasy. Queen's Hunt and Allegiance followed in 2012 and 2013, with great reviews, and a prequel novel, A Jewel Bright Sea, appeared last year from Kensington Books.

Now that I have the rights back to the trilogy, I'd like to re-release them with new covers that better match the story and the characters. (Not to mention fixing a few continuity errors that crept in along the way.) Pledges from this campaign will pay for custom cover art and rewards.
(6) FOUNDATION. At WIRED, "The Geeks Guide to the Galaxy" interviews several creators to support the claim that "'Foundation' Has One of the Best Sci-Fi Concepts Ever".
John Kessel on psychohistory:

"I studied physics as an undergrad, and basically what [Asimov] is doing is taking classical thermodynamics and applying it to human behavior. In thermodynamics, you can't predict what one atom is going to do, but if you have several billion atoms in a contained box, you can predict—very precisely—if you raise the temperature, exactly what the effect on pressure is going to be, things like that. He's basically saying if you have enough human beings—you have 100 million worlds, all inhabited by human beings—that psychohistory can predict the mass behavior of human beings, without being able to predict any individual human being's behavior. That's a cool idea."
(7) WHITE SCREEN OF DEATH? [Item by Cora Buhlert.] The Guardian has run several articles and opinion pieces about how the postponement of Dune and that James Bond movie will affect British cinemas — and may kill them off altogether. A lot of anger, which is partly understandable, because movie theatres are open again at reduced capacity in the UK and much of the rest of Europe, but have nothing to show, because all of the big Hollywood movies are being held back. Here are four views of the situation.
He's best known for sweeping in at the last minute to save the day – but James Bond's latest act could be the death knell for many British cinemas.

The announcement that the release of No Time to Die, the 25th film featuring the secret agent, would be delayed again has left cinemas facing financial obliteration because of the absence of other forthcoming blockbuster films.
Our movie industry was just about keeping its morale steady. It was enforcing perfectly workable rules on sanitising and physical distancing and not subject to those closures taking theatre and live entertainment to the cliff edge. The pilot light of big-screen cinema culture was flickering. But it was still alight.

But this is a serious blow. If it is really true that Cineworld will close 128 cinemas, putting 5,500 jobs at risk (and it is not simply a scare-story negotiating ploy leaked to the press alongside the company's official letter to the culture secretary Oliver Dowden demanding action) then this is potentially devastating. 
…For an understanding of how we got here, look at the fates of two films that did get released during the pandemic. Following a tense summer in which Christopher Nolan's Tenet and Disney's live-action Mulan remake competed against the coronavirus in a game of grandmother's footsteps, both films were finally released using opposing strategies.

"Warner Bros did a brave thing bringing out Tenet [in cinemas] at that very fraught time," says Naman Ramachandran, international correspondent at Variety magazine. "It sent a positive message to the exhibition sector as a whole." Disney, on the other hand, launched Mulan on its streaming service Disney+, where it came with a premium price tag (£19.99/$29.99) in addition to subscription fees. Cinemas screened it only in territories where Disney+ is not available. "My opinion is that Disney should've released Mulan in cinemas also," says Ramachandran. "There was a demand for it and it would've kept the theatrical chains happy." As it stands, no one is: not the exhibitors who lost out on an event movie, nor Disney, who won't be thrilled if the mediocre streaming audience estimates are correct.

Mulan's defection and Tenet's under-performance in the US (it still hasn't opened in the lucrative New York and Los Angeles markets, where cinemas remain closed) have had a devastating effect on other big releases.
…After six weeks of global release, Tenet has grossed more than £235m worldwide – a number that means different things to different analysts. For a latter-day Nolan film, it's borderline disastrous: far short of the £405m grossed by his last film, Dunkirk, which itself was a modest performer compared to the £830m racked up by The Dark Knight Rises. With a production budget around £154m, it's fair to say these are not the receipts of Nolan's or Warner Bros executives' dreams. Others would argue that they're not half bad for a film released in the midst of a global pandemic in which the filmgoing public has been actively discouraged from communal indoor activity – a metric for which there is no precedent to set the bar. Globally, it's the third-highest grosser of the year, behind Chinese epic The Eight Hundred and January's Bad Boys for Life, which already feels like a relic from another era.

All in all, things could be worse for Tenet – except for the fact that, by just about anyone's yardstick, things haven't been nearly good enough….
(8) MEDIA ANNIVERSARY.
Twenty five years ago this year at Intersection, the Hugo Award for Best Dramatic Presentation, Long Form went to Star Trek: The Next Generation's two-part series finale, "All Good Things…".  (It beat out The Mask, Interview with the Vampire, Stargate and Star Trek: Generations.) It was directed by Winrich Kolbe from a script written by Ronald D. Moore and Brannon Braga. The title is derived from the expression "All good things must come to an end", a phrase used by Q during the story itself. It generally considered one of the series' best episodes with the card scene singled out as one of the series's best.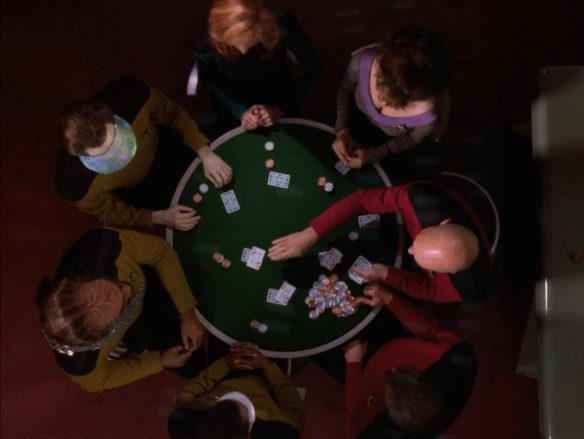 (9) TODAY'S DAY.
10/6 — Mad Hatter Day. The original picture of the Mad Hatter by John Tenniel in Alice's Adventures In Wonderland by Lewis Carroll depicts him wearing a hat, bearing the note "In This Style 10/6". Although we know this is really an order from the time the picture was drawn to mean a hat in that style cost 10 shillings and sixpence, we take this as inspiration to act in the style of the Mad Hatter on 10/6 (In the UK this would point to the tenth of June, but as the day was founded in America it is the 6th of October).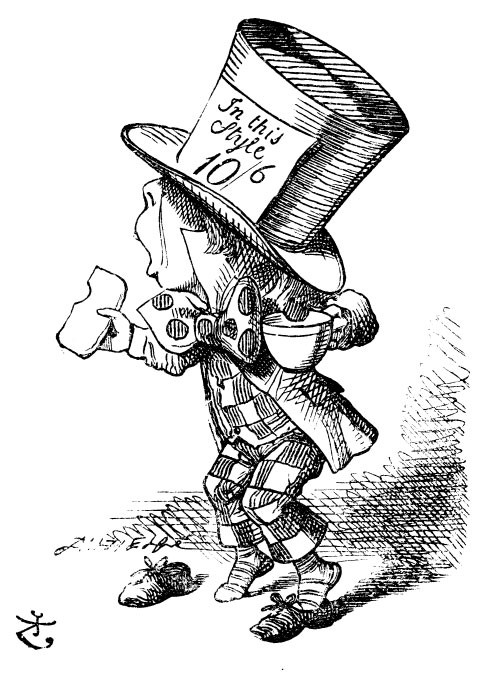 (10) TODAY'S BIRTHDAYS.
[Compiled by Cat Eldridge and John Hertz.]
Born October 6, 1895 – Caroline Gordon.  Guggenheim Fellowship.  O. Henry Award.  Honorary D.Litt. degrees from Bethany College (West Virginia), St. Mary's College (Indiana).  The Glory of Hera for us, her last novel; ten others; short-story collections; non-fiction.  (Died 1981) [JH]
Born October 6, 1928 – Frank Dietz.  Co-founder of the Lunarians; chaired the first 15 Lunacons; Fan Guest of Honor at Lunacon 50.  Fanzine Luna (and Luna').  Recorded many SF cons on wire and tape, unfortunately most now seems lost.  File 770 appreciation by Andrew Porter here.  (Died 2013) [JH]
Born October 6, 1942 – Arthur Hlavaty, 78.  A dozen times Best Fanwriter Hugo finalist.  No doubt inspired by the C.M. Kornbluth story "MS. Found in a Chinese Fortune Cookie" – maybe the only circumstance in which no doubt could be applied to him – he called a fanzine The Diagonal Relationship, later The Dillinger Relic, then Derogatory Reference; not seen since 2002, but in Fanzineland that's neither complete nor conclusive: No. 33 of his Nice Distinctions just appeared after three years.  Fan Guest of Honor at Empricon 3, MidSouthCon 2, Westercon 42, Minicon 37; Detcon the 11th NASFiC (North America SF Con, since 1975 held when the Worldcon is overseas).  If Sarcasm is in anger, satire is with love, he is as so often with him both.  [JH]
Born October 6, 1942 — Britt Ekland, 78. She starred in The Wicker Man* as Willow MacGregor, and appeared as a Bond girl, Goodnight in The Man with the Golden Gun. She was also Queen Nyleptha in King Solomon's Treasure based off the H. Rider Haggard novels. *There is only one Wicker Man film as far as I'm concerned. (CE)
Born October 6, 1946 — John C. Tibbetts, 74. Film critic, historian, author. He's written such articles as "The Illustrating Man: The Screenplays of Ray Bradbury" and "Time on His Hands: The Fantasy Fiction of Jack Finney". One of his two books is The Gothic Imagination: Conversations on Fantasy, Horror, and Science Fiction in the Media, the other being The Gothic Worlds of Peter Straub. (CE) 
Born October 6, 1950 — David Brin, 70. Author of several series including Existence (which I do not recognize), the Postman novel and the Uplift series of which The Uplift War won the Best Novel Hugo at Nolacon II and is most excellent. I'll admit that the book he could-wrote with Leah Wilson, King Kong Is Back! An Unauthorized Look at One Humongous Ape, tickles me for its title. So who's read his newest novel, The Ancient Ones? (CE)
Born October 6, 1953 – Roseanne Hawke, Ph.D., 67.  Wolfchild, 11th Century story set in the lost land of Lyonesse (RD was awarded Bard of Cornwall in 2006).  Daughter of Nomads, Mughal empire.  Chandani and the Ghost of the Forest, Himalayan mountains.  Memoir, Riding the Wind.  "I started a romantic novel when I was 17 but I burnt it….  working for ten years in the Middle East and Pakistan … I started writing seriously."  Website here.  [JH]
Born October 6, 1955 — Donna White, 65. Academic who has written several works worth your knowing about — Dancing with Dragons: Ursula K. LeGuin and the Critics and Diana Wynne Jones: An Exciting and Exacting Wisdom. She's also the author of the dense but worth reading A Century of Welsh Myth in Children's Literature. (CE) 
Born October 6, 1955 — Ellen Kushner, 65. If you've not read it, do so now as her sprawling Riverside seriesis amazing. I'm reasonably sure that I've read all of it. And during the the High Holy Days, do be sure to read The Golden Dreydl as it's quite wonderful. As it's Autumn and this being when I read it, I'd be remiss not to recommend her Thomas the Rhymer novel which won both the World Fantasy Award and the Mythopoeic Award. (CE) 
Born October 6, 1962 – John Knoll, 58.  Chief Creative Officer at Industrial Light & Magic.  Creating the Worlds of "Star Wars"; covers for The Art of "Star Trek" (with M. Uesugi), Inside "Star Trek".  Scientific & Engineering Award given him and his brother Thomas for creating Adobe Photoshop.  Cameo appearance as a pilot in The Phantom Menace.  More in his Wikipedia entry.  [JH]
Born October 6, 1978 – Anna Elliott, 42.  Three Tristan & Isolde books; four about Jane Austen characters, two about Sherlock Holmes, a few more.  Among her favorites by other authors, Life With Father, Wodehouse's books about Bertie Wooster, Sayers' books about Lord Peter Wimsey.  "What do you like to do when you're not writing?"  "Mostly think about writing."  [JH]
Born October 6, 1986 — Olivia Jo Thirlby, 34. She is best known for her roles as Natalie in Russian SF film The Darkest Hour and as Judge Cassandra Anderson in the excellent Dredd. And she was Holly in the supernatural thriller Above the Shadows. (CE)  
(11) COMICS SECTION.
(12) HEAVY GOING. Vanity Fair's Richard Lawson finds it easy to curb his enthusiasm: "The Haunting of Bly Manor Is an Erratic, Melodramatic Follow-Up".
A great actor whose name I am not supposed to mention here narrates much of the new Netflix series The Haunting of Bly Manor (out October 9). In 2007, her character tells a wedding party a chilling, sad story of 1987 (and years previous) England, when a spooky estate's resident ghosts tangled fitfully with living people, all caught in the grip of personal loss. This American actor tries her noble best to maneuver a Northern English accent, though it gets a bit wobbly as her narration scrapes the ceiling of profundity but never quite breaks through. 

The voiceover, with its heavy writing and uneven if committed delivery, is pretty neatly representative of the whole of Bly Manor, which aims for something scary and sweeping but is too often hampered by messy adornment. Bly Manor is the second series in the Haunting franchise that began with 2018's Hill House, an adaptation of Shirley Jackson's novel led by horror auteur Mike Flanagan.
(13) SCRUBTOBER IS OVER. "After series of scrubs, SpaceX launches Starlink mission from Kennedy Space Center" reports Florida Today.
After more than a month of scrubs and delays, SpaceX broke the Space Coast's launch drought early Tuesday when a Falcon 9 rocket boosted 60 Starlink internet satellites from Kennedy Space Center.

The 7:29 a.m. liftoff from pad 39A signaled the end of what was commonly referred to as "Scrubtober," a long series of mission delays that actually began in September due to hardware issues and inclement weather. Tuesday's Starlink mission, for example, had been scrubbed four times…
(14) FINDING THE GEMS. The Virtual Memories Show devotes Episode 399 to editor "Sheila Williams".
With her new fantastic short story anthology, Entanglements: Tomorrow's Lovers, Families, and Friends (MIT Press), editor Sheila Williams brings together a panoply of voices to explore how technology and scientific advances have on the deepest human relationships. We talk about Sheila's nearly 40 years editing science fiction stories at Asimov's Science Fiction Magazine, how she manages to balance new and diverse voices with a foundation of SF's history, how she copes with receiving ~800 stories a month (while only being able to buy 5-6), and technology's greater role in day-to-day life and what that means for writers' and readers' imagination and expectations. We also get into her author freakouts (like going blank when she met Samuel R. Delany many years ago), how her philosophy background helps her as an editor, missing cons and festivals, the challenge of editing an author in translation (in this case Xia Jia), and more. Give it a listen! And go read Entanglements!
[Thanks to Cora Buhlert, JJ, Mike Kennedy, Andrew Porter, Michael Toman, John King Tarpinian, Martin Morse Wooster, John Hertz, James Davis Nicoll, and Cat Eldridge for some of these stories. Title credit goes to File 770 contributing editor of the day Bill.]