(1) AWFUL COMIC BOOK MOVIES. Comicbook.com calls these "The 36 Worst Comic Book Movies of All Time". How many of these stinkers have you sniffed?
…But when you look back at comic book movie history, the genre has had more than its share of critical stinkers and box-office bombs….

32. Watchmen

Based on the DC Comics series by Alan Moore and Dave Gibbons, Watchmen is set in an alternate version of the year 1985, where heroes exist and Nixon is still president. The comic gained acclaim, but movie critics were more divided.
(2) FRESH PEANUTS. The Hollywood Reporter predicts you'll get Peanuts from Apple in the future: "Apple Lands Rights to Charlie Brown, Snoopy and Co. in New Peanuts Deal".
DHX Media will produce the new content based on Charles M. Schulz's beloved comic characters.

Goodgrief. After what's being described as a highly competitive bidding situation, Apple and its forthcoming originals operation has landed the rights to new Peanuts content.

The tech giant, which has not-so-quietly been amassing a strong roster of talent and original productions that is said to start rolling out in 2019, has completed a deal with DHX Media to create series, specials and shorts featuring iconic Charles M. Schulz characters such as Charlie Brown, Snoopy and the entire Peanuts gang. DHX, the Canadian-based kids programming giant that acquired a stake in the Peanuts franchise in 2017, will produce all of the projects.

As part of the partnership, DHX Media is also going to produce original short-form STEM (Science, Technology, Engineering and Math) content that will be exclusive to Apple and feature astronaut Snoopy. DHX Media will be working closely with subsidiary Peanuts Worldwide on all efforts.
(3) WHICH WHO IS NEW WHO? It's so easy to lose track of time when you're dealing with the Doctor. Here Season 11 has just ended, while for Galactic Journey, tracking in 1963, Season 1 has barely begun! (And I mean the first Season 1….) "[December15, 1963] Our First Outing Into Time And Space (Dr. Who: THE FIREMAKERS)".
So, after the first installment I was rather looking forward to this one. I curled up with a nice cup of tea and a guinea pig – the best viewing partner.

The episode picks up where it left off in An Unearthly Child, with the shot of a shadow looming over the T.A.R.D.I.S. We cut away, and get to see who's casting the shadow: a rather grubby looking chap in desperate need of a good haircut. This is Kal, a Palaeolithic man, and contender for the leader of his tribe. Winter is fast approaching, their old firemaker is dead, and his son, Za, has no more idea of how to make a fire than any of the others. Control of the tribe will go to whomever becomes the new firemaker.
(4) THROUGH KILLYBEGS, KILKERRY, AND KILDARE. The Irish Times lists the 35 best independent bookshops in Ireland – something of interest to anyone bound for Dublin 2019 next year — "35 of the best independent bookshops in Ireland". Cora Buhlert sent the link with a note, "I was surprised that Hodges Figgis in Dublin, which was even mentioned by James Joyce in Ulysses, isn't on the list, but turns out they're owned by Waterstone's these days and no longer independent."
(5) BRUBAKER INTERVIEW. Alex Segura on "Tales of Junkies. Fade-outs, Super-heroes, and Criminals" on Crimereads, profiles Ed Brubaker, because "when you think crime comics, Brubaker is the one of the first ones that come to mind," not only for his work on Captain America and Batman, but also his own projects, My Heroes Have Always Been Junkies and Kill Or Be Killed.
..Aside from sheer creative control, can you talk a bit about the differences that come with writing your own characters and those that are owned by Marvel or DC, and the pros and cons of either approach?

I mean, the con is they can take something you co-create, like the Winter Soldier, and make hundreds of millions of dollars on toys and hoodies and cartoons and movies, and basically give you nothing—or nothing's next door neighbor, if you're lucky.

The pro is that you can have fun and make a good living as a writer while you're doing it.

I worked really hard on stuff like DD and Cap, and I'm really proud of what me and my collaborators accomplished on those books. Stuff like Gotham Central and Catwoman was where I built some of my readership, by doing crime comics with superhero stuff in them, but ultimately, I always wanted to just write my own stories, I think, regardless of the fucked-up contracts in the superhero field.
(6) 3BELOW TRAILER. Guillermo del Toro's 3Below:Tales of Arcadia launches on Netflix December 21.
From visionary director Guillermo del Toro and the team behind DreamWorks Trollhunters comes an epic, hilarious tale of alien royalty who must escape intergalactic bounty hunters by blending in on a primitive junk heap known as Earth.
(7) LIPPI OBIT. Urania editor Giuseppi Lippi (1953-2018) died December 14. Silvio Sosio of Delos Digital kindly granted his permission for File 770 to reproduce in English the appreciation he wrote for Italian sff site Fanascienza: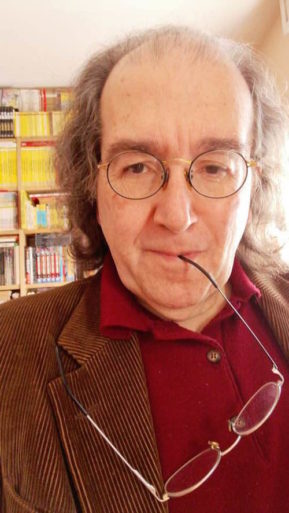 Giuseppe Lippi, editor of the famous Italian magazine Urania, passed Friday, December 14. He had been hospitalized since the end of November for respiratory problems. A few days ago he was transferred in a bigger hospital in Pavia; Friday his condition worsened, and he died in the night.

Lippi was 65. Born in Stella Cilento, near Salerno, grew up in Naples. Then he studied in Trieste, where he worked with the local fandom. Later he went in Milan to work in the staff of the magazine Robot with Vittorio Curtoni.

In 1990 Mondadori hired him as editor of Urania, the monthly magazine published since 1952. He kept that position until the first months of 2018. He also wrote books and articles about the history of Urania.

He was a fine translator (notably of H.P. Lovecraft and Robert E. Howard). He recently edited complete collections of Lovecraft and Clark Ashton Smith stories. He never stopped writing columns for Robot since the first issue of the new series (2003). 

He is survived by his wife Sebastiana. The funeral ceremony will be held in Pavia December 17.
(8) TODAY IN HISTORY.
December 15, 1958 – Frankenstein's Daughter showed up at your local drive-in…if you lived somewhere you wouldn't freeze to death in the cold weather.
December 15, 1961 — The Twilight Zone aired "Once Upon A Time," which featured the legendary Buster Keaton.
December 15, 1978 — Alexander Salkind's Superman – The Movie flew into theatres.
(9) TODAY'S BIRTHDAYS.
[Compiled by Cat Eldridge.]
Born December 15, 1923 — Freeman Dyson, 95. Physicist best known in genre circles for the concept he theorized of a Dyson Sphere which would be built by a sufficiently technologically advanced species around a sun to harvest all solar energy. He credited Olaf Stapledon in Star Maker (1937), in which he described "every solar system… surrounded by a gauze of light traps, which focused the escaping solar energy for intelligent use," with first coming up with the concept. 
Born December 15, 1953 – Alex Cox, 65. Ahhh, the Director who back in the early Eighties gave us Repo Man. And that he got a co-writer credit for the screenplay of Fear and Loathing in Las Vegas before it was completely rewritten by Gilliam. No, what interests me is that he's listed as directing a student film version of Harry Harrison's Bill, the Galactic Hero at University of Colorado Boulder just four years ago! Anyone know anything about this?
Born December 15, 1963 – Helen Slater, 55. She was Supergirl in the film of that name,  and returned to the 2015 TV series of the same name as Supergirl's adoptive mother. Also within the DC Universe, she voiced Talia al Ghulin in Batman: The Animated Series. Recently she also voiced Martha Kent in  DC Super Hero Girls: Hero of the Year. And Lara in Smallville…And Eliza Danvers on the Supergirl series. Me? I'm not obsessed at all by the DC Universe… other genre appearance include being on Supernatural, Eleventh Hour, Toothless, Drop Dead Diva and Agent X.
Born December 15, 1970 – Michael Shanks, 48. Best known for playing Dr. Daniel Jackson in the vey long-running Stargate SG-1 franchise. His first genre appearance was in the Highlander series and he's been in a lot of genre properties including the Outer Limits, Escape from Mars, Andromeda (formally titled Gene Roddenberry's Andromedaand there's a juicy story there), Swarmed, Mega Snake, Eureka, Sanctuary, Smallville, Supernatural and Elysium.
(10) WAIT WAIT. On this episode of NPR's Wait, Wait, Don't Tell Me,The Captain arrives around the 30-minute mark: "'Wait Wait' For Dec. 15, 2018 With Not My Job Guest William Shatner".
Recorded in Chicago with Not My Job guest William Shatner and panelists Roy Blount Jr., Helen Hong and Luke Burbank.
One of the greatest moments in all of cinema is William Shatner yelling "KHAAN!" in Star Trek II: The Wrath of Khan… so we've invited him to answer three questions about a different Cannes …the Cannes Film Festival.
Click the audio link above to find out how he does. (Or read the transcript, since there is one.)
(11) PERFECT HINDSIGHT. IndieWire recalls the reboot got a cool reception: "'Battlestar Galactica' Is Now a Classic — 15 Years Ago, Fans Thought It Was a Mistake".
In 2003, the San Diego Comic-Con was a much less intense event than it is today, but networks and studios still saw the value of promoting new TV shows to fans. So, a few months before the premiere of the miniseries that re-launched "Battlestar Galactica," creator Ronald D. Moore and cast members Edward James Olmos, Jamie Bamber, and Katee Sackhoff, sat on a raised platform in one of the venue's smaller conference rooms.

They screened the trailer. And then they ate a lot of crap. Although the original "Battlestar Galactica" premiered in 1978 for just one season, the audience was rooted in debating the old version, and why the Sci-Fi Channel (as it was then known) wanted to reboot the show.

The mood did lighten a bit when Sackhoff, cast as the gender-swapped character of Starbuck, addressed how much her role would resemble the one originally played by Dirk Benedict as a womanizing, gambling, and hard-drinking rascal. She said her Starbuck was definitely not afraid of drinking, gambling, or rebelling — and, when it came to the last thing, "as long as I'm involved in the casting…" It went better than another panel held at a "Galactica" fan convention where Moore was booed.
(12) SUGGESTED REVISIONS. In a post on Facebook, David Gerrold expressed his dissatisfaction with an unnamed encyclopedia's coverage of his career:
…That encyclopedia — well, hell, the ISFDB database will list what an author has written and that's the original purpose of an encyclopedia, to provide facts — but the aforementioned encyclopedia is a collation of opinions, and opinions are … well, subjective.

There's no encyclopedic entry that has the necessary understanding of an author's process, not his mindset, not his history, not his personal experience. There's no encyclopedia that mentions that [REDACTED] was a drunk, that [REDACTED] was an unlikable bully, that [REDACTED] was a sexual libertine who broke up marriages, that [REDACTED] was wildly inappropriate with women, that [REDACTED] was somewhere on the spectrum … etc. etc.

See, if an encyclopedic effort is supposed to be truly encyclopedic, then it should be an in-depth article about the individual as well as a survey of the work — and the survey of the work should provide more than just a casual description, it should be an attempt to discover recurring themes and ideas.

For instance, one could possibly annotate such an article with the observation that "the influence of Star Trek on Gerrold's work is evident in that the Star Wolf trilogy can be seen as an anti-Trek, with a more recognizable military construction" or one can say, "the Dingilliad trilogy is Gerrold's attempt to write a Heinlein juvenile, but going places that Heinlein couldn't," or one can say, "The Man Who Folded Himself" (still in print 45 years later) is a reworking of multiple time-travel ideas." Therefore, "one can get the sense that Gerrold is reworking classic SF themes, updating them so he can explore the deeper possibilities." See, that would be insightful enough to be useful to a reader trying to understand the writer as well as the work….
Not that anyone is unaware he's speaking of John Clute's entry about "Gerrold, David" in the Encyclopedia of Science Fiction:
…In the 1980s – a decade during which he did extensive work for television – Gerrold's writings lost some of their freshness, and his dependency on earlier sf models for inspiration became more burdensome. The War Against the Chtorr sequence – A Matter for Men (1983; rev 1989), A Day for Damnation (1984; exp 1989), A Rage for Revenge (1989) and A Season for Slaughter (1992), with the first versions of the first two titles assembled as The War Against the Chtorr: Invasion (omni 1984) – mixes countercultural personal empowerment riffs à la Robert A Heinlein with violent action scenes as the worm-like Chtorr continue to assault Earth, with no end in sight; the Starsiders/Chigger sequence – comprising Jumping Off the Planet (2000), Bouncing Off the Moon (2001) and Leaping to the Stars (2002), all three assembled as The Far Side of the Sky (omni 2002) – is a Young Adult Space Opera whose young sibling protagonists have issues with their mysterious father, which are resolved excitedly. Other novels, like The Galactic Whirlpool (1980) and Enemy Mine (1985) with Barry B Longyear – the novelization of Enemy Mine, a film based on a Longyear story – show a rapid-fire competence but are not innovative. Chess with a Dragon (1987) is an amusing but conceptually flimsy juvenile. There is a growing sense that Gerrold might never write the major novel he once seemed capable of – not because he has lost the knack, but because he is disinclined to take the fantastic very seriously….
(13) KEVIN SMITH EXPLAINS IT ALL TO YOU. From WIRED, "Every Spider-Man in Film & TV Explained."
Kevin Smith takes us through the history of Spider-Man in film and television, from 1978's "Spider-Man Strikes Back" to 2017's "Spider-Man: Homecoming."
[Thanks to Chip Hitchcock, Mike Kennedy, John King Tarpinian, Carl Slaughter, CatE ldridge, JJ. Martin Morse Wooster, and Andrew Porter for some of these stories. Title credit goes to File 770 contributing editor of the day Anna Nimmhaus.]