(1) DISNEYLAND ORIGINALS FOR SALE. Heritage Auctions' catalog for "Disneyland: The Auction" includes an impressive assortment of retired equipment from the park, in addition to all the other collectibles. Coming up for bid on May 21-22 will be things of this nature –
See more featured lots for 'Disneyland: The Auction' in this video.
(2) IN TIMES OF COVID. Norwescon 44 was held in Sea-Tac, WA from April 14-17. A week afterwards the committee published Norwescon 44 Post-Con COVID Report 1 dealing with cases they'd been informed about as of April 25. This case is receiving vocal attention in the comments:
Case 3: Reported on Friday, April 22. Started experiencing symptoms on Tuesday, April 12 (two days pre-con), tested positive on Friday, April 15, and stayed at the convention through Sunday, April 17. Was present throughout the convention, particularly the space-focused panels, and had dinner at Denny's on Friday. Reported case to the Health Department and did not have exposure notification tracking active.
(3) CON OR BUST BEING REVIVED. The Flights of Foundry Opening Ceremonies video included an announcement by Alex Jennings and Brandon O'Brien about the return of the Con-or-Bust project in partnership with Dream Foundry.
[Brandon O'Brien:] As people of color we know how difficult it can be to access creative spaces like conventions. Travel, registration and other related expenses can be difficult to muster for a lot of reasons. When I attended my first convention it was only because there was a project that was generous enough to see people like me share space with my colleagues and fellow fans without it I would not have had the networking opportunities, the community, or even the will to participate in our field to this day and i am still deeply grateful for that generosity that project was Con-or-Bust….
Kate Nepveu has worked hard to make sure it can continue even in her absence.
[Alex Jennings:] Following the example she set we're excited to share with you that we'll be working with Dream Foundry to revive and expand Con-or-Bust. This project will help make cons, writing retreats, and other opportunities available to writers and fans of color…
Brandon O'Brien said he will be serving on the Dream Foundry board in an oversight capacity and be running the project. They're working on the details and will have more updates soon.
(4) EATING THE FANTASTIC. Scott Edelman invites listeners to uncover Alex Segura's secret identity in Episode 170 of his Eating the Fantastic podcast.
We're about to do a little time traveling, you and I. That's because I worked for both Marvel and DC Comics from the mid-'70s through the early '80s, and my guest this episode is Alex Segura, a writer whose latest novel, Secret Identity, is a noir murder mystery set during the mid-'70s comics industry I lived through.

Segura seems like the perfect person to tackle that particular overlapping Venn diagram of genres. He's written murder mysteries before — including five novels in the Pete Fernandez series, beginning with Bad Beat in 2016 and concluding with Miami Midnight in 2019, plus the six-part Lethal Lit: A Tig Torres Mystery podcast series. He's also worked for Archie Comics and DC Comics, and is currently the Senior Vice President of Sales and Marketing at Oni Press.

Some of his more well-known comics work includes his Archie Meets Kiss arc — he also had the gang meet the Ramones and the B-52s — plus his "Occupy Riverdale" story. His Black Ghost miniseries was named one of the five new comic book series for the end of summer by the New York Times. He also supplied an origin story for everybody's favorite new Star Wars character in the novel Poe Dameron: Freefall.

In a better world, I've have been able to make a day trip to NY so we could have an in-person conversation, but that's not the world in which we live at the monent, so he grabbed Chinese food at Taystee Garden in Kew Gardens, Queens, I did the same from Evergreen Chinese Restaurant in Inwood, West Virginia, and we chatted with several hundred miles between us.
(5) PORTAL STORY. "I think this new Amazon series is sf," writes Martin Morse Wooster. I think so too! Night Sky arrives on Prime Video May 20.
(6) NEW BUHLERT FICTION. Congratulations to Cora Buhlert who has a flash story in Wyngraf Magazine of Cozy Fantasy: "A Cry on the Battlefield".
Cora also shared the link to the other flash story Wnygraf posted today, "The God's Apology" by Ian Martínez Cassmeyer, which she says is also well worth reading.
(7) FIVESOOTH! The Royal Shakespeare Company is staging My Neighbour Totoro from October 8, 2022 – 21 January 2023 at the Barbican.
In this video, Executive Producer Joe Hisaishi, Director Phelim McDermott and members of the creative team for My Neighbour Totoro, discuss the creative process behind the landmark adaptation of Studio Ghibli's celebrated 1988 animated feature film to the stage, in collaboration with Improbable and Nippon TV.
(8) WRITER Q&A. "Neil Gaiman: 'Whatever I loved about Enid Blyton isn't there when I go back as an adult'" he tells a Guardian interviewer.
…The writer who changed my mind
It wasn't until I was 22 that I realised I could stop dreaming of being a writer and instead be a writer. It was Harlan Ellison's fault, from his introduction to a short story called Count the Clock that Tells the Time, in a collection called Shatterday. He wrote about wasting time, how you look around and time's gone. It plugged straight into everything I had ever thought or dreamed about becoming a writer and in that moment I was determined to become a writer. I thought better to try and fail than not to try and let the time blow past.

The book that made me want to be a writer
I don't recall there being a time that I ever didn't want to be a writer, but CS Lewis and his Narnia books definitely made me realise that these stories I loved were being written by a person. Lewis wasn't pretending to be invisible, he was very happily there in the text, making these lovely friendly asides to the reader. I loved that so much, and loved the idea of doing it too….
(9) WHEN WORDS FAIL. Sandra M. Odell cautions against being "More Writerly Than Thou" at the SFWA Blog. Her successful book set off a long struggle to resume writing again. While telling what helped her she advises:
… Before you encourage someone to write faster, better, more successfully, ask yourself if that's what you mean to say. More importantly, ask if that's what they need to hear…
(10) NEAL ADAMS (1941-2022). Famed comic artist Neal Adams died April 29 at the age of 80. The Hollywood Reporter paid tribute:
Adams jolted the world of comic books in the late 1960s and early '70s with his toned and sinewy take on heroes, first at DC with a character named Deadman, then at Marvel with X-Men and The Avengers and then with his most lasting influence, Batman.

During his Batman run, Adams and writer Dennis O'Neil brought a revolutionary change to the hero and the comics, delivering realism, kineticism and a sense of menace to their storytelling in the wake of the campy Adam West-starring '60s ABC series and years of the hero being aimed at kiddie readers.

… "It was no secret that we were doing Batman right," Adams said during a panel at San Diego Comic-Con in 2010. "It was as if the memory of DC Comics went along with the statements that both Denny and I were making, that we want it to be more realistic, more gritty. And that's how we remember — whether it was true or not — that Batman should be. And when we did it, everybody went, 'Ah, that's it. We don't need comedy anymore.'"

Adams, also with O'Neil, came up with a then-controversial turn for Green Lantern/Green Arrow, tackling social issues such as drug addiction, racism and overpopulation and creating the Green Lantern hero, Jon Stewart, who became one of DC's first Black icons. Their 1971 two-part story "Snowbirds Don't Fly" remains a watermark in the evolution to more mature readers….

…He helped change the practice of comic book publishers keeping the original art by artists or even shredding and tossing it, influencing companies to establish policies of returning the art, something that allowed artists to enjoy a second income stream. The biggest case in point: Marvel returned pages of art to Jack Kirby, the co-creator of Fantastic Four, Thor, X-Men and Hulk.

He also proved to be a champion of two writer-artists who laid the foundation for DC, Superman creators Jerry Siegel and Joe Shuster… [He] led a lobbying effort that eventually led to greater recognition for the pair, a creator tag in comics and other media that continues to this day, plus a pension….
(11) MEDIA BIRTHDAY.
1981 — [Compiled by Cat Eldridge.] Forty-one years ago on this evening, The Greatest American Hero series served up the ever so sweet and rather nostalgic "My Heroes Have Always Been Cowboys". It starts off with Ralph quitting twice after perceiving that he has failed badly.
Meanwhile one of the secondary characters tells Ralph that her friend wants to go to an appearance by John Hart, the actor who played the second version of the Lone Ranger. Ralph is excited because Hart is his childhood hero. Why am I not surprised?
Later in the episode, Ralph and Hart get to have a talk and Ralph realizes that society needs its heroes and decide to wear the suit again.
I watched a lot of the Lone Ranger when I was rather young and never realized that there were two actors in that role. And no, I never figured out the deal with the silver bullets. Obviously that version of the Old West didn't have werewolves.
And yes, it was very, very sweet to see one of the Lone Rangers sort of playing his role again. If only as a mentor.
The Greatest American Hero series is streaming currently on Peacock.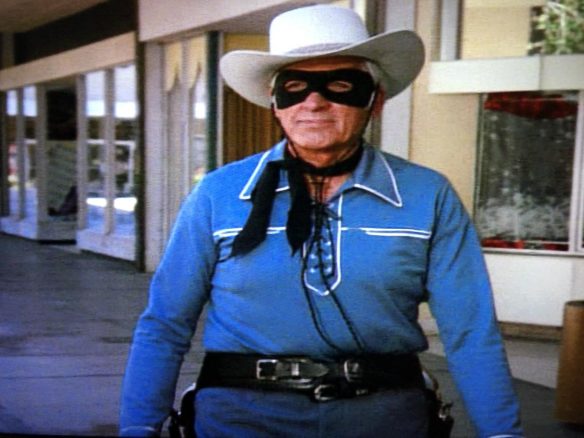 (12) TODAY'S BIRTHDAYS.
[Compiled by Cat Eldridge.]
Born April 29, 1887 — H. Bedford-Jones. Pulp writer of whom only maybe ten percent of his twelve hundred stories could be considered genre but some such as the Jack Solomon novels, say John Solomon, Argonaut and John Solomon's Biggest Game are definitely genre. Like many of the early pulp writers, he used a number of pen names, to wit Michael Gallister, Allan Hawkwood, Gordon Keyne, H. E. Twinells and L. B. Williams. In 2006, Wildside Press published a collection of his short stories, The House of Skulls and Other Tales from the Pulps. (Died 1949.)
Born April 29, 1908 — Jack Williamson. By the end of his long career in sff he had won eight lifetime achievement / grand master honors, and been inducted to the Science Fiction Hall of Fame. I'll frankly admit that he's one of those authors that I know I've read a fair amount by can't really recall any specific titles as I didn't collect him either in hard copy or digitally. A quick bit of research suggests the Legion of Space series was what I liked best when I was reading him. Aussiecon Two awarded him a Hugo for Wonder's Child: My Life in Science Fiction (1985), and Millennium Philcon saw him get one for his "Ultimate Earth" novella (2000), which also won the Nebula. (Died 2006.)
Born April 29, 1923 — Irvin Kershner. Director and producer of such genre works as the Amazing Stories and seaQuest DSV series, Never Say Never Again, RoboCop 2 and The Empire Strikes Back. By the way, several of the sources I used in compiling this Birthday claimed that was the best Star Wars film. (Died 2010.)
Born April 29, 1943 — Russell M. Griffin. Author of but four novels as he died far too young of a heart attack. The Makeshift God was his first novel, I remember that novel as being a rather excellent dystopian affair, and Century's End was even bleaker. He wrote but nine stories. He alas has not made into the digital realm yet. (Died 1986.)
Born April 29, 1946 — Humphrey Carpenter. Biographer whose notable output includes J. R. R. Tolkien: A Biography; he also did the editing of The Letters of J. R. R. Tolkien, and is responsible for The Inklings: CS Lewis, JRR Tolkien, Charles Williams and their Friends. He also wrote the engaging Mr. Majeika children's series which is most decidedly genre. (Died 2005.)
Born April 29, 1955 — Kate Mulgrew, 67. Captain Kathryn Janeway on Star Trek: Voyager and she'll be voicing that role again on the animated Star Trek: Prodigy. Other genre roles include voicing Red Claw on Batman: The Animated Series, the recurring role of Jane Lattimer on Warehouse 13 and Clytemnestra in Iphigenia 2.0 at the Signature Theatre Company. Finally she voiced Titania in a recurring role on Gargoyles.
Born April 29, 1958 — Michelle Pfeiffer, 64. Selina Kyle aka Catwoman in Tim Burton's Batman Returns. She was also in the much better The Witches of Eastwick as Sukie Ridgemont and was Brenda Landers in the "Hospital" segment of Amazon Women on the Moon. She played Laura Alden in Wolf, voiced Tsippōrāh in The Prince of Egypt, was Titania in A Midsummer Night's Dream, voiced Eris in Sinbad: Legend of the Seven Seas, was Lamia in Stardust and is playing The Wasp (Janet van Dyne) in the Marvel Universe.
Born April 29, 1960 — Robert J. Sawyer, 62. Hominids won the Hugo for Best Novel at Torcon 3, and The Terminal Experiment won a Nebula as well. Completing a hat trick, he won a John W. Campbell Memorial Award for Mindscan too. Very impressive. And then there's the FlashForward series which lasted for thirteen episodes that was based on his novel of that name. Interesting series that ended far too soon.
Born April 29, 1970 — Uma Thurman, 52. Venus / Rose in The Adventures of Baron Munchausen (Kage's favorite film alongside Time Bandits; review by Kage here), Maid Marian in the Robin Hood film that starred Patrick Bergin which I highly recommend, Poison Ivy in Batman & Robin which she will follow by being Emma Peel in The Avengers.
(13) TIME LORD. The May issue of David Langford's Ansible appeared today. How can that happen? He claims, "I reversed the polarity of the neutron flow!" Today the ansible, tomorrow the sonic screwdriver!
(14) OUTSIDE THE BOX. The Guardian calls it "'Very gay, very trans': the incredible Doctor Who spin-off that's breathing new life into the franchise" — the Doctor Who Redacted podcast. (Available here at BBC Sounds.)
…Written by Juno Dawson, Doctor Who: Redacted was launched alongside the Easter TV special, Legend of the Sea Devils, and has been described by the producer/director Ella Watts as "very gay, very trans", and sitting "to the left" of the main show. The 10-part BBC Sounds audio drama follows three best mates who make "the Blue Box Files", a paranormal conspiracy podcast about a certain police box popping up throughout history. Their tongue-in-cheek theorising suddenly gets all too real when they're sucked into an action-packed alien adventure of their own.

The friends are university dropouts, who now live in different UK cities but stay connected via their hobby podcast. The leader of the gang (and the drama) is a trans woman, Cleo, who works as a theatre usher, lives on a south London estate and is saving up for surgery. She's played by transgender activist Charlie Craggs, a scene-stealer in her first ever acting role, who describes her casting as "a huge step for the trans community. I'm so honoured to be part of something so sacred to so many".

Juno Dawson always had Craggs in mind to play her protagonist. "She's such a force," says Dawson. "The label "trans activist" can be a club with which to beat trans people. It's a dehumanising term, but Charlie uses her voice so cleverly – with humour and honesty. When it came to casting, I said to Ella: 'Look, we can either audition Charlie Craggs or find a trans actor and tell her to play it like Charlie Craggs.' There were some nerves at the BBC about hiring someone untrained but I'm so glad we stuck to our guns."

Founder of the podcast-within-a-podcast is devoted "boxspotter" and resident believer Abby (Vigil's Lois Chimimba), who is bisexual and a full-time carer for her sick mother in Glasgow. The lineup is completed by sceptical Shawna (Grange Hill's Holly Quin-Ankrah), an out-and-proud lesbian studying computing at her local college in Sheffield….
(15) WORD OF THE DAY. Here's something Jon Del Arroz had never been called before.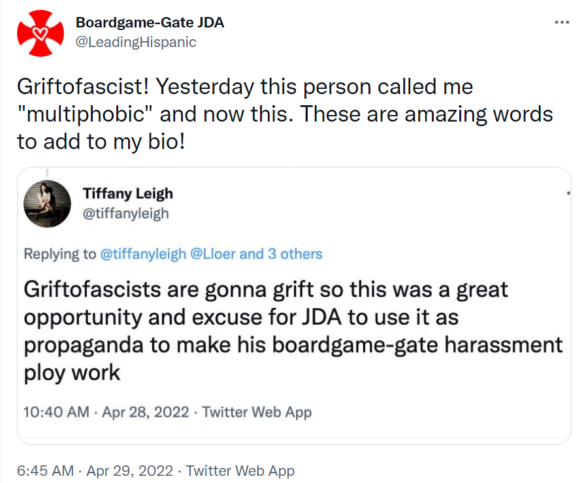 (16) A ROCK AND A HARD PLACE. Forbes reports "A Massive Asteroid Visible To The Naked Eye Is Heading Our Way And NASA Is Re-Routing An Old Spacecraft To Visit It".
Remember NASA's OSIRIS-REx spacecraft that visited the distant Bennu asteroid and scraped-up a sample in October 2020. It's going to deliver that sample to NASA September 24, 2023 as it swings by Earth—and then it's off on a new mission of explore a near-Earth asteroid that could one day be a "planet-killer."

The Apophis asteroid is enormous and classed as "potentially hazardous" by NASA. Thought to be about 1,100 feet/340 meters in diameter (that's about the same height as the Empire State Building in Manhattan in New York), Apophis will get to within just 23,000 miles/37,000 on April 13, 2029.

During that close pass it will even be visible to the naked eye as seen from some parts of Earth.

The newly-named OSIRIS-Apophis Explorer (OSIRIS-APEX) will already be in orbit of it by then. NASA announced this week that the spacecraft, having dropped off its package in 2023, will make its first maneuver toward Apophis 30 days later.

Although it will pass Earth inside the orbits of our geosynchronous satellites in 2029, Apophis won't pose a danger this time around.

So why visit it?

Scientists suspect that the effect on it of the close pass in 2029 could be a slight alteration to its future trajectory. We know Apophis will make very close passes in 2060 and 2068. Might the 2029 event put Apophis on an "Earth-resonant impact trajectory ?"…
(17) SJW CREDENTIALS IN HISTORY. The BBC in 1973 meets Quicksilver and Quince, two cats with their own checking account who make charitable donations to cathedrals and the Royal Society for the Protection of Birds!
(18) ROLL CREDITS. This is how Star Trek: Strange New Worlds episodes will begin. Here are the opening seconds of the five-year mission.
(19) VIDEO OF THE DAY. And Wil Wheaton hosts this special preview of Star Trek: Strange New Worlds.
[Thanks to Michael Toman, Cat Eldridge, Mike Kennedy, Cora Buhlert, Christian Brunschen, John A Arkansawyer, Martin Morse Wooster, JJ, John King Tarpinian, Chris Barkley, and Andrew Porter for some of these stories. Title credit belongs to File 770 contributing editor of the day Jack Dominey.]