(1) STABBY TIME. Reddit's r/Fantasy is taking nominations for the Stabby Award until December 28. See the complete guidelines at the link.
Nominations will continue to take place here on /r/Fantasy. Nomination rules are below. Please read them and ask any questions under the comment pinned at the top of the thread.

The method for voting will be explained when the voting thread goes live. The nominations thread will close December 26 at 12:30 p.m. PST. The voting thread will go live no later than about 10 pm on Saturday, December 28.
(2) DIZZYLAND. For your maximum confusion, the Best Visual Illusion of the Year Contest presents its Top 10 Finalists. First prize goes to "Dual Axis Illusion."
This spinning shape appears to defy logic by rotating around both the horizontal and vertical axis at the same time! To make things even more confusing, the direction of rotation is also ambiguous. Some visual cues in the video will help viewers change their perception.
(3) MEDICAL UPDATE. Eric Flint has posted on Facebook a fully detailed account of the medical problems that caused him to be hospitalized during NASFiC, and the course of treatment since, leading up to —
….Within a few weeks, my condition has improved drastically. My 02 saturation levels are back to normal and I've stopped having to use oxygen supplements. I spent the past weekend engaged in a long overdue cleansing of the basement – think "scouring of the shire" –which had me going up and down stairs for hours carrying heavy stuff without getting short of breath right away. Granted, after a few hours I'd get a little fatigued and need to rest a bit, but gimme a break. See "almost 73," above. When I was a teenager, I spent a whole summer once digging ditches. Those days are behind me.
(Happily. It's not like I enjoyed it at the time any more than I would today. It's just that at the age of 17 I was ABLE to do it.).

Okay, enough. This turned into a very long post so I'll wait a day or so before posting a progress report on how my work is coming along. The gist is: "Quite well, actually." As I said earlier, as long as I was sitting on my butt or lying down I was able to keep working despite the hypoxemia – and, o joyous day! – my current (and hopefully last) profession involves sitting on my butt or lying down pretty much 100% of the time.
(4) MARRIAGE MASH. Comicbook.com points the way as "Funny or Die Mashes Up Marvel and Star Wars With Marriage Story".
…The new clip from the site cuts up footage from Marriage Story as well as both the Marvel Cinematic Universe and the Star Wars sequel trilogy to tell a similar story, but with Black Widow and Kylo Ren trapped in a relationship that has since become poisoned.

While both Driver and Johansson are earning buzz for their portrayal of the estranged couple undergoing divorce proceedings in Marriage Story, many fans are interested in their roles in their respective franchises.
(5) BROOKER OBIT. Tony Brooker (1925-2019), mathematician and computer scientist who designed the programming language for the world's first commercial computer, died on 20 November 2019 aged 94. See the New York Times tribute.
Mr. Brooker had been immersed in early computer research at the University of Cambridge when one day, on his way home from a mountain-climbing trip in North Wales, he stopped at the University of Manchester to tour its computer lab, which was among the first of its kind. Dropping in unannounced, he introduced himself to Alan Turing, a founding father of the computer age, who at the time was the lab's deputy director.

When Mr. Brooker described his own research at the University of Cambridge, he later recalled, Mr. Turing said, "Well, we can always employ someone like you." Soon they were colleagues….
(6) TODAY IN HISTORY.
December 21, 1937 — Snow White and the Seven Dwarfs premiered at the Carthay Circle Theater in Hollywood, California
December 21, 1963 — During Doctor Who's first season, the first part of "The Daleks" aired. Written by Terry Nation and directed by Christopher Barry and Richard Martin. The Daleks which are created and co-owned by Terry Nation will make their first appearance in this story. The below image is Dalek free so that I don't spoil your appreciation of their first appearance.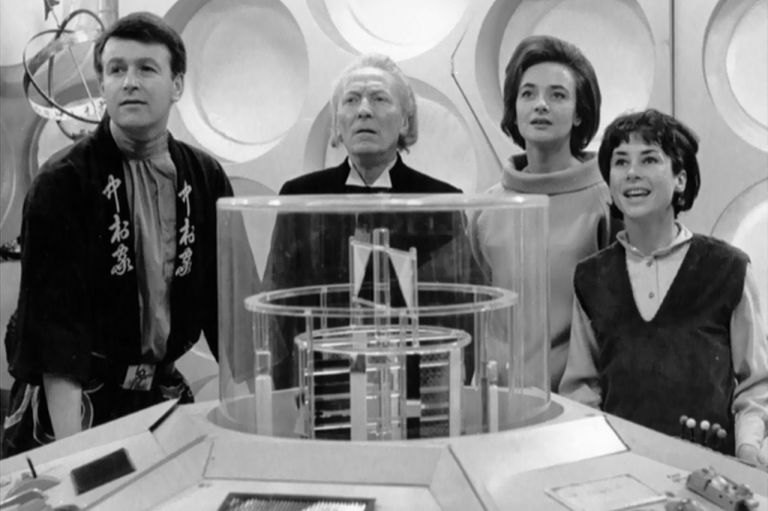 December 21, 1979 — C.H.O.M.P.S. premiered. Hoping to take bite out of the kid-friendly box office, it was produced by Burt Topper and Joseph Barbera (yes, that Barbera as it was a Hanna-Barbera film), and a cast headed by Wesley Eure, Valerie Bertinelli and Conrad Bain. Critics found it mediocre at best, and reviewers at Rotten Tomatoes really don't like it as it has Currently a 32% rating there.
December 21, 1979 — Disney's The Black Hole premiered. Intended as The Mouse's Reponse to Star Wars, it was directed by Gary Nelson. A cast of Joseph Bottoms, Maximilian Schell, Yvette Mimieux, Anthony Perkins, Robert Forster, and Ernest Borgnine were to be found here, while the voices of the primary robot characters were provided by Roddy McDowall and Slim Pickens who both were uncredited. Special effects were developed in-house as apparently were most of the matte paintings used. Critics for the most part didn't like it, and it holds a 40% rating among reviewers at Rotten Tomatoes. And it bombed at the box office.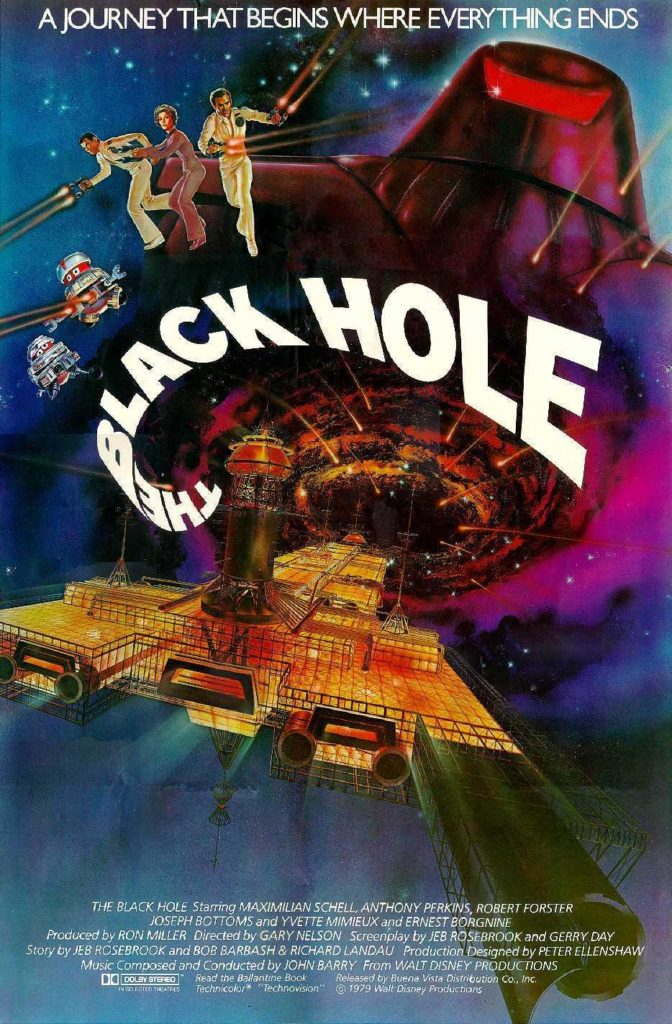 December 21, 2010 — Mega Shark Versus Crocosaurus premiered. Robert Picardo was the sole performer of genre interest in it, and it was directed by Christopher Ray, son of noted exploitation director Fred Olen Ray. Is it genre? Is it sci-fi? No one liked it, the critics gave it scathing reviews, and currently it has a 19% score among reviewers at Rotten Tomatoes. It has, alas, at least two sequels.
(7) TODAY'S BIRTHDAYS.
[Compiled by Cat Eldridge.]
Born December 21, 1929 — James Cawthorn. An illustrator, comics artist and writer who worked predominantly with Michael Moorcock. He had met him through their involvement in fandom. They would co-write The Land that Time Forgot film, and he drew "The Sonic Assassins" strip which was based on Hawkwind that ran in Frendz. He also did interior and cover art for a number of publications from the Fifties onwards including (but not limited to) Vector 3, New Worlds SF, Science Fantasy and Yandro. (Died 2008.)
Born December 21, 1937 — Jane Fonda, 82. Sure everyone here has seen her in Barbarella? Her only other genre appearances are apparently by voice work as Shuriki in the animated Elena of Avalor series, and in the Spirits of the Dead, 1968 anthology film based on the work of Poe. She was the Contessa Frederique de Metzengerstein in the "Metzengerstein" segment of the film. 
Born December 21, 1943 — John Nance. Let's just say he and David Lynch were rather connected. He's Henry Spencer in Eraserhead, he had a small role as the Harkonnen Captain Iakin Nefud in Dune and he's Pete Martell in Twin Peaks. He's also a supporting role as Paul, a friend of Dennis Hopper's villain character in Blue Velvet but even I couldn't stretch that film to be even genre adjacent. (Died 1996.)
Born December 21, 1944 — James Sallis, 75. He'd be getting a Birthday today if only for his SJW cred of giving up teaching at a college rather than sign a state-mandated loyalty oath that he regarded as unconstitutional. But he also does have a short SFF novel Renderings, more short fiction than I can count, a book review column in F&SF and he co-edited several issues of New Worlds Magazine with Michael Moorcock.  Worthy of a Birthday write-up! 
Born December 21, 1948 — Samuel L. Jackson, 71. Where to start? Did you know that with his permission, his likeness was used for the Ultimates version of the Nick Fury? It's a great series btw. He has also played Fury in the Iron Man, Iron Man 2, Thor, Captain America: The First Avenger, The Avengers, Captain America: The Winter Soldier, Avengers: Age of Ultron and Avengers: Infinity War and showed up on Agents of S.H.I.E.L.D. too! He voiced Lucius Best (a.k.a. Frozone)in the Incredibles franchise, Mace Windu in The Phantom Menace and The Clone Wars, the Afro Samurai character in the anime series of the same name and more other genre work than can be listed here comfortably so go ahead and add your favorite role by him. 
Born December 21, 1966 — Kiefer Sutherland, 53. My he's been in a lot of genre undertakings! I think that The Lost Boys was his first such of many to come including Flatliners, Twin Peaks: Fire Walk with Me, The Three Musketeers,  voice work in Armitage: Poly-Matrix, Dark City, more voice work in The Land Before Time X: The Great Longneck Migration,  Marmaduke and Dragonlance: Dragons of Autumn Twilight, Mirrors, and yes, he's in the second Flatliners as a new character. 
(8) COMICS SECTION.
(9) TOP COMICS. The Hollywood Reporter's "Heat Vision" reporter Graeme McMillan names "Heat Vision's Top 10 Comics Of the Decade". Anchoring the list is —
Smile (A Dental Drama) by Raina Telegmeier (Scholastic, 2010)
Telegmeier is, simply put, likely the most important figure in comics of the last decade; after a string of adaptations of the Babysitters Club novels for Scholastic, she's spent the last ten years creating more comic readers than arguably any other creator with a series of graphic novels for publisher Graphix that mix autobiography with pure fiction, combining clear, easy to understand, visuals with writing that's accessible and consistently smart and (perhaps most importantly) respectful of its target audience. Smile, Telegmeier's first book this decade, remains perhaps the finest example of her work, with her story of dental problems as a kid able to win over any audience.
(10) GIFT IDEAS. If you have any last-minute shopping needs, then why not consider Brit Cit published SF/F? SF² Concatenation has a news page with the season's science fiction and also fantasy book releases from the major UK genre imprints, not forgetting nonfiction SF and popular science. Titles available from large genre bookshops in N. America as well as some online peddlers.
(11) BEEN TO THE MOVIES. John Scalzi says the baker didn't give the ingredients time enough to rise — "Review: The Rise of Skywalker".
There are a lot of moments in Skywalker that, while affecting, could have been even more so if they hadn't been so gosh darn rushed. The prequel trilogy had excellent actors who weren't utilized fully because as a director Lucas didn't know what to do with people; the Disney trilogy has excellent actors who aren't utilized fully because they simply don't have the time to process, onscreen, the overwhelming emotions they're supposed to be having. Abrams the director steps on several of those moments because apparently he's got another plot point he's gonna cram in. It's deeply rare, especially these days, that I say a film should be longer — Jesus, they really don't need to be any longer — but Skywalker genuinely could have benefited from an extra ten or fifteen minutes, just to let its actors do their jobs.
(12) PUNCH PULLED. Leonard Maltin declined to throw his popcorn box at the screen – after all, says he, other people will like the excess: "Star Wars: Variations on a Theme".
I had a good time watching J.J. Abrams' Star Wars: The Rise of Skywalker, even though I felt sucker-punched more than once. The filmmaker knows that this is the last time he (or possibly anyone) will get to play with George Lucas's original concept and characters and his giddiness gets the better of him. Without spoiling any surprises, let's just say that elements of identity, the powers of the Force and matters of life and death are toyed with in the name of "gotcha" entertainment.

At the same time, Abrams knows that diehard fans share his sentimental longing to spend a little more time with the people who first won our hearts in the initial installments of the Star Wars saga. He milks this for all it's worth, and if he errs on the side of excess I bet there are lots of folks who won't mind.
(13) SALUTE TO THE SEVENTIES. Tim Kreider's New York Times op-ed "What if 'Star Wars' Was Just a Movie?" is full of pronouncements about things that are obvious – if you agree with the analysis.
…Lots of critics pointed out that the coda of "Star Wars," when three heroes march up a corridor between columns of massed soldiers, is a visual quote of the wreath-laying at Nuremberg in "Triumph of the Will," but everyone seems to assume this is a random allusion, devoid of historical context. It's not as if Lucas was oblivious of the source. His film is full of fascist iconography — all, up until this moment, associated with the Empire. Assuming this final image is deployed intentionally, it might be most hopefully interpreted as a warning: Don't become the thing you've fought against. The intimation of a hidden kinship between our hero and his enemy was right there in Darth Vader's name all along — the dark father.
(14) MORE DISSENT FROM ROWLING'S TWEET. "'Harry Potter' Helped Me Come Out as Trans, But J.K. Rowling Disappointed Me" is a New York Times op-ed. (Site limits free articles.)
… As a devoted Harry Potter fan who also happens to be transgender, it was like a punch in the gut.

For the past decade, I've been an active player in the Harry Potter fan community, serving as the spokesperson for an independent nonprofit inspired by the boy wizard, sitting on the brain trust for a prominent Harry Potter fan conference and making videos about the impact the series has had on my life. I've seen the mind-blowing creativity of fans — from wizard rock music to cosplay to fan fiction that will make you weep — as well as their unparalleled capacity for positive change. Fans have organized in Harry's name to donate over 400,000 books around the world, campaign in support of marriage equality and even convince Warner Bros. to switch to ethical sourcing for its Harry Potter-branded chocolates.

It was this community of loving, passionate people who accepted me with open arms when I came out as transgender at the age of 25. While I was nervous about coming out to some relatives and acquaintances, I never doubted that the Harry Potter fan community would accept me for who I was. After all, we all adhered to the values we learned from the books about being yourself, loving those who are different from you and sticking up for the underdog….
(15) A PAIR OF SCIENCE ROUNDUPS. Science has just published its round-up of top science of the year. In the mix is the biological recovery at the dinosaur asteroid impact site, a look at the human precursor Denisovan species, quantum computing breakthroughs and new Horizons Kuiper belt object encounter.
Also, what went wrong for scientists in 2019, including the Amazon burning.
Forest fires consumed thousands of square kilometers of the Amazon this year, and many blame the policies of Brazil's new president, Jair Bolsonaro, for fanning the flames.

Brazil's National Institute for Space Research (INPE) estimates the number of fires in the Amazon increased by 44% compared with 2018. One factor was an increase in deforestation, to about 9700 square kilometers in the 12 months through July, the largest area since 2007–08, INPE reported in November. Ranchers and farmers cut down and sell valuable trees and then burn the forest to make space for planting crops or raising cattle. Remote sensing indicated that this year's fires tended to be far away from where crops are grown, suggesting ranchers were probably responsible….
(16) MEOW MIX. A cat with representation! The Hollywood Reporter invites you to "Meet CAA's Million-Dollar Cat Client".
It's been a tough year for viral cats. Grumpy Cat passed away May 14 at age 7 following a urinary tract infection, and, on Dec. 1, Lil Bub, a special-needs perma-kitten with an ever-dangling tongue, died in her sleep at age 8. Going strong, however, is Nala Cat, a Siamese-tabby mix with 4.3 million Instagram followers, who happens to be the sole feline client of powerhouse agency CAA….
(17) ANOTHER STAR ON THE HORIZON? "Bionic cat Vito becomes 'superstar' with his prosthetic legs" – BBC has the story. Photos at the link.
A six-year-old cat has become an internet "superstar" as the first in Italy to receive two prosthetic hind legs following a serious road accident.

Vito, or Vituzzo, had both rear legs amputated after they were crushed by a vehicle in Milan while his owners were away on their honeymoon.

The couple, former basketball player Silvia Gottardi and her wife Linda Ronzoni, returned home immediately.

Vito's story has been widely shared with the hashtag #vituzzosuperstar.

His surgery to attach two prostheses by inserting them directly into his remaining upper leg bones has reportedly never before been achieved successfully in Italy.
(18) SEUSS-COOKED MEAL. What's this wrapped up in breakfast-scented paper for you from Sam? Surprise reveal, there's a second serving of Green Eggs & Ham on Netflix.
[Thanks to JJ, Chip Hitchcock, Cat Eldridge, N., John King Tarpinian, Olav Rokne, Martin Morse Wooster, Mike Kennedy, Michael Toman, SF Concatenation's Jonathan Cowie, Daniel Dern, Contrarius, and Andrew Porter for some of these stories. Title credit goes to File 770 contributing editor of the day Anna Nimmhaus.]